Nursery Ideas For Small Spaces
---
As you have probably noticed, we are all in baby mode around here. With the recent release of the Nursery Print Collection, I have been very ready to decorate our little one's special space.
Setting up a "nursery" can look different in every home. Hubby and I live in an old Pittsburgh home where we rent out our upper two floors as apartments. This means our living space is pretty small with only one bedroom but lot's of high ceilings and character. To make space for baby we moved all of our rooms around and combine our dining and living areas together. This has made for a fun decorating challenge.
Our baby's "room" is now where we previously had our room set up, and it has become one of my favorite places in our home. This is the space before…
With a coat of neutral paint on the walls and trim ( I went with Cameo White and Palais White by Behr), the room became a bright, blank slate for baby. We are waiting to be surprised by baby's gender, so I stuck with a neutral color scheme with accents of grey-blue and peach. I plan to add in more color depending on the babies gender.
The colors were inspired by this photo that I took on my trip through Provence last summer. I love the contrast of the building for baby to look at just above their changing table.
The stork was a special addition from my dad. He made this wooden version of the stork that I drew for my baby shower invitation and I loved it so much I had to use it as decor.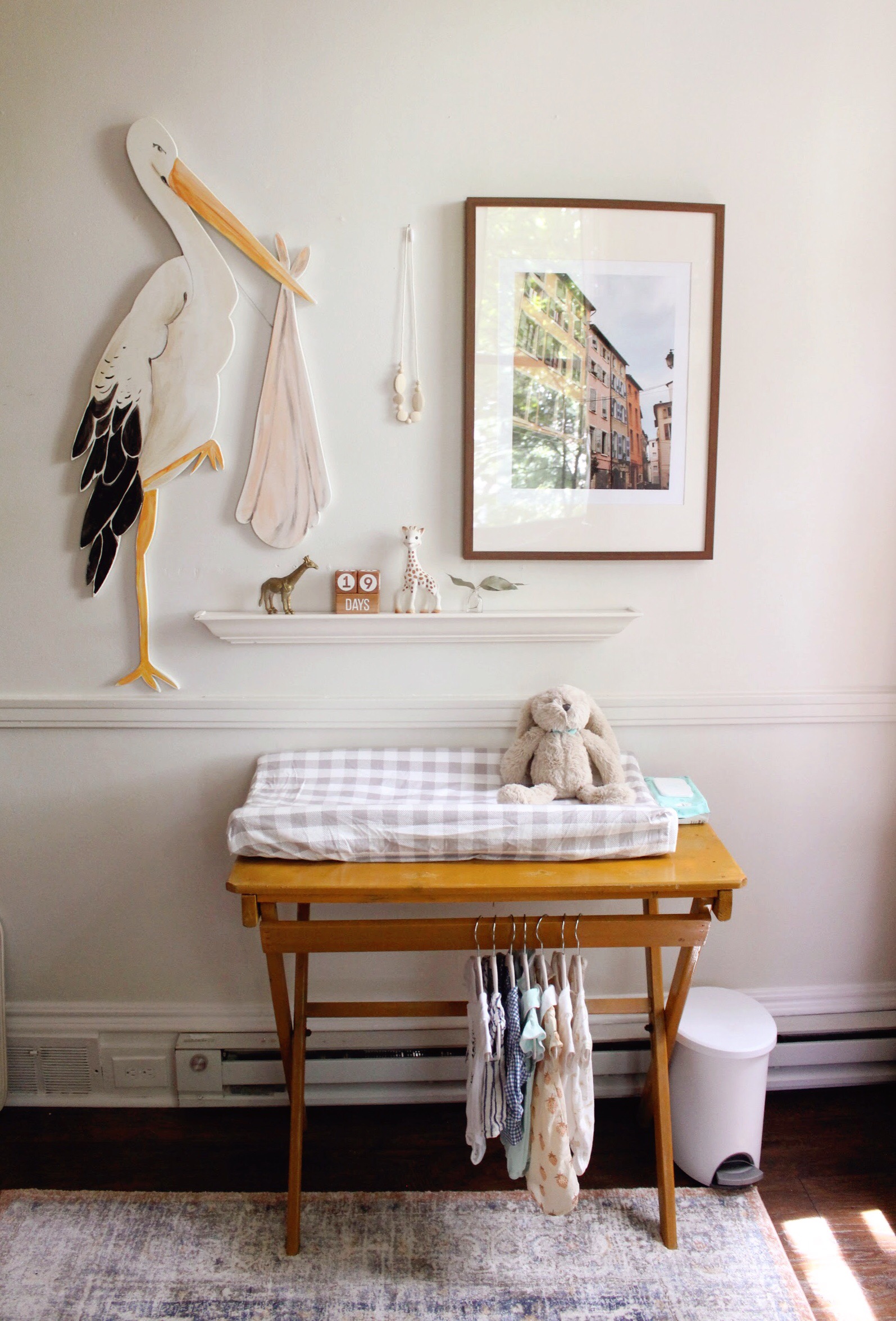 Wooden elements are a part of our mid-century/ eclectic decor throughout our home, so since this space is open to the rest of the house, I wanted to keep the style consistent to help our home maintain a  cohesive feel.
Having a small shelf just above the changing table gives us a place to keep some little distractions for baby and a few other special items on display.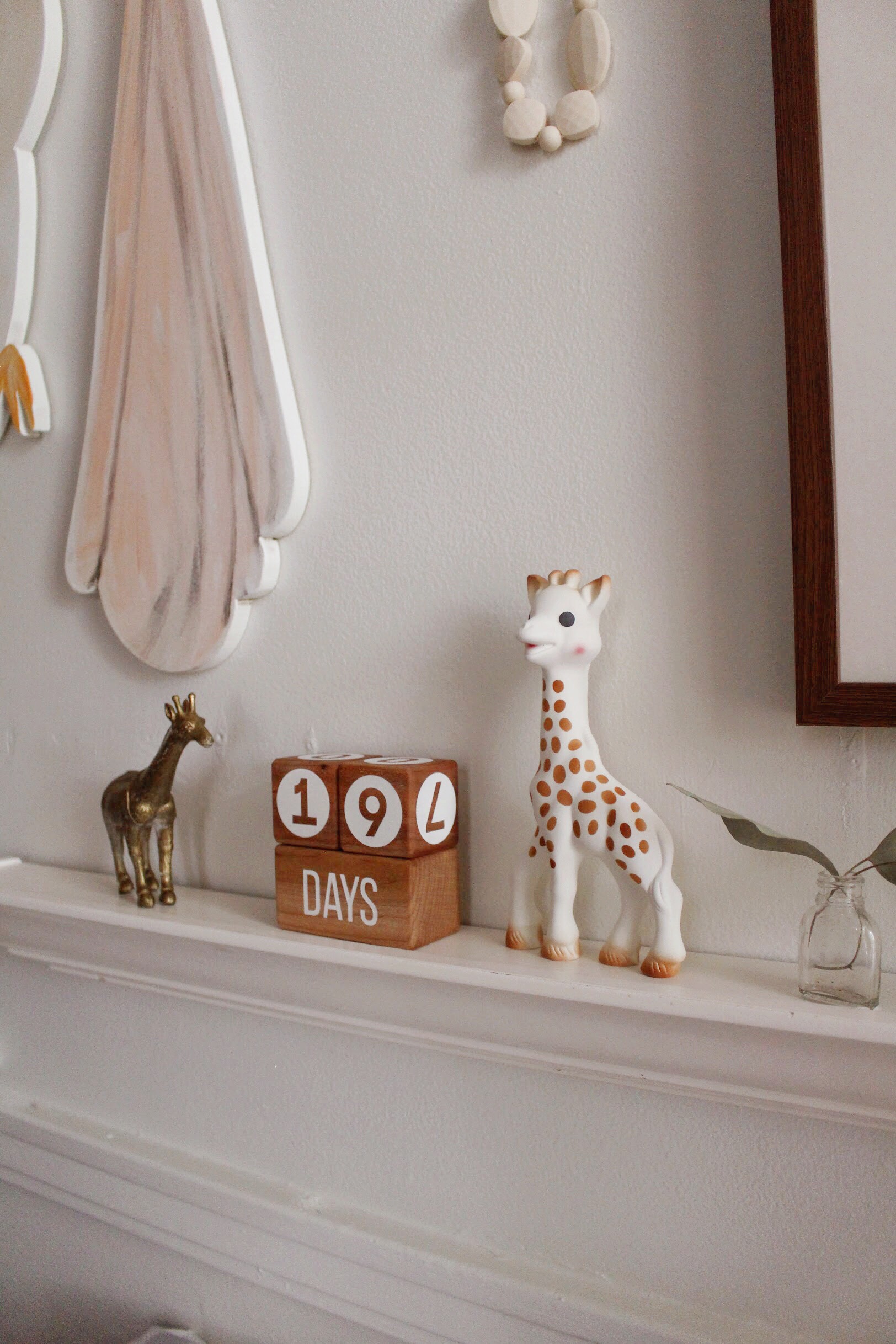 In a small space it is so important to consider all of your furniture carefully. After considering many changing table options, I decided to use this cafe table, that I purchased years ago, that fit our changing pad perfectly. It is a foldable table that used to sit outside of a cafe in Paris…who would have ever thought it would be the perfect thing to change dirty diapers on. I love a piece with a story.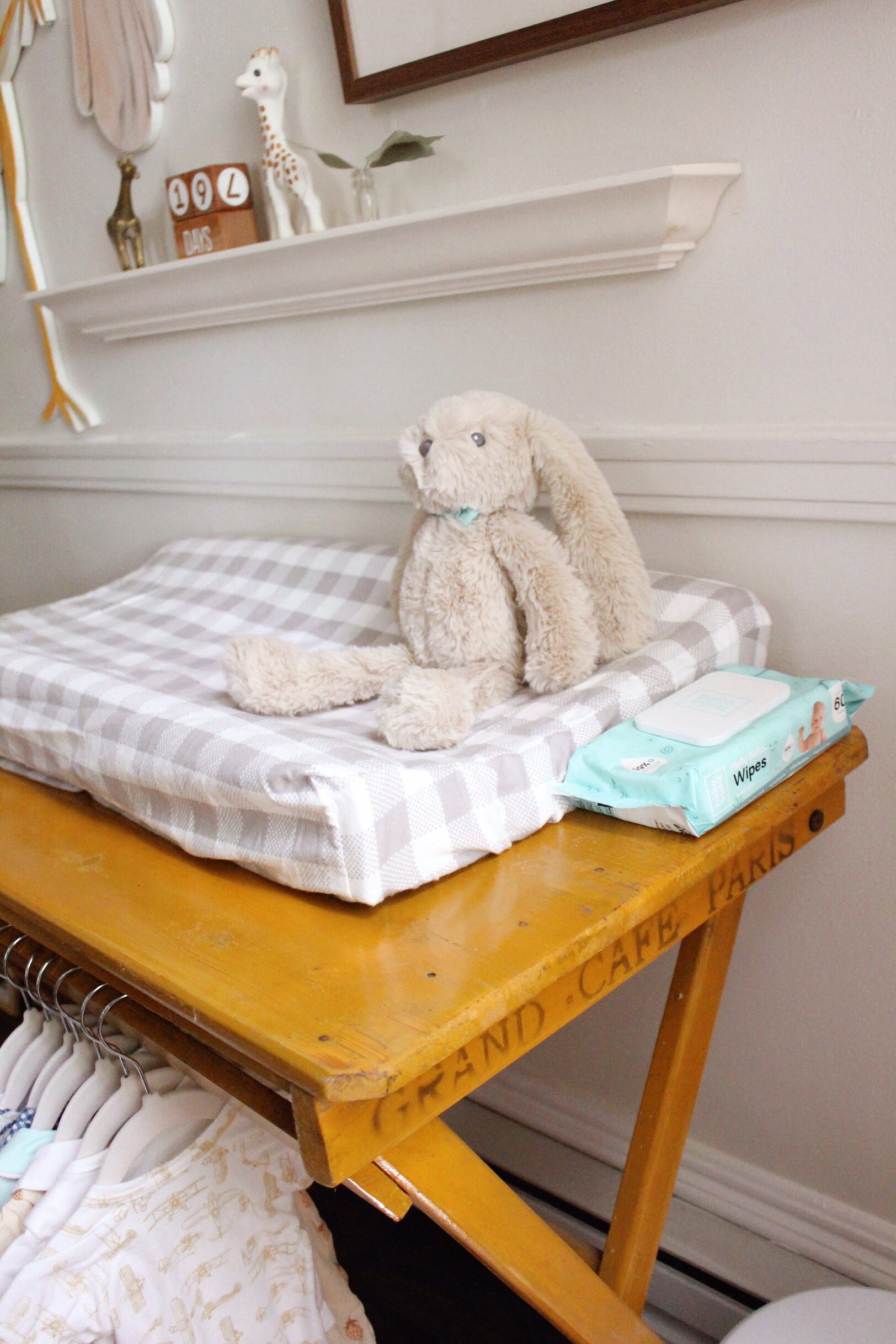 Using architectural details in an old home is always a good way to save space as well. I chose to use our radiator as a place to keep some changing supplies on hand and this cute little bunny tray keeps it all looking neat and tidy.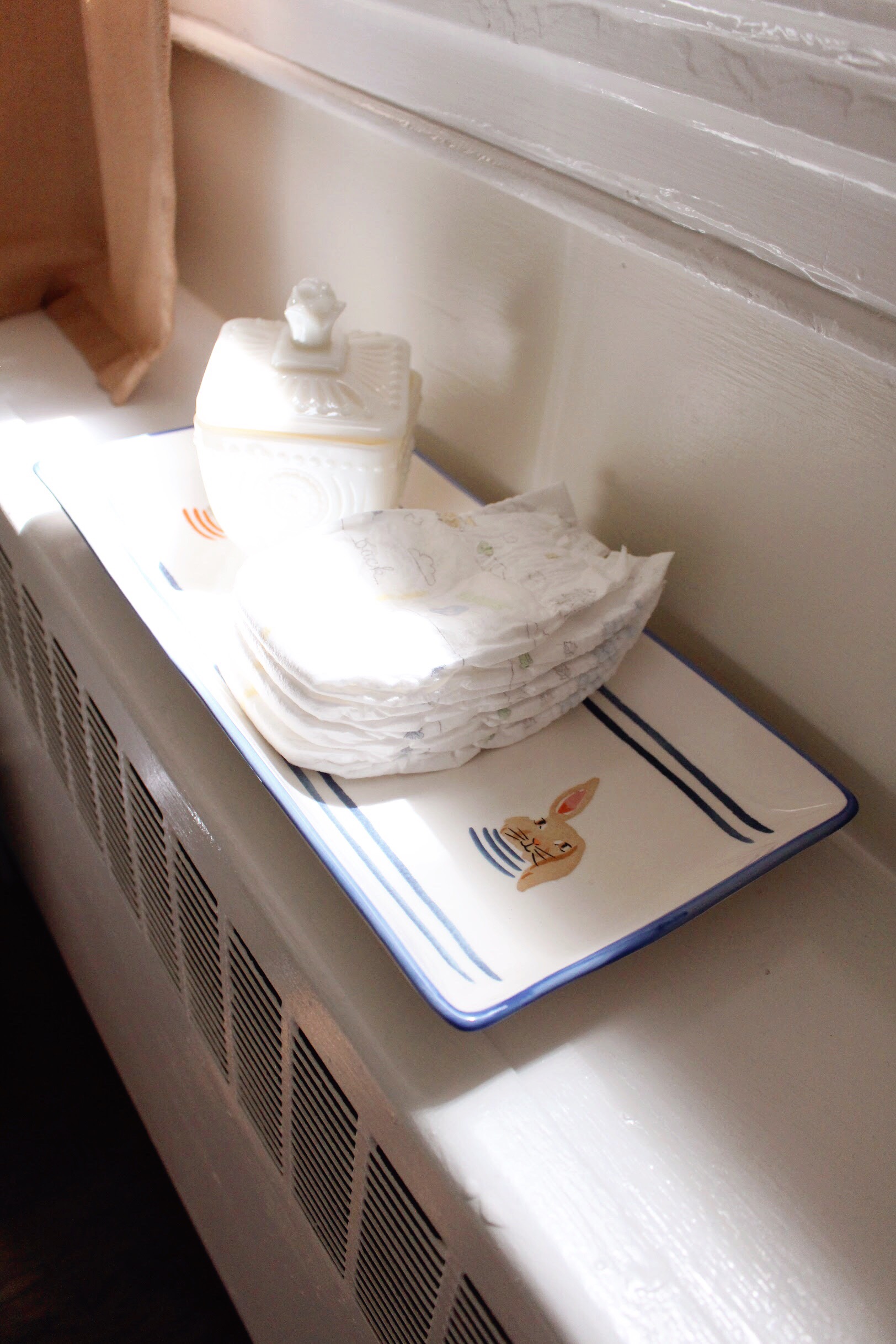 Instead of a large diaper pail, I opted for this small trash can that is less invasive in the space and simple enough to change out as needed.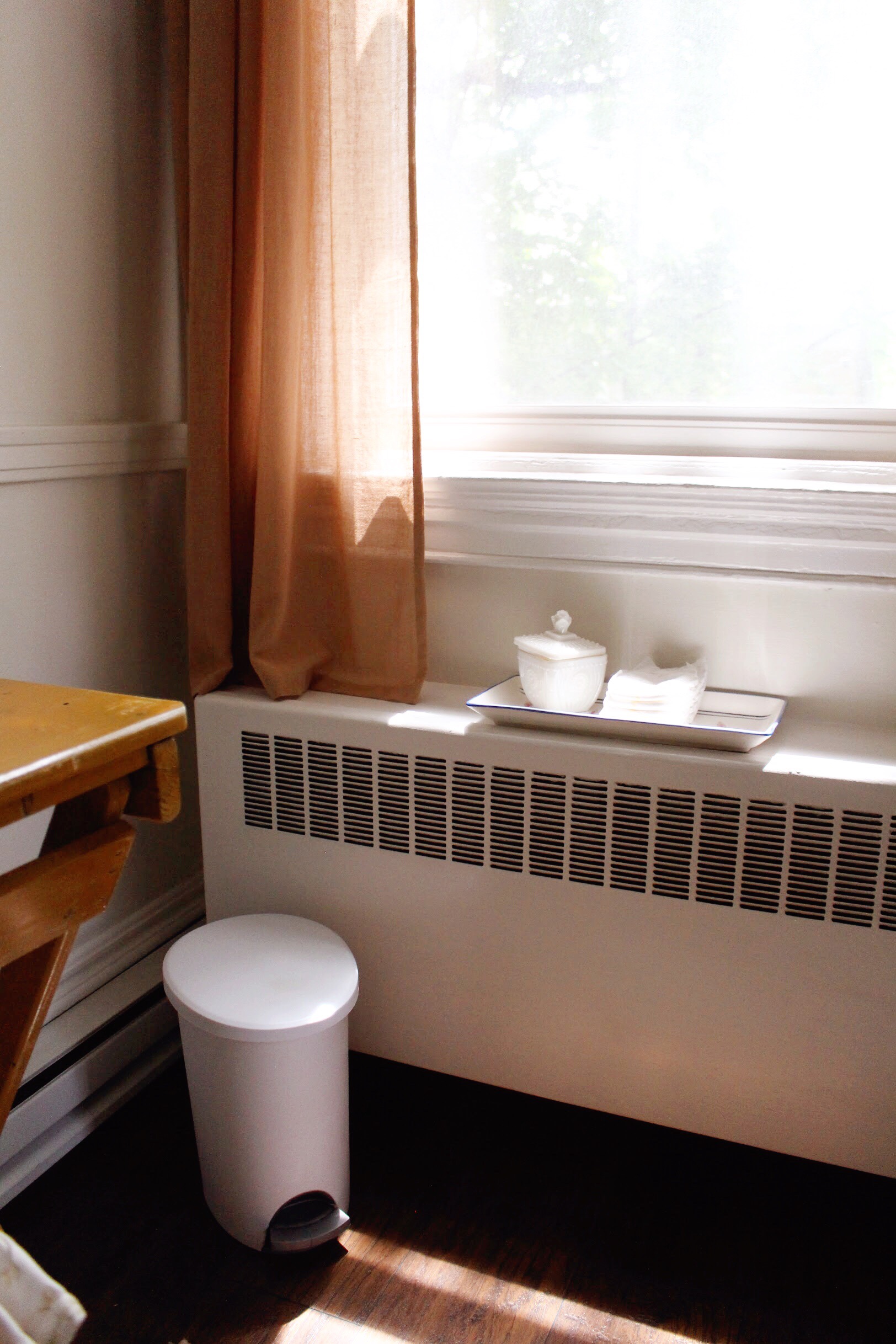 Another small nursery tip is to go vertical as much as you can! These 6′ tall bowling alley lockers that my father restored for the nursery are the perfect storage solution for our small footprint. They have made it so easy to organize baby items…one for toys, one for clothes, one for blankets, one for diapering and feeding supplies. It will be a great piece to grow with baby as they get older too!
The light in this room is so beautiful! I can't wait to sit in this cozy corner and feed baby as we watch the leaves blow and the squirrels play.
Adding in personal touches to a nursery is so important to make the space feel cozy. Some paintings and drawing that I have made for baby make the space feel extra special. I have a very sentimental landscape painting that I am working on as well to add to the decor, especially if baby is a little boy.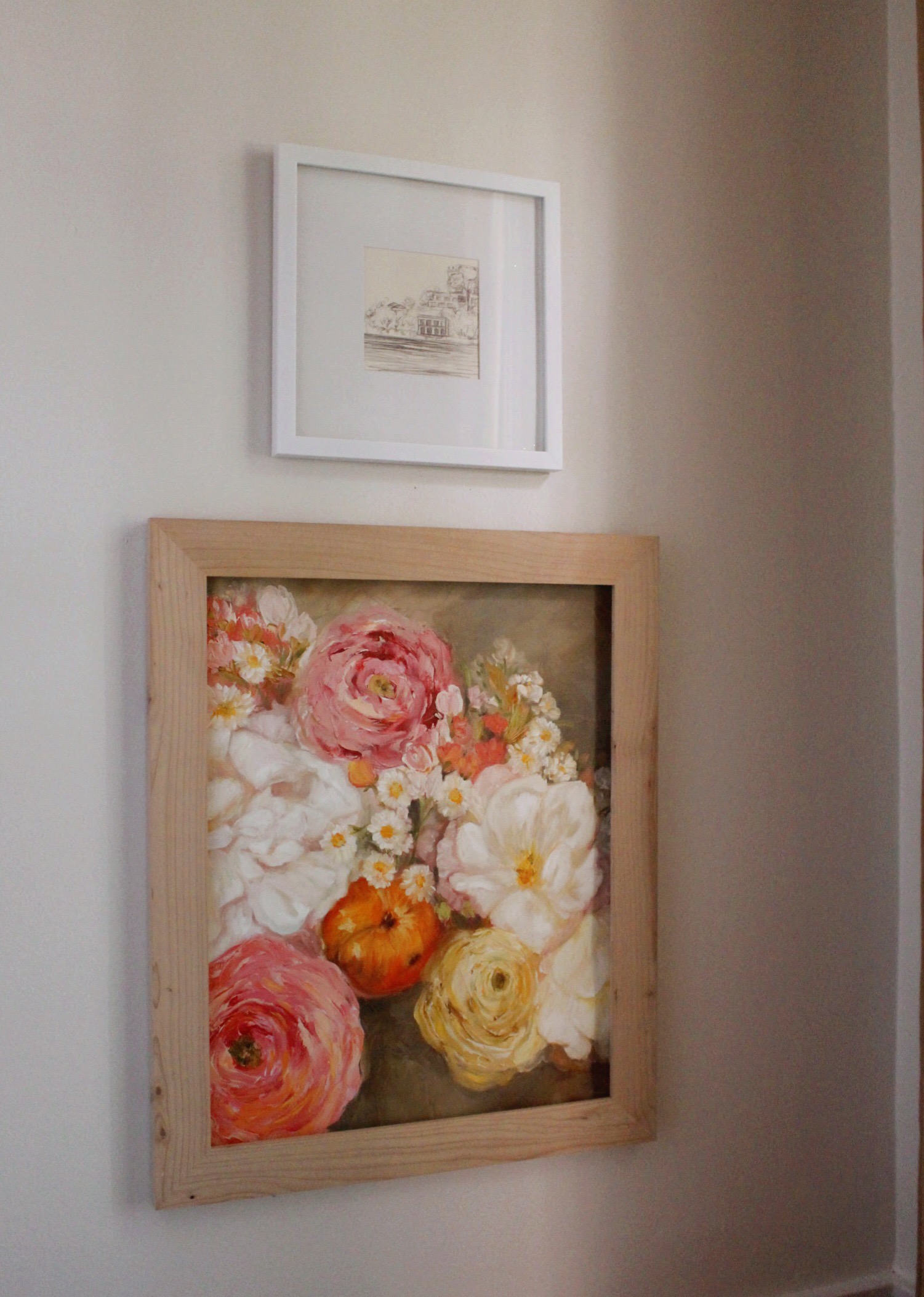 Another decor piece that I am so excited to add to the nursery is the Our Baby Birth Stats Print in 11×14″. This will be such a special way to document baby's arrival and the perfect accent to our neutral decor!
A very practical way to decorate and add storage is to add some hooks. I love these green wall hooks to help keep my baby wrap and diaper bags off the floor and easy for everyone to find.
We are using a large antique buffet cabinet from our dining room as a room divider in the space. For now I simply painted the back white and am waiting to add some fun wallpaper to the back after baby arrives! Having this as a place to mount the diaper bag hooks basically gave us another "wall" to work with in this small space.
An antique record player that hubby selected for the nursery is another one of my favorite additions to the room and will be so perfect to play all of our favorite records for baby. This also gave us a spot for a small antique hobnail lamp and a few books.
For now our mini crib has a home in our bedroom. But when baby moves into their space full time, the wood of the crib and record player will match perfectly!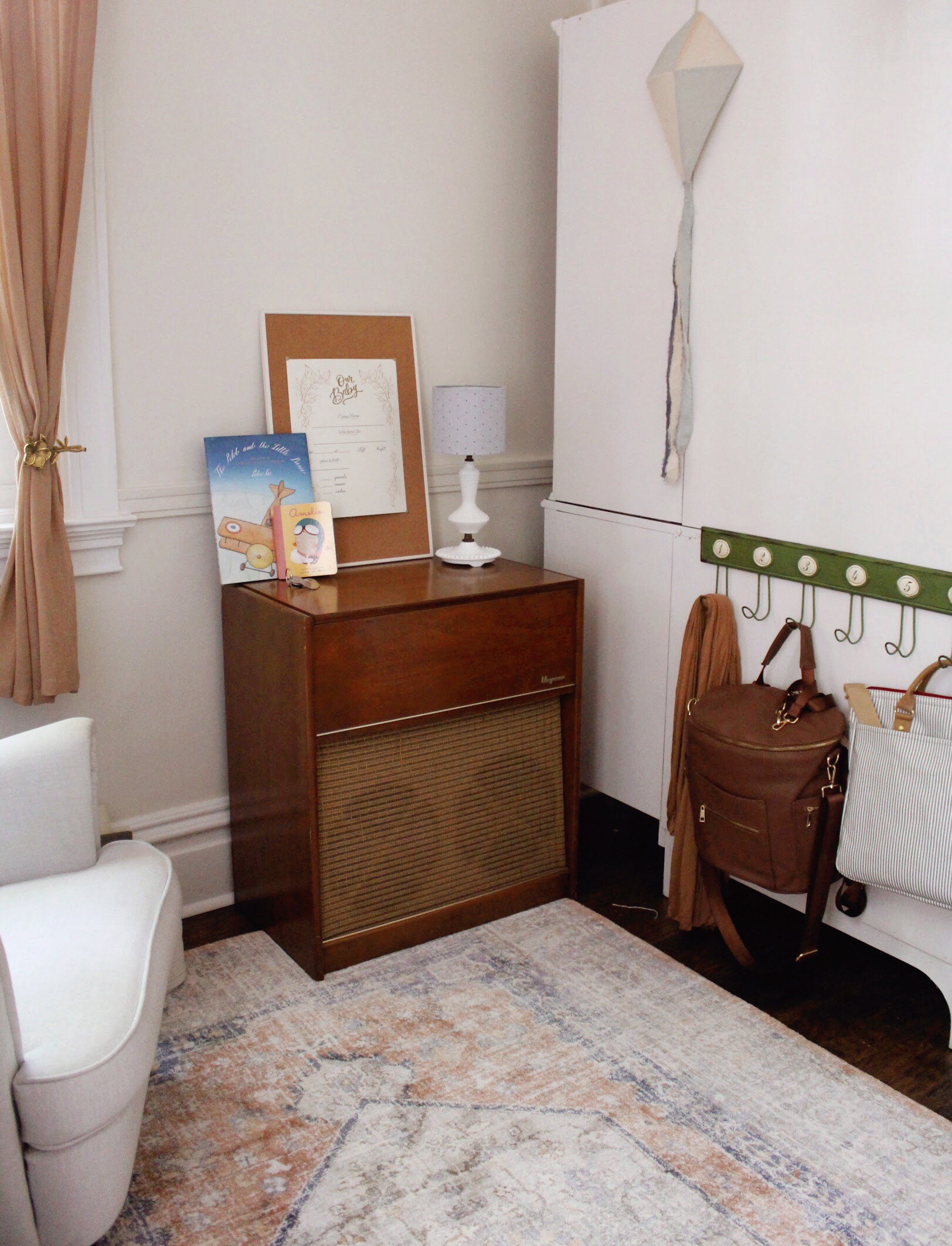 I hope you have enjoyed and found a little inspiration in my tiny nursery tour. We are so excited to add to and changed things around once life with our little one officially begins…but for now it is organized and homey. We find ourselves hanging out in this space all the time. I guess that's a pretty good sign.