Do you ever get the urge to just bury your face in a handful of fresh basil? No? It's just me? Well, maybe after you make this fresh spring herb potpourri you will see what I'm talking about.
I absolutely love the smell of clean and fresh – like mint, lemons, basil, flowers, and newly washed laundry. If you do too, then you'll be happy to find out that all of the above (other than the laundry) are included in this recipe!
This potpourri mix can even be stored and gifted so you can bestow the clean scents of spring to anyone whose house you think could smell a little better.
For this recipe, you'll need:
Fresh flowers – I used Tulips (orange for the simmer method and pink for the sit out method)
Fresh herbs – I used cinnamon basil and mint
Grated lemon rind
Lemongrass essential oil
Sheet pan
Parchment paper
Spritz bottle (optional)
Mason jar (optional)
Prep – Dry Your Flowers and Herbs
In order to bring out the fragrance of our Tulips, cinnamon basil, mint and lemon rind, we'll dry them out by baking them in the oven.
Preheat your oven to 200 degrees Fahrenheit. Fit a piece of parchment paper (not wax paper) to your sheet pan and lay out your herbs in a single layer, separating the bunches into sprigs.
Pick the Tulip petals off their stem and add to the single layer of herbs, then sprinkle lemon rind into any empty spaces.
Bake in the oven for about two hours, or until brittle (but not burnt). Let potpourri sit out until cool.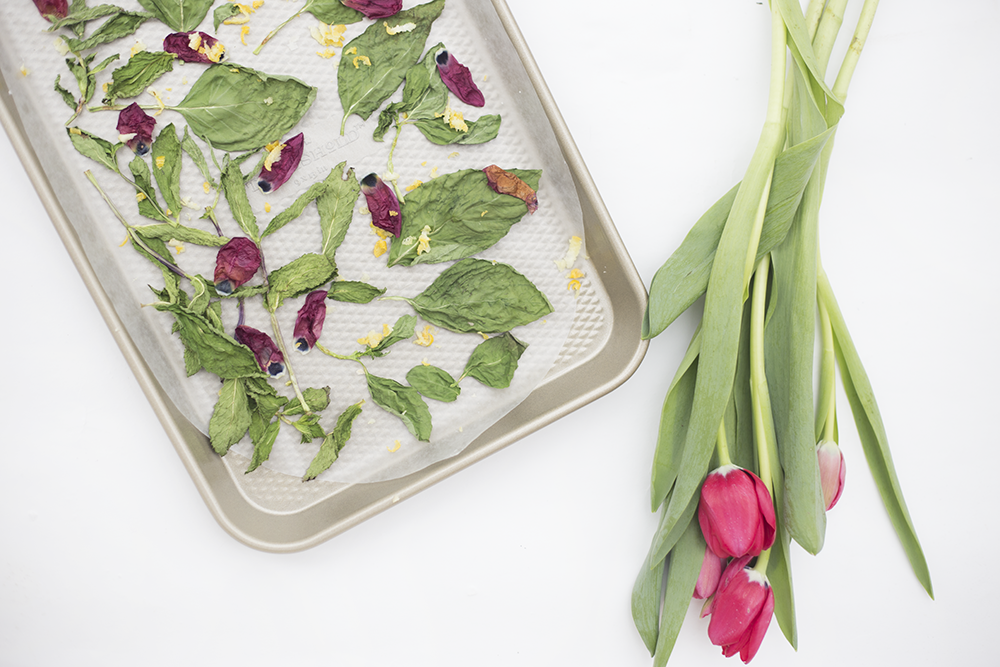 Method One – Chop Your Herb Potpourri and Simmer
Once your potpourri has cooled to room temperature, chop the herbs into smaller pieces. This will let the aroma fill the room. You could use this method with fresh herbs, too! Don't have time to dry in the oven? No problem.
Place a small pot of water on the stove and toss your herb potpourri in. Bring to a simmer (about medium to medium-high heat) and add 10-15 drops of Lemongrass essential oil into the water. The fresh scent will begin to release as the water evaporates.
Leave the pot simmering as long as you like, just continue to add water as more evaporates.
Method Two – Spritz and Leave Out
Once your herb potpourri has cooled to room temperature, mix it together and place it in a bowl or small pouch or satchel.
Fill a spritz bottle with a tablespoon of water and 10-15 drops of the Lemongrass essential oil. Spray the potpourri with the oil mixture and refresh as needed.
This method can make a great gift! Be sure your potpourri is fully dried if you plan to put it in a sealed container – otherwise, the basil and mint can build up condensation and start to smell the opposite of fresh.
*Thanks to PopSugar for the inspiration for this method.
What did you think? Do you want to put your face in a handful of fresh cinnamon basil yet? Maybe someday. Would you gift this recipe to anyone?
If you can't get enough of potpourri after this post, check out our holiday stovetop recipe! It makes your house smell so warm and nostalgic.
Let us know what you thought of this recipe! We'd love to see your creations on Instagram with #lilyandvalliving. And, as always, if you liked this post, feel free to pin the image above!