Our little team is tight-knit, but our personalities definitely sing different tunes! That's why we decided to share with you our own personal favorite zippered pouch picks from the many Lily & Val designs. Take a look and see why we love what we love – and maybe grab a little inspiration for that hard-to-buy-for pal of yours!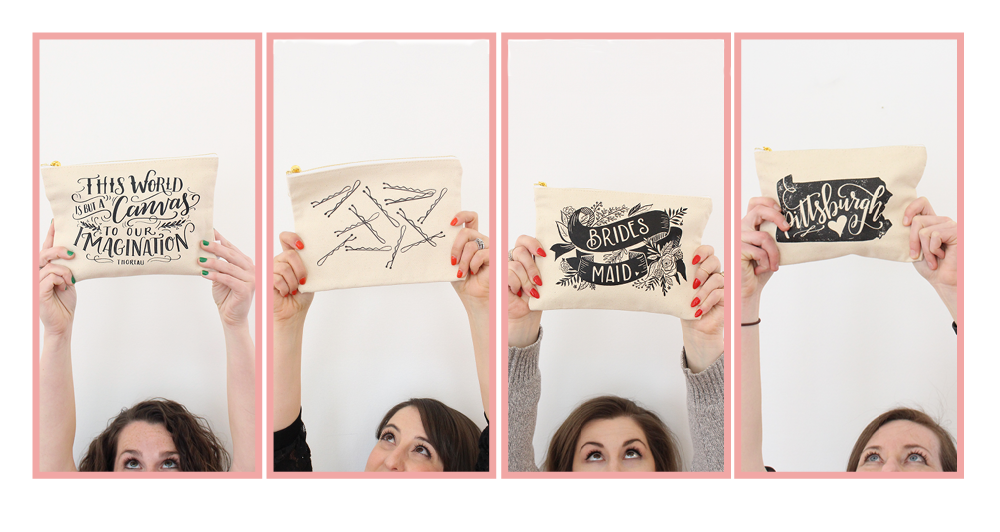 Valerie:
"There are at least 3 bobby pins (often way more) in my hair at all times! Because of that, I am ALWAYS losing them. Where are they going to? (that's another story for another time.) This pouch is definitely my favorite because it is cute, simple and finally gives me perfect on-the-go storage for my disappearing pins, ponytail holders, and other hair accessories. It's large enough to hold a mini hairspray, dry shampoo and more. I take it with me every time I travel!"
Maureen:
"I love the Thoreau pouch. Not only is the design beautiful, but I love the reminder it brings. As my daughter gets older, I want her to know that no matter how hardened this life can make us that this world really is a canvas to our imagination and if you imagine it…you can do it. The pouches, in general, are basically my favorite thing. The quality of them is only matched by their pretty designs!"
Alivia:
"The hand-drawn florals seem to dance around the word 'makeup', making this my favorite dreamy pouch design. I've taken to carrying it everywhere – gym, travels, etc. – and it's too cute to hide away, so it's also become a permanent fixture on my vanity. Love the bold lettering coupled with the delicate florals."
Julie:
"They are BIG! Finally a toiletry case that can actually hold everything I need on-the-go without being bulky! I love the natural canvas on the outside that contrasts with the crisp black screen printed lettering/design. The polka dot material on the inside is a sweet little surprise, giving each pouch an unexpected pop. My favorite design is the "Pittsburgh" pouch because Pittsburgh is the Paris of Appalachia, of course! :)"
Emily:
"I love the Bridesmaid and Maid of Honor Pouch! The design has just the right amount of frill. They are such a great gift by themselves, or filled with thoughtful goodies. As someone who has planned and been in many weddings, I can say there are many essentials you don't want to be without on the big day and they fit perfectly in this little pouch. The small inside zipper is great for tiny earrings, safety pins, bobby pins etc. The ever essential hairspray (and even travel size deodorant) look so pretty tucked inside the pouch. Can you say Photo-op! Being a little obsessed with color, I love that this pouch is made of raw canvas and a distinctive black design that maintains a classic look with any color scheme."
There you have it! Our favorite pouch designs. Hop on over to lilyandval.com to see all of our hand-drawn zippered pouch designs to find your favorite, too!