We are so excited about our new Lily and Val Canvas Pouches! This time around they got a little dose of color to make things more exciting!
Since a few of the cards from our  Valentine's day card collection looked so pretty with our new pouch colors,  we thought we'd help put some sweet Valentine's / Galentine's day gift set ideas together. These ideas are especially perfect for letting the special ladies in your life know how much you love them.
Gift Idea 1:
"She is lovely when she smiles" is just such a sweet reminder for us all that beauty is found in all of us when we are happy. This pouch is perfect for any gal, but we especially love this gift set for the younger ladies on your list. Every young girl deserves a reminder of how lovely she is, right? The sophisticated lavender shade is just right for any age too. Add some cute accessories like a statement earring or cute pair of sunnies (since we are all just waiting for more sun this time of year!) and you have the perfect gift for a special friend or young lady you love. (Our BFF card goes particularly well with this pouch too!)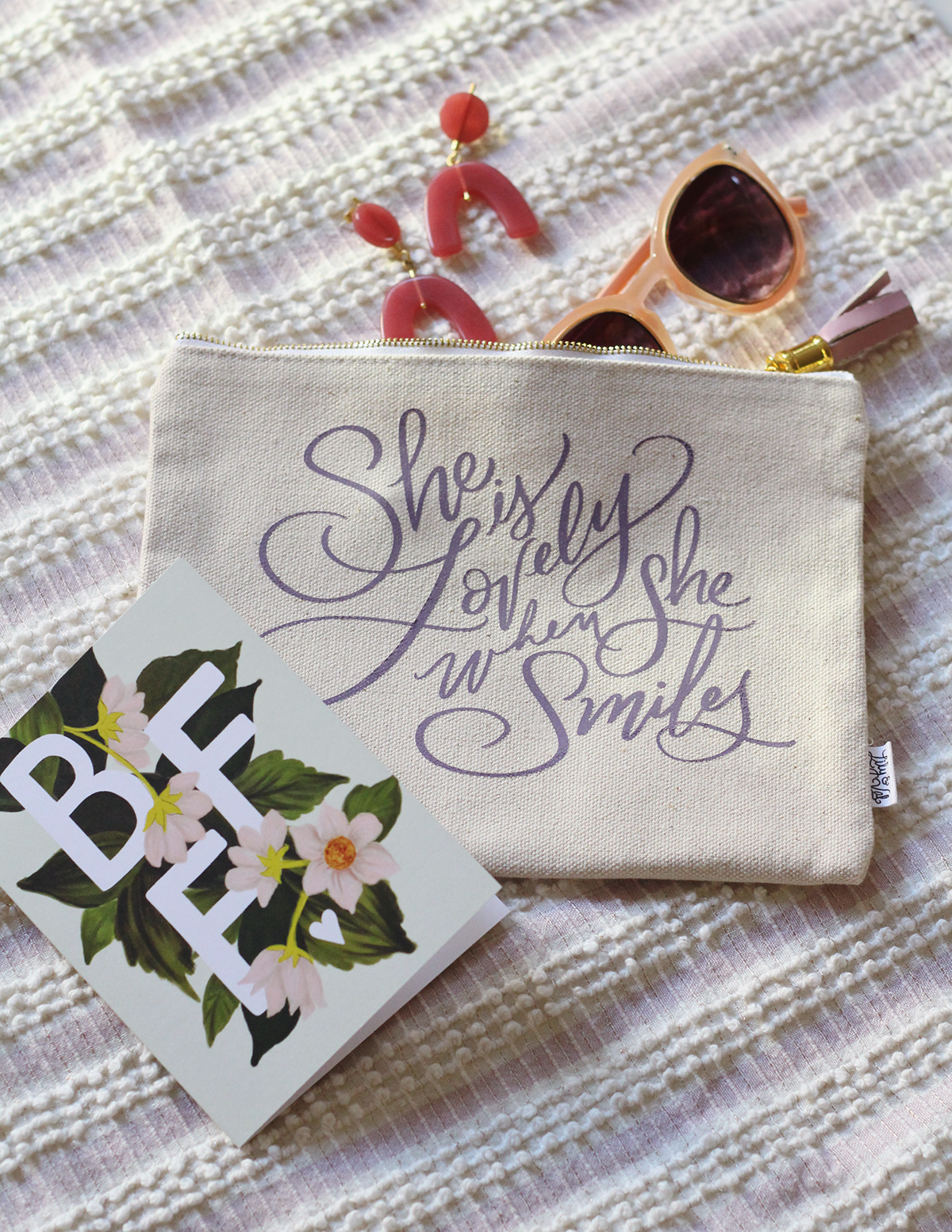 Gift Idea 2:
Our "Essentials" pouch is perfect for so many occasions.  Just pack it full of some of your favorite travel size "essentials". Here we added items that are great to keep around for a mid-day refresh like rose scented witch-hazel and a quality lavender scented lotion for those long stressful workdays. How about the colors of this gift set with the "We Stick Together" card? Too cute!
Gift Idea 3:
For the lady you love so much and want topamper, we chose this simple "Peony" pouch. Fill it with some pampering items like these amazing organic bath bombs and a little of your favorite essential oil and she will be so happy! Pair with the "Love you lots" card to make her feel extra special.
Gift Idea 4:
For another simple gift idea that is still very thoughtful try the "I just want to make pretty things" or "Busy Bee" pouch with some of your favorite markers, inspirational pencils or other office or creative supplies. Your most practical and creative gals will love these pouch gifts!
Happy Valentine's & Galentine's Day, everyone!