The Art of the Picnic – French Country
---
Happy Friday, everyone! We are continuing September's Art of the Picnic blog series. I've teamed up with the talented Emily Cowey, photo stylist and owner of The Virginia Lynn Co. to bring you this series and she is guest writing today's post! Enjoy!
I am pleased to bring you the second picnic in our "Art of the Picnic" series…the French picnic. My high school French teacher is the woman who taught me "the art of the French picnic… on the go". The key to a fantastic picnic en français is the idea of grabbing a few favorite items that are simple yet luxurious in their flavor, freshness, and quality.
The picnic that I planned for this post centered around the graceful way that Madam was able to throw together delicious luncheons in those picturesque French towns all from a couple of stops at local vendors along the way and the many picnics I have seen the French locals enjoying each time I visit.
Jumping off from the basic tips used in the "Wine and Cheese" post, the French picnic is just a twist on a lot of the same elements. I love layering blankets for picnics…and using blue and white tea towels for all things "French" is a lovely and subtle nod to their style, and practical too!
Starting with the same cheeses (you could definitely throw in some Chèvre or other goat cheese…the French love the stuff) you will want to make sure that your baguette is fresh. My favorite "Madame trick" is how she uses tomatoes literally spread on a baguette to add flavor and moisten those oh, so crunchy, crusty pieces. NO KNIVES NEEDED HERE. I will never forget how funny I thought it was the first time I saw her rip open a tomatoes with her bare hands and smoosh it all over the bread….Strange at first…and absolutely delicious. Why didn't I think of that?
A host of French favorites are what makes this picnic so uniquely French. We whipped up a quick quiche Lorraine (ours is crustless to make eating at a picnic a bit easier; recipe below), some Dijon Vinaigrette (my own creation, after much trial and error, to mimic there popular vinaigrette) and brought along a jar of tangy Cornichons (tiny pickles). We also included some fresh fruit. If you want to really feel like you are living the "French lifestyle" …stop by a local farmers market to pick up your oranges and figs. Chat with the stand owners, you will make their day and maybe a new friend.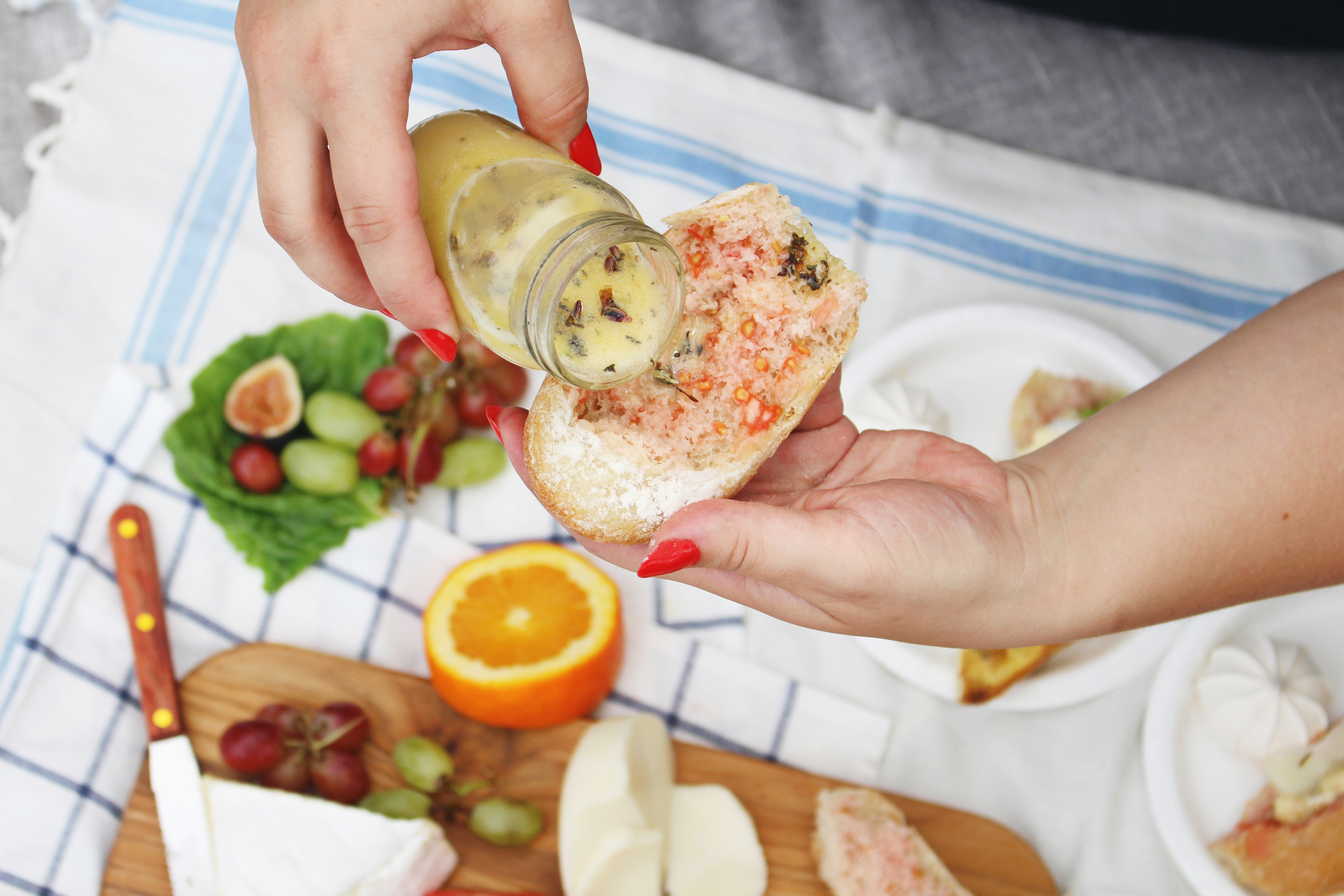 For this picnic I also included my favorite popular "European" soda, Orangina, It's not too sweet, and just a little fizzy. A real crowd pleaser that comes in adorable little glass bottles in most grocery stores (but I have ordered it online in a pinch).
Last but most certainly not least….the sweets. Stop at your local Patisserie and get fresh macaron or meringue if you can. Our meringue are actually from Trader Joe's, and surprisingly fresh! You can also make your own very easily. The beauty of the meringue is that it won't melt and is just the right amount of airy sweet crunch to go with your fromage and other French favorites.
My personal favorite French desert would have to be the Macaron. These light and rich sandwich cookies are naturally gluten free and can be frozen before the picnic. We picked ours up from pastry chef David Piquard of Gaby et Jules  bakery here in "the burgh". As a French native, these gorgeous treats are his specialty! But macaron have gained quite a bit of popularity so you can purchase them many places and find many tutorials online….if you are feeling ambitious.
But be careful…these beautiful desserts are delicate, so I placed ours in an old vintage tin that I had laying around. This will keep them fresh and unbroken and double as yet another way to make your picnic pretty. It's all in the details…but it's best when the details are practical! Salut!
-Emily
Crustless Quiche Lorraine
Ingredients:
6 eggs
¼ cup heavy cream
Herb de Provence (or rosemary, basil and lavender)
Mushrooms
Mozzarella cheese, to taste
Handful of spinach, torn
Directions: 1. Beat the eggs and milk until a little frothy by hand. Add seasoning. Stir. 2. Grease an 8×8 in glass pan. Pour in mixture. 3. Sprinkle in cheese, mushroom slices and spinach. 4. Add a pinch of salt and pepper 5. Bake until the edges are slightly browned and the center is no longer liquid but still moist. It will set up as it cools. (About 30 min at 325)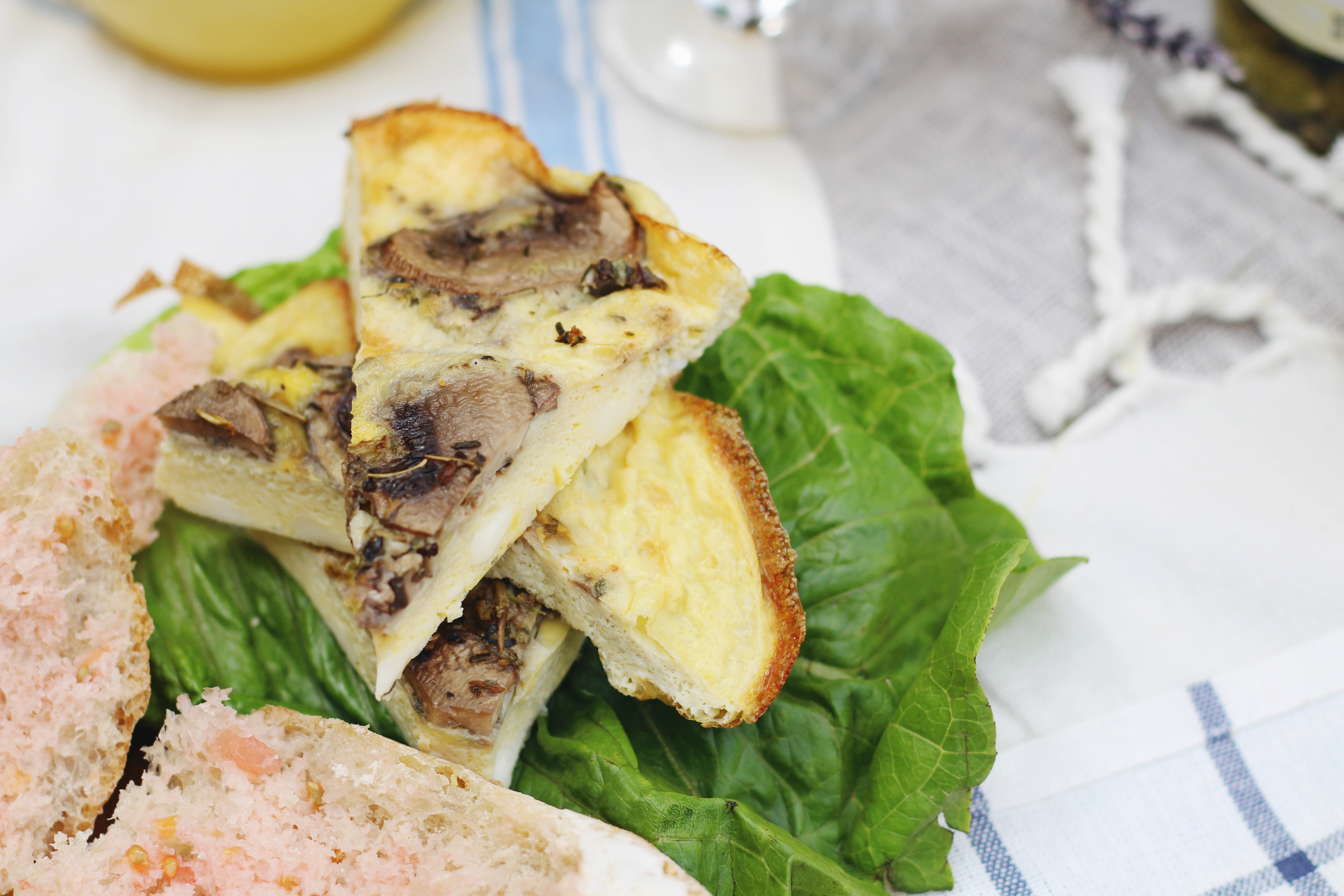 Download the checklist for this week's French picnic!