I'm excited to be back on the blog today chatting about soft pastels! If you've been following me over the course of the last year, you'll know I am absolutely smitten by this medium.
As I've shared more and more about my soft pastel journey, I've heard questions from many people who are curious about trying them out! Maybe you are a hand-letterer seeking a new means of expression (like I was!) or a chalk artist desiring to try out another exciting, tactile medium. Regardless, I'm glad you are here and it thrills me to share this newfound passion with you! Soft pastel has been life-giving to me and I am bursting to share it!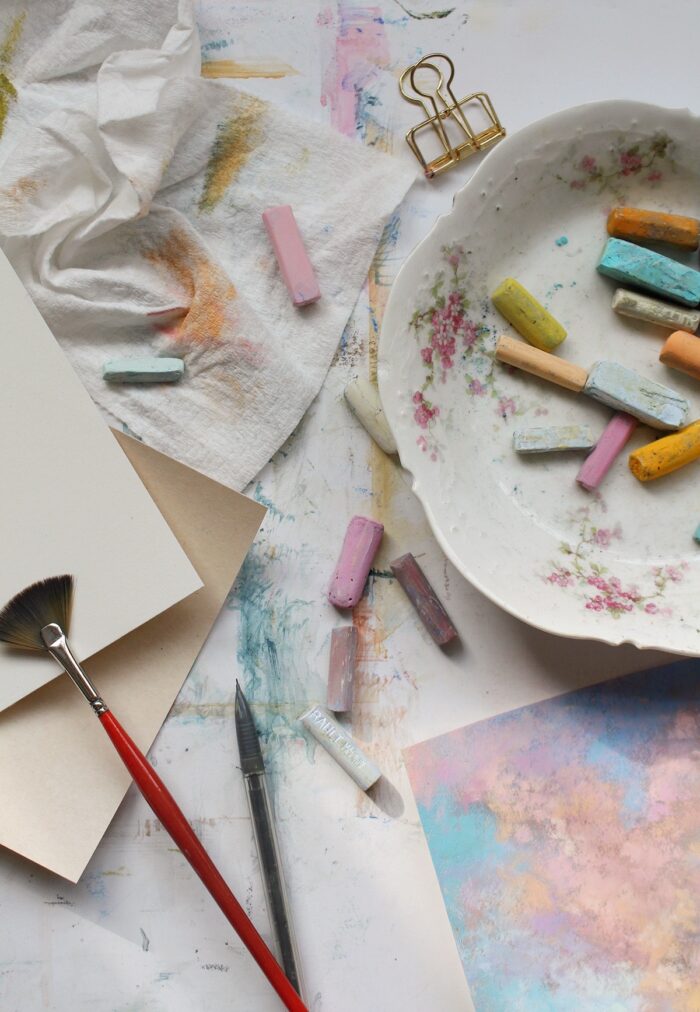 Although I have a long way to go in learning and experimenting, I have been soaking up information like a sponge over this last year and a half. My goal for this post is to share what I use, what worked and didn't work for me, and how I got started. I hope this guide serves as a good place to start for those who are interested in giving this wonderful medium a try.
Before I begin though, if you haven't already, be sure to check out my Soft Pastel vs. Chalk post. That post will answer the important question "what even is soft pastel?".
Also, nothing in this post is sponsored – it is everything I've used and loved, but I do include some affiliate links. 🙂
Materials:
Soft Pastels
Soft pastel is a fine art medium and I will forewarn that they are not inexpensive. That said, the good materials are well worth it depending on what you are trying to accomplish. Like most other art supplies, high-quality materials will make a big difference.

There is a huge range of brands to discover at many price points, so it's a good idea to first ask yourself what you would like to achieve. To simply play and try something brand new? Taking things a bit more seriously with the goal of potentially selling your work? This will all play a role in how to invest.
For me, the very first set I purchased to try out was the Sennelier Assorted 40 Half Stick Set.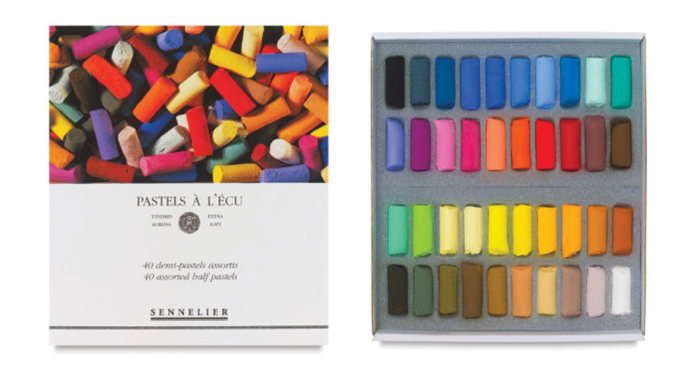 I recommend starting with the half sticks! You get more bang for your buck that way – more colors to try! And I think the half sticks are just easier to use. (I often end up breaking my full sticks in half). Sennelier pastels are known for having a bit of an irregular shape. You may experience some "points" on them which will make it difficult to use the broad side of the pastel. They just need to be filed down in some instances.
This was a very nice set for me to get a good feel of what it's like to use soft pastels, but I was quickly thirsty for more and ended up purchasing the Sennelier Paris 120 Half Stick Set.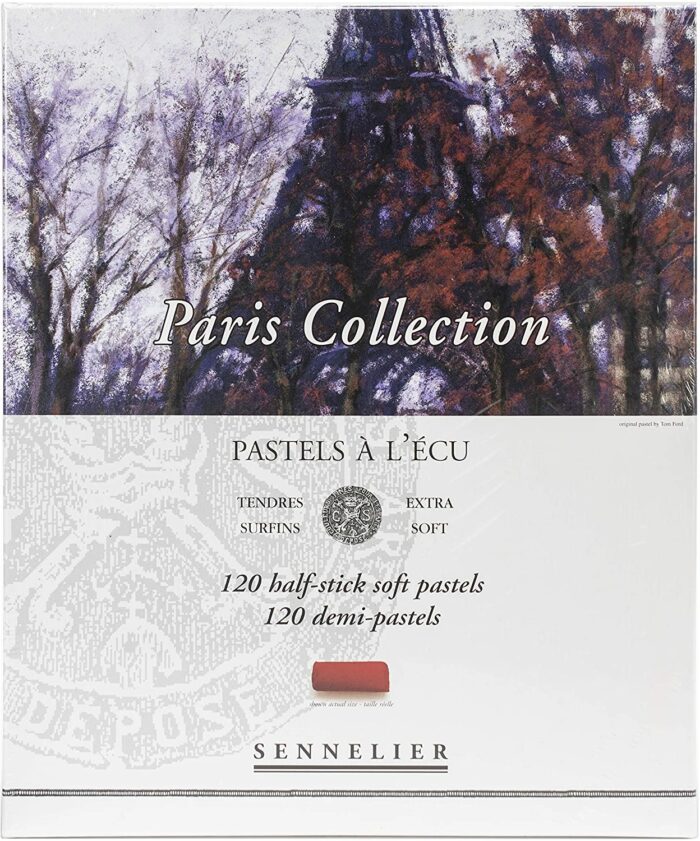 If I went back and did it again, I would have started with the Paris 120 set, but the set of 40 is a great start with a really high quality, artist-grade pastel. I really love the Paris set because it includes nuanced neutral colors as well as beautiful saturated hues! The price point is an excellent value, too, for the quality of pastel.
Something to note: In the world of soft pastels, there is a range of brands that lean harder to very soft. Sennelier pastels are known for being on the very buttery soft side, so working with these requires a light touch to be sure you don't lay down too much pigment. As you progress in your soft pastel practice you will begin to want to include pastels in a range of hardness levels. These are your "brushes" and each one will lay down pigment a bit differently and allow you to make different marks.
In addition to the Sennelier set, I started with a variety of NuPastels made by Prismacolor. Unlike Sennelier, NuPastels are on the hard side. It is still considered a soft pastel, it just has much more binder in it making it harder and also less expensive. NuPastels are fantastic for blocking in your initial sketch, creating an underpainting, and adding fine details like grasses.
I took the route of purchasing NuPastels separately, so that is totally doable, but the more I collected the more I wished that I had purchased a set. You can get the entire set of 96 for a great price and they will last for a very long time. They also make sets of 12, 24, 36, and 48.
I have found the color Blue Spruce (305-P) to be a must as it's a wonderful dark value, but not flat black. I use it in almost every painting, especially for my initial underpainting.
When you are ready to expand your collection beyond your initial set, I would recommend purchasing one or two of the Dakota Pastel Sampler Sets. It is a great way to get a feel for all the different brands out there! I purchased the Soft Sampler Lights.
Over the course of this last year, I've grown my collection to include mostly Girault, Terry Ludwig, and Richeson. They are a few of my favorites and all vary in their hardness levels.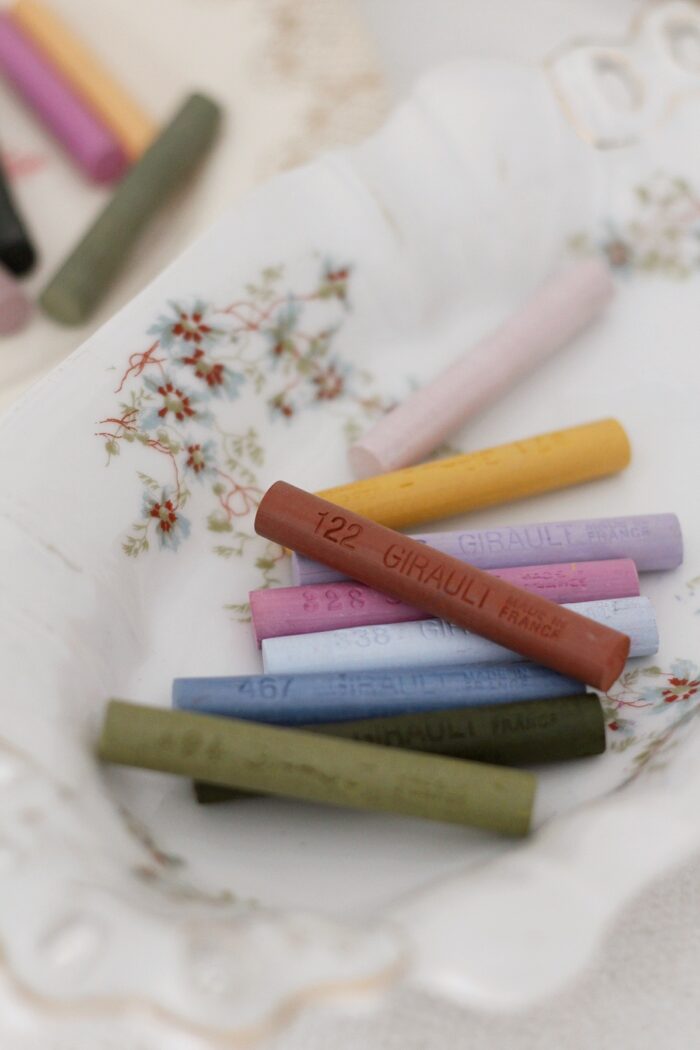 You might be asking, "what if I just want to dip my toe in the water? I'm not even sure if I will like them so I don't want to invest a lot."
I hear you!
I've spent some time looking for an inexpensive alternative that I could recommend and found this set by Alphacolor. As a result of being more student-grade, the sticks are on the chalky side unlike the buttery, pure pigmented color of the other brands I mentioned. However, they will give you a feel for the tactile nature of the medium and the set of 24 has a nice range of colors. Paired with the Blue Spruce Nu pastel mentioned above, I think this would be a great place to start and experiment!
I found that when working with inexpensive pastels, they are made better when you invest in quality, sanded paper. Even though their pigments aren't as saturated, the sanded paper will drastically help. (More on that below).
Building a pastel collection is part of the fun of being a pastel artist! You do not need to go crazy with pastels in order to create beautiful paintings! As your style develops, you can determine the colors you would like to add to your palette. It's okay to grow your collection slowly! And honestly, I think it's more exciting this way!

Papers
The first paper I ever tried was an unsanded pastel paper and I thought it was okay (I didn't know to try anything different!) BUT, then I tried a sanded paper and it made it all the difference in the world. You can certainly use pastel with unsanded paper like Canson Mi Tientes. It comes in a wide range of colors to try out, which is nice. I think it depends on the look you are trying to achieve and how you are applying the pastels.
This begs the question, "is it painting or drawing?" And another amazing thing about pastel is that it can be both!
Pastels can be used in a way that is much more like drawing or illustrating. A lot of the paper is usually still showing in this application and unsanded paper will work just fine for this. But I've been predominantly using pastel as a means of painting. In this way, the entire surface is covered with pastel and the pigment is layered utilizing a number of different types of mark-making.
In my opinion, to truly see what these sticks can do in terms of painting with them, I would recommend trying sanded paper.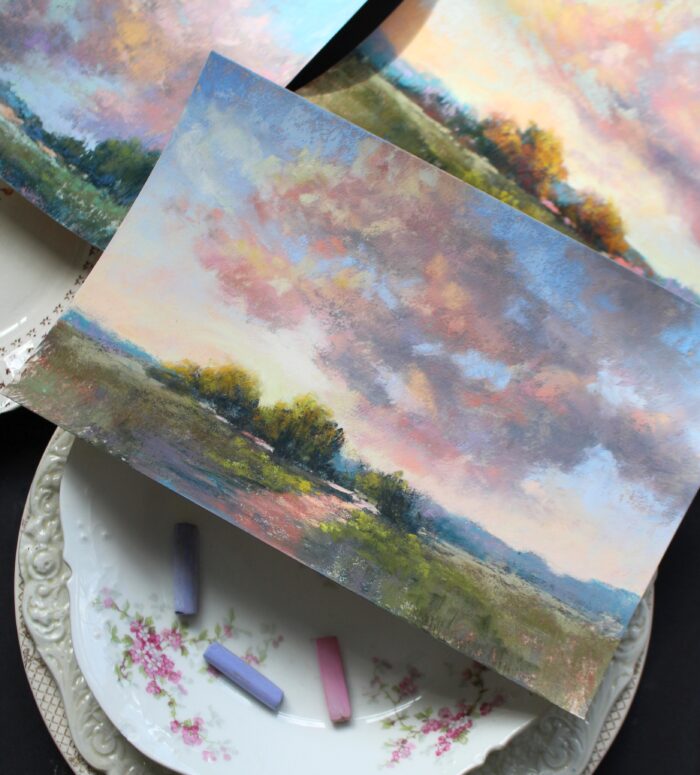 Part of the beauty of pastel is that you layer them! This layering creates the most beautiful, luminous effects! When you use a sanded paper, the tooth of the paper grips the pastel pigment and holds it in place. The unsanded paper, on the other hand, is a little more difficult because your layering is vastly diminished.
I primarily use UArt sanded paper in either 400 or 500 grit. Just like with sandpaper from the hardware store, the paper is grittier as the number gets lower. The 400/500 is a nice in-between, which gives you a great opportunity for layering, but isn't so gritty that you have to fight the texture of the paper.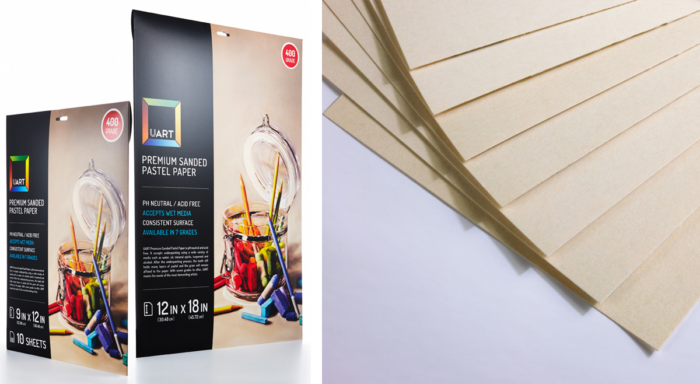 UArt comes by the sheet, mounted board, roll, or pad and is available in a dark color or an oatmeal-like color. I think the 9×12 size is a great place to start and that size comes in a convenient pad. You can use wet media on U-Art, which is perfect for creating underpaintings. Using rubbing alcohol with harder pastels or even creating a watercolor underpainting are all fun things to try out on this paper!
Another product by Sennelier is a paper called La Carte Pastel Card. Unlike UArt, this paper does NOT accept any wet media so it can give an entirely different look! It has a completely different feel than UArt and comes in some beautiful colors. I really enjoy using this paper. It too comes in a pad.
There are many other sanded papers out there and I am still trying others! As we speak I have a pad of Pastelmat on its way to me! (I look forward to updating when I try it!)
UPDATE: I tried Pastelmat and I LOVE it! It has such a unique texture. To the touch it doesn't even feel like it's a sanded paper, but the pastel pigment grips beautifully! I love the different colors it comes in and have tried quite a few. I definitely recommend this paper!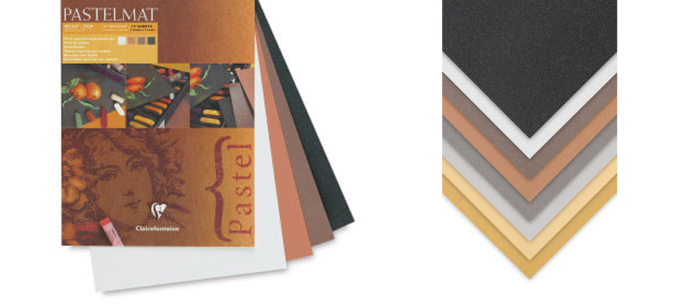 Additional Supplies
Truthfully, all you need are the pastels themselves plus some paper and you can be off and running! But here is a list of a few things that you might find to be helpful.
An easel. When I first started, I worked on the pastel flat on my desk. This is fine, but you will have to continuously lift it up to tap the excess dust away. Important Note: DO NOT blow on your pastel. The pigments are toxic and you don't want that flying through the air to breathe in. I quickly moved to working in an upright fashion and it was much easier. Even a tabletop easel will do the trick!
A piece of foam core to create a backer board for your easel. You can then use masking tape to affix your paper to the backer board. Sometimes I like to clip my paper at the top to hold it in place as well.
Towels, Paper towels, baby wipes. Pastel is MESSY! I'm constantly wiping off my hands on a dark towel by my easel. Baby wipes are a good idea too and paper towels will help you clean up your pastels.
A pad of Tracing paper. Storing your finished paintings sandwiched between sheets of tracing paper pads will keep them protected.
Lessons
Online
I first learned by spending countless hours soaking in video lessons on YouTube. An artist by the name of Susan Jenkins, in particular, has a channel called "Monet Cafe", which has an incredible library of videos. She explains things so well.
A few months ago, I did discover a pastel course by the artist Marla Baggetta. It is called "Pastels for the Serious Beginner." I decided to purchase this course and WOW! It was so detailed and truly complete. If you're feeling like you want to get more serious about pastel painting or are looking for a way to get all the info quickly and in one place, I would recommend checking out this course. It contains both helpful PDFs as well as videos. It is a reference I'll be coming back to again and again.
Books
So far, I've added these books to my collection and they've been both helpful and inspiring.
The Poetic Landscape by Elizabeth Mowry
Painting Brilliant Skies & Water In Pastel by Liz Haywood-Sullivan
and a Landscape Painting classic, Carlson's Guide to Landscape Painting
Other Tips
It's easy to get discouraged at first. Trying something new is not easy and it can be intimidating. I still get intimidated! What helps me remove the pressure is to enjoy the process. Put on some music and let yourself play! Allow this time to be joyful and filled with curiosity instead of focusing on the end result.
Volume is going to be your best friend! The best way to get better as well as beat the pressure is to create lots of paintings. Keep coming back, keep trying it again. When a painting doesn't work out I tell myself, "I'll try again next time" instead of fussing and agonizing over one painting and letting a lot of time go by until my next.
Most importantly, give yourself grace. Always.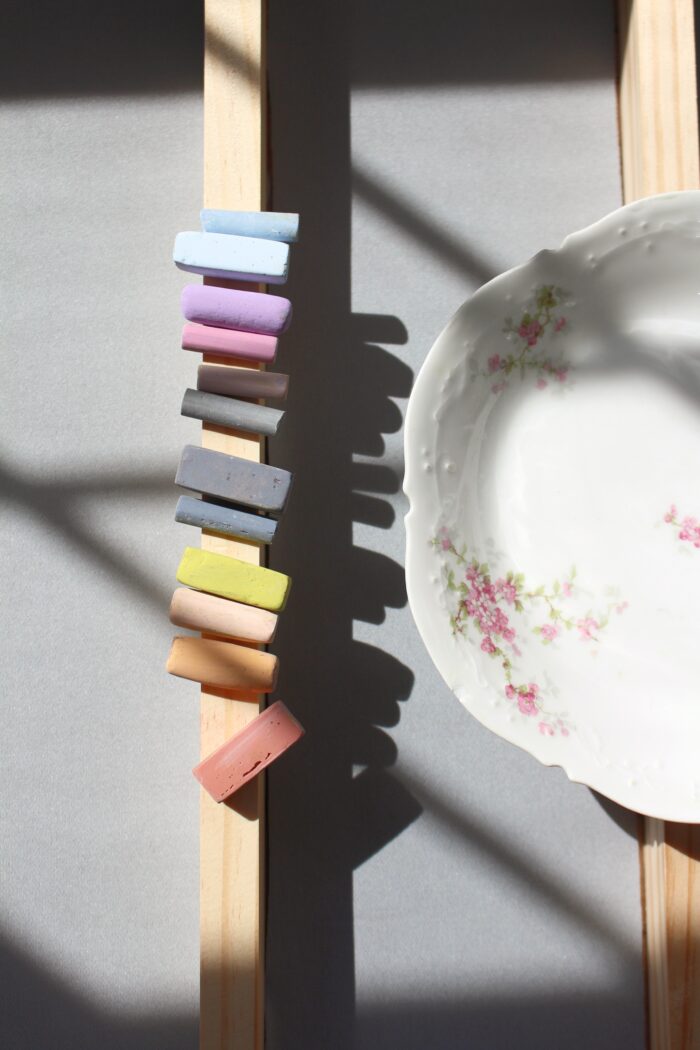 I hope this post has been helpful! Please let me know if you are giving soft pastels a try! I'm cheering you on! 🙂