Happy Holidays, all!! Mak and I got our tree over the weekend and decorated for Christmas. This is our first Christmas in the city and it was so much fun making our home cozy for the season. One of my favorite details was something so simple – a hot cocoa station! During the the rest of the year, we have a coffee & tea station in the kitchen ready to go with a sugar bowl, Keurig, cute hand-stamped spoons by jessicaNdesigns, and mugs hanging on a white reclaimed wood shelf.
To update it, we switched out our L&V Coffee print for the Hot Cocoa Recipe Chalk Art Print and added candy canes to my favorite Anthropologie monogram mug. The other mugs pictured are hand lettered L&V mugs!  The black and white tied the whole look together. Easy access to mini-marshmallows is a must, so I used a clear mason jar to hold them.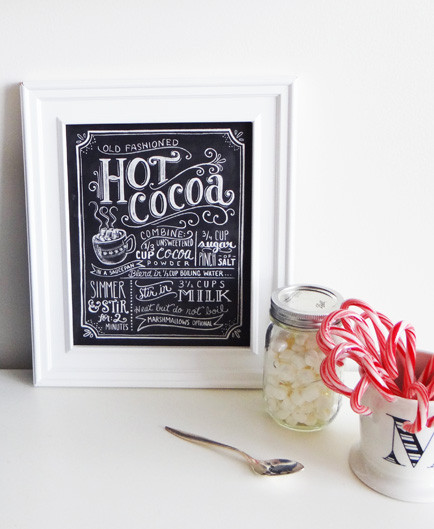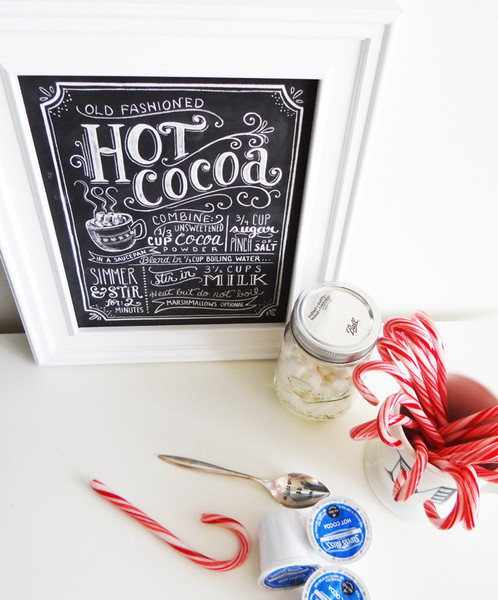 The Keurig makes making hot cocoa in a pinch super simple, but I also have Spiced Chile Hot Chocolate Mix with Cardamom & Star Anise from Whimsy & Spice ordered. I cannot wait to try it when it gets here and add it to the station!
I think I will be spending a lot of time at my hot cocoa station in the next few weeks!