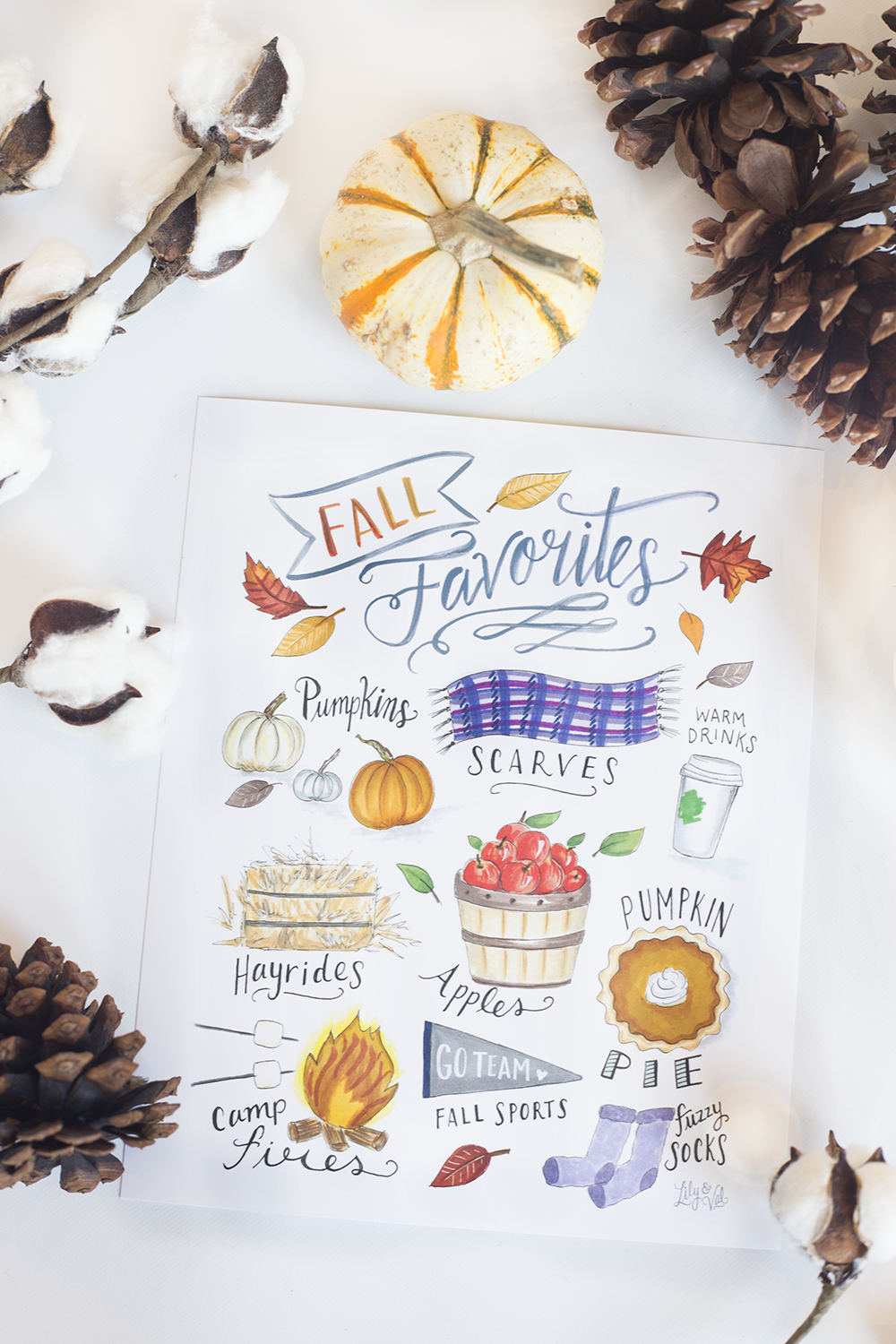 November is flying by so quickly that I don't know whether to jump in a pile of leaves or start singing Christmas carols (okay, I'll do both). While Thanksgiving is just around the corner, I don't want to forget to take the time to celebrate one of my favorite annual traditions: Friendsgiving!
I love Friendsgiving because it gives us an opportunity we don't often take in our daily lives to tell our friends how much they mean to us. Keep reading to see how I interpreted the staples of the season into autumnal details for my Friendsgiving celebration.
Pick a Theme
For my own small gathering this year, I wanted to take inspiration from my favorite season – Fall! Luckily, all my favorite things about Fall have been captured beautifully by this Lily & Val print. I took creative license with how I interpreted the elements in our print (shown below) – but together each piece works to create a warm and inviting atmosphere.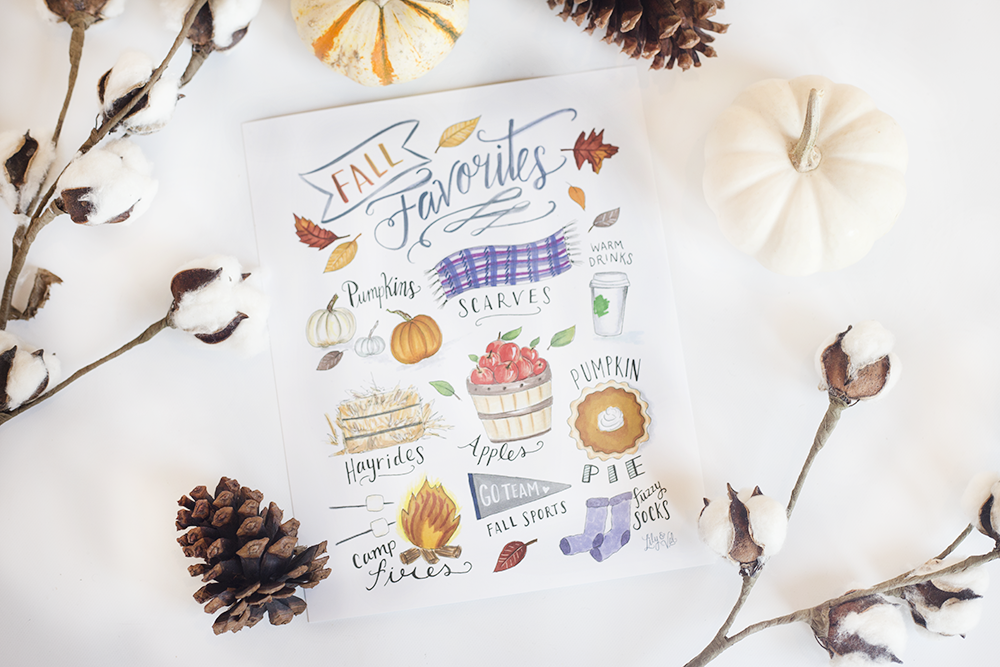 Get Cozy with Seating
Let's start with the seating. Any intimate gathering gets that much cozier when you sit on the floor. Trust me on this one. Laying out a fuzzy blanket and topping it with pillows naturally creates a closer space for your guests to eat and mingle. We love the warmth and comfort of fuzzy socks and scarves – so translating that into your environment is guaranteed to add a special element to your get-together.
Play a Good Old-Fashioned Board Game
How to get that fall sports spirit of healthy competition into your night? A good old fashioned game of Jenga. While we love the throwback look of this wooden set from Target, any board game will do. A word of warning though: if you want to keep your friendships in tact, maybe avoid Monopoly.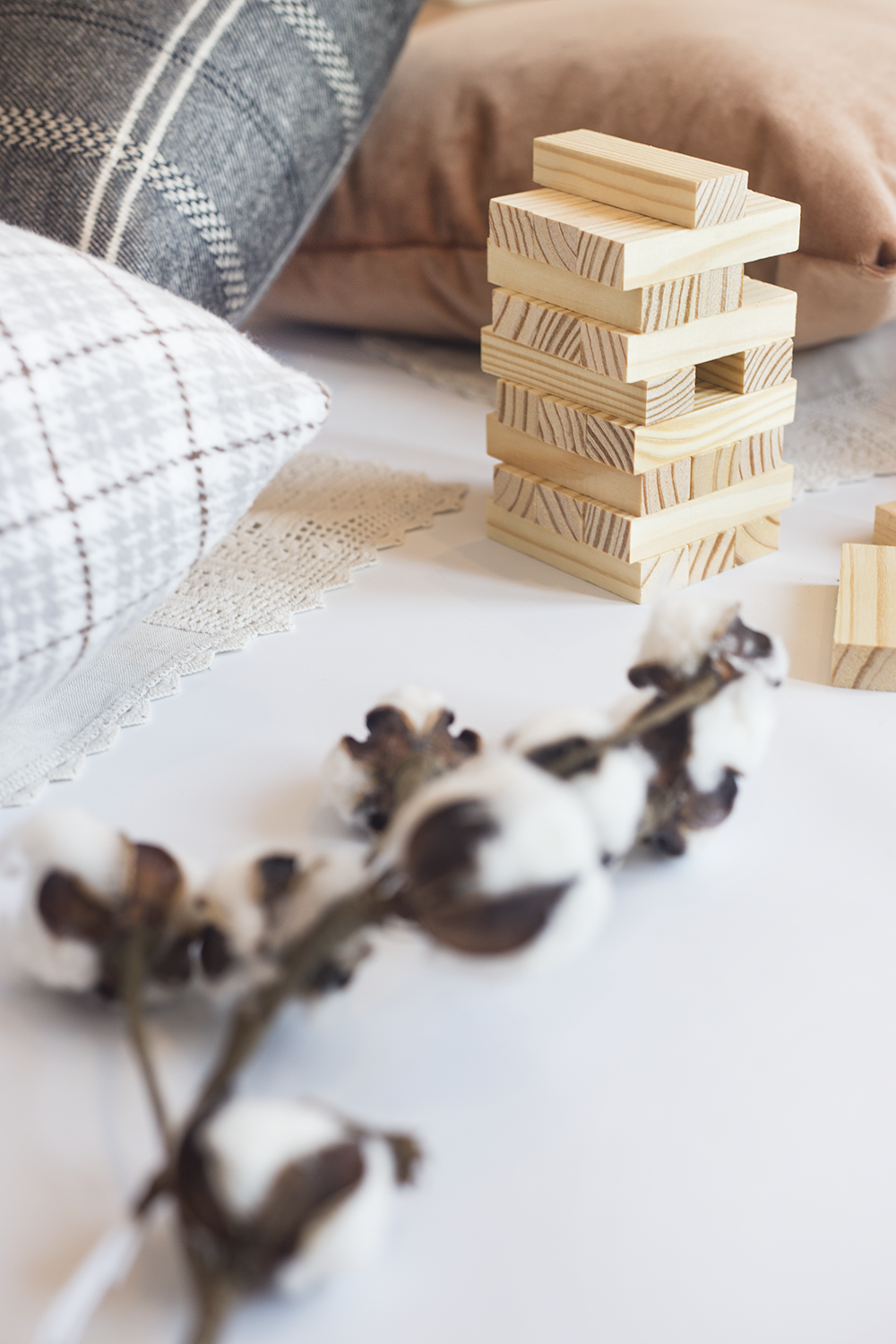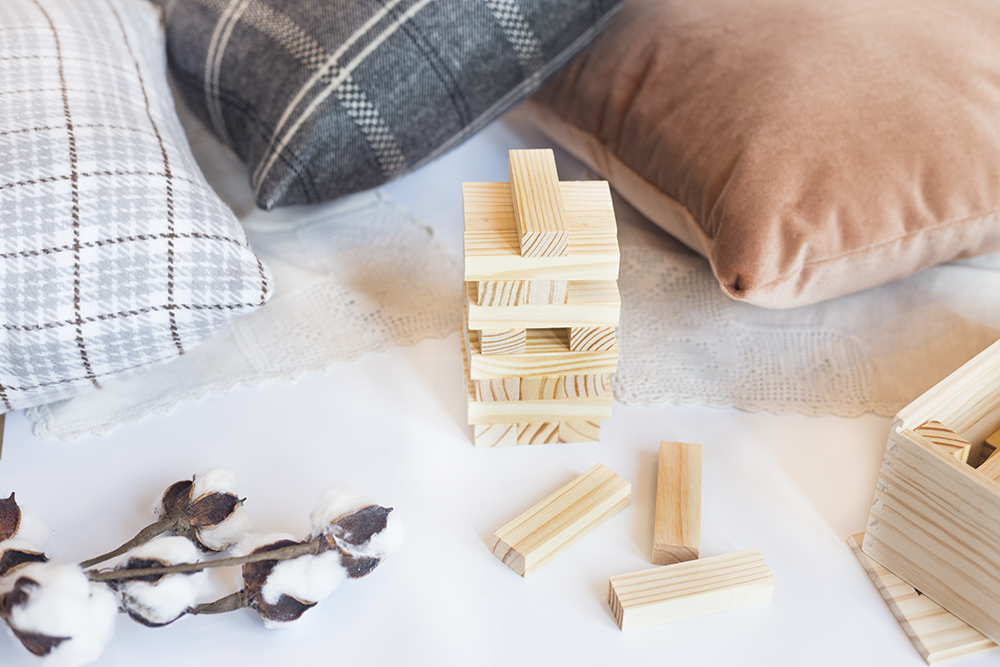 Bring the Outdoors In
Next up – snacks. In the past, I've asked guests to help out with cooking by bringing potluck dishes while I provided drinks and dessert. My personal favorite fall dessert? S'mores! I love bonfires but sometimes it's too cold out or you live in a small Pittsburgh apartment (am I right?). In this situation, stovetop s'mores are the best way to go. Add that outdoorsy feeling to your s'mores by grabbing roasting sticks from outside and displaying them in a glass jar – instant elevation. This even works as a beautiful, rustic centerpiece for your table. Mini pumpkins are another great way to add some outdoor-inspired fall decor to your space – vary the pumpkin colors to add dimension and adorableness.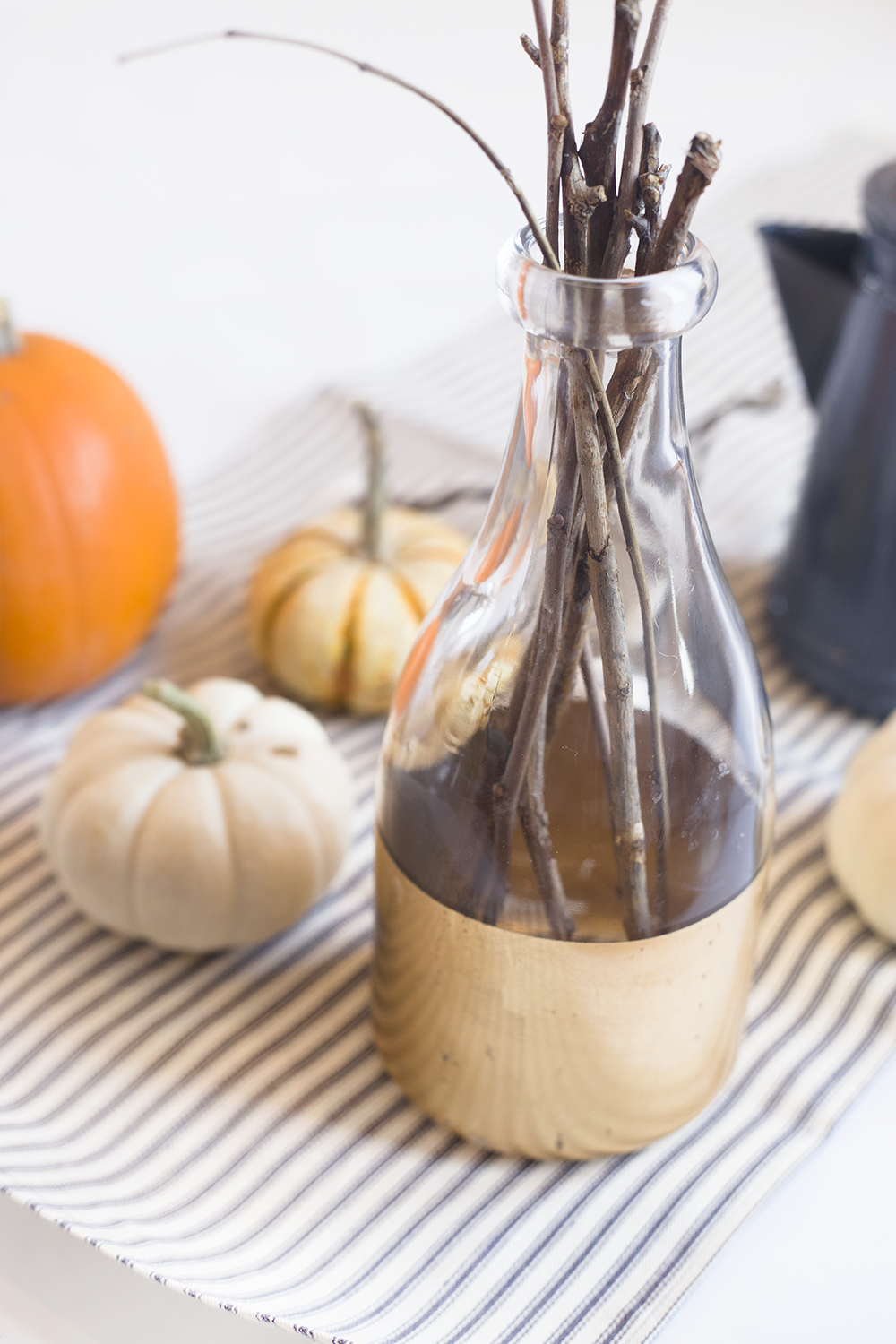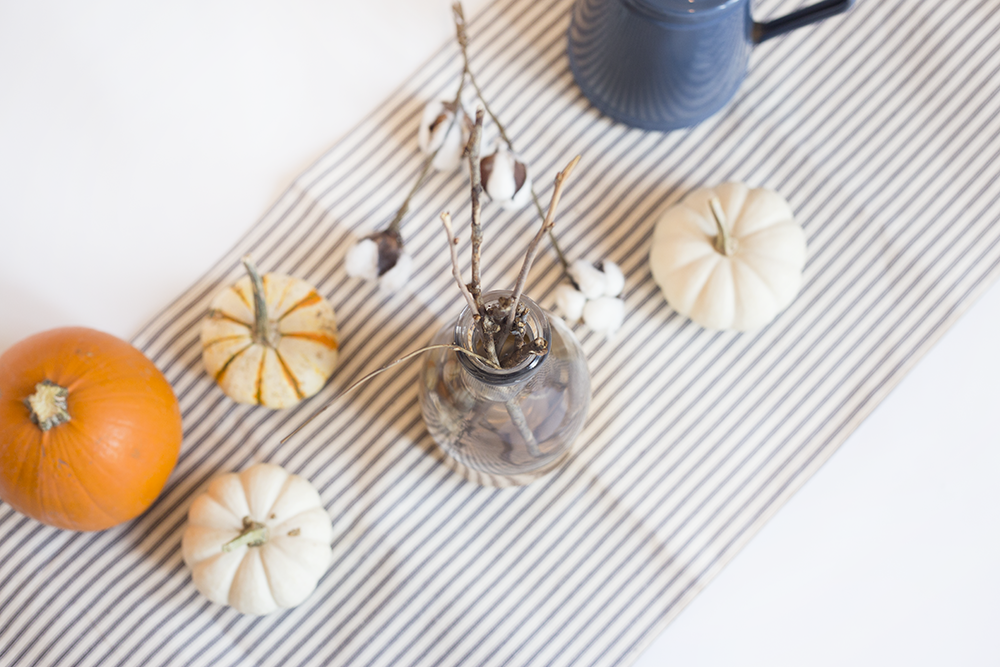 Warm Up with a Hot Beverage
Finally, my favorite autumn drink recipe of all time. Warm beverages are one of the best ways to harness the spirit of the season – especially if that beverage is hot apple cider. I make this every year and it always reminds me of when my mom would cook up a pot of cider on the stove to welcome me home after a cold night of playing in the marching band at my high school football games. The aroma of apples, cinnamon and caramel still has a way of transporting me back to those memories.
The recipe for this is so simple:
1) Heat a large pot on medium over the stove
2) Pour in a half gallon of your favorite apple cider (mine is from Soergel's Orchard)
3) Once the cider is hot, stir in 1/2 cup of caramel sauce
4) Sprinkle in your desired amount of nutmeg and toss in two cinnamon sticks
5) Stir and let simmer, then pour into a giant mug and top with whipped cream
So, what do you think? Will any of our fall-inspired Friendsgiving ideas make their way into your November celebrations? Comment below and let us know your fall favorites and any Friendsgiving traditions you love!
If you need any further fall inspiration, check out our Pinterest board!