Hey friends! Today I wanted to share something I've been SUPER into lately… essential oils!
For the past few years, you've heard me talk about cleaning up what I use in my home and on my body. As part of this, I've dabbled with essential oils but only a few that I purchased at Target. I've come to find out, the quality of these oils is just not there. When you are using the real, therapeutic grade stuff, they can be SO powerful for a host of things. I had no idea what all essential oils can help with and there's so, so much.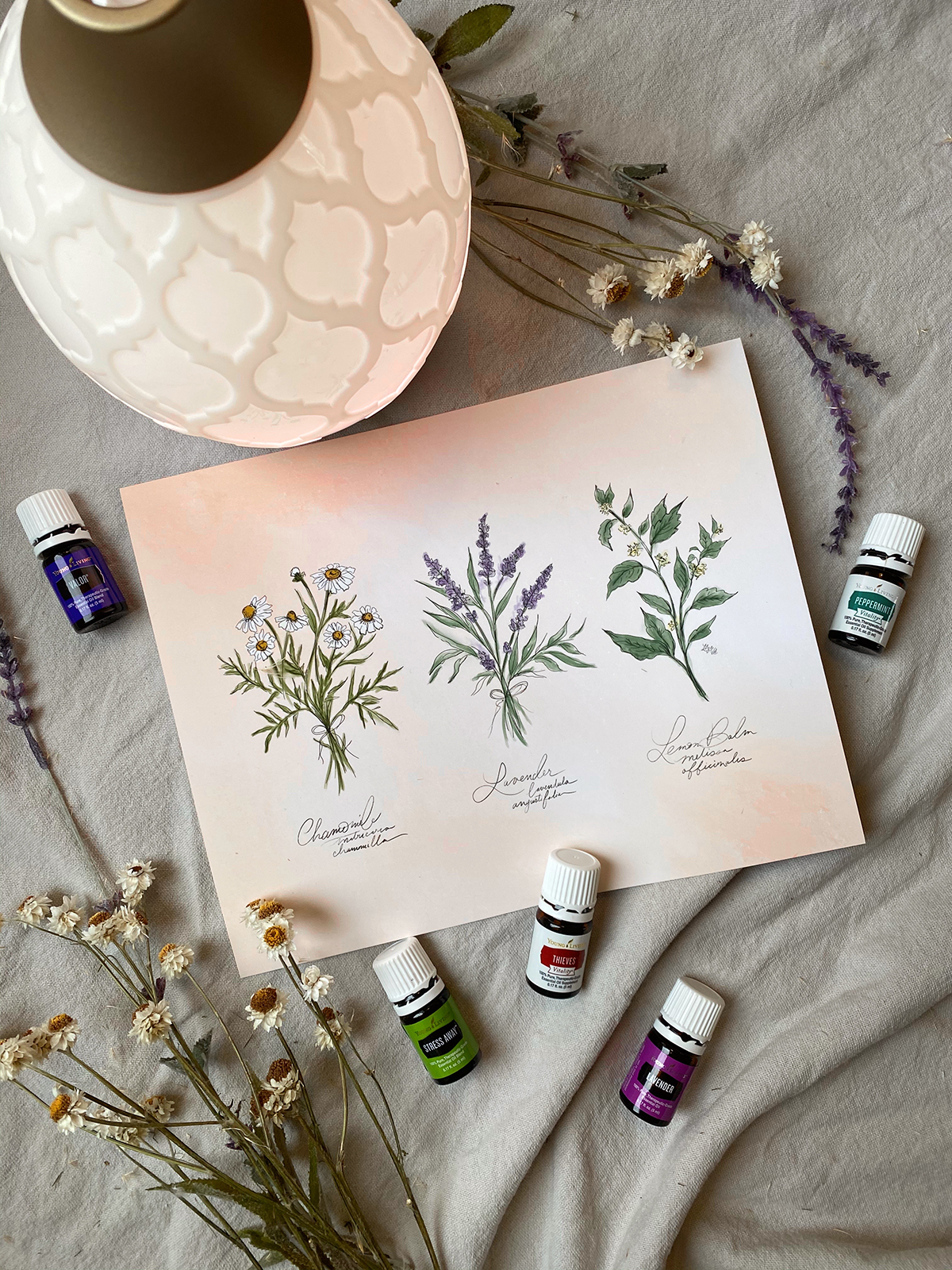 So, thanks to my friend Jessica Numbers I got my Young Living starter kit and have literally been a sponge soaking up all the information I can find, especially when it comes to the safety and use of oils for baby. (Currently reading this book!)
I'm fascinated and excited and still very new at all of it, but feeling empowered to make this part of my daily life. Okay, so where are my oily friends?! And if you're like me and just dabbling or using Target oils, here is a link to the Starter Kits. Let's learn together! I've had mine for a few weeks now and am amazed at how much you can do with it! Plus, it's really fun.
I wanted to share just a few things I've been doing to focus on wellness and start my essential oil journey:
Set up a Bedroom Oil Diffusing Station
There's something about making a pretty space that gets me excited and helps ensure I will actually use something! This little station is nothing more than a diffuser that I had purchased previously (there is a diffuser that comes in your kit and it is pictured above; I have this one in my living room!) sitting on an antique metal tray to hold the oils I'm currently using and catch any drips. I can also store oils in this cute basket I got from Good Call Vintage.
I also keep a glass of water on my dresser to make filling the diffuser easy and convenient. Little tip: Fill the diffuser in the morning so it's ready to go at night when you are tired. This station is such a simple thing, but it's helping me use the oils and keep myself organized.
These are the three go-to oils I've been diffusing at night:
Peace and Calming: This is definitely my favorite oil so far! I've gone through an entire bottle already and purchased a roll on too. The smell is lovely, I could wear it as perfume. It feels great to have something to go to when I'm feeling anxious or worried.
Lavender: Lavender was my first experience with oils, but I'm happy to now have this wonderful, high quality version. I LOVE LOVE the smell of calming lavender in the bedroom especially. I've also been using a few drops on wool balls to pop in the dryer.
Thieves: The McKeehan household has been battling some on and off colds and general ickiness since the beginning of the year! Thieves is a great immunity blend.
All three oils come in the starter kit!
Create custom diffuser & roll-on blends:
I am so grateful for the resouces Jessica sent to me and the reserach I've done of what all you can do with essential oils. Like I keep saying, there is SO much. I started to dabble with some additional diffuser blends and also blends that can be created into roll-ons. Not only is it benefical for wellness, but I love the fact that you can customize the oils. I'm having fun with it! I made my first roll on just today! Woohoo! It is a combination of Thieves, frankincese and lemon. I've been using it on the bottoms of my feet to fight off a cold.
Here are just a few of the diffuser blends I've been working my way through:
Keep Learning:
I know I have so much more to learn and I want to, of course, be certain I am using the oils safely and appropriately. For example, I had NO IDEA you could ingest essential oils, but with Young Living oils marked "Vitality" (in white bottles), these oils can be ingested. I've been dropping one drop of lemon in my water and using a drop of Thieves Vitality in my tea. Most essential oils, like the ones you find at grocery stores CANNOT be ingested. This just goes to show how much there is to learn, but how powerful this knowlege can be.
Those are just a few of the things I've been doing to start this journey and I hope to share more in the coming weeks as I become more familar! What are your go-to uses for therapeutic essential oils? I'd love to hear in the comments!
And inspired by my newfound appreciation for essential oils, I drew this new print I'm calling "calming herbs!" you can find it in the shop here.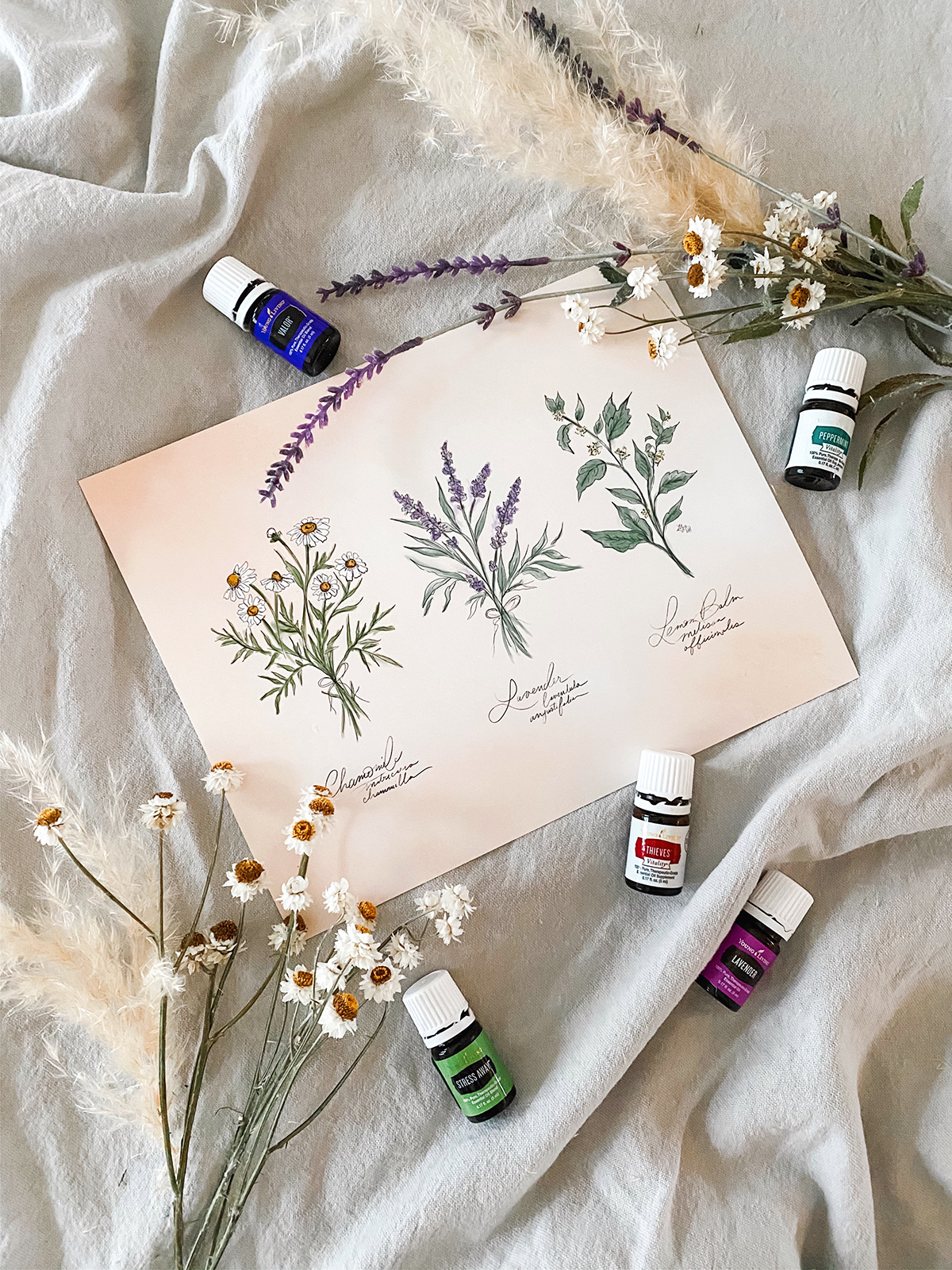 If you're interested in beginning this journey too, find your Young Living Starter Kit here! Let's oil together!
 THIS POST CONTAINS AFFILIATE LINKS. THAT MEANS A LITTLE BIT OF YOUR PURCHASE THROUGH THESE POSTS HELPS US JUST A LITTLE TOO! THIS CHANGES NOTHING ABOUT YOUR PURCHASE PRICE, AND WE ARE NOT ASKED TO FEATURE THESE ITEMS. THESE ARE JUST THINGS WE CAREFULLY PIC BECAUSE WE LOVE THEM AND THINK YOU WILL TOO! THANKS FOR HELPING SPREAD THE LOVE! XO