Nothing gets us in the mood for Fall more than deliciously-smelling seasonal candles!  This is the time of year when the weather hasn't quite caught up to our hearts, but candles transform these summery days to the beginning of Autumn.
If you're looking for a few candles to add to your Fall collection, check out our top picks below!
Whipped Cream & Pear by Boulangerie
Whipped Cream & Pear is a top pick because it's not as heavy as some of the others, but it has an undeniably Fall coziness. The warm vanilla mixed with pear is unique and especially perfect to have in-between seasons.
We don't have to tell you that Bath & Body Works creates some of the best seasonal candles on Earth. I don't know how they do it, but "Leaves" is a favorite every year. To us, it is that perfect representation of a crisp Fall day.  It has a woodsy note that is truly reminiscent of being outdoors in the fall with a cup of mulled apple cider in your hand.
Tobacco & Patchouli by Paddywax
This scent will fill your home with a warmth and coziness all season long. The scent is smoky, earthy, and lovely without being overwhelming. It will make you want to cozy up with a blanket and get lost in a book. Not to mention, we adore how the brown apothecary jar looks on our shelf.
Just take our word for it- you need this candle in your life!  Not only will it make your home smell amazing, it will make your guests think you've been in the kitchen all day! Just think of sugary sweet pumpkin spiced with hints of nutmeg and cinnamon and layered onto a warm, sweet-butter crust, and blended with maple and honey. It should be on every pumpkin-lover's list this fall!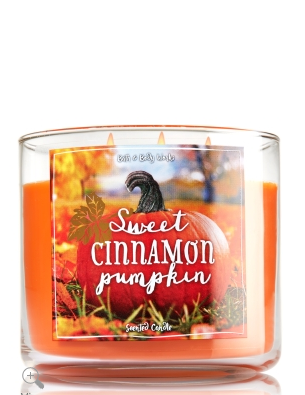 Sweet Cinnamon Pumpkin by Bath and Body Works
No Fall candle collection is complete without a classic pumpkin scent, and this one is our favorite. The hint of cinnamon mixed with the sweet pumpkin is beautifully balanced and perfect.
We are so ready to kick off the Fall season and candles are our first step!  What candles do you love for Fall? Tell us below!