Spring is here and it has given new life not only outdoors, but in our homes!  There's no doubt we all want to revive our living spaces a bit after being indoors all winter long. Some ways of freshening up take a little bit of time, like getting a fresh coat of paint on the walls or rearranging furniture.  On the other hand, some ways take virtually no time at all, like adding a new L&V print to your space. Typically, our mind goes to picking out a frame, but for this post we thought outside the frame to bring you unique ideas for making our prints your own. We have collected a few of our favorites. They are simple and work especially well with chalk art prints, since there is no glass to hide the matte effect.
Classic Clipboard:
It can be as simple as using a classic clipboard!  This natural brown one fits in perfectly with the rest of the shelf, but you could also grab a brightly colored clipboard to add a little something. Since clipboards already have a hole at the top, you could easily hang them on the wall as well as propping them on a shelf.
Washi tape has been a big hit for adding all types of interest to walls, journals, mail, and more.  Not only have we used strips on the corners of our French Macarons print, but we used Washi tape around all four sides of the Love & Coffee print to completely frame it in! This gives it a modern, clean, finished look, and looks like a frame without a frame!
Keep In Mind: Washi tape is a bit of a commitment, so make sure you will be happy with displaying your print in this way first. Once you take it off the walls, the tape will also take off edges of the print where it touches. Some of this could be covered up in a frame, but we would recommend sticking with Washi once you choose to go in that direction!  A great tip for experimenting with Washi is to use a scrap piece of paper to get an idea of the size and look on the wall before you jump in.
Vintage Wall Hanging:
How cool is this vintage-inspired wall hanging? This simple DIY is perfect paired with our Wildflowers Field Guide print! To Make the Hanging: 1. Visit your nearest craft store, pick up some inexpensive wooden rods (these are just balsa wood) that fit your print, and some twine rope. 2. Staple the print's edges to the the back of the rods, using a regular stapler. Don't forget to make sure the print is lined up and level!  3. Wrap the twine around the ends of the rod and knot them to create a hanger. You could even stain or paint the rods if you wanted it to match other frames in your space!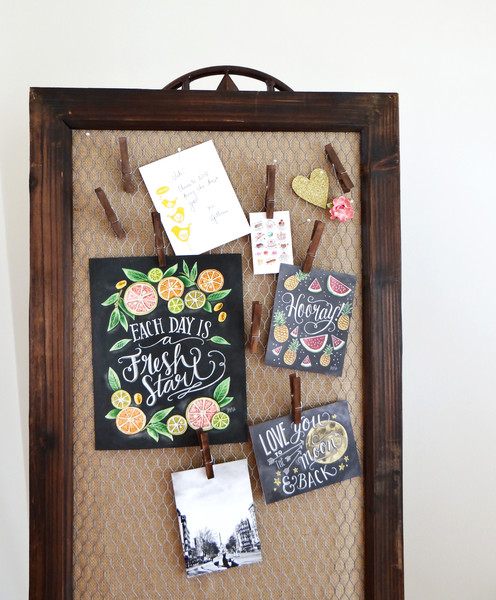 Message Board:
If you already have a message board where you display notes and keepsakes, add some art to the mix!  A print really brings interest and it's great for those afraid of commitment. Changing out prints is a breeze! This is a great way to display your L&V cards, too. Decorate your message board for the season!
Hanger:
We were so excited to try this idea!  You know those pant hangers that come with clips?  They can be one of the most creative ways to display a print!  Hang it from an existing nail or hook (even the hooks can be decorative like the Anthropologie white elephant pictured here). Just clip the print to the hanger and it's ready to display!  We especially love hangers with some extra sparkle, like this one from Pearls and Pastries!  It's easy, practical, versatile, and a super fun accent for your walls!