Hey everyone! It feels great to be back here sharing with you on the blog. I've been on maternity leave since the beginning of June and everything has been a blur (in the BEST possible way) since then. Vienna Nicole McKeehan was born on June 8th, 2019 at 5:50 am and she has just lit up Mak's and my life! For all the baby photos, take a peek at my Instagram!
Today I'm SO excited to be sharing a look at Vienna's nursery. I've spent many months dreaming about this space to welcome our little girl. I especially went back and forth with what art to hang on the walls and what to draw for above her crib (you KNEW it had to be a chalkboard 😉 ).
The Inspiration:
The inspiration for the nursery is a bit eclectic! I wanted it to have a vintage feel, plus incorporate two of my favorite things: Paris and flowers. These themes were added in subtle ways, like the faux flower swag above a vintage mirror. (This is the same floral swag that I made for my tea party baby shower.)
I wanted the nursery to feel feminine, yet simple and elegant. I loved the idea of the light colors, blushes, and pinks paired with the high contrast, deep-colored pieces like the mid-century modern dresser, dark charcoal curtains, and pops of mustard.
The Art:
It was certainly hard to not overdo it with hanging art on the walls, but I wanted the pieces to really stand out and keep things looking clean and simple.
I found this beautiful framed chalkboard at Michael's and it made the perfect statement piece for above the crib. Drawing this chalkboard is quite possibly my favorite one I've ever done because it was the first time I lettered her name. The Bible verse is also incredibly meaningful to me.
We painted the main wall in the nursery a beige/blush color (Behr Suede Beige; it's actually the same color we used on our National Stationery Booth last year!) and I love how the chalkboard and white crib pops against it. Funny side note: we rent a townhouse and this is the FIRST wall we've ever painted after living here for five years. I just had my heart set on this blush wall for the nursery and we were very proud of ourselves!
I drew the Flower Alphabet especially for Vienna and I knew it had to have a stand-out place in the nursery above the changing pad. It has that vintage botanical feel and I love how it looks in a simple black frame. The "Bonjour Bebe" print is from the Lily & Val Nursery Art Collection. It was SO tough to choose what to include from this collection, but this one fit the Parisian vibe (and flowers, of course!)
Above the flower alphabet and the chalkboard, I hung vintage brass bows. I LOVED these the moment I laid eyes on them. They frame and accent the art so nicely and add a sweet touch. I purchased them from this vintage Etsy shop.
The hook is from Hobby Lobby and right now I'm using it to hang these sweet bonnets from Kate Quinn Organics.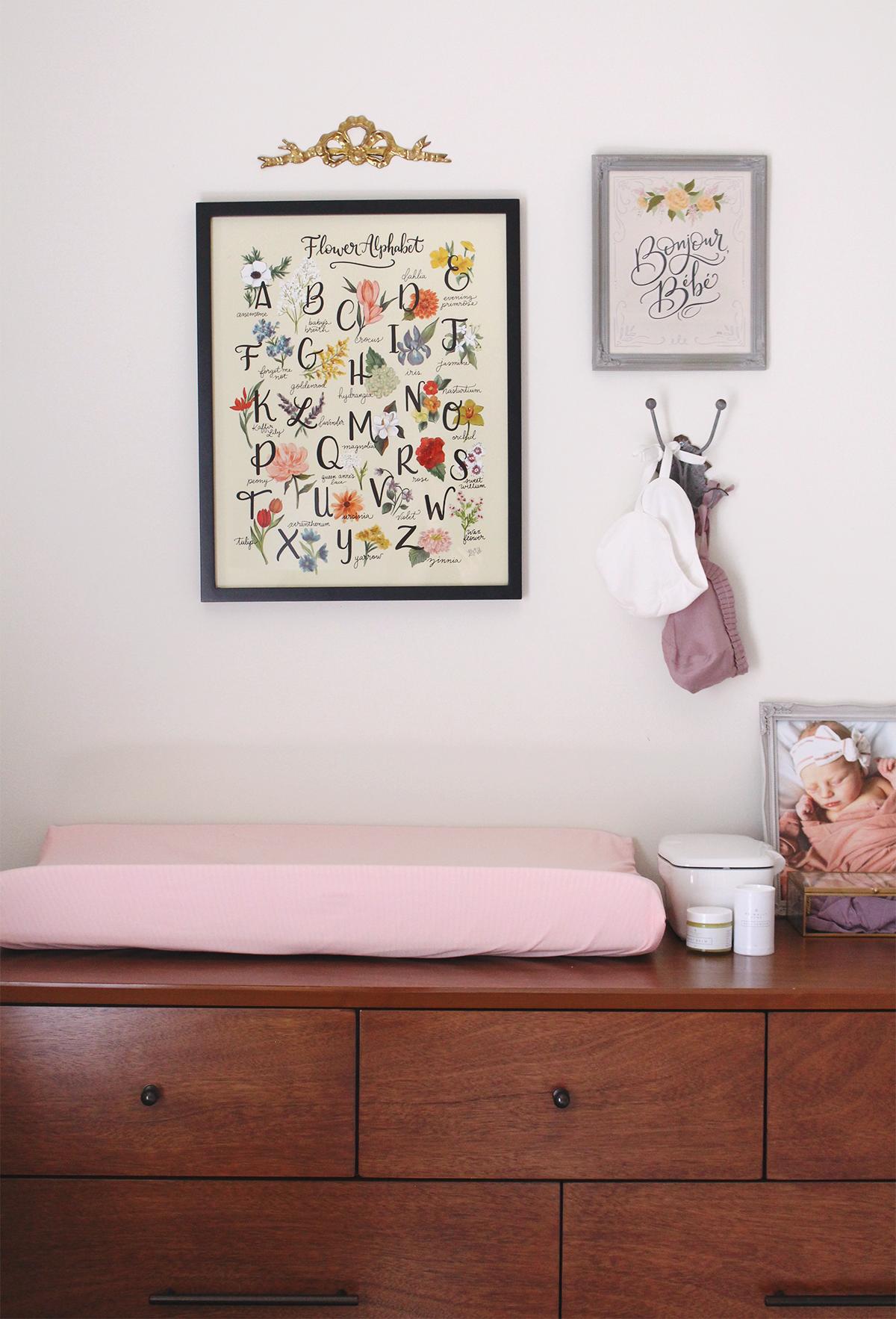 I added a little shelf in the corner to hold something sentimental for Mak. This panda bear was his favorite stuffed animal as a baby and his Mom, who is an incredible artist, painted the baby panda bear and gave it to me as a baby shower gift.
Found Objects:
For my baby shower, I did a lot of antiquing and thrifting for vintage china and in the process I found some great pieces to incorporate into the nursery. Combining the new with the old is one of my favorite things to add some character!
This pink glass lamp with the marble base is one of my favorite finds! It actually came as a pair and I'm not sure what I'll do with the other one yet. The sweet mustard vase was also used at the shower and I love how it looks with the vintage floral glass apothecary jar to hold cotton balls.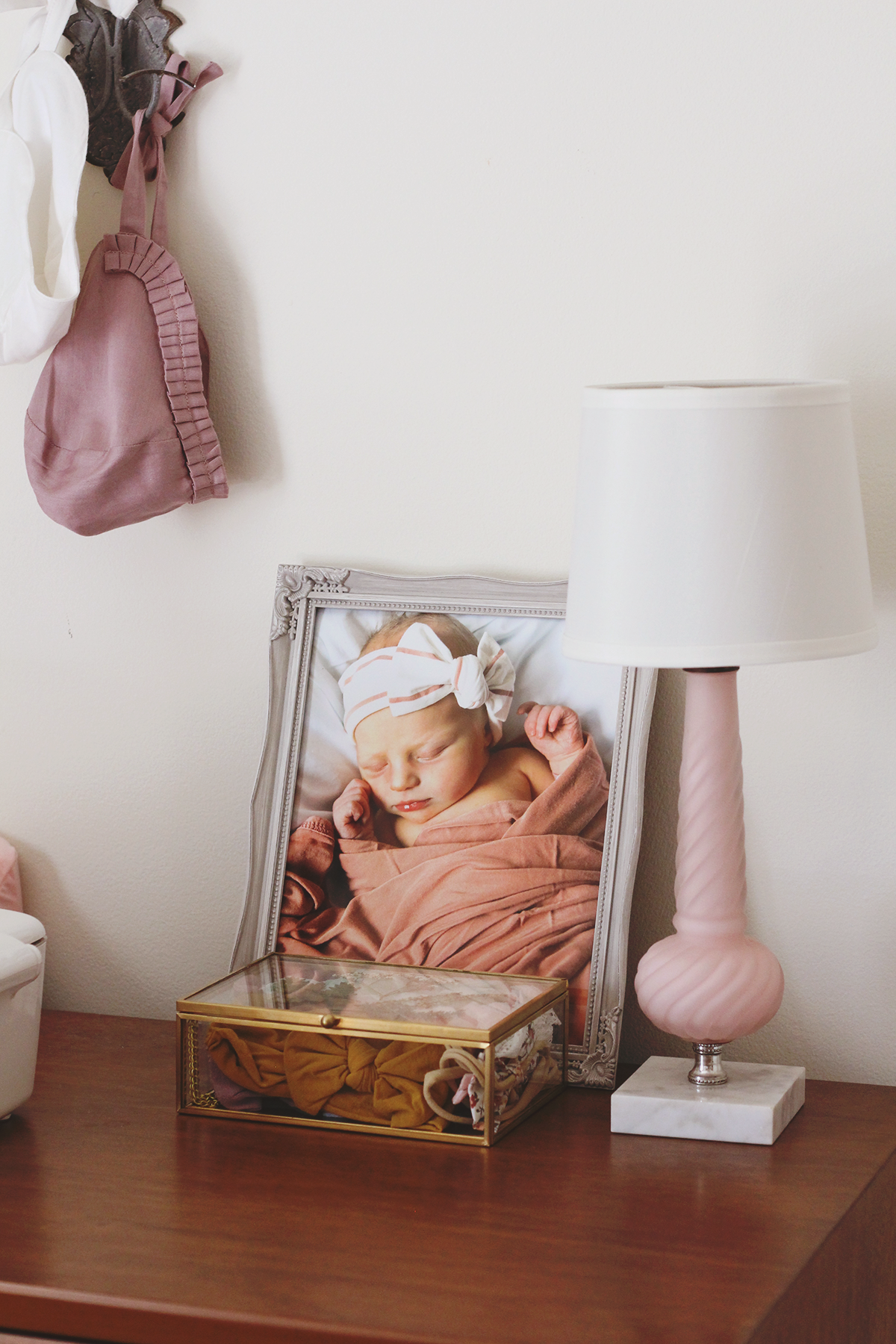 The bookshelf is another mid-century modern style piece we incorporated. It was the perfect size to stand between the door and the closet. I plan to do another post with my favorite baby books, but the "Paris: Up, Up & Away" book tops the list. It is a gorgeous book with high contrast black and white paper cut-outs. Just stunning!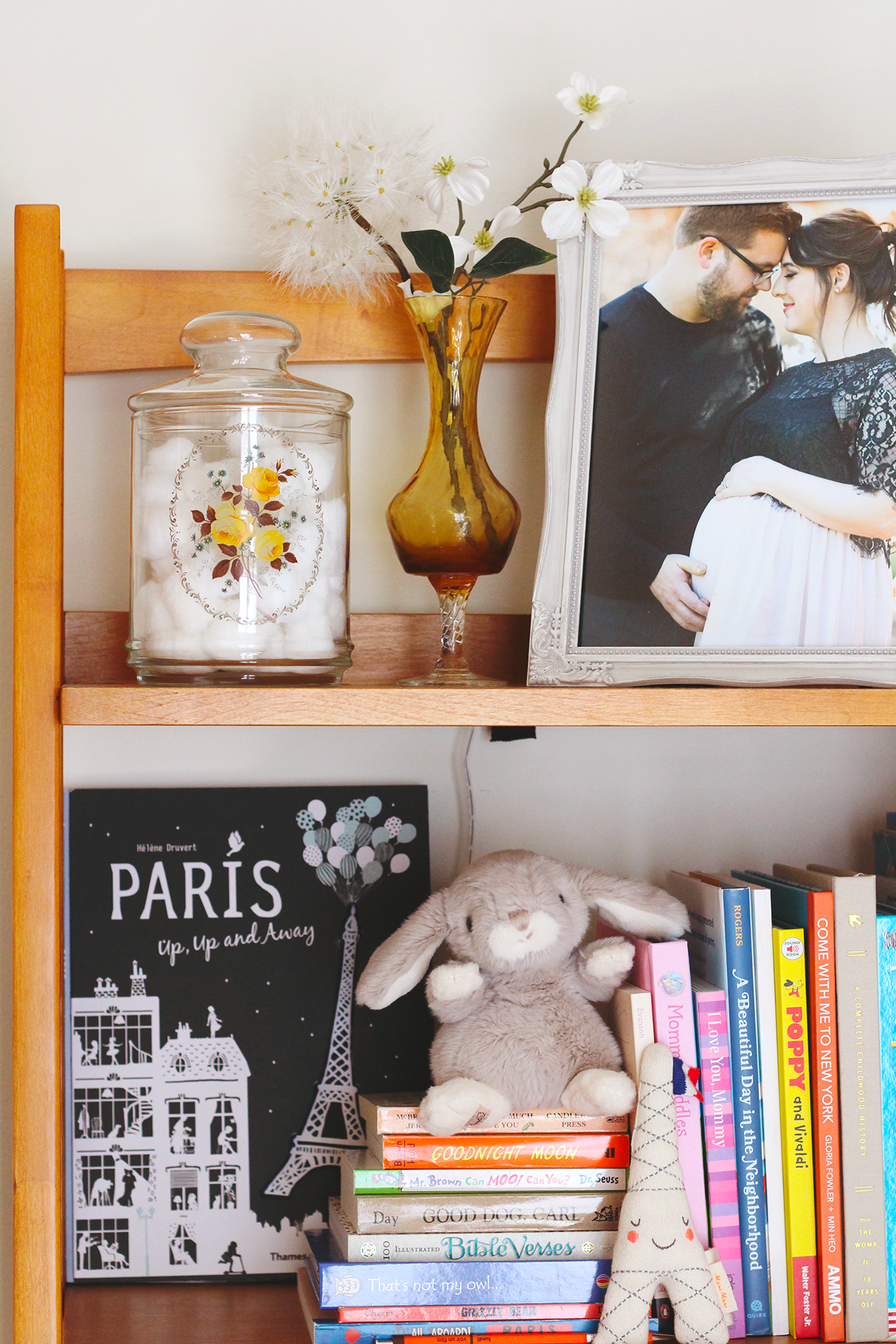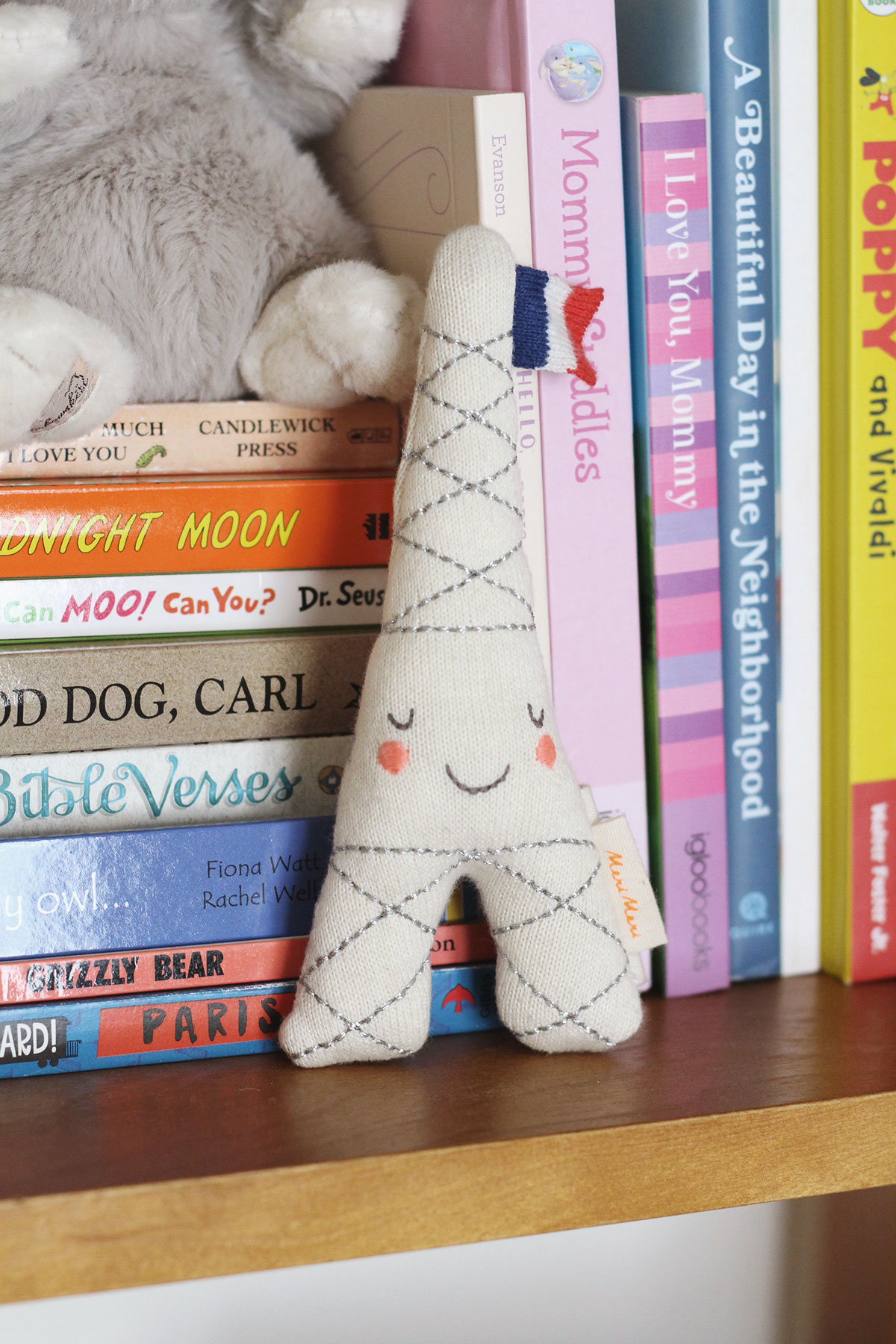 More Details:
Because of our limited space, we decided on this gray and white glider and ottoman set. It was the perfect size and so comfy! I took the "How Wonderful Life Is" design from the L&V Nursery Collection and turned it into a pillow for the glider. We saw the movie"Rocketman" the week Vienna was born, which made this pillow unexpectedly even more fun and meaningful! On the flipside, I drew a simple V monogram.
For the crib, I have two favorite pairs of sheets. This beautiful floral mustard is from Blueberry Impressions on Etsy.
Also pictured is the Magical Forest crib sheets by Pehr.
My friend Stacie of Gingiber sells the adorable little lamb pillow, another item I had my eye on for months!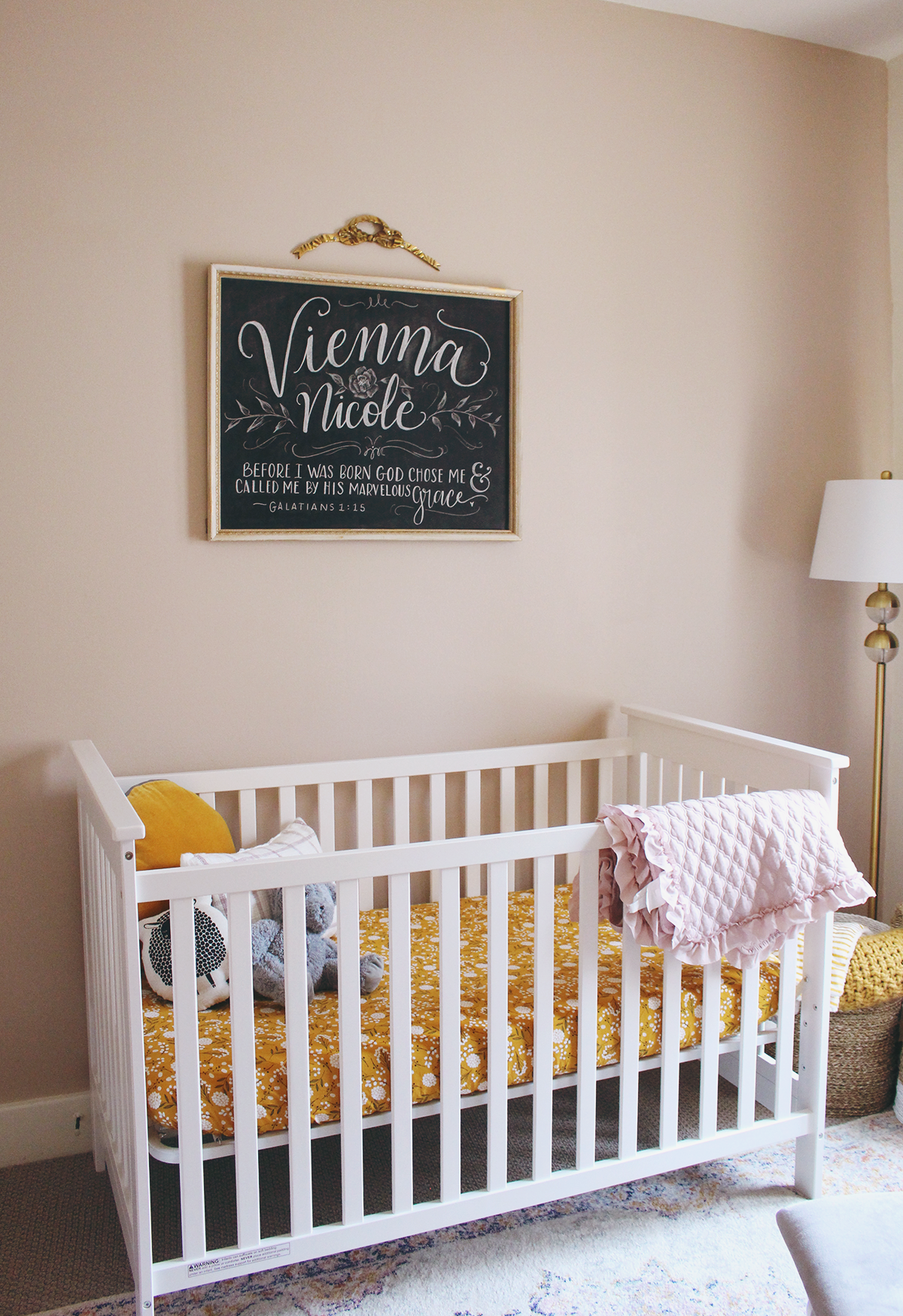 Last but not least, I have an L&V fill-in-the-blank birth stat print hanging by the closet door. This is a piece I will certainly treasure even though it took me nearly a month to get the footprints! I just love how it turned out! The hooks are also from Hobby Lobby.
My sweet angel! I wonder how many hours I've spent just watching her sleep! 🙂
I hope you enjoyed taking a peek into Vienna's nursery! Here are more links to sources for you! I've also included some items that I've loved and have been super helpful to me over these past weeks!
Crib – Target
Dresser and bookshelf – Wayfair
Mustard Floral Crib Sheet – Etsy
Forest Crib Sheets – Pehr
Flower alphabet print – Lily & Val
Bonjour Bebe print – Lily & Val
Birth Stat Print – Lily & Val
Area Rug – Rugs USA
Glider & Ottoman – Amazon (can't beat the price!)
Accent Table – Overstock (Antique Navy)
Eiffel Tower Rattle – Amazon
Ubbi Steel Diaper Pail – Amazon
Wipes Dispenser (this has made changes so much more convenient!) – Amazon
Diaper Cloths – Amazon (we stocked up on these and use them as burp cloths!)
Waterproof Changing Pad Liners – Amazon (we stocked up on these too!)
Diaper Bag Backpack – Amazon
Bunny Dress & Bonnets – Kate Quinn Organics
Wall Hooks -Hobby Lobby
Baby Balm & Powder- Primally Pure
If a source isn't tagged, it's most likely from Home Goods or TJMaxx. 🙂
(P.S. Some of the links in this post are affiliate links, which means I get a small commission when you purchase using that link. It does not effect the price you pay and I'm not asked to feature these items. Thank you for your support!)