Happy New Year's Eve, my friends! I absolutely love the start of each new year. Everything feels refreshed and full of newfound hope. I crave that. I also love how a fresh start causes us to pause and reflect. If you're like me, 2016 went by in a blur! As I sit to write this post, I'm excited to re-cap a year that was filled with both tough lessons and huge steps. 2016 was often trying, but ultimately rewarding. I'm ending the year filled with an enormous amount of gratitude for the Lily & Val team, the amazing people I've met through this journey, and all of our amazing customers. I can never say that enough.
Here is a re-cap of the last year at L&V:
In January, we attended NYNow with a booth of our own. This was our very first time tackling a tradeshow like this and I loved seeing our custom booth come together for the first time. The Keepsake Kitchen Diary was up for the "best new product" award. We had a great time in NY and made so many memories.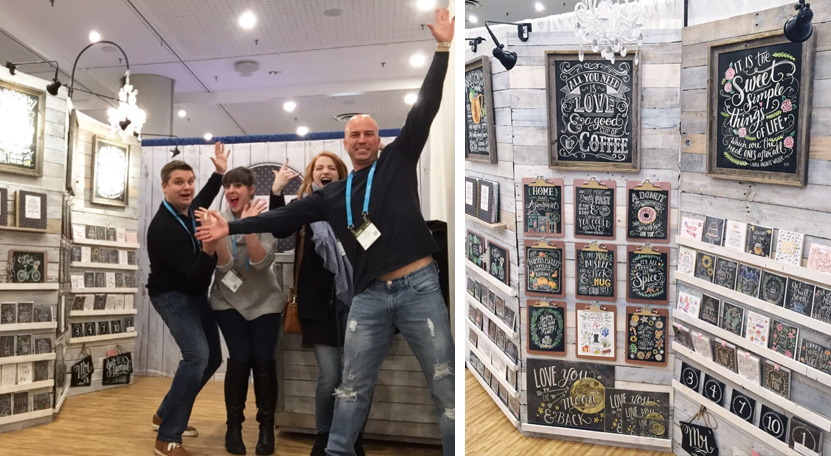 Also, in January, The Complete Book of Chalk Lettering went into its 2nd printing. Copies were sold out until the Spring when the 2nd printing arrived. (Currently, the book is in its 5th printing!!! I'm still blown away by this!)
January continued with excitement, as my first adult coloring book, Chalk-Style Botanicals, was released! This was the first of 4 adult coloring books that I released in 2016. The concept was a twist on adult coloring with a white design on a black, chalkboard background.
In March, I traveled to Pensacola, Florida to speak about branding at The Society For Creative Founders Conference (formerly Stationery Academy.) It was wonderful! I met so many amazing designers and artists there.
Also in March, I traveled to San Francisco to film my Intro to Chalk Lettering Class with Brit + Co. The class launched online a few weeks after.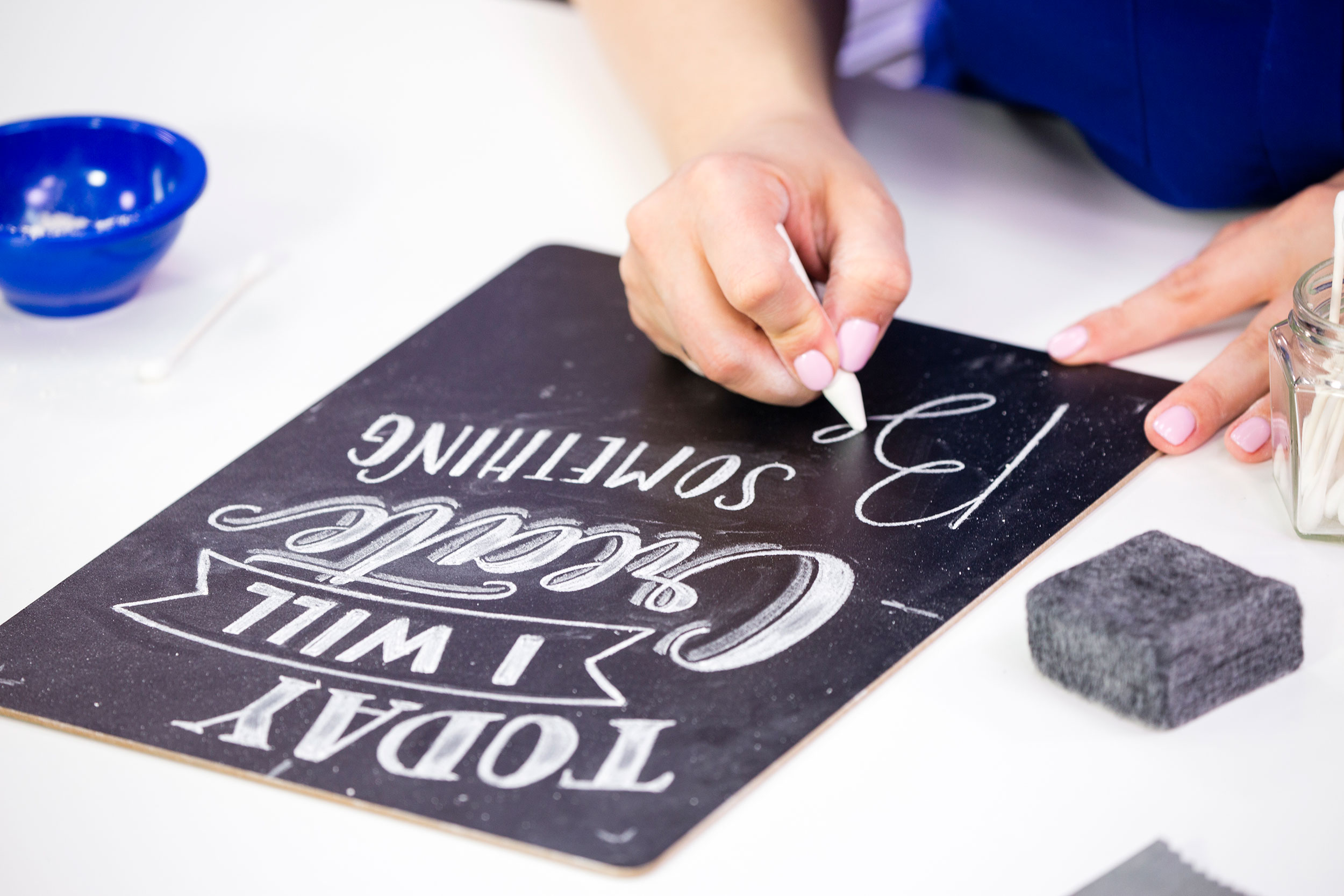 In April, we hired our Wholesale Sales Manager, Maureen, and I was a teacher at The Sweet Paul Makerie in Philly! I got to meet Tiffani Thiessen there, hear from amazing speakers like Grace Bonney, and teach my passion for chalk lettering.
Also, in April I had the privilege of designing the cover for Flow Magazine!
Spring brought with it the May issue of Martha Stewart Living Magazine. I could finally share a huge project I had been working on- a 6-page article on hand-lettering! Seeing the article on newsstands was something I will never forget. I'm still pinching myself.
Two important events were held in May: I spoke at my 3rd Inspired Retreat and we attended the National Stationery Show for the first time! Inspired Retreat was a turning point for me since during that time Mak and I felt like it was time to grow Lily & Val. The retreat really helped me clarify many things I had been mentally struggling with. (Photo below by Gina Zeidler & taken at Inspired Retreat).
Before heading to the National Stationery Show, I made a pit stop in Chicago to teach a class at the Workman Booth during BookCon. Mak, Emily, and I had a great time at the show! As always, it was amazing to be in NYC. When we returned from NSS, we began searching for office and retail space!
In June, I flew to beautiful Flagstaff Arizona (my first time in AZ) for a mastermind retreat with my Squad (business ladies who have become such great friends). I left feeling renewed and excited to dive into a new chapter of Lily & Val.
Emily K. came in from Indiana and we had a team photo shoot with Lindsey Zern Photogaphy! I'm still swooning over this pink sofa!
During this time, we also held the L&V holiday photo shoot! In the course of shooting, the idea about using a kraft paper background came up. This inspired me so much, I decided to create the Lily & Val Kraft Collection, which launched with our fall products.  I loved using this rustic, simple texture and look forward to continuing this line!
July – October was quite a blur because during this time we were working to open the Lily & Val Flagship Store in Pittsburgh! We spent MANY late nights painting furniture and bringing this space to life. Below is one of the planning drawings for the space! This was such an exciting time!
In September, I headed back to San Francisco to teach another chalk lettering class at Brit + Co Re:Make. It was the largest class I've ever taught at one time and Brit + Co broadcasted it on Facebook Live.
I had the honor of being a guest on the Creative Empire podcast talking about being in the business of creativity. It was a vulnerable talk during this transitional time for my business.
So much culminated in October because we held our Flagship Store Grand Opening, started working in our new office, hired Alivia & Julie, AND launched the 2016 L&V Holiday Collection! This year's theme was "It's a Marshmallow World".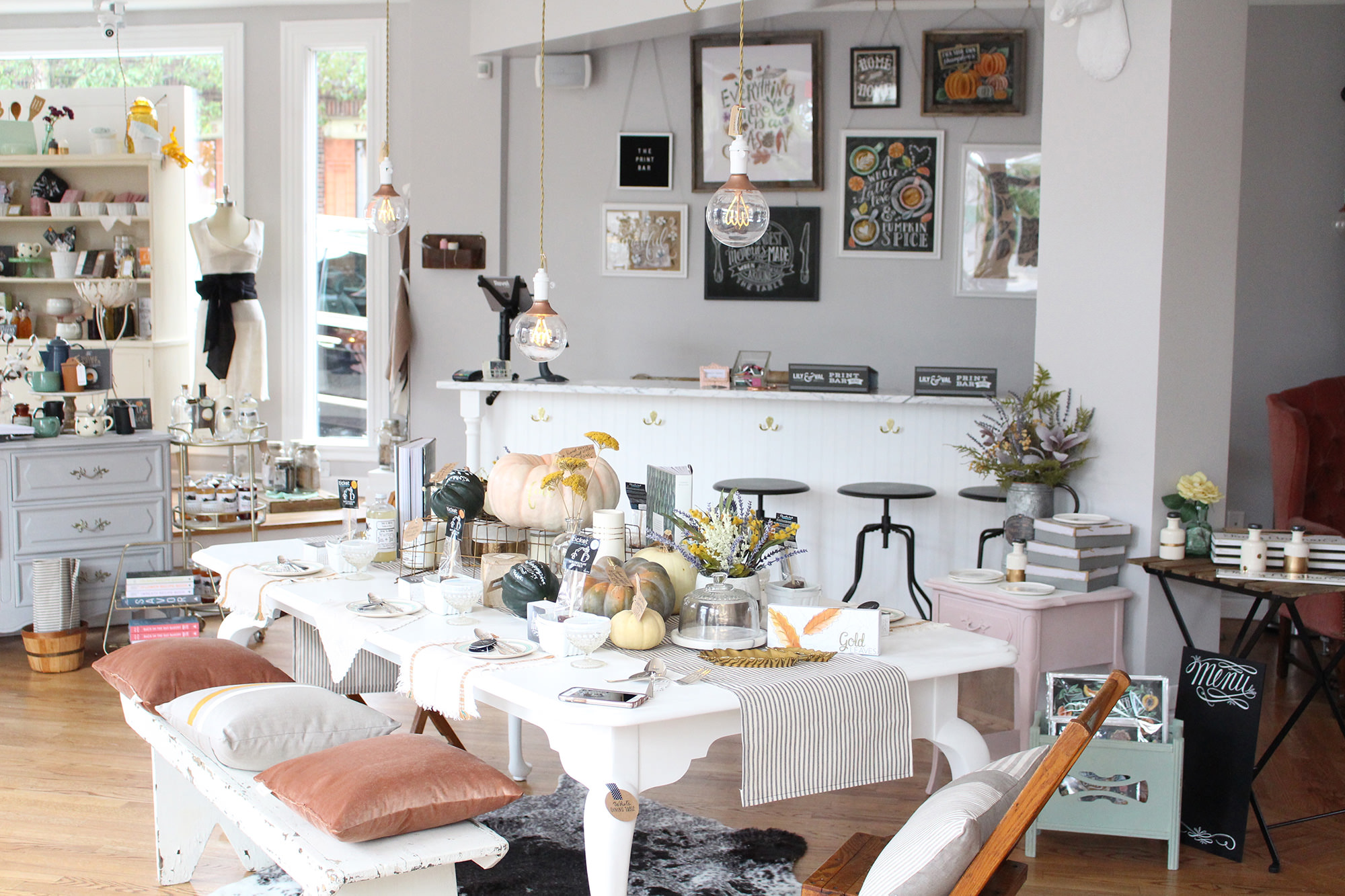 In November we introduced a brand new Lily & Val product- zippered pouches! I also saw my Anthropologie tea towel in stores – a moment I won't forget. Having Lily & Val in Anthropologie was definitely a bucket list item of mine.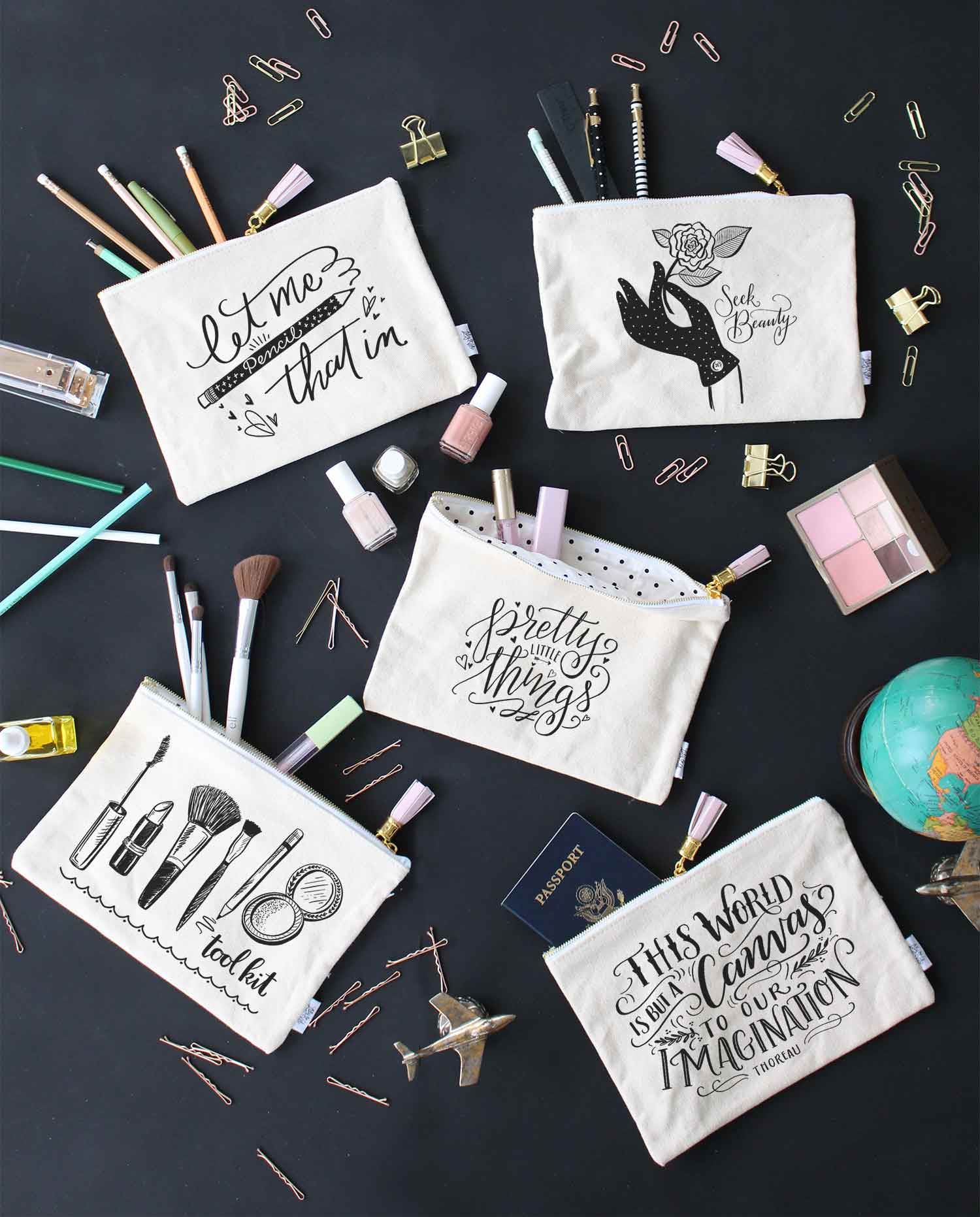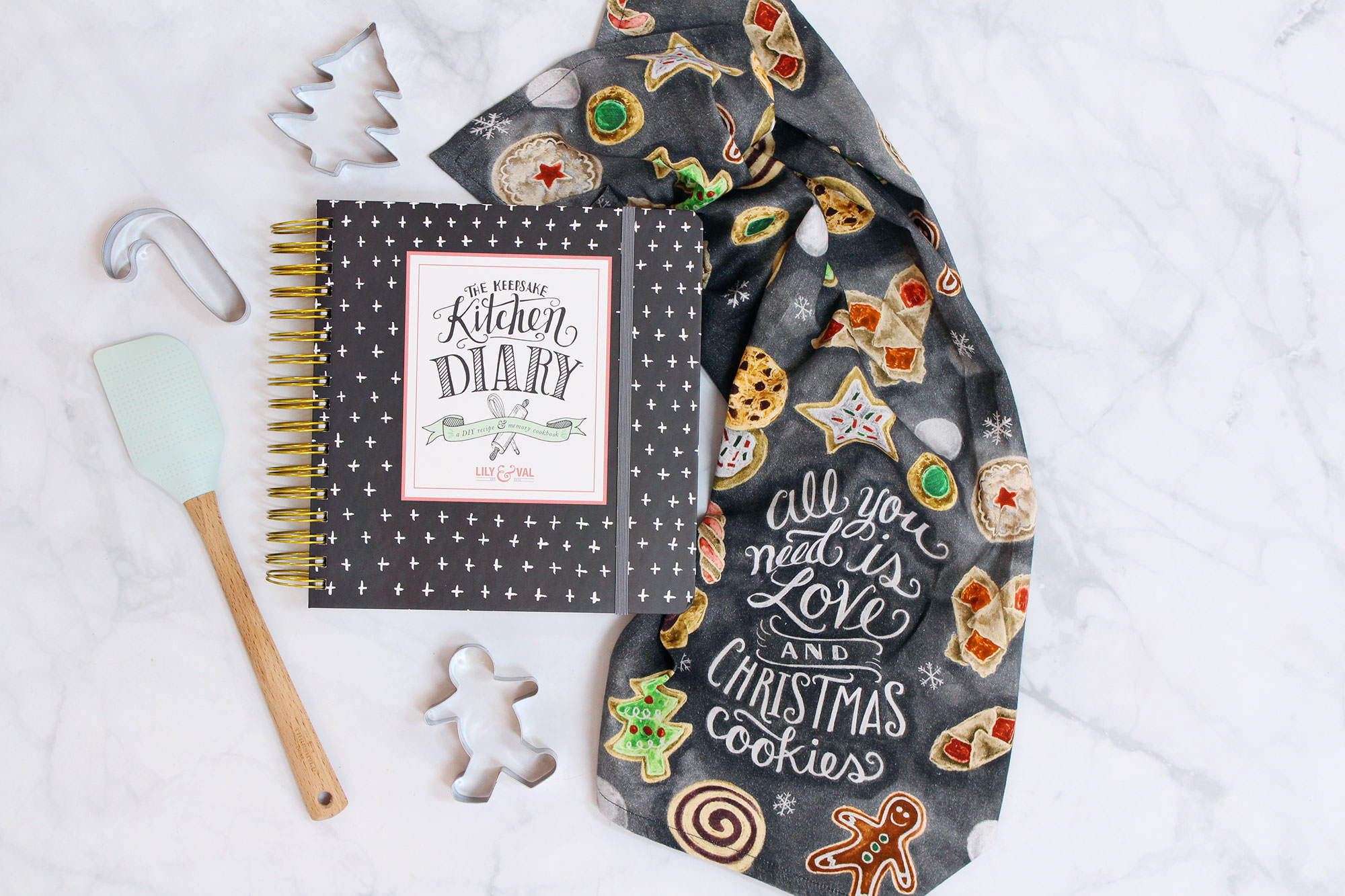 In October we unexpectedly sold out of Keepsake Kitchen Diaries.  Through a lot of hard work and craziness, we were able to have them back in time for Christmas delivery. In 2016, the Keepsake Kitchen Diary become our number one selling product! This diary is such a piece of my heart and it brings me joy to see it being loved and treasured.
In November, Kristin became a new blog contributor on Lily & Val Living and her inaugural post was Five Ideas for your Friendsgiving.  So good!
In December, I completed another Starbucks collab. This time, I drew on a red Starbucks cup!
In December we held a VIP Party in the Flagship Store. Kristin took the most lovely photos of the event! I loved seeing the store decorated for the holidays- especially our fireplace.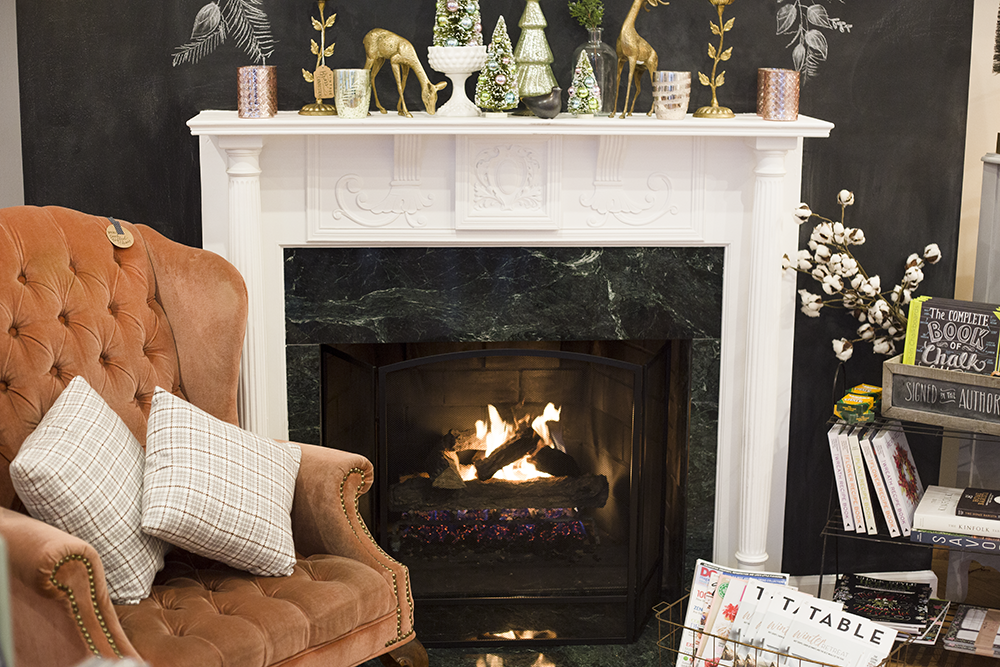 December now comes to a close with our Lily & Val Company Holiday Party! What a year it has been! My heart is full of gratitude. I've learned a lot and can't wait to march into 2017. We have a lot planned for this year and I can't wait to share it with you all. Thank you for your continued support and following the Lily & Val  journey. Happy New Year!