One of my most frequently asked questions is about chalk and the brands that I use. From good old-fashioned chalk to chalk markers, I've tried many different products, and I'm excited to share my favorites. These products will give you some great options that will fit an array of circumstances and lend themselves to various effects. I hope this guide serves as a helpful tool in your chalkboard projects! I've also included a video at the bottom of this post explaining each brand in more detail and showing demonstrations of each one!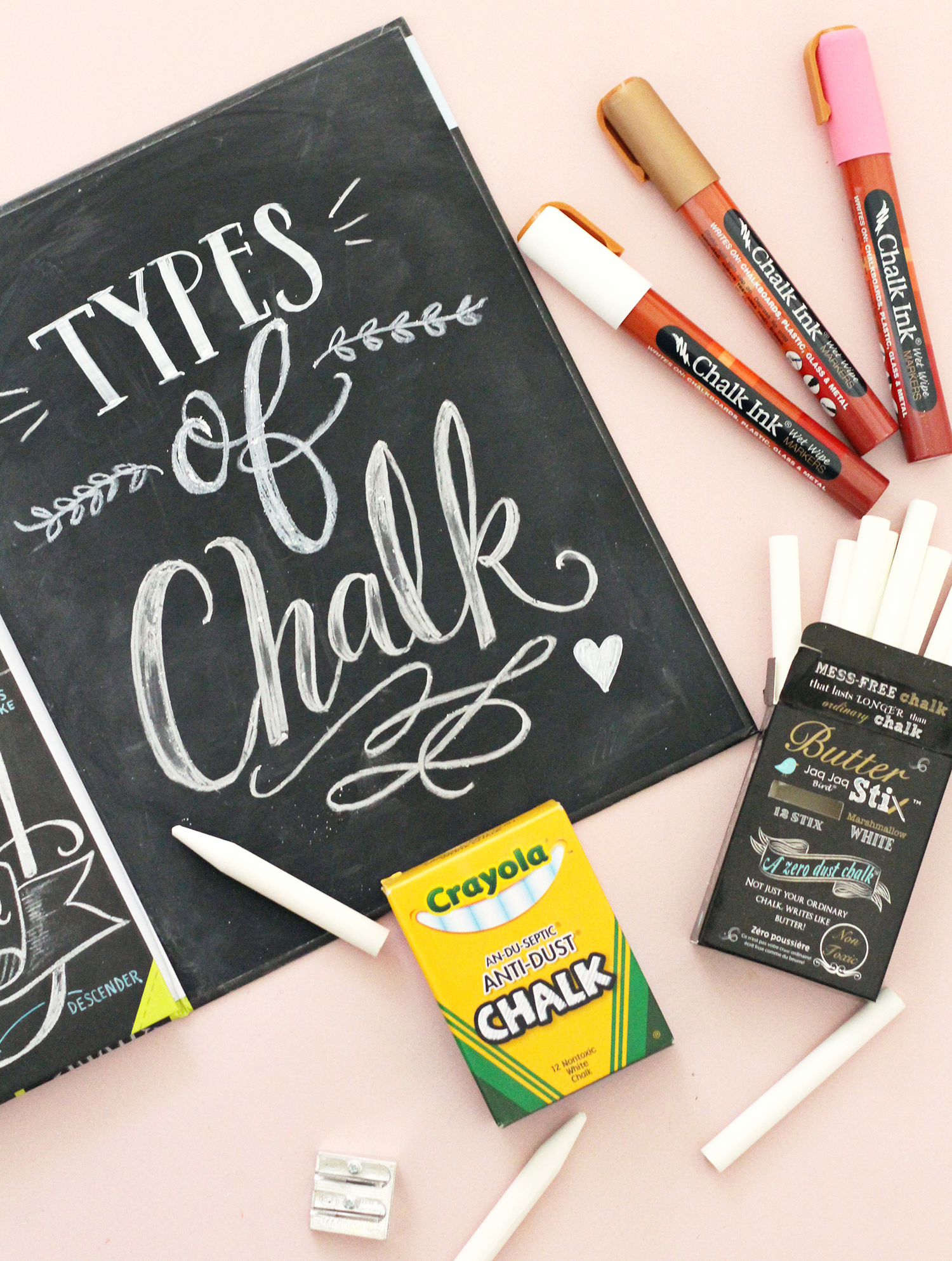 Regular Chalk: Crayola Anti-Dust
If you're looking for the regular, old-fashioned, real, dusty thing, this is my absolute favorite chalk and I use it regularly. All of the chalk art available on lilyandval.com was created using Crayola Anti-Dust. Because of its temporary nature, I take a photograph of the chalkboards to create the products we offer. Additionally, I recommend this chalk in The Complete Book of Chalk Lettering and used it to draw every project in the book! (By the way, the lettering in this post has been photographed using one of the three built-in chalkboards at the back of The Complete Book of Chalk Lettering!)
Why I love it:
Don't let the name fool you, anti-dust does not mean dust-free. In fact, it is very dusty, which is why I love it! The dust allows you to manipulate the designs with beautiful shadows and dimension. At the same time, this chalk can be incredibly vibrant when a heavy pressure is applied. It writes with the perfect amount of smoothness, yet gives the flexibility of smudging and creating a piece full of rustic character. Since it has a heavier weight than normal chalk, it will not break as easily.
Other things to note about Crayola Anti-Dust Chalk:
– Itis temporary and easily smudged. One minor bump can disturb your drawing.
– It is great for practicing chalk art.
– It can be sharpened with a normal hand-held sharpener with two holes (the larger hole will fit the chalk).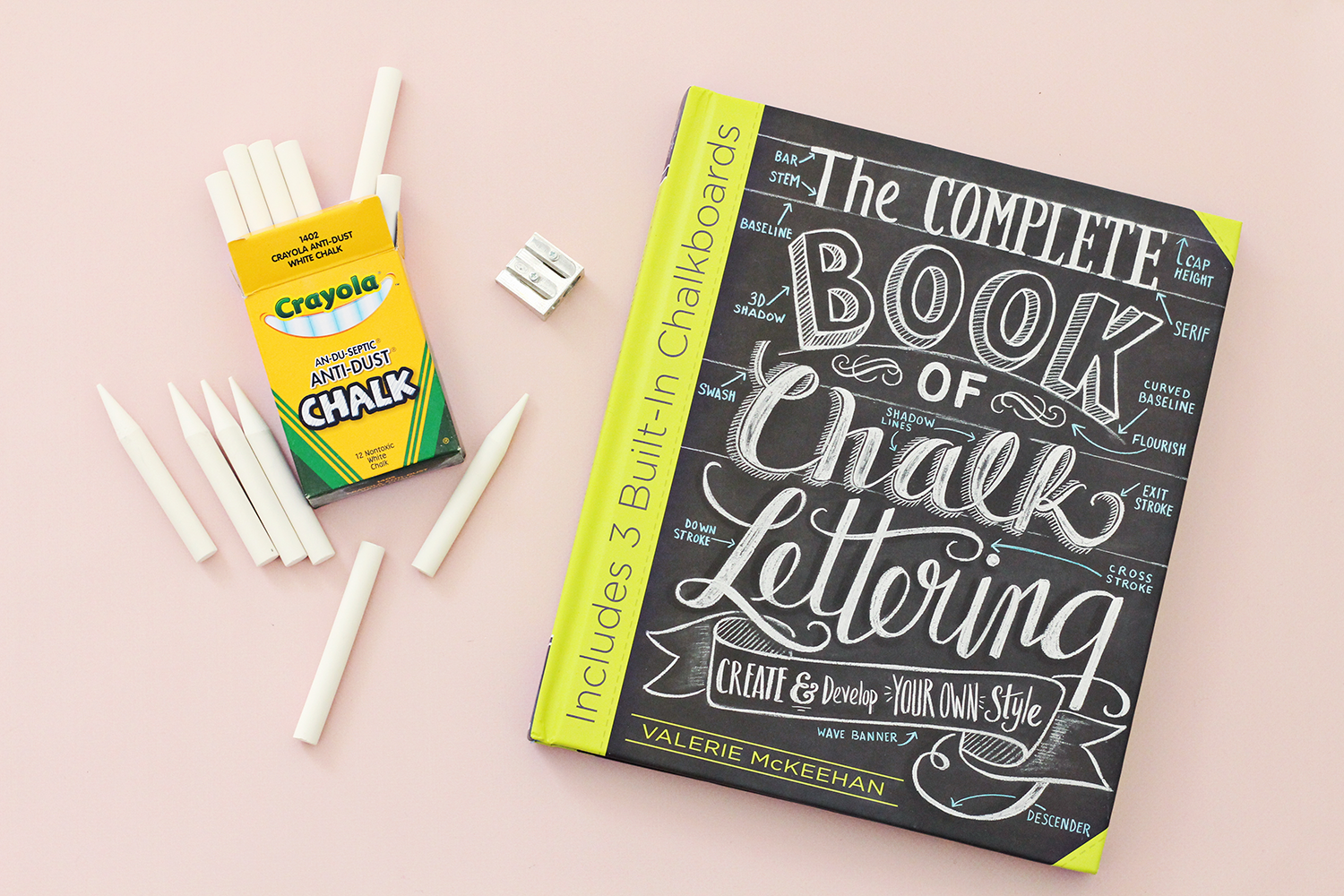 Chalk Crayon: Butterstix
I recently discovered this product and was excited to try it! Although I love working with dust, I realize some people have an aversion to it. If you want to use a chalkboard in your home, but find the dust unappealing, Butterstix by Jaq Jaq Bird is an excellent option. Unlike Anti-Dust, it is truly a zero dust chalk. I like to think of it as part chalk and part crayon. It feels waxy like a crayon and truly does write like butter as their slogan says!
Why I love it: 
Butterstix is a great option if you're looking to create smudge-free chalk art without sacrificing that beautiful chalky texture. Because of its unique consistency, butterstix will look like chalk on your chalkboard, yet not wipe off or smudge to the touch. To remove it, simply use a damp cloth.
Other things to note about Butterstix:
– As with regular chalk, you can sharpen Butterstix with a pencil sharpener for more precision when drawing.
– For those attending my chalk lettering class at Stationery Academy or the Sweet Paul Makerie, Jaq Jaq Bird has so generously donated butterstix packs that we will be using to create a take-home piece of art!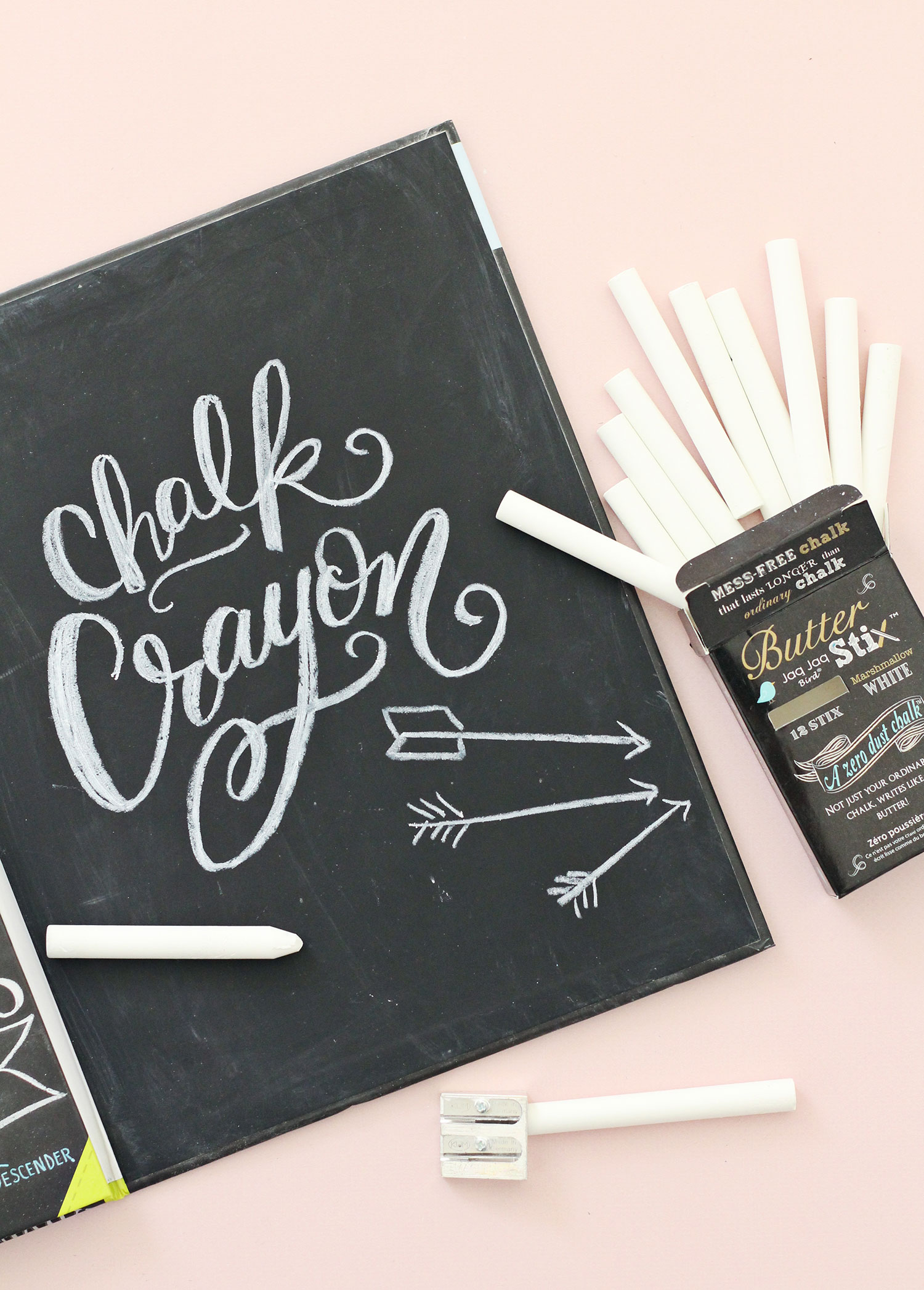 Chalk Markers: Chalk Ink
There are a lot of chalk markers out there, and Chalk Ink is my favorite! For projects requiring semi-permanency (like wedding or restaurant signs) these markers are the best. They have a gorgeous vibrancy and come in many stunning colors. Chalk Ink Markers will create a completely different look and feel to your signs since they do not have a dusty, rough texture. I had the pleasure of visiting the Chalk Ink headquarters in Austin, TX last month. Read the post for more info about that trip and the beautiful things we created with Chalk Ink markers!
Why I love it:
The colors are gorgeous (can we just talk about metallic gold?!) Not to mention, Chalk Ink markers can be used on ANY non-porous surface. Think mirrors, windows, glass, glazed ceramics, metal, plastic, granite. When I learned about this, my mind was exploding with the hand-lettered possibilities beyond chalkboards. I have a gorgeous ceramic vase that I now customize with hand-lettering and I'm waiting to throw a party to use these markers to write on wine glasses! There are just so many uses.
Other things to note about Chalk Ink Markers:
– It is important to be conscious of the surface you are using and making sure it is non-porous. Using Chalk Ink on a wooden chalkboard you DIY-ed, for example, could harm the surface since wood is porous.
– The colors can be combined and blended while wet.
– The "wet wipe" version will erase using a damp cloth.
– The markers have a chiseled tip for creating different lettering styles ranging from thin to thick.
– Lily & Val Living readers can receive 20% OFF using code "lilyval20" on chalkink.com.
Who says you can't combine?
If you've read my book, you will know that I'm all about creating art with minimal "rules." I love giving suggestions and tips to help you create a style of your own, but don't be boxed in! If you have a project that requires staying power, but you really want some dusty texture, add chalk dust to your surface! One of the best things about chalk art is the ability to not only manipulate the letters, but also manipulate the surface you are working on.
Chalk Pencil: White Charcoal
A white charcoal pencil is also worth mentioning! For very detailed chalk work,  a white charcoal pencil can come in handy. I use it to create shadow lines and add small details since it will give super fine lines. Although it does smudge slightly to the touch, it will need to be removed with a damp cloth.
I did a Periscope video explaining each of these products and showing them in action! Watch the replay below. Enjoy!