Many of your asked for Fall Surprise Box and I am so excited to tell you it is coming!! In the spirit of our Fall "Gather" Collection, we have curated and specially designed this box with a Fall gathering theme! Items to warm your home, entertain guests, and enjoy the simple things of the season are all present here!
Keep reading for some peeks and get ready, this Fall Surprise Box will be launching on Thursday, September 13th at noon Est!
Although we try to increase quantities as best we can, our Surprise Boxes sell out very quickly! Our previous boxes have sold out in under an hour. As always, we're thrilled you guys are loving these boxes so much and we're doing our best to offer more, but still a VERY limited number. So, set those alarms!
About L&V Surprise Boxes:
Our curated boxes are filled with L&V products, gifts & goodies from makers we love and one-of-a-kind items handmade by us and only available exclusively through the box! We don't just throw together random objects, each piece has been thoughtfully designed and selected to create a wonderful experience for you to fit our theme. We put them for sale at an AMAZING price (which includes shipping) and once they're gone, they're gone for good!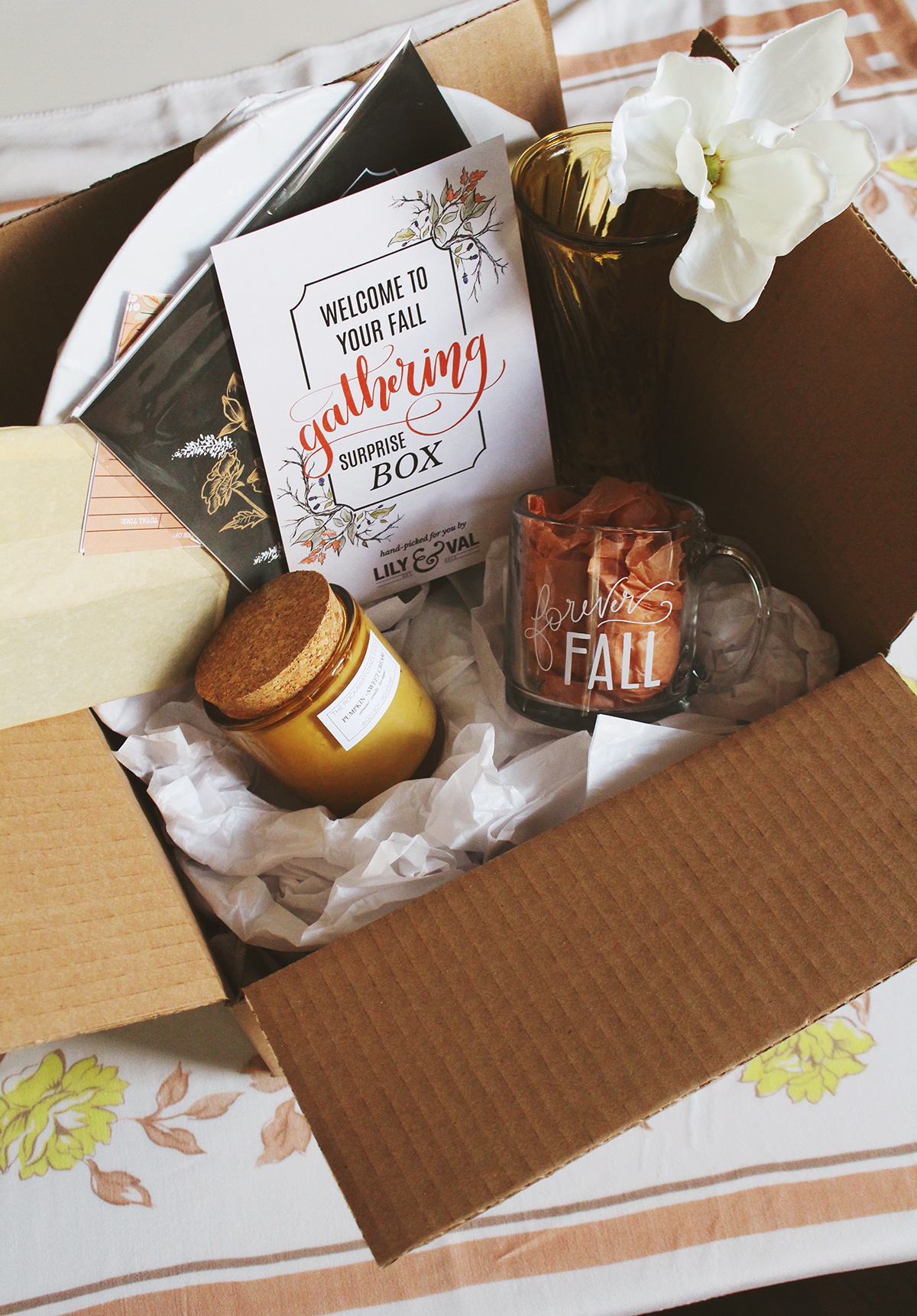 A peek at what you can expect to find in this Fall Gathering Surprise Box:
You guys know how much I love Fall, so I want to share everything, but I know there's no fun in giving all the secrets away!  I still, however, want to share just a tiny peek of what you can expect to find as part of your Fall Box!
Pumpkin + Sweet Cream Candle by Rockaway Candle Co:
If you loved the candle in our Staycation Box, you are going to love this!  I am thrilled to have another amazing candle from Morgan and her company The Rockaway Candle Co. in the box for Fall! Morgan took her pumpkin + sweet cream fragrance and hand-poured it into the most beautiful golden glass jar just for our box. I will certainly be keeping this pretty vessel long after the candle is gone.
Morgan does such a beautiful job of describing her fragrances so I will leave that up to her:
The best way to describe our Pumpkin + Sweet Cream fragrance is fresh pumpkin pie right out of your oven. This scent is the epitome of Fall + what Fall means to us, which is cozy nostalgic moments with your loved ones and will have your mouth watering with its delicious notes of pumpkin, sweet vanilla, and cinnamon.  This fragrance oil is infused with natural essential oils, including cinnamon, clove, and ginger.
Amazing, right!?
An Exclusive L&V Hand-Lettered Mug:
I just couldn't keep this item a secret, because I am too excited about it! This hand-lettered clear glass mug was created just for our box. We couldn't put together a Fall box without something special to hold your warm beverage of choice. For those who would live in a world that was a perpetual Fall, this mug is for you.
A Handmade, Modern Faux Flower Arrangement:
In every box, we love to include a special, handmade item and this pretty magnolia and vase decoration was sourced and handmade by us just for the Fall box. You can't get it anywhere else! The flower sits in acrylic "water" that looks beautiful in the vintage-inspired gold vase.  It's such an elegant piece to add to your Fall decorating and warm your home. (P.S. It will display beautifully with any Lily & Val Fall print!)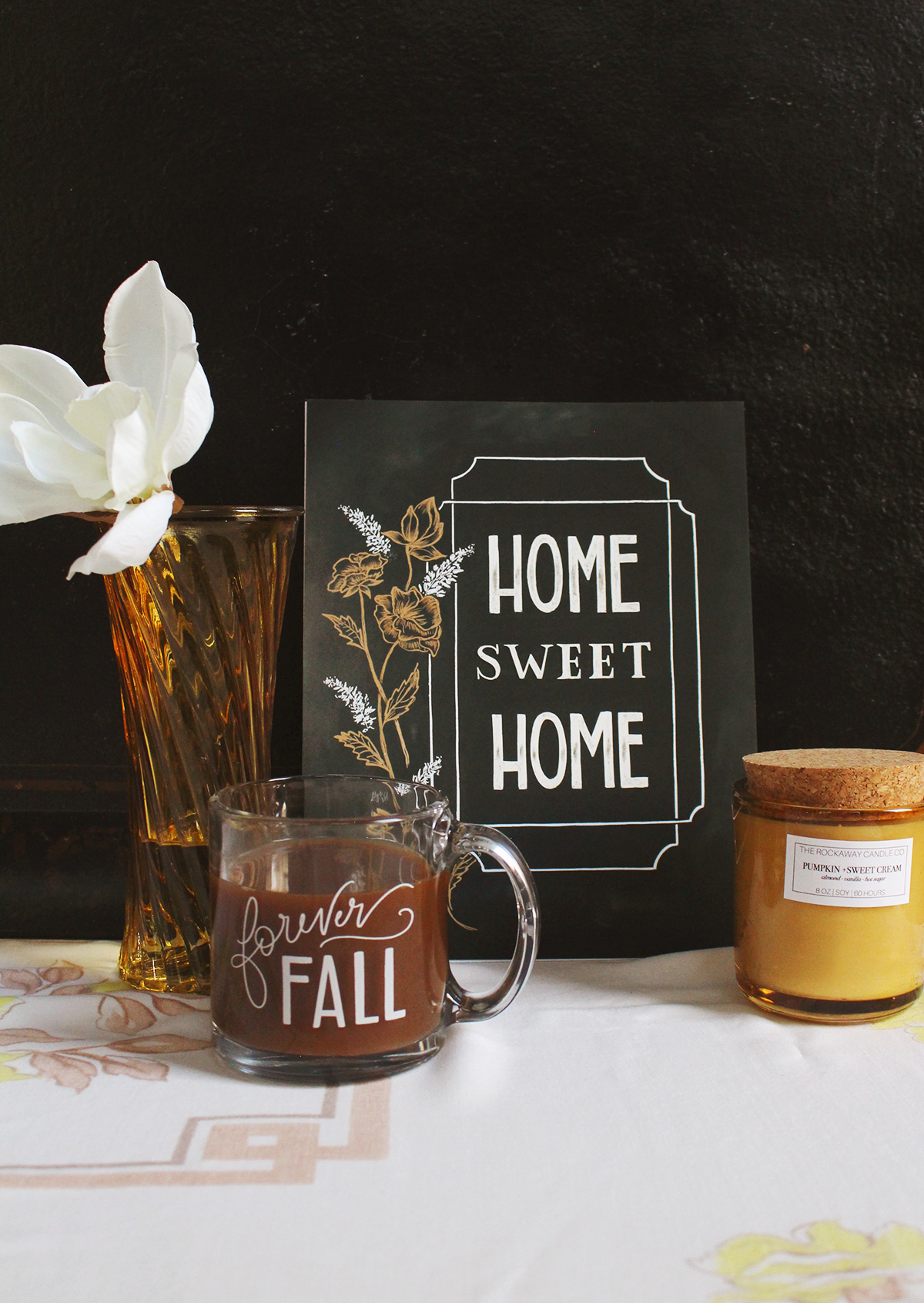 A Full Experience:
For our "Staycation" box, we decided to try something different and provide exclusive content to everyone who purchased a box. We decided to do the same for our Fall "Gather" theme! In addition to all the amazing items in the box, you will also receive special, exclusive content delivered to your inbox! Our goal with these recipes, DIYs, and more is to help you savor this season of gathering and coordinate with the items in your box.
That is all I'm going to say before I reveal too much! What I can say is that this box will be holding a total value of over $125 in products!
A Special Surprise:
To celebrate the launch of our brand new book, Life of the Party Papercrafting, we will also be surprising someone with a copy tucked into their box! The book releases on September 10th!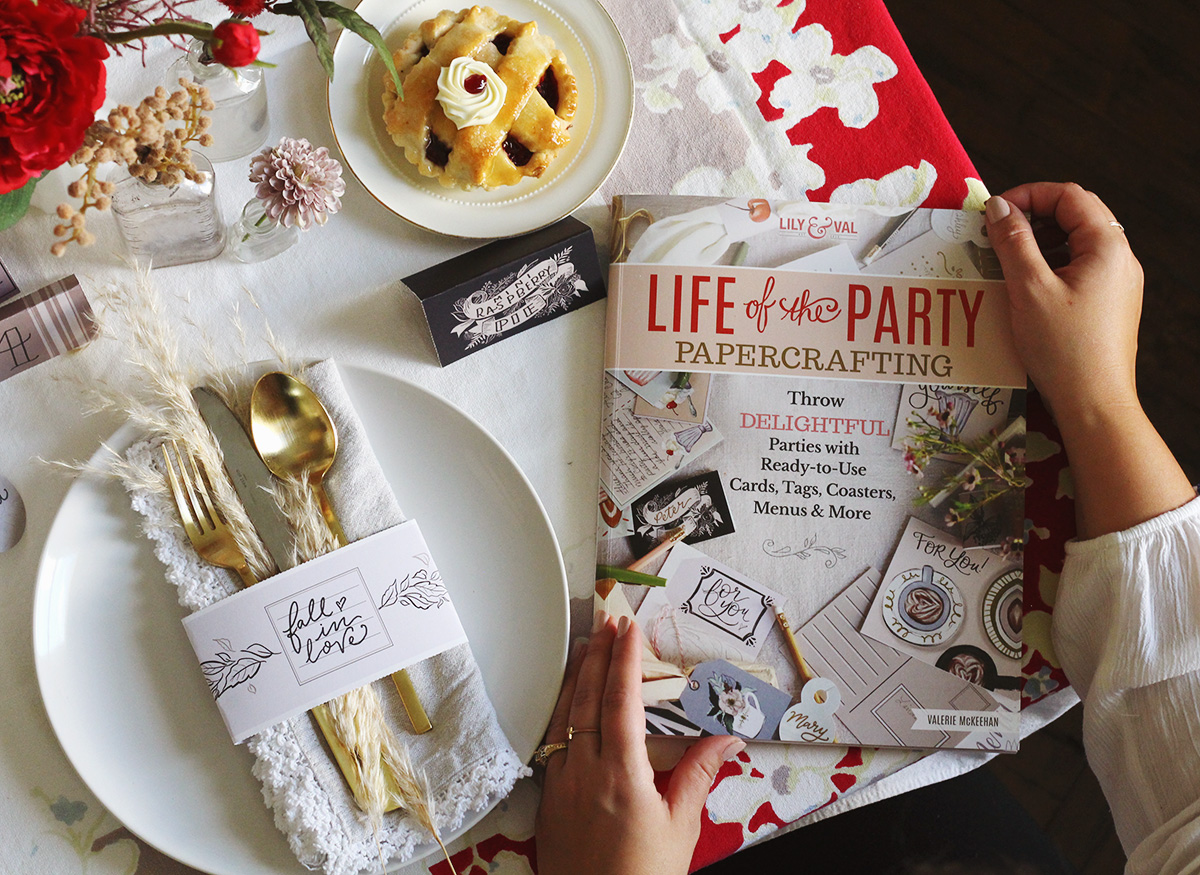 Set Those Alarms
The day before the box goes on sale (September 12 at noon EST), we will be jumping on Facebook LIVE to show you even more!
A few other announcements to answer your questions before the boxes go on sale:
* The price of the box includes shipping! The value of this Fall Box is over $130 so we can assure you it's going to be an amazing deal!
* Because the box is already priced as such, no other discounts or coupon codes will apply.
* Boxes are currently only available in the U.S. (international friends, we are very sorry and hope to have a future solution!)
*You guys are just the best. We love you!
Sign up to receive L&V emails and be notified when the box is on sale! And don't forget to set those alarms- Thursday,  September 13th at noon EST! We expect to sell out quickly!