Friends, you asked for more curated surprise boxes and we're thrilled to say the next one (with a Galentine theme!) Is launching on Tuesday, January 30th at noon EST! Eeek!
Our very first box was released in December and we sold out in 20 minutes! I still can't believe it! We did increase the number of boxes we have available from last time, but still a VERY limited number. So, set those alarms! 🙂
About L&V Surprise Boxes:
Our curated boxes are filled with L&V products, gifts & goodies from makers we love and one-of-a-kind items handmade by us and only available through the box! We put them for sale at an AMAZING price (which includes shipping) and once they're gone, they're gone for good!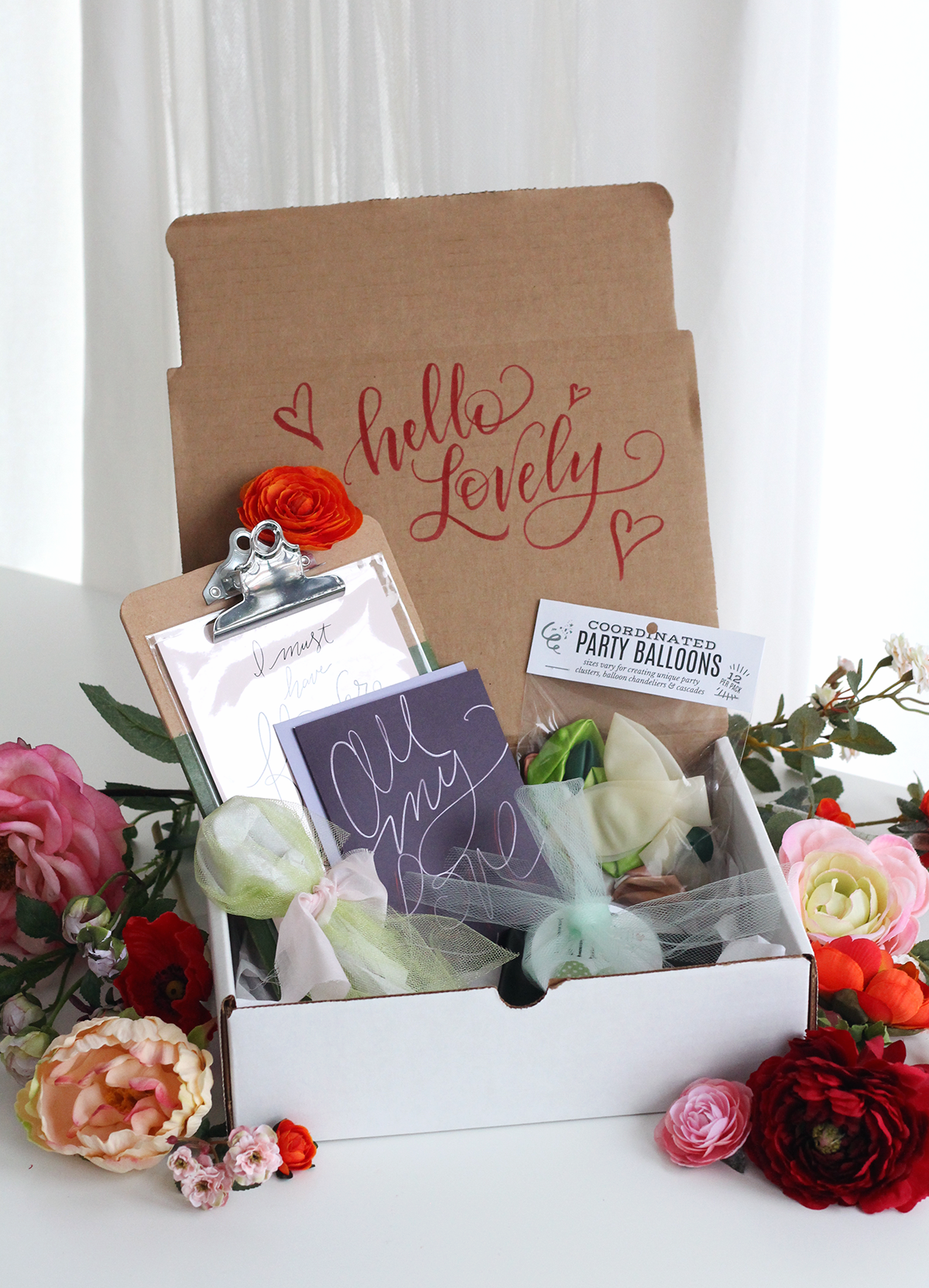 A peek at what you can expect to find in this box:
We're not going to give all the secrets away, because what's the fun in that?! But, we did want to share just a tiny peek of what you can expect to find as part of these Galentine's goodies!
A 5×7 print and hand-painted clipboard:
Clipboards are one of our absolute favorite ways to display L&V prints because you can easily switch out prints and they look so cute hanging on the wall as an alternative to a frame. These clipboards will be hand-painted to specifically coordinate and complement the print that you receive! We're not going to tell you which print or what color clipboard, but you can guarantee it will be a best-selling, everyday print!
Party Balloons:
Every box will receive a party balloon pack! This idea was inspired by the balloons used in our Valentine collection photos! Each pack will contain enough balloons to make an adorable cluster for your Galentine's get-togethers. The colors and sizes of balloons have been hand-picked to ensure you will have a lovely display!
That's all we're going to reveal for now, but the contents of the box will have a value of approx $90!
This Galentine box is going to be perfect to treat yourself, give as a gift, or our favorite option: keep some of the items and give some away! There will be plenty in this box to treat yourself and a few friends. 🙂
The day before the box goes on sale (January 29th at noon EST), we will be jumping on Facebook LIVE to show you even more!
Sign up to receive L&V emails and be notified when the box is on sale! And don't forget to set those alarms- Tuesday,  January 30th at noon EST!