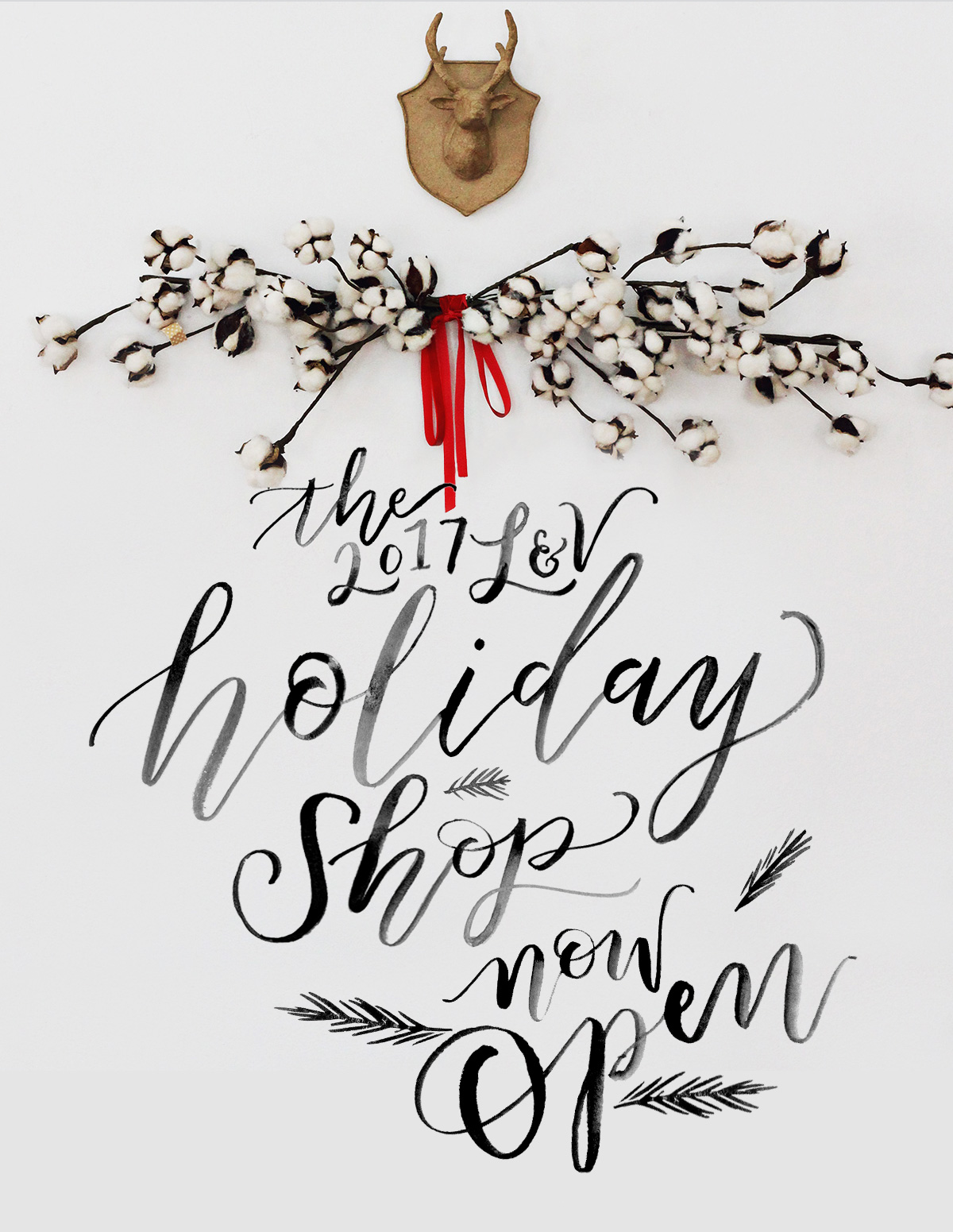 It's HERE! Friends, this is probably the launch I've been most excited for all year. I'm thrilled to present to you the "All is Calm Holiday Collection 2017."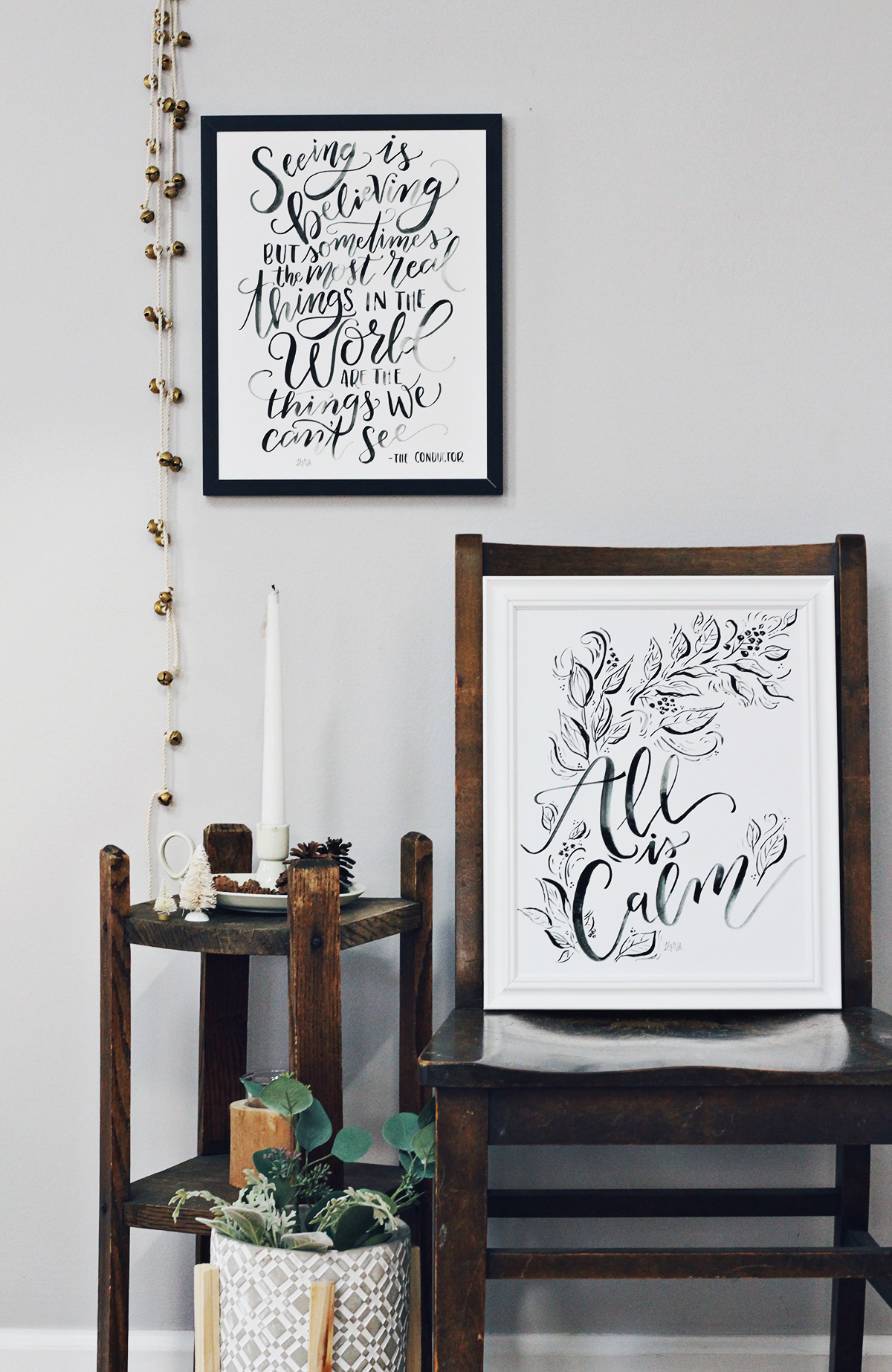 I will be honest. So far, 2017 for Lily & Val has been a whirlwind. We've experienced some wonderful highs and exciting growth, but that hasn't come without its lows, intense pressure, trial and error, and mountains of work. The realities of running a small business often make my head spin. In this season of my life, what I'm craving most is slow. I'm craving simplicity.
When it came time to design the 2017 holiday collection, the pull of my heart was to create something to encapsulate this concept – a refreshment, a breath of fresh air.  "All is Calm" –  I couldn't shake those words. It's the opposite of what I was feeling, but it's what I desire and hope for all of you this holiday season and beyond.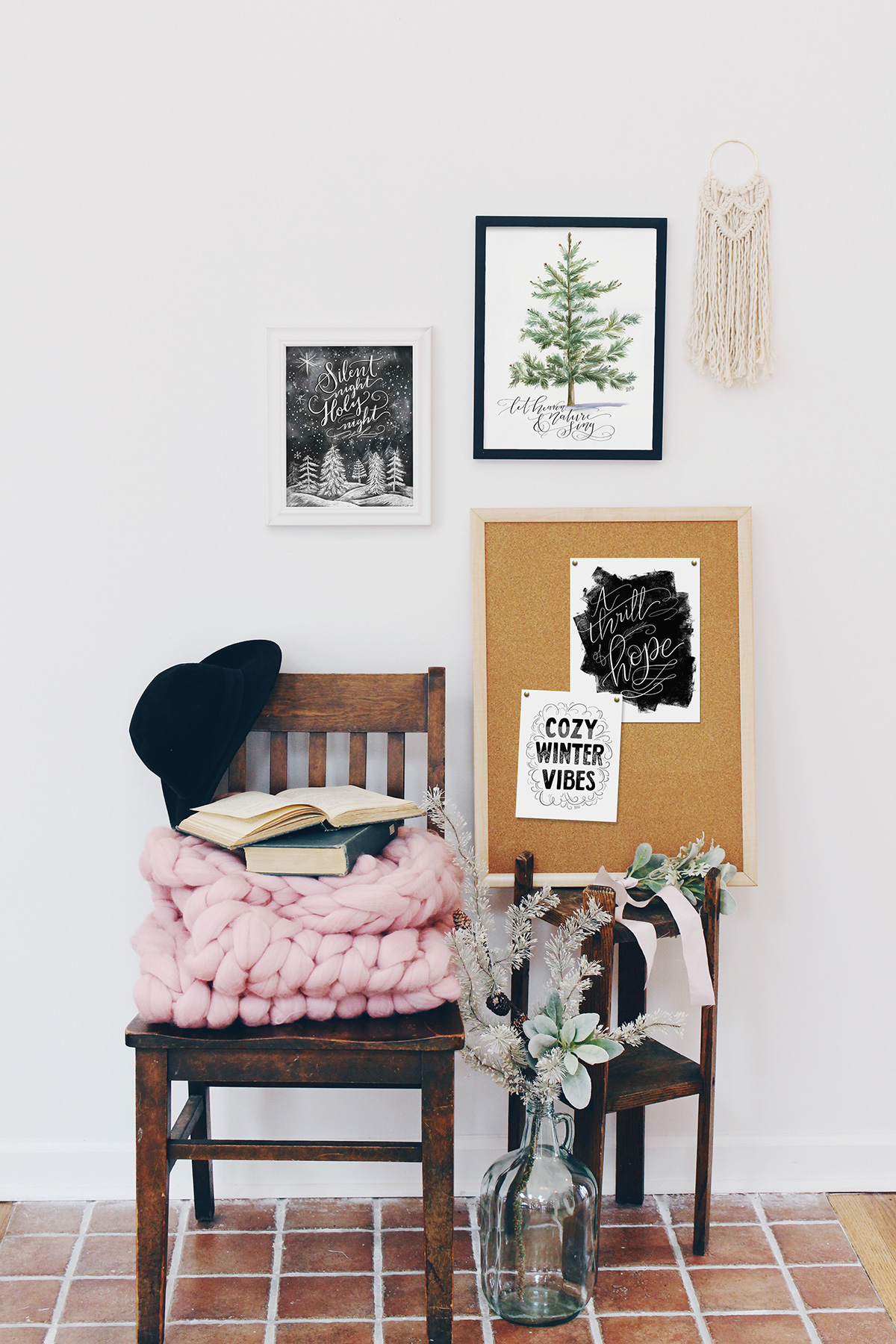 In the designs, I turned to natural elements and their simplistic, comforting beauty. Trading bells, whistles, and glitz for cozy, minimalist, striking, and raw.
Here are just a few of the designs you will find in the collection! All prints are also available as an L&V Canvas! 
White Christmas
You're sitting in a snow-covered cottage, sipping hot chocolate with extra marshmallows on top. There's no reason to go outside, because you have everything you need right here—loved ones, a full heart, and a piping-hot cup of cocoa, of course. Revel in that nostalgic Dutch Christmas feel with this dusty, wintry print that will complete your winter wonderland with all the coziness of a chunky, cable-knit blanket.
12.25
Family is forever. Inspired by traditional family crests, this unique painting is a piece to be treasured. With soft greens and a partridge in a pear tree, it's a fresh take on the date circled in red on the calendars of so many. We hope it helps you savor this season that brings us all closer together, no matter how near or far family lives.
It's A Wonderful Life
Featuring the classic film's namesake, the It's A Wonderful Life chalk print inspires more coziness and personal connection for this holiday season. Focus on the elements that make your life wonderful with this soft and inviting piece pastel enough to feel feminine but neutral enough to appeal to masculine taste, too.
Cozy Winter Vibes
Oversized sweaters. Fuzzy socks. Crackling wood popping from the fire. Need we say more? This season is all about channeling those #CozyWinterVibes, which is why this simple yet detailed illustration is a must for modern spaces with neutral and/or trendy design. Let more whimsy and cheerfulness into your home and hang this piece where all your cozy memories are made.
Let Heaven & Nature Sing
We think Charlie Brown said it best: "It's not what's under the Christmas tree that matters, it's who's around it." What's not to love about the sweetness of this joyful, woodland print encouraging us to appreciate nature's simple pleasures? A must for Charlie Brown fans and holiday cheermeisters alike, keep this bright and airy piece somewhere you can see it when you need to smile.
A Thrill of Hope
This design makes a bold statement deserving of such a declaration of hope. It's easy to see darkness in the world around us, but through the dark – through times of uncertainty and unrest – Christmas brings hope. The weary world rejoices, indeed.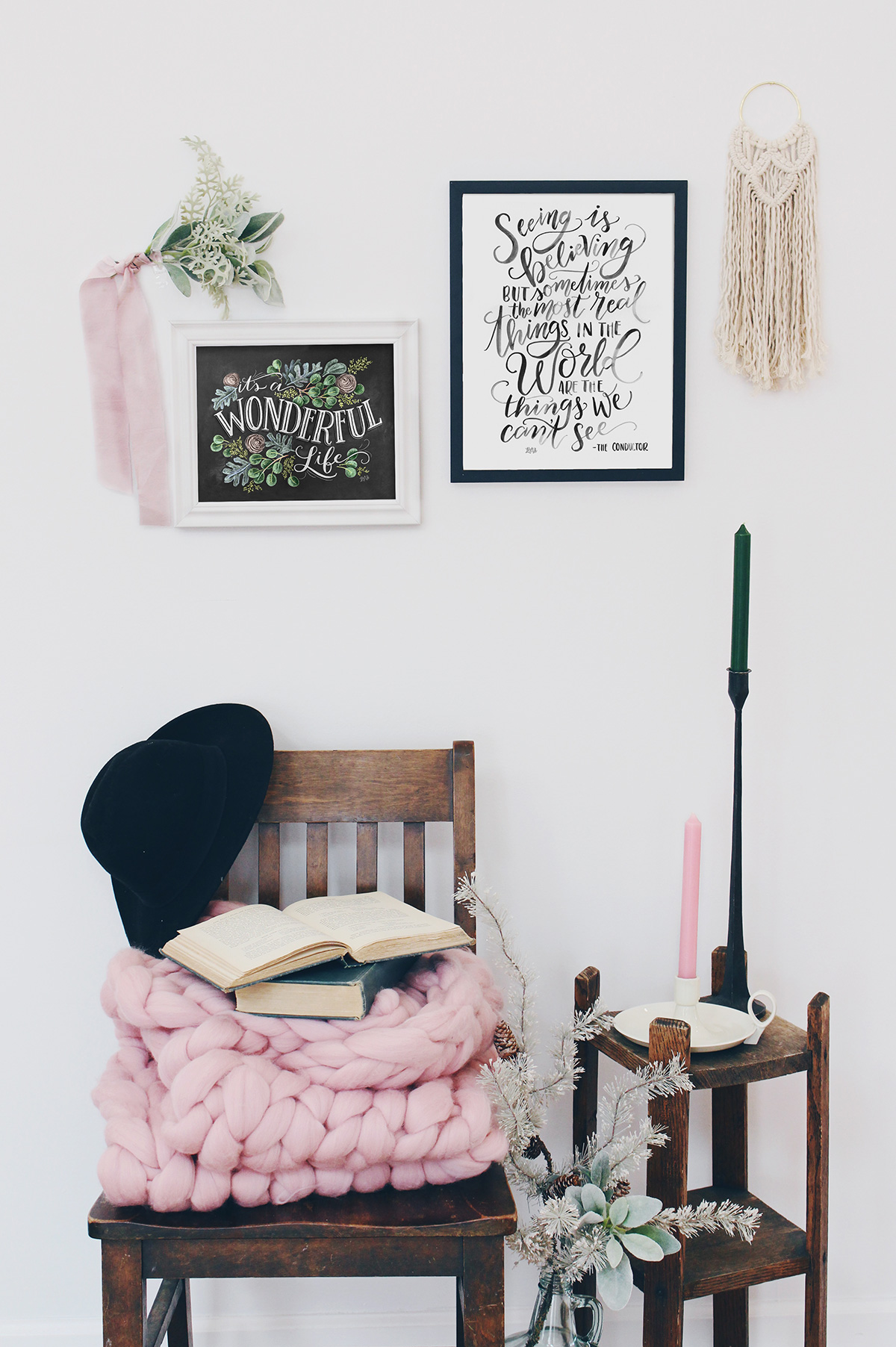 In total, there are 10 new prints, 8 new cards, and our popular assorted card set! Many of the print designs are also available as cards.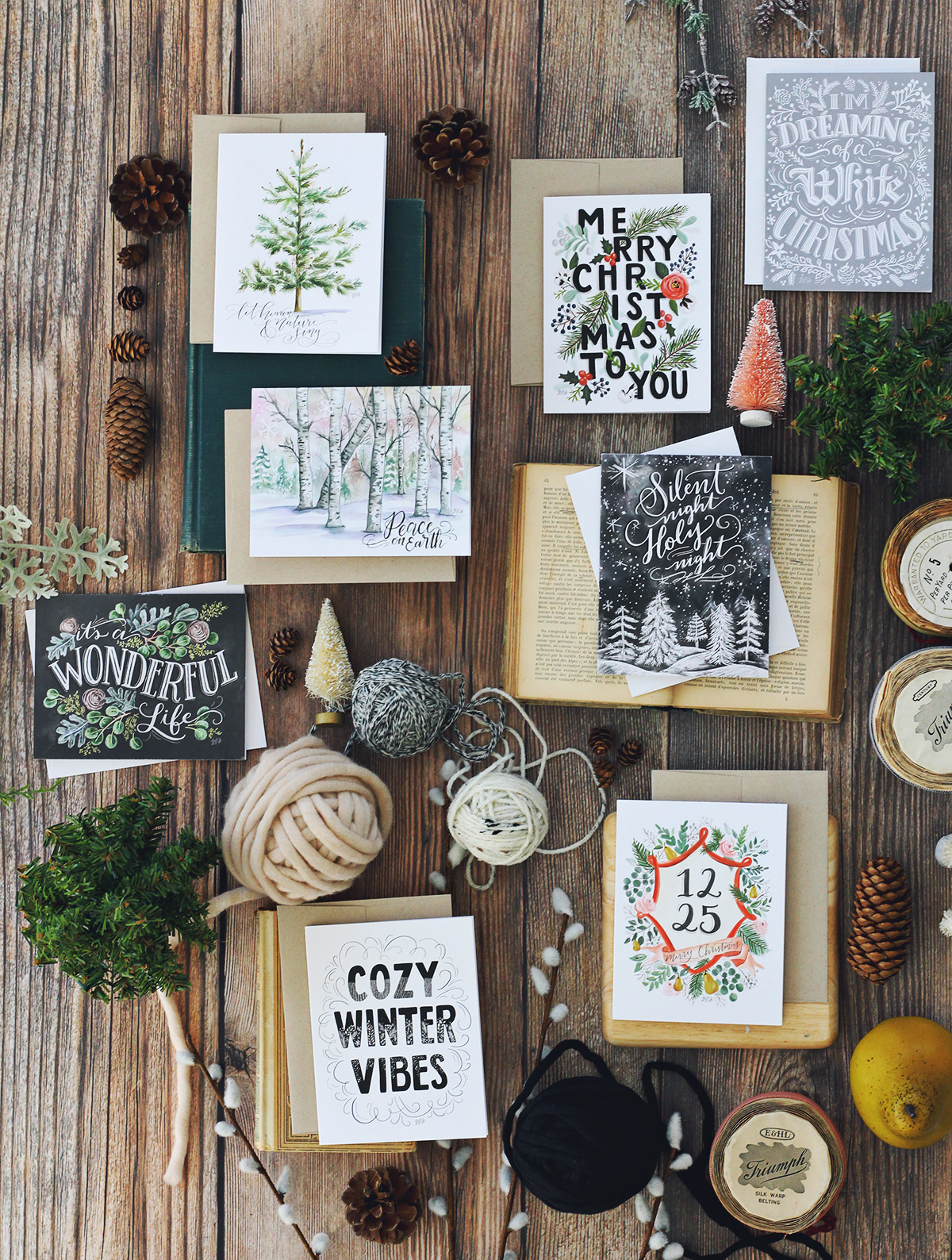 To read more about this collection that is so special to me, take a peek at our 2017 Holiday Lookbook!
It's also filled with behind-the-scenes peeks, inspiration, styling tips, and even our current favorite Christmas song to listen to while you browse!
I cannot wait to hear what you think of this collection, friends! Perhaps you too are going through a period of hustle and busy and just need to pause. I hope this collection serves as a reminder to refresh your soul with the simple things and what matters most.