Guys, I'm beyond thrilled to introduce you to this lady! Meet Emily! Emily joins the L&V team as Shop Assistant. She will be helping our lovely customers with any needs and managing your orders. You will also be hearing more from her here on the blog in the coming weeks. You all are just going to love her!!! Welcome, Emily!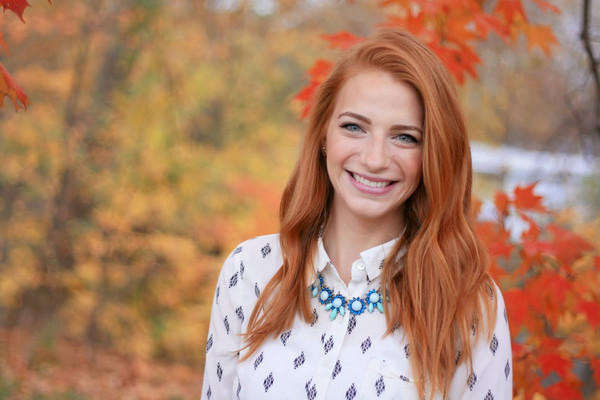 A little about me:  Being such a creative person, my goal through schooling was always to find a job where I would be surrounded by creativity.  Lily and Val is truly a mix of my favorite things: letter writing, hand lettering and chalkboard art.  This year I have discovered new hobbies like calligraphy and DIY, and I graduated college with a degree in Marketing.  I am an avid reader and movie watcher, and if I'm watching TV it is more than likely Food Network Channel.  I feel blessed to have such a close, loving family and I could gush about them all day, but I won't! I'm thankful and so excited about this new chapter of life!
Coffee or Tea?  
Definitely a Tea girl.  Any caffeine is too much caffeine for me, but I never say 'never' to frilly Starbucks drinks!
Cake or Pie?
I've always been keen on pie- to eat and to bake!  My mom makes an outstanding apple pie for my birthday every year.
Favorite Christmas Movie?
I can't name just one!  There are too many that my family and I watch over and over again: The Polar Express, White Christmas, How the Grinch Stole Christmas (both versions!), and It's a Wonderful Life.  There is also something about Eloise at Christmastime that puts a smile on my face.
Guilty pleasure?
Sour Patch Kids, Gilmore Girls, Lush bath bombs, and QVC- don't worry, I never buy anything.
Last book you read?
Someplace Safe with Someone Good by Jan Karon
Favorite place to be?
In the company of my whole family!  I have three older sisters and one older brother and it has become rare that we can be all together.  Icing on the cake would be in a small town in Iowa where my Grandma lives.
Words to live by?
"There are far better things ahead than any we leave behind" – C.S. Lewis
Favorite L&V Product? 
I find a new favorite every day!  The holiday recipe prints and the brand new mugs (coming soon!) have knocked my socks off!  I also have a soft spot for the "Joyeux Noel" card because I studied in Paris in for one semester!