Hi Friends! It's been a whirlwind of a few weeks after returning from the 2018 National Stationery Show, and I am now finally able to sit down and share a re-cap of this year's show! It was a big week in the Big Apple for our little company. This year's NSS crew included me, Mak and my brother, Neal, who jumped in to help us during the show.
Here are some of my favorite highlights…
The Booth:
If you followed along with our Instagram stories, you may have seen that our booth underwent huge changes this year! We decided to paint the walls a golden, mustard yellow color and our table a blush pink. The backdrop was drawn to look like elegant wainscoting. We even had a drawn mantel (you know how much we love mantels!)
I think the backdrop was my favorite part!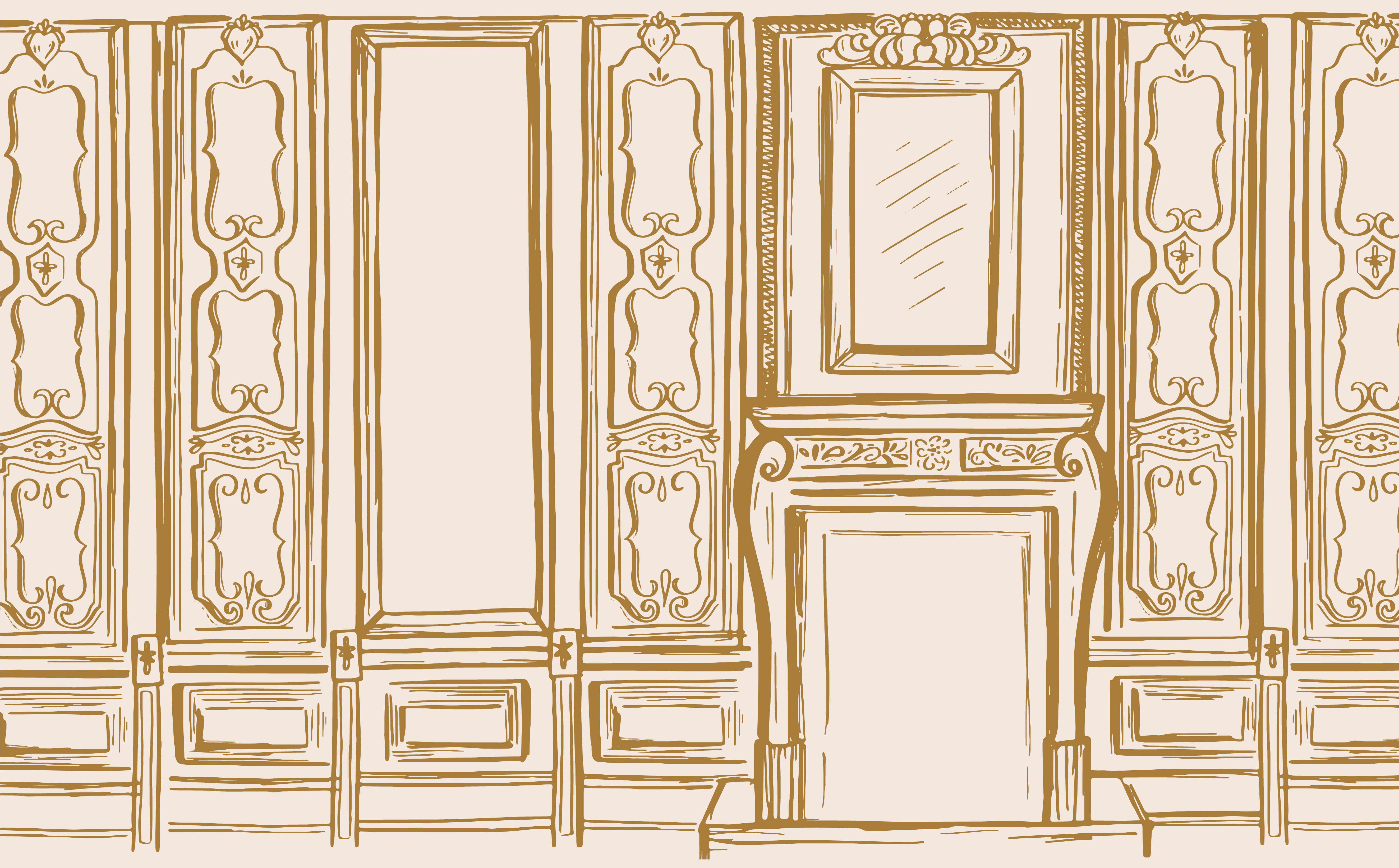 The Wedding Collection:
We purposely went a bit more elegant with the booth this year because we were unveiling our brand new WEDDING collection! Eeek!
I have wanted to develop a full wedding line for quite some time and I'm bursting to share it all with you. The products won't be released to our retail customers for a few months yet, but I can't help but share a few peeks. We are especially proud of our new Wedding Guestbook, which is unlike any other guestbook and has been two years in the making! More on that in a second…
The other new items include cards, artwork, bridal shower invitations, table numbers, photo caption signs and a Wedding Gift Tracker (based on our very popular Holiday Gift Tracker!)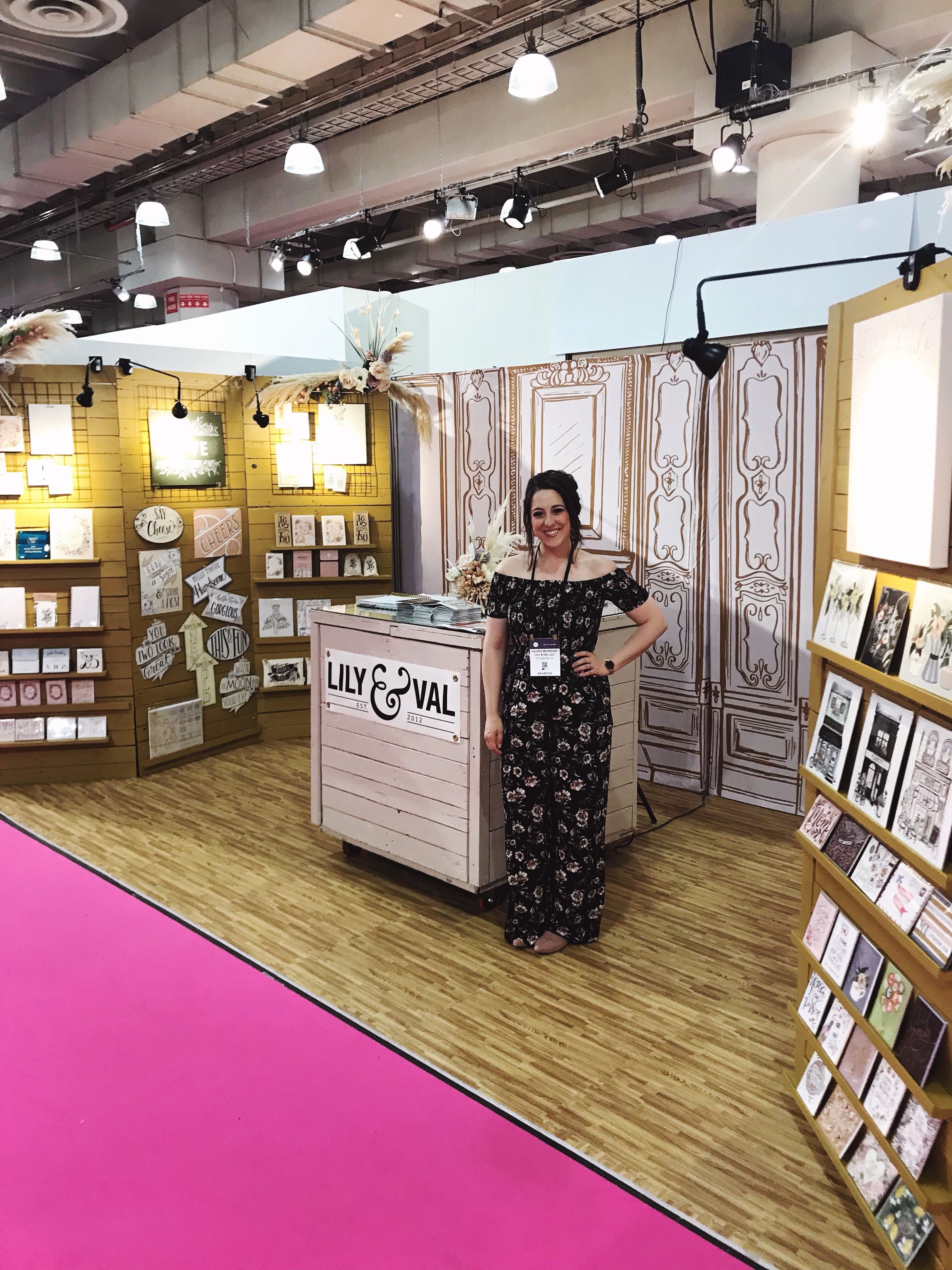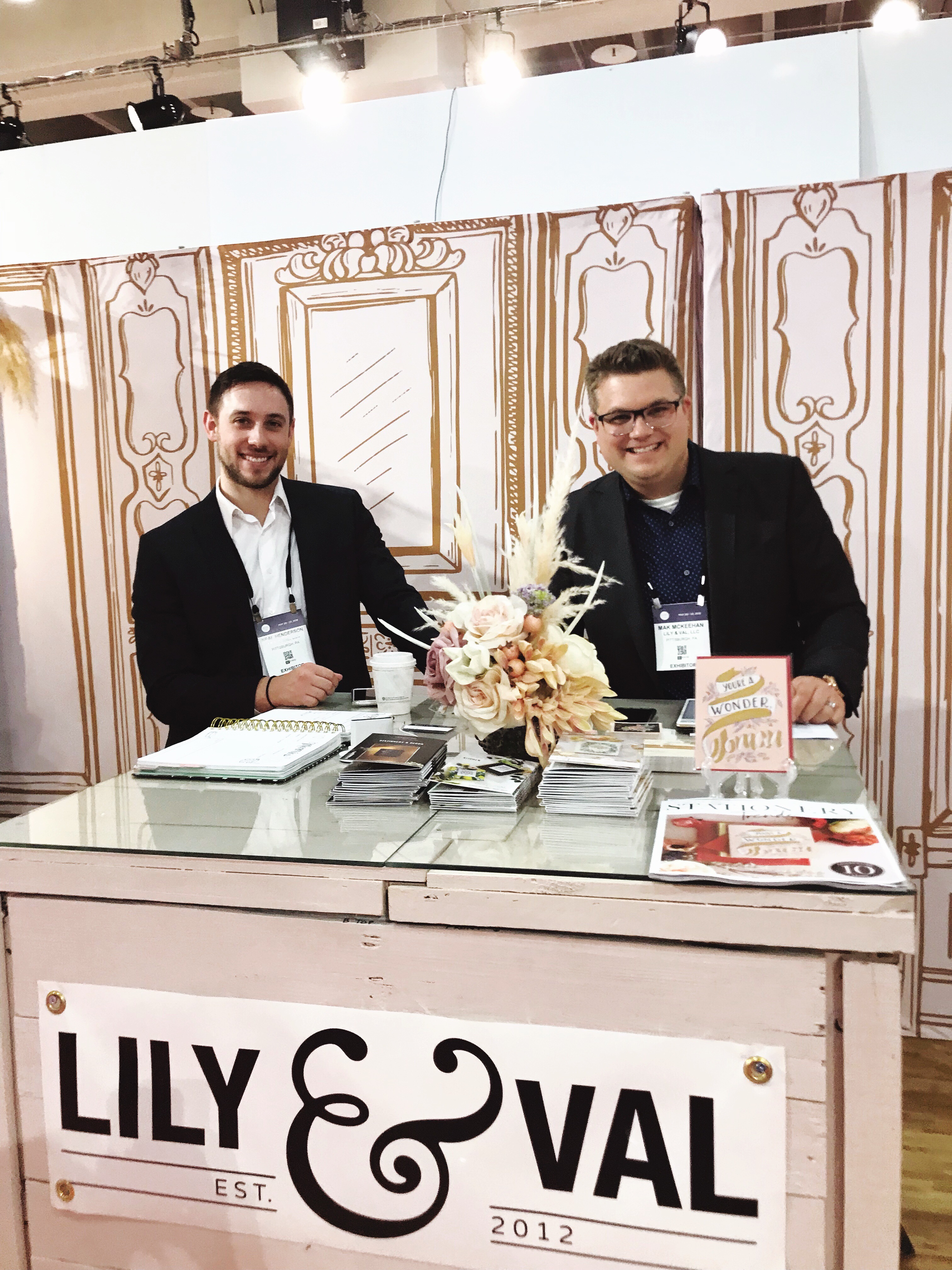 The Awards:
OK, this part is pretty surreal to type. We are ecstatic to tell you that Lily & Val won another Best Product Award this year! (We're still pinching ourselves over last year's Chalk Lettering Tool Kit award!)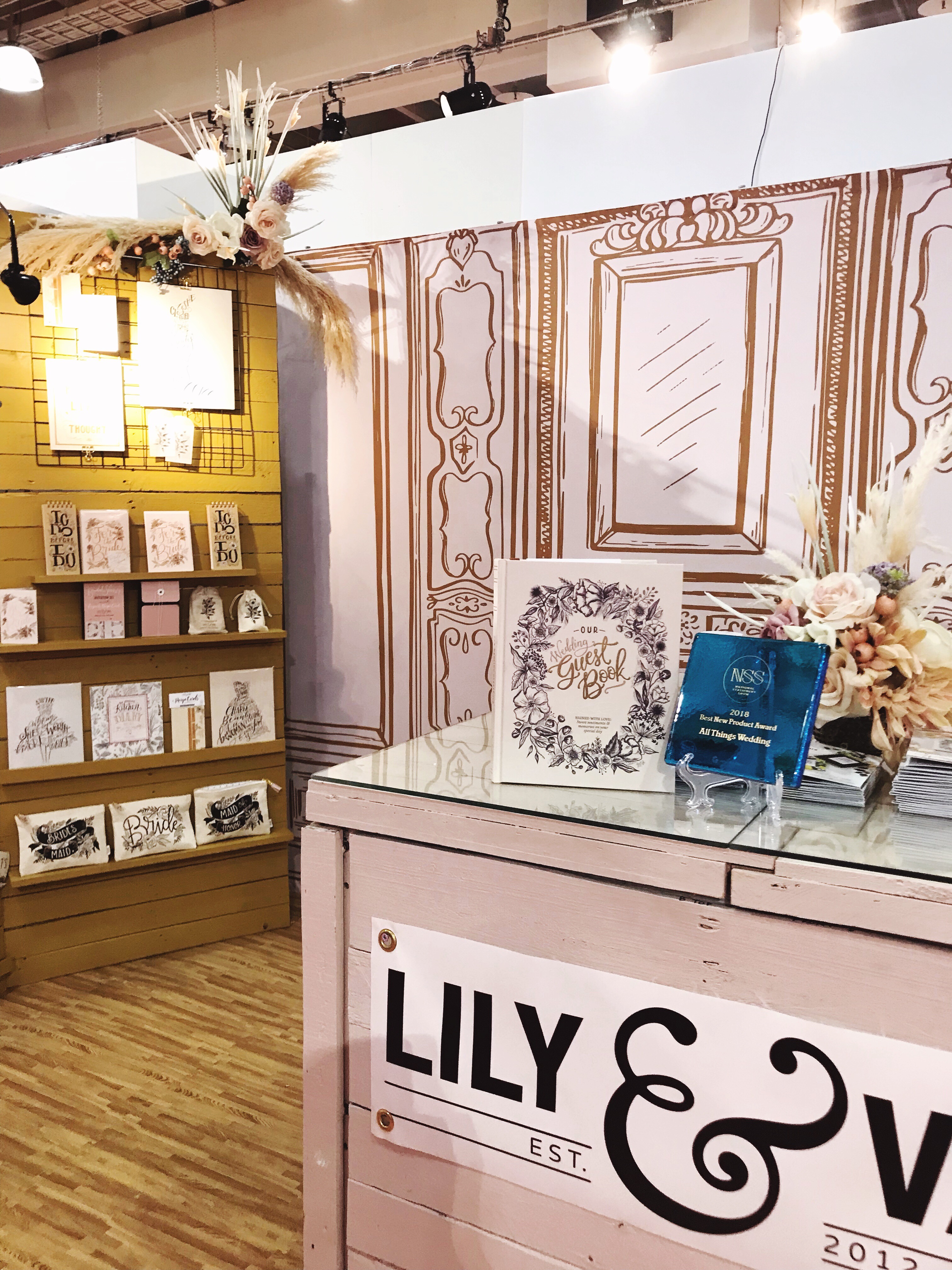 The Wedding Guestbook Award
This year, our Wedding Guestbook won Best New Product in the Wedding category!! As I mentioned before, this heartfelt item is a completely different take on the traditional wedding guestbook. Instead of just a boring list of names, it holds pages of prompts for guests to fill out ranging from silly to fun and sentimental. It's an interactive book for guests, but the couple will love reading answers to questions like "how should we get through our first married fight?" and "Suggest weekend getaway locations."
Something else that makes it different is its design. Goodbye, cheesy guestbook! This one was inspired by a vintage book with beautiful gold-detailed binding. You will definitely want to leave this book on your shelf instead of in a box in your garage (like my own! How I wish I had this guestbook!)
There are other surprises throughout the pages and thoughtful details, which are important to us (like a bookmark!) We cannot wait for you to see it.
P.S. Be sure to sign up for L&V emails to be notified when the Guestbook launches!
We were just a little excited when we won the award!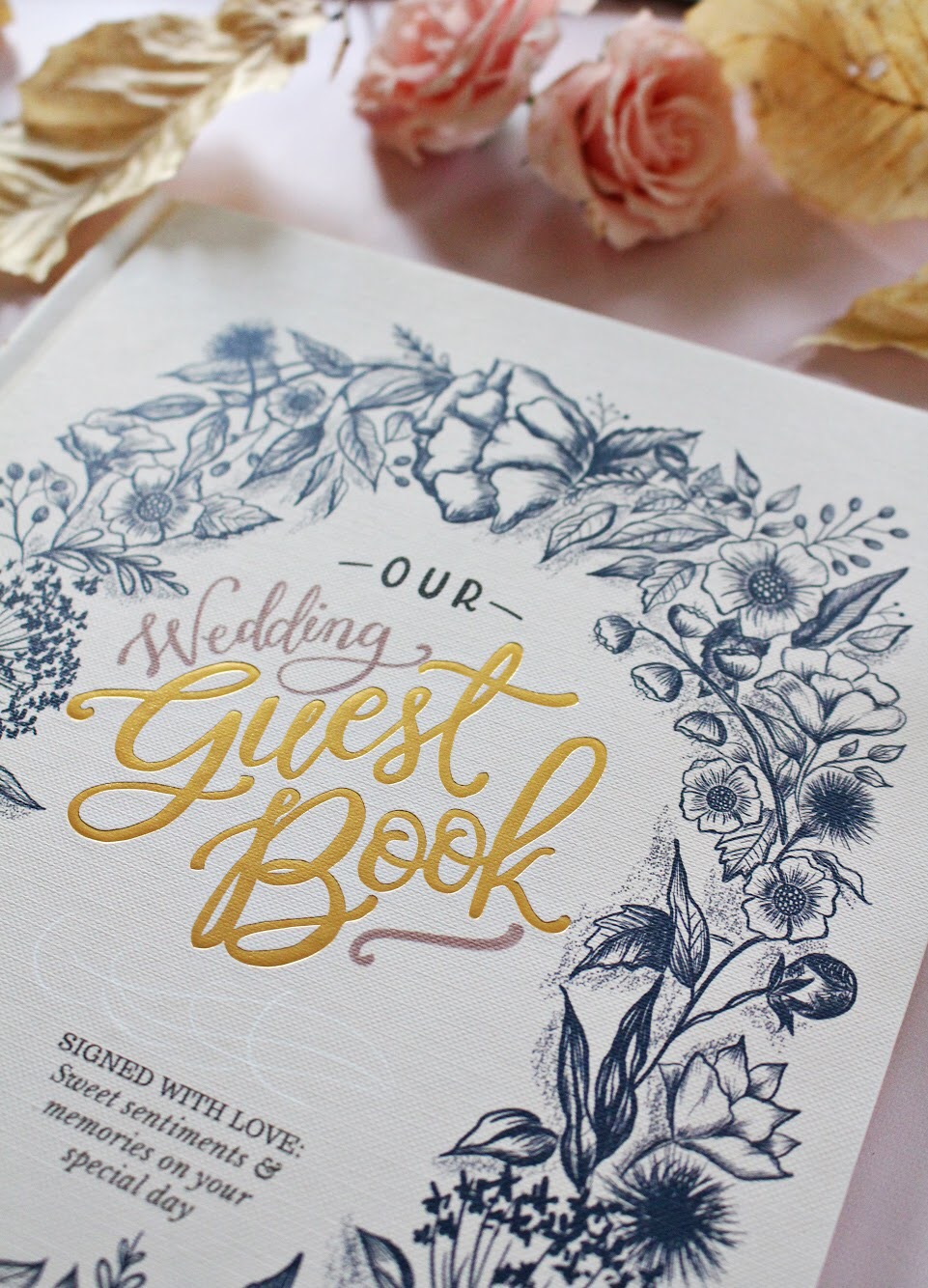 The Louie Awards:
I was incredibly blown away to receive a second award at the show! This time, a Louie Award for one of the holiday photo cards I designed for my friends at Mixbook! Winning a Louie in the greeting card industry is like winning a Grammy. Ahh what a night!
The awards were so much fun and we were all jumping up and down when our card was called! Below is a photo of me with the ladies from my Licensing Agency, Jewel Branding and Licensing and Allison from Mixbook!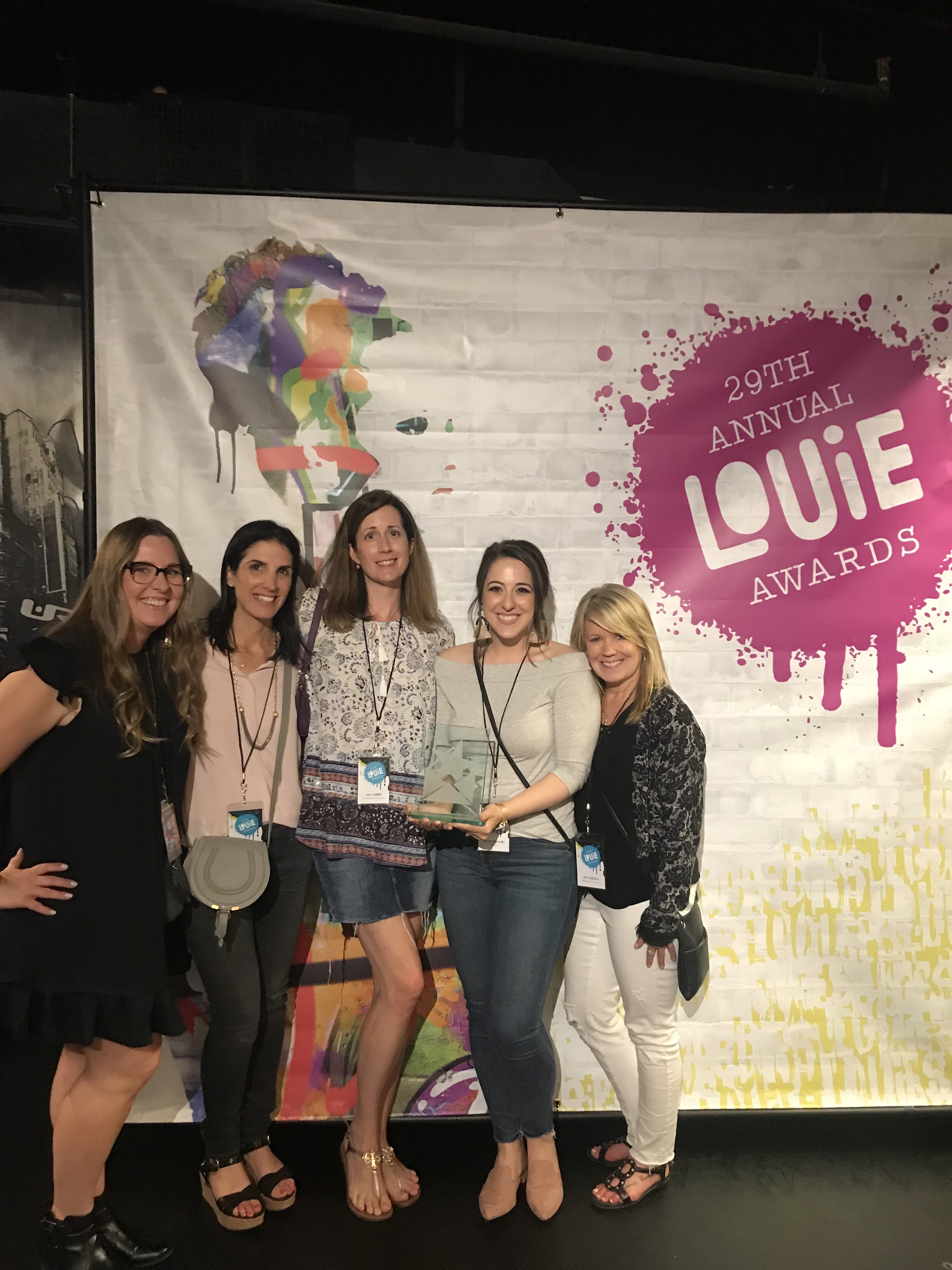 More Fun Things:
Testing out our new Wedding Photo Caption Signs! I have to say, they are A LOT of fun!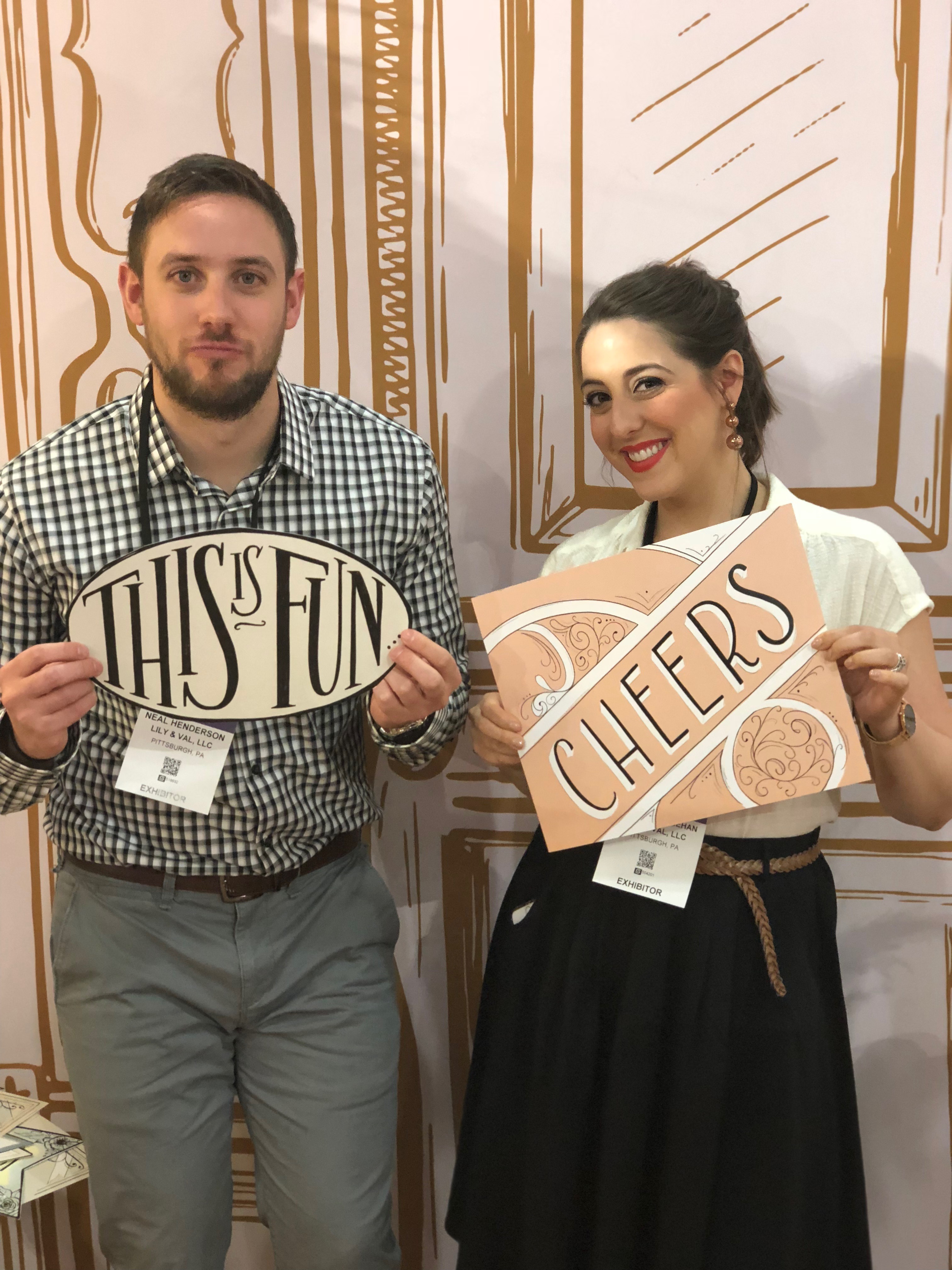 Squeezed in a night to see a Broadway Show! Phantom of the Opera is my favorite and I had the music stuck in my head for weeks after (not complaining!)
Loved displaying our Wonder Woman note card next to Stationery Trends Magazine, which features the card on the cover!
Our takeaway was one of our new loose recipe cards (they will be part of the wedding collection) filled out with my Mom's corn casserole recipe! We believe handwritten recipes are just the best!
All in all, it was an amazing trip. I am so grateful for the chance to meet new retailers, say hi to current retailers, see IG friends turned real-life friends, lots of putting-faces-with-names. Thank you to everyone that came by our booth and to everyone who supported us via your encouragement on social media! I'm grateful for this mile-marker in the Lily & Val story.