This past Friday evening made Lily & Val history! We transformed our upstairs Pittsburgh office into a workshop space and held our very first creative workshop. It was, you guessed it –  a chalk lettering techniques class! I'm thrilled to share a re-cap of the first Chalk Lettering Techniques Workshop at the Lily & Val Flagship Store with you…
This class was particularly special, not only because it was the first one, but because we unveiled our latest product- a Chalk Lettering Tool Kit. Everyone's place setting included a hand-painted clipboard, chalkboard sheets to use during the workshop, and our new kits – all tied up with a pretty pink ribbon.
The Backstory
Ever since The Complete Book of Chalk Lettering made its debut, I've been wanting to offer a companion kit to make starting a chalk art hobby even simpler! Almost every day on Instagram, questions are asked about the specific tools I use and now they're available in one place. After years of trial and error, I finally landed on my favorite products to compile into the kits. They are the brands and materials I can't live without in my own studio. We felt that the first Chalk Lettering Techniques Workshop at the Lily & Val Flagship Store was the perfect opportunity to unveil the kits!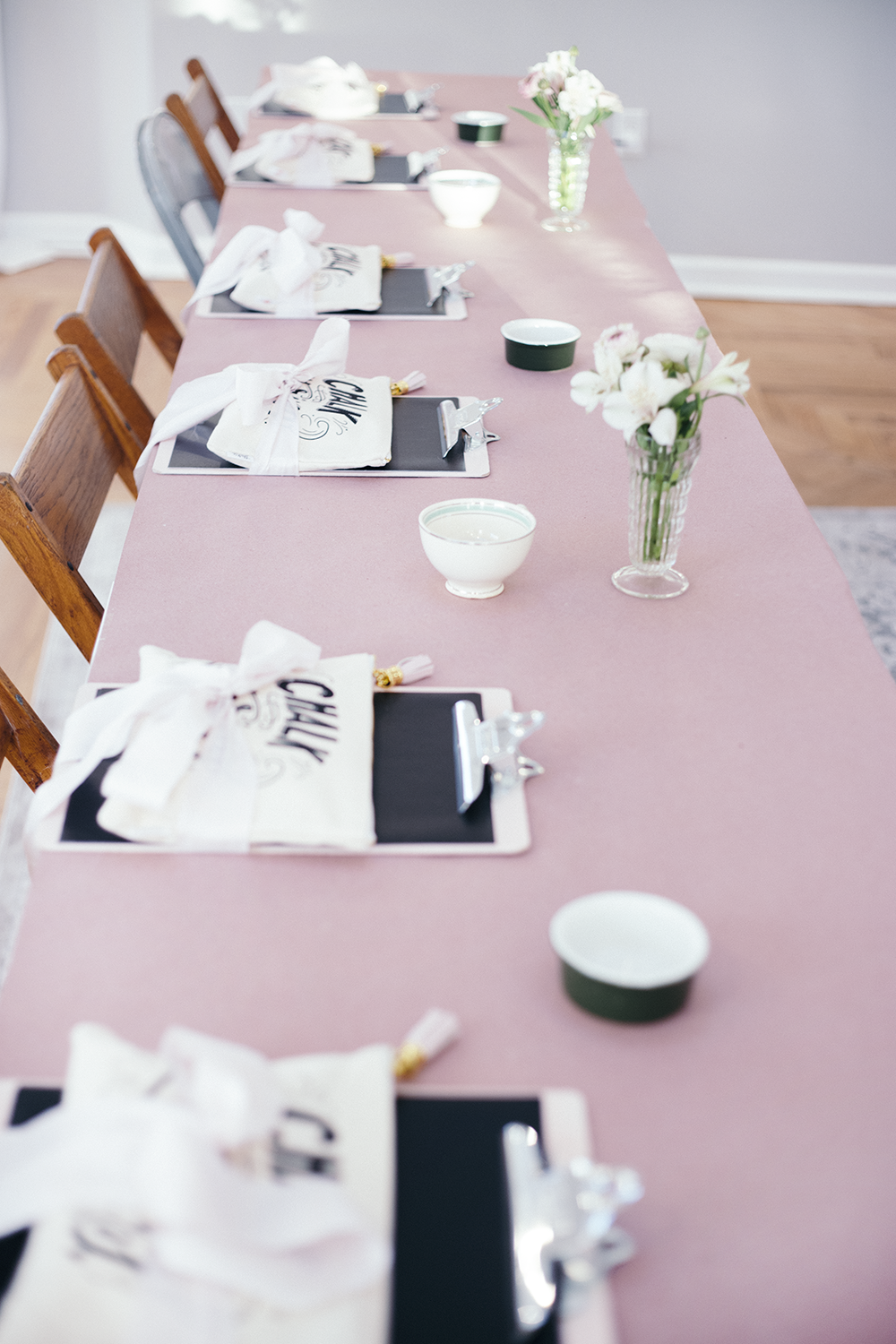 What's inside:
This kit combined with the built-in chalkboards of The Complete Book of Chalk Lettering (or your own chalkboard) provides everything you need to get started with chalk lettering! We've also packaged the supplies in one of our signature L&V zippered pouches to keep your tools organized.
The kit includes:
♥ Box of my favorite chalk (Crayola White Anti-Dust)
♥ Chalk Ink® Marker
♥ Sharpener
♥ Wooden ruler
♥ Microfiber cloth
♥ Felt Eraser
♥ Pink Pencil
♥ Cotton Swabs
♥ Helpful guide with tips & tricks
Chalk Lettering Tool Kits will be available for purchase on lilyandval.com at the end of this week! I can't wait!
Chalk Lettering Techniques Workshop
The Chalk Lettering Techniques workshop is a two-hour class designed for beginners – no experience necessary! If you have zero hand-lettering experience, this class is for you! It is also beneficial for those who have hand-lettering experience in other mediums since working with chalk is very different.
The first portion covered basics for working with chalk, methods for chalk lettering vs. other forms of hand-lettering, and how to prepare your tools. I then covered the three main lettering styles, which all letterforms are built from.
Between snacks and light refreshments, lessons in shadows & dimension and harnessing the dustiness of chalk were covered. The evening finished with a step-by-step embellished chalk banner.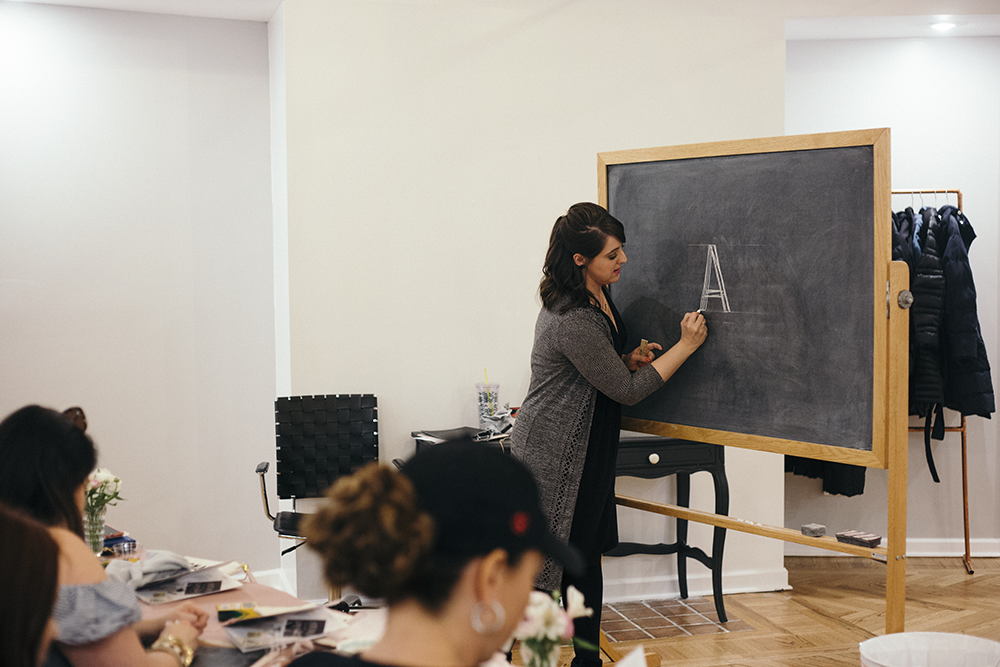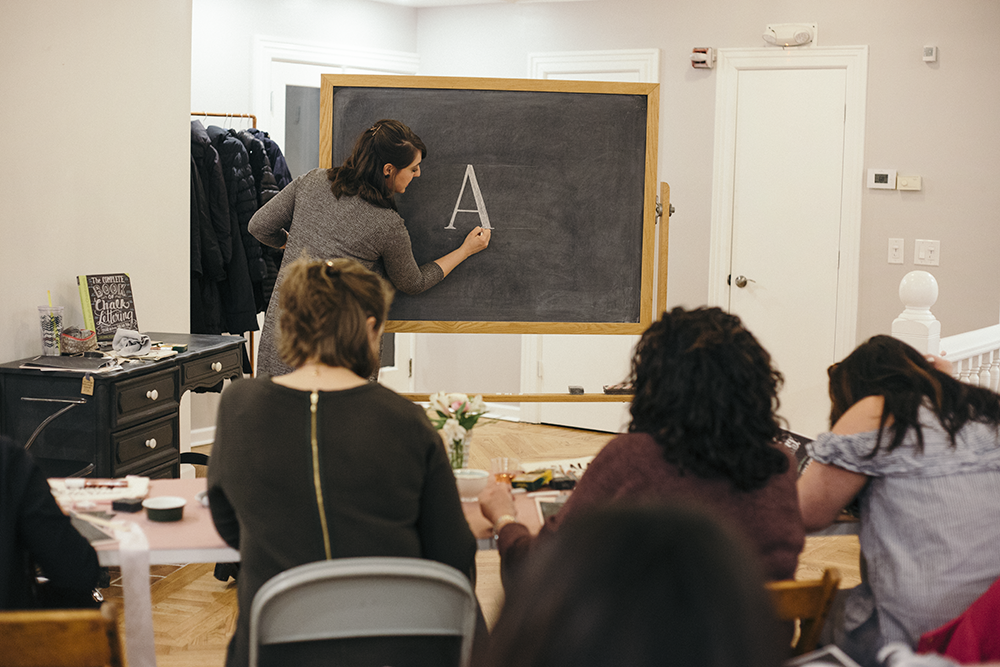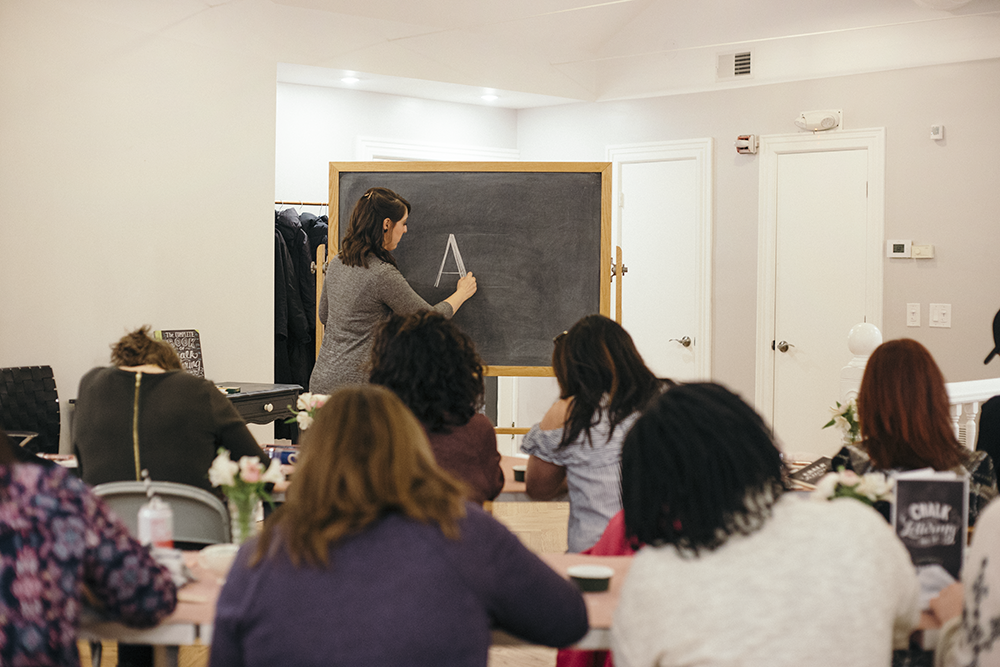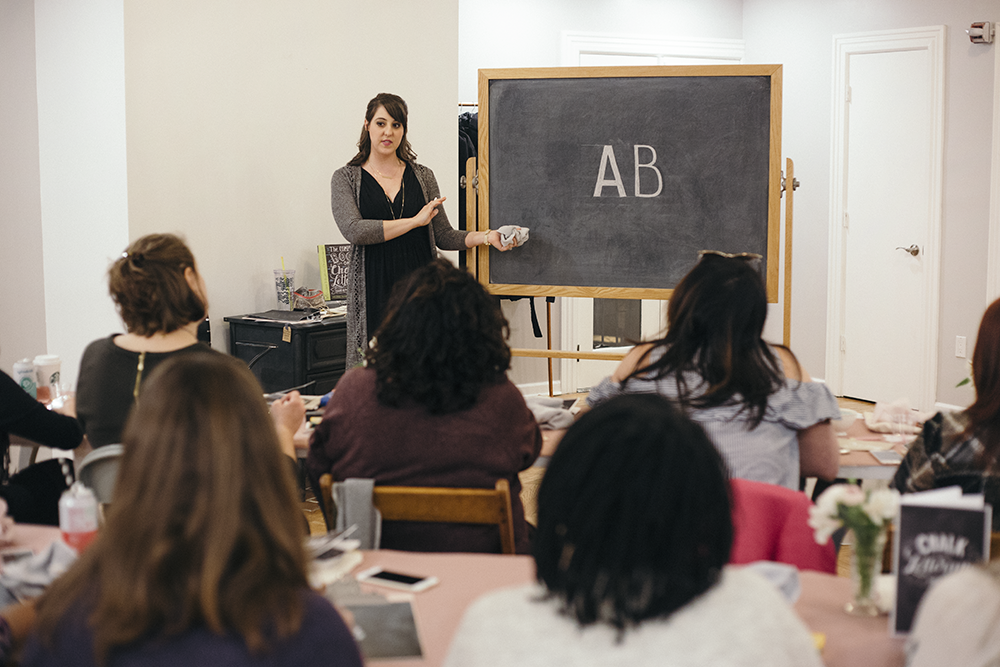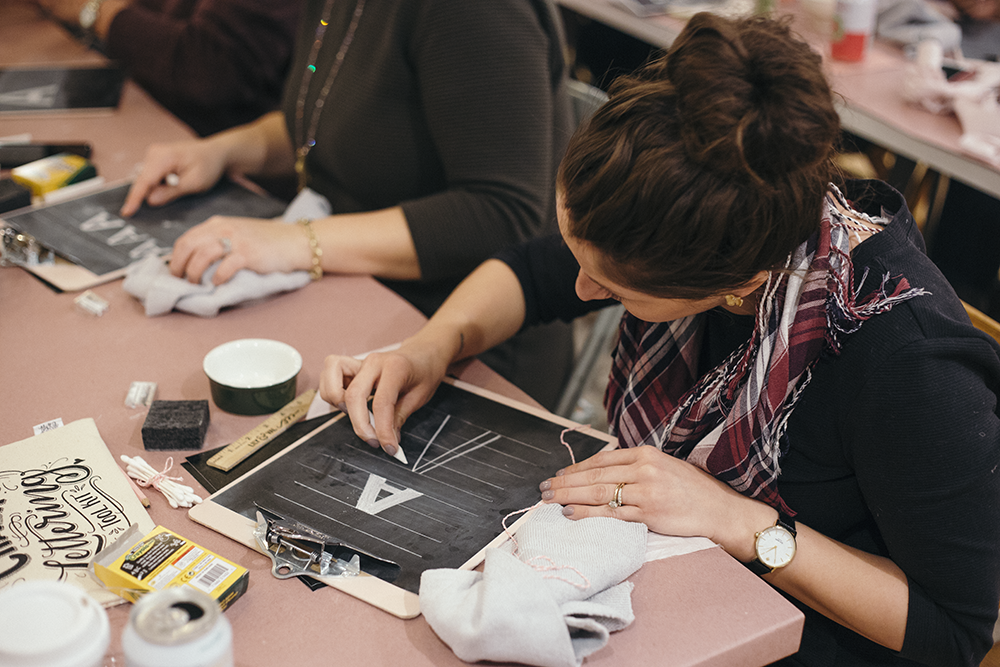 Future Workshops
One of our goals in opening the Lily & Val Flagship Store in Pittsburgh was to celebrate creativity! We will be making that happen with more fun workshops in our space. In addition to Chalk Lettering Techniques, which will be a mainstay class, floral classes, wreath-making, and other DIY projects will be offered. More advanced chalk lettering classes and project workshops where we will create a take-home chalkboard sign are also coming soon! Our upcoming workshop schedule will be housed at workshops.lilyandval.com.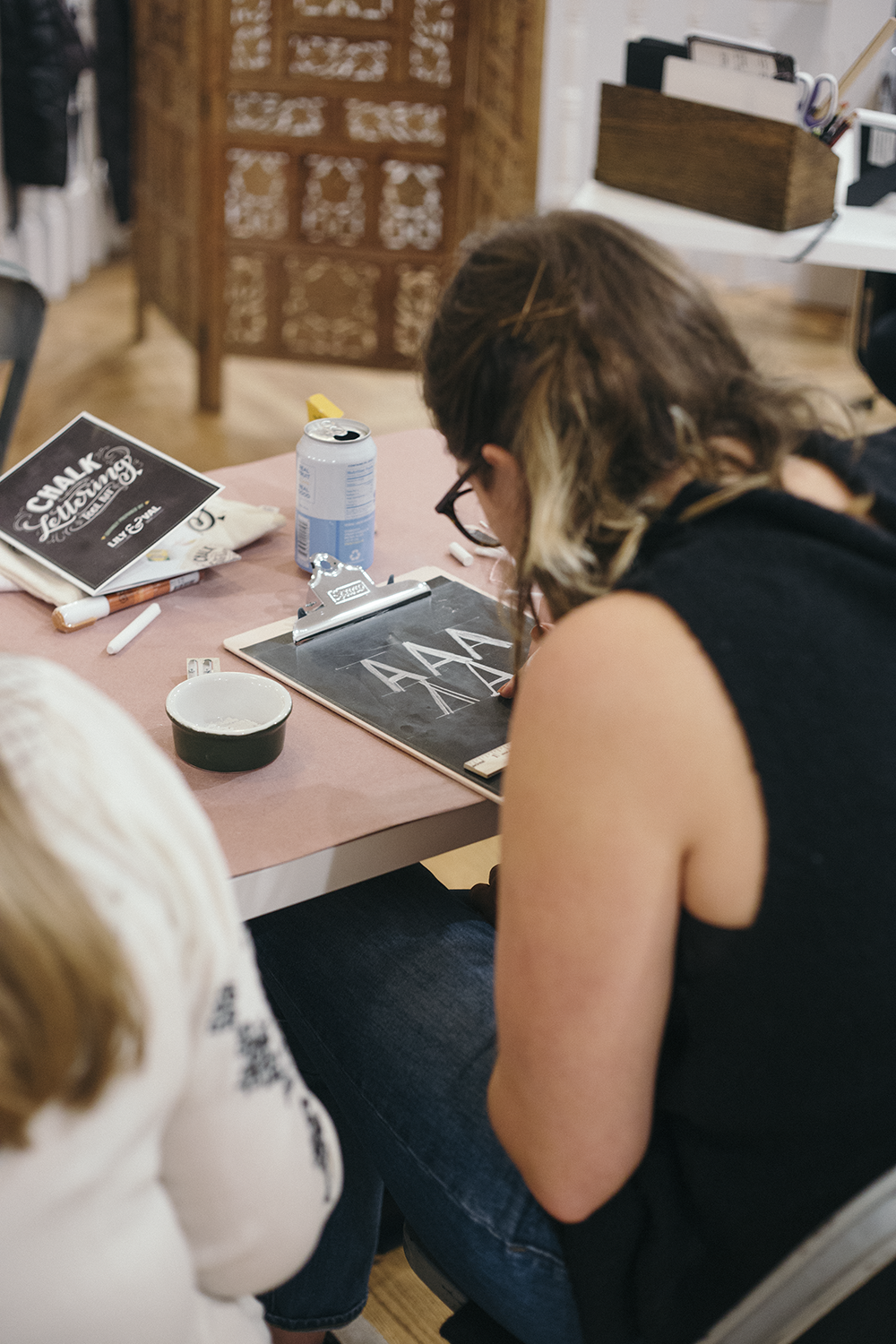 Everyone did such an amazing job and I loved spending the evening with this wonderful group of ladies! I hope to see you at a future workshop at 5900 Ellsworth Ave. Pittsburgh.