Here's a little fun fact you may not know about me: I went to college for marketing and prior to starting Lily & Val, I owned a small, boutique marketing firm with Mak! (Yep, we've been business partners for a LONG time.) Much of our work involved branding for clients and I always loved the part of uncovering what made them tick and the uniqueness that made their businesses special. So, all that to say: I'm still quite a branding nerd. I especially love the thought and emotion behind it because branding is way more than a logo and color palette.
For those of you who may also have a similar affection for branding, I thought I would share this post about the Lily & Val Re-brand! When I look at these mood boards, fonts, and colors it feels like a breath of fresh air – a new look for a new chapter!
Introducing the new Lily & Val brand…
As I mentioned in my previous post, Tyler of Studio B Print & Design created the new logo and branding. I met Tyler a few years ago at the Society for Creative Founders Conference and she and I began working together shortly thereafter on graphic design projects for Lily & Val. (If you know me you know I am not the most proficient on the computer!) When I was feeling like it was time for a re-brand, I knew Tyler would be the perfect choice. She was so patient with me and willing to go deep to uncover what I was looking for. We talked about creativity, pressure, and how we each have a uniqueness to offer the world. She was able to visually articulate what I had a hard time even verbally articulating. She is an inspiring, talented artist and I am so grateful for her!
When I talked to friends and family about the re-brand I described it is as "Lily & Val grown up." The truth is, that's because I've grown up. I've shed my own naivete and the brand needed to do the same. The candy pink was traded for a grey and soft blush, a sweetness for a little grit, a cutesy-ness for a pretty feminity. There's a new air about it that feels more like the "humble & deep" I've been seeking since the beginning of the year. (This is still my mantra thanks to Mister Rogers. If you missed that post, read more here.) I felt disconnected from the old brand because it wasn't in the place I was in personally anymore.
Tyler had the idea of a hand-lettered ampersand to inject a bit of myself back into the brand and I absolutely loved that idea. In the past, I've shied away from hand lettering in my branding because I preferred the contrast of clean lines to the products, which are all hand-lettered. But I loved the idea of the ampersand being a custom mark and focus in the logos.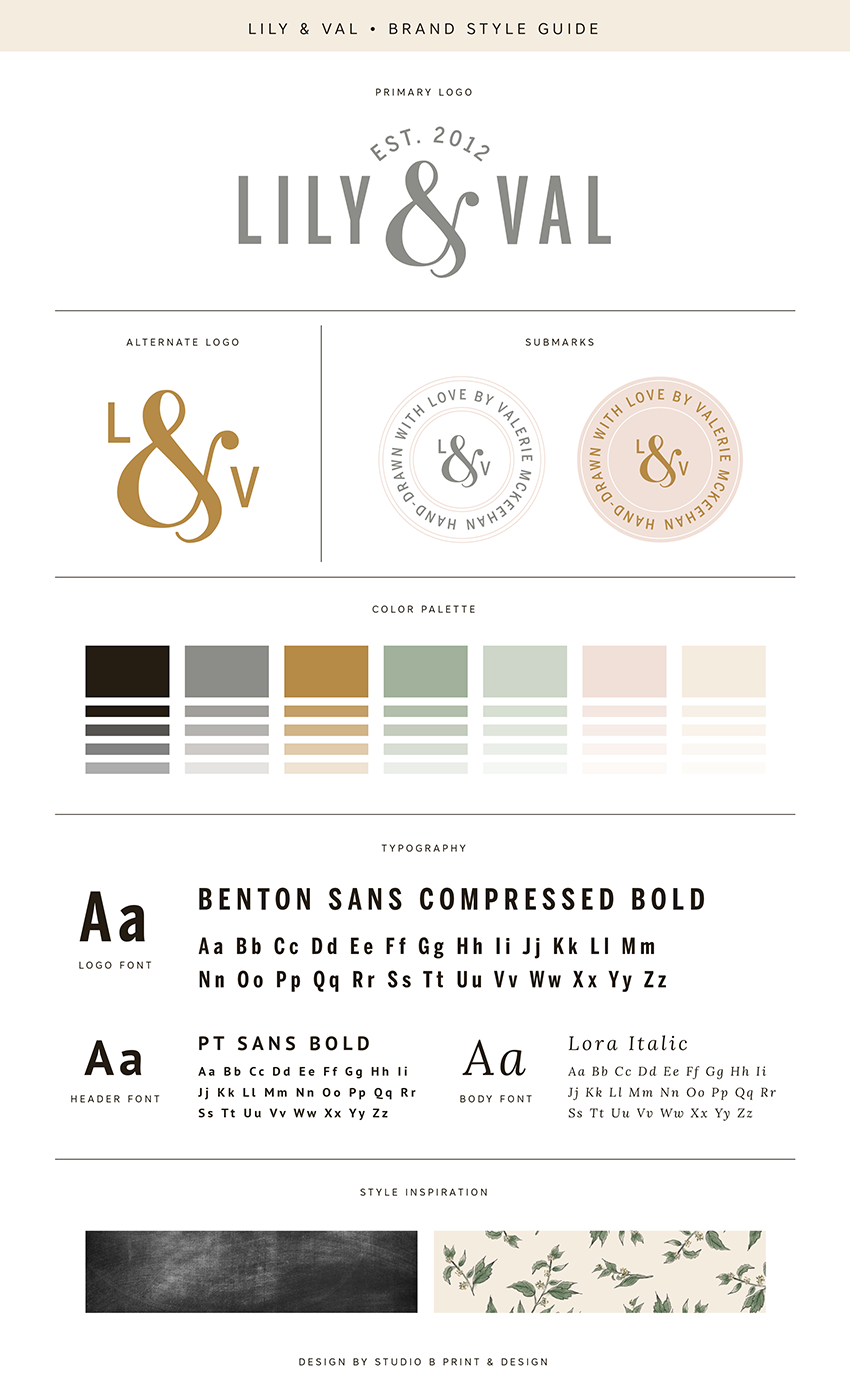 A lot of our conversations came back to a French vibe. I was deeply moved by a trip to Provence a few years ago and there's something about it that still hits me in my core. There's a feminity about it, but it's not fussy. I wanted it to feel approachable, cozy, and friendly, but lovely. It's kinda funny because that's what I think about when I think of the chalkboards that started it all. Such a humble, imperfect surface to hold something pretty and soft. I also wanted a nice dose of nostalgia, but yet timeless. Past memories and nostalgia are a big part of my life and inspiration.
The Lily & Val colors since day one were pink and mint, but this updated palette is more sophisticated and now with an addition of gold. Gold and blush are one of my favorite combinations!
Oh, looking at this just makes me smile! It feels like coming home. I think I'll take off my shoes and stay awhile. 🙂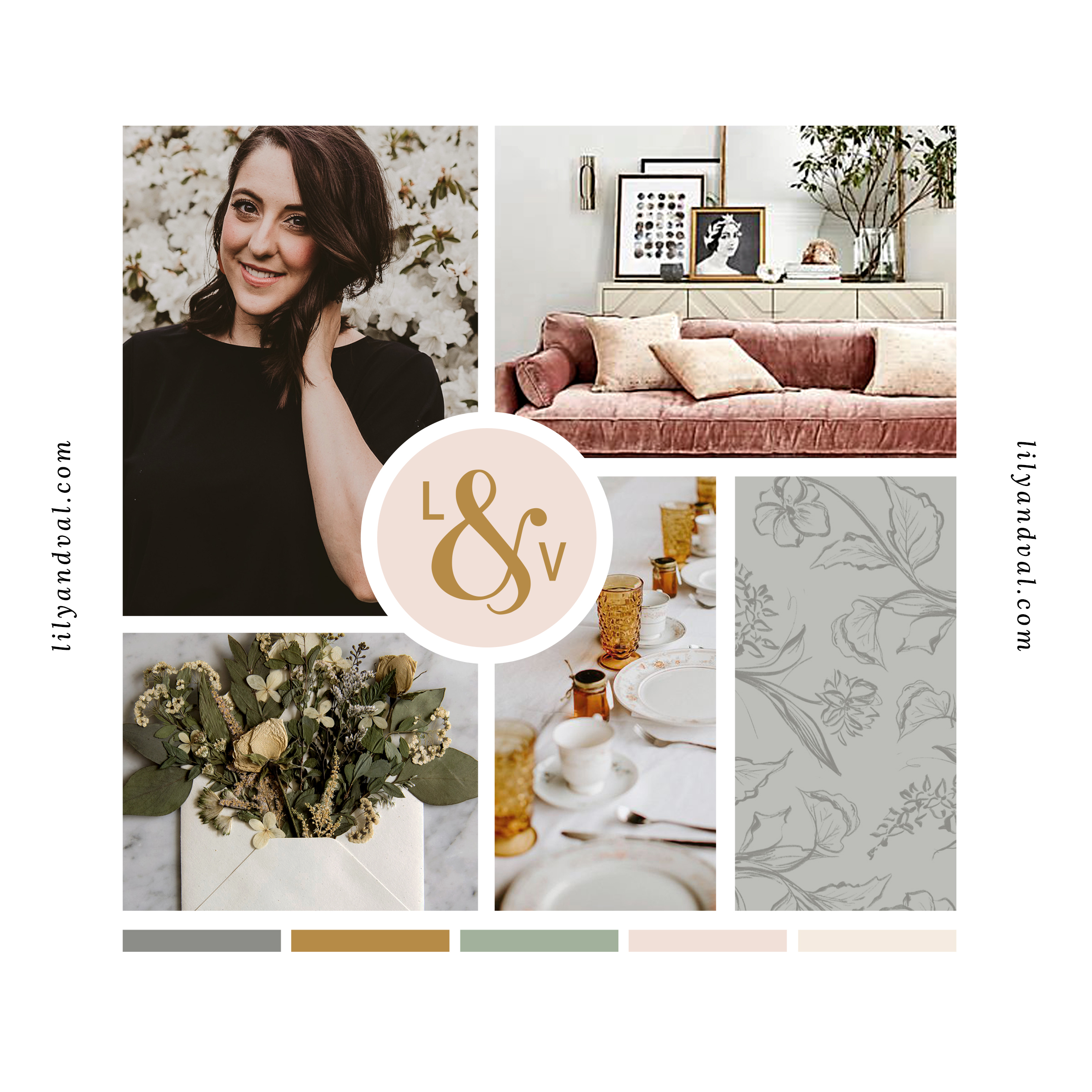 And Thank you from the bottom of my heart…
I've been smiling from ear to ear (in between the times that I've been tearing up), reading all of your comments, emails, and sweet messages over the last week. WOW. I don't even know what to say… just thank you. I was scared to press publish, but it feels like such a weight lifted off my shoulders!
I've heard from so many of you who are in a similar season and also struggling. First off, you are not alone. It feels alone when you're in it, but please know you're not. Secondly, there's not an easy fix. Time helps make the path clearer, but the middle is a mess. So while we're all in the middle, instead of fighting it, let's cozy into it and give ourselves GRACE. Grace on top of grace. You are enough just as you are, in this very moment. And life will continue to unfold and surprise us all.
Thank you again, my friends. Every bit of encouragement was FELT and I can't tell you how much it means to me.