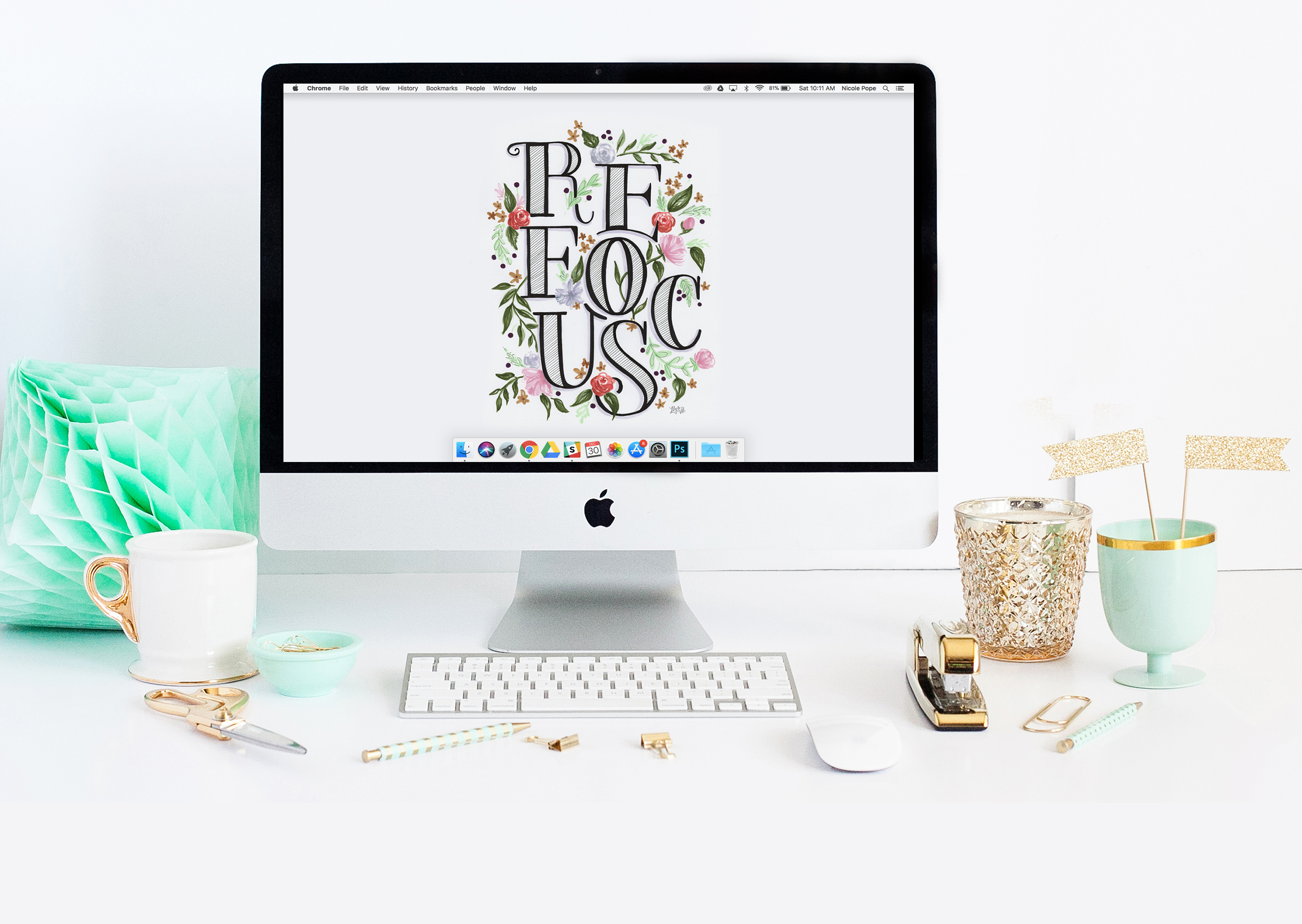 Happy New Year, everyone! For January's free desktop wallpaper download, I'm excited to reveal my word of the year – Refocus!
Why "Refocus"?
In the 2017 Year in Review for Lily & Val, I declared 2017 the year of "learning." I'm grateful for the past year and how much it stretched, challenged, and taught me. Following a year like that, I've been doing a great deal of reflecting and realized areas that have been too much of a focus, at the expense of others. The phrase, "you can do anything, but not everything" hit me hard. 
Of course, refocusing doesn't happen all at once. There's guaranteed to be awkward, uncomfortable stages in-between! I don't like the in-between – it's messy and unsettling. Part of my 2018 goal is to accept every stage and sit in the mess. It's the sticky, in-between parts that bring us to new places, push us forward, and create depth in our lives. As with any work in process, imperfection and mistakes are to be expected and I'm learning to sit in that too. These moments push us past comfort zones and develop a beautiful complexity and richness of life.
Perhaps you're in a stage of pivoting or refocusing for 2018. New goals and dreams will always require a shift- a resolve to take even the smallest of steps to push you forward. I hope this desktop download helps move your attention to what's important and serves as a reminder when you need encouraged. Enjoy!
Here's to the best 2018!
DOWNLOAD INSTRUCTIONS >> Click the "JANUARY DESKTOP WALLPAPER" link or the image above. When the image is opened in a new window, right-click the image and select "Save image" or drag it to your desktop (You may have to click twice to bring the image to its full size).  Once the image is saved, go to your System Preferences> Desktop/Screensaver and choose this image as your new wallpaper!