Does anyone else love to find products that you can use in multiple ways?  I always think it's fun to think creatively and use items for many different projects.  Wrapping paper is one of those items that has so many uses- the list goes on and on.  Last year at Christmastime we came up with a few ways to use leftover wrapping paper– and it was a lot of fun!  This year, I wanted to try another project with Lily & Val wrapping sheets, and decided to make Christmas poppers!
Christmas poppers, or Christmas crackers, are a very popular tradition in England.  Fun fact: In the 1800s the tradition came about when a confectioner sold almond candies with a motto to go with it, and heard a loud 'crack' from his log fire.  He decided to take the motto and the almond candies, wrap them in a log shaped package and make a surprise cracking sound when you pulled it.  It's been said that by the 1900s Christmas crackers were being pulled and cracked at every Christmas dinner.
While the U.K. crackers include a 'cracking' insert (You can find cracker ribbons online), our DIY packages consist of a simple, traditional shape with a surprise inside.
You will need:
12″ x 6″ rectangle of wrapping paper
Paper glue
X-acto knife
Cutting mat
Ruler
Pencil
12″ x 6″ rectangle of tissue paper
Craft paper roll
Candy and tinsel for filling
2, 6″ strips of ribbon or twist-ties
Instructions:
With your 12×6 inch piece of wrapping paper, lay your ruler across the 12" width.  Mark three inches from each edge, so there should be a mark on the three-inch line and the nine-inch line.  Next, mark a half inch on both sides of the three-inch line and the nine-inch line.  After you have made those marks, draw straight lines from edge to edge of the 6" length.  (See picture below).
Then, using your x-acto knife, cut diamond shapes so that the tip touches the top line, the width touches the middle line, and the bottom tip touches the bottom line.  Cut these diamonds out across the 6" inch width of paper.  Do the same on the other end of the sheet as well.  When both sides are finished, fold the edge back on the middle line, to create a bend.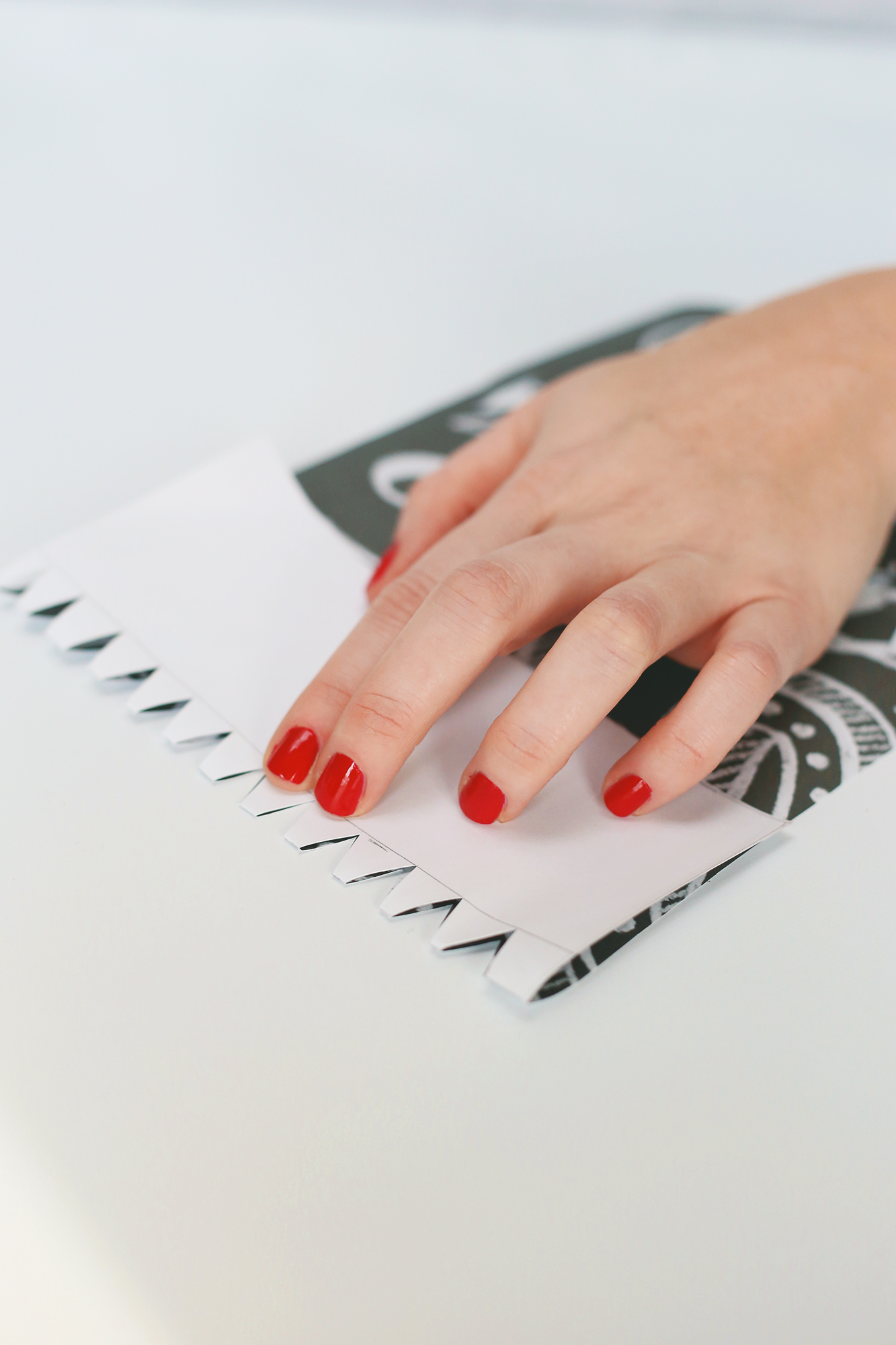 Next, take your paper roll and roll the tissue paper around it, centering the paper roll inside the tissue.  Cover the entire role and glue the tissue paper tightly shut.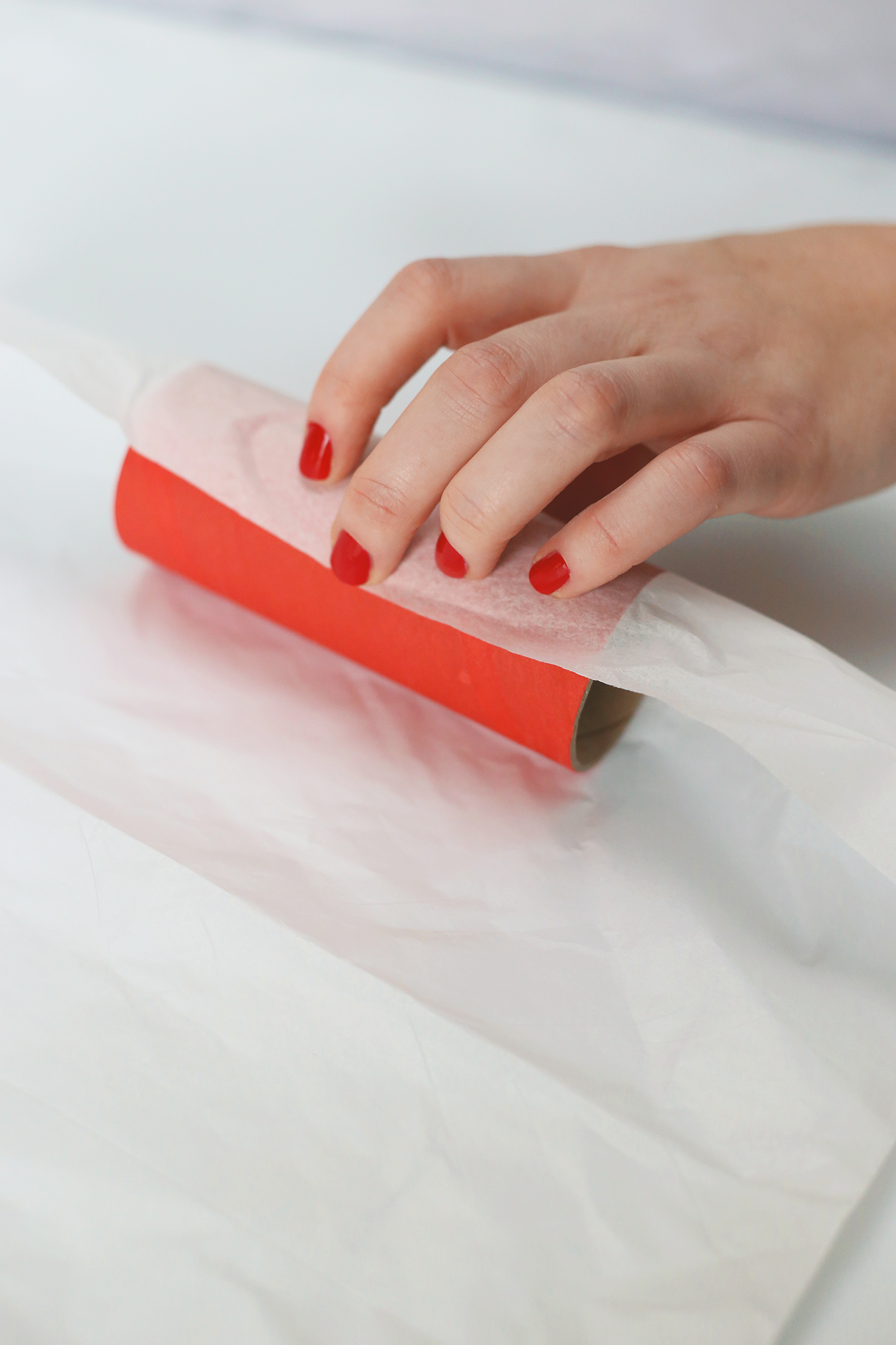 Wrap the wrapping sheet around the tissue paper and paper roll, centering the paper roll inside.  Glue the seams together tightly, holding for a few seconds to let the glue set.  Then, push one end of the tube in so that the diamond cut-outs bend in, creating that candy wrapper edge. Make sure it's pushed in and closed tightly.  Secure with a twist tie or ribbon.
On the open side of the tube, stuff in your tinsel and candy.  I also thought it would be fun to include a quote from a Christmas movie, to create a fun game after dinner!  I cut out little cards from card stock and wrote the quotes with gold marker.  Once the tube is stuffed, close off the end like you did the first one.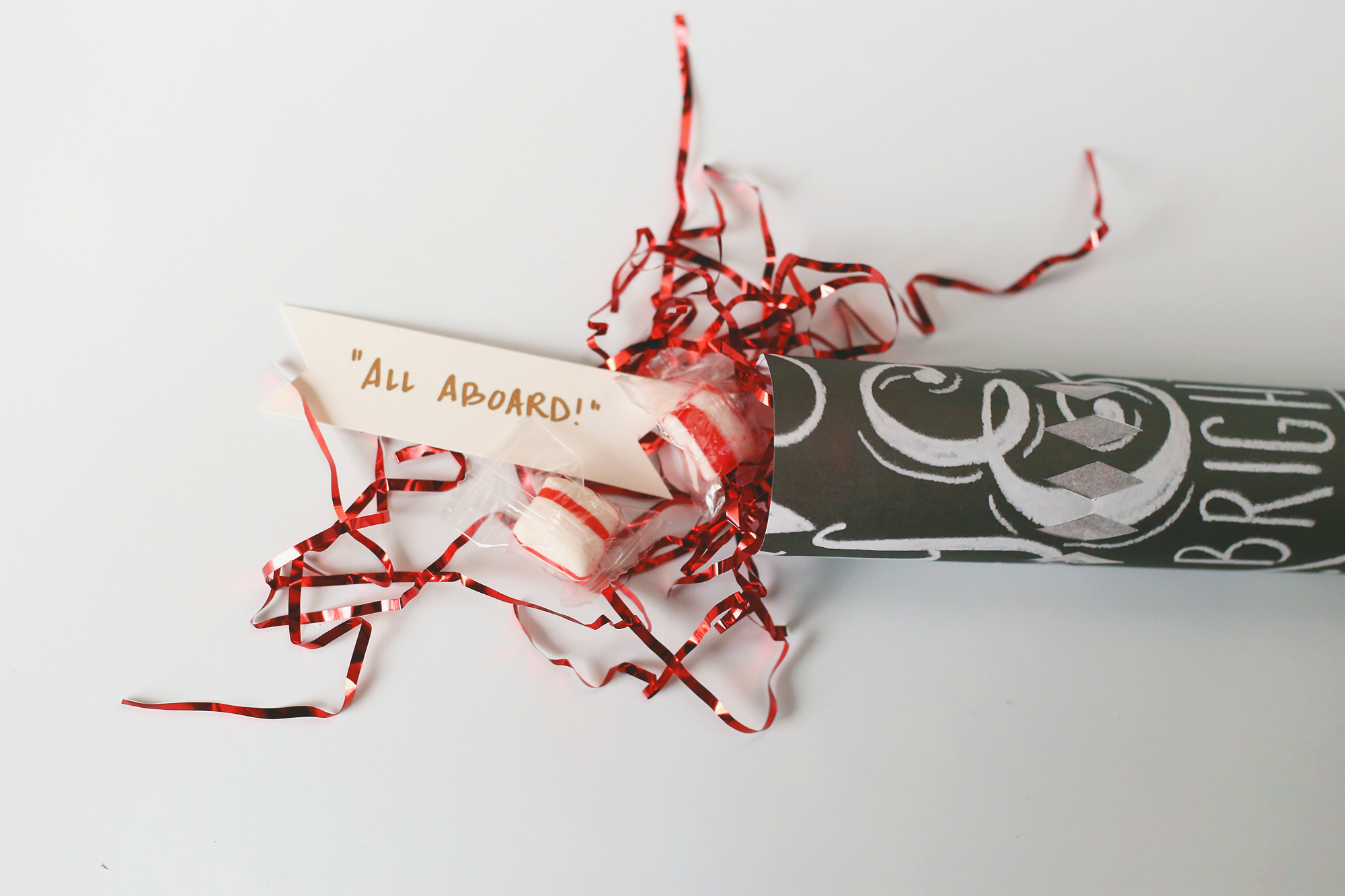 Once all my poppers were filled and tied, I hand-lettered names across the front with a gold marker.  With the names added, these can even be place cards for your holiday table setting!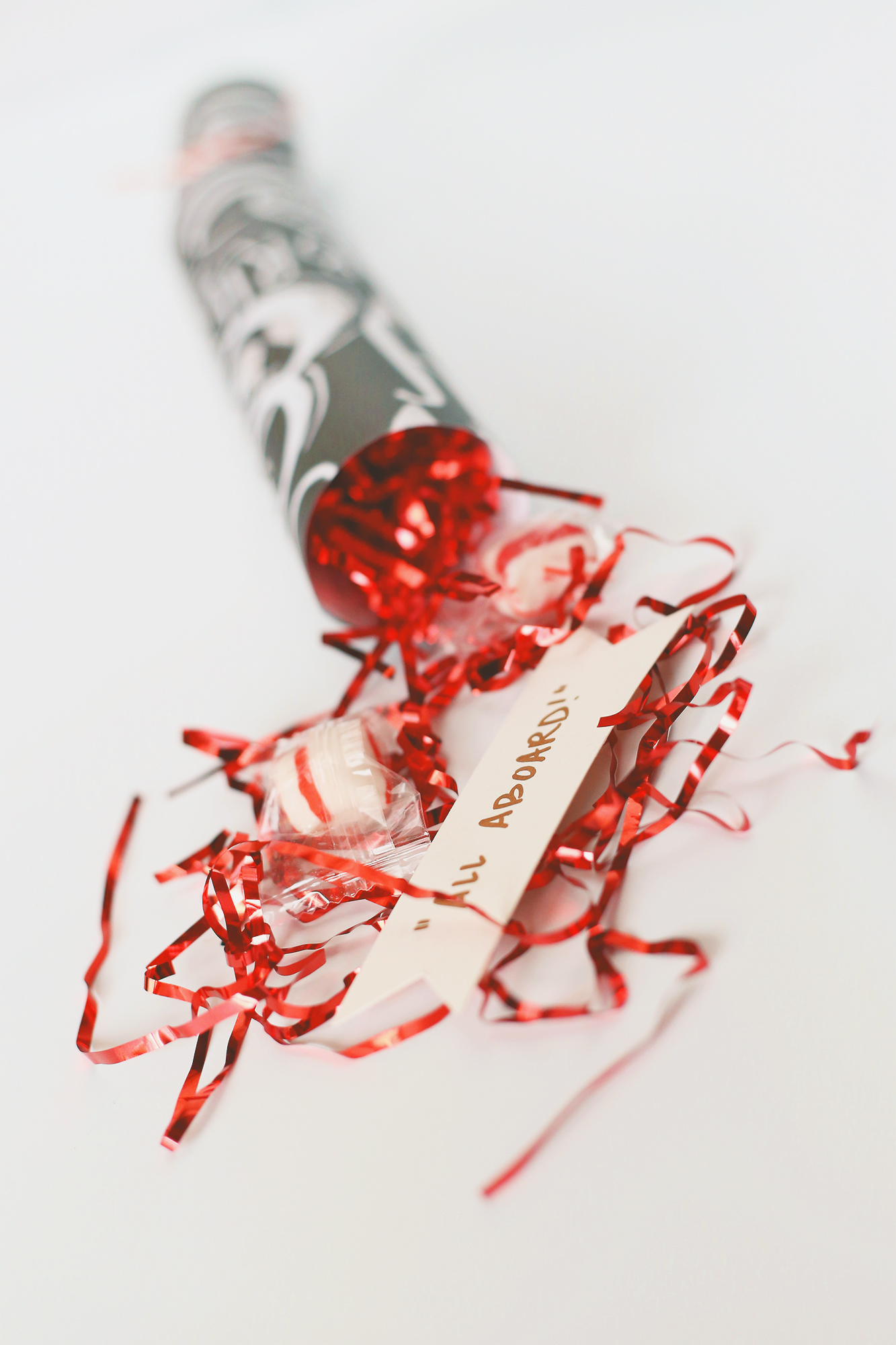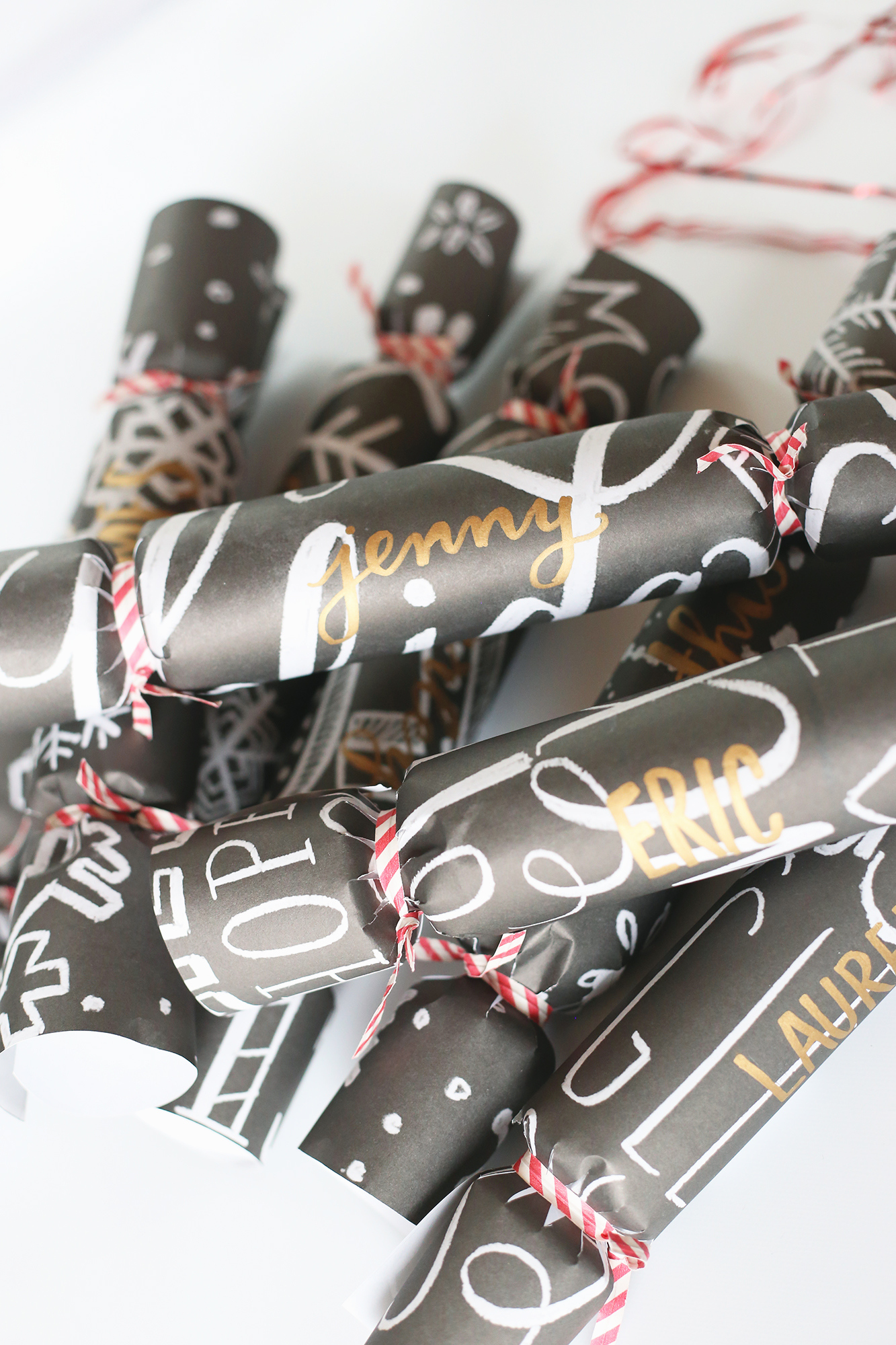 I think these are a cute project to add a little extra fun to your Christmas table décor!  Our wrapping sheets are so thick and easy to use for this project; I love the way they turned out! Something new and festive makes even the simplest of table settings just a little more special.