If you have been following us on Instagram, you'll know last week we were having a blast in New York City at the National Stationery Show!  It was a great show and a really fun trip- I couldn't help but collect some memorable bits and pieces!  During trips like these, it's easy to collect little reminders that made the trip so special, but they often end up being thrown away once you get home!
I didn't want that to happen with these, so I've taken our memorabilia from this month's NYC trip and did a little DIY project to create a sweet and simple memory box!
To create your own trip memory box, you'll need:
– A shadow box frame
– Push pins or washi tape
– Memories! (bits and scraps from your trip!)
– A Chalk Ink Marker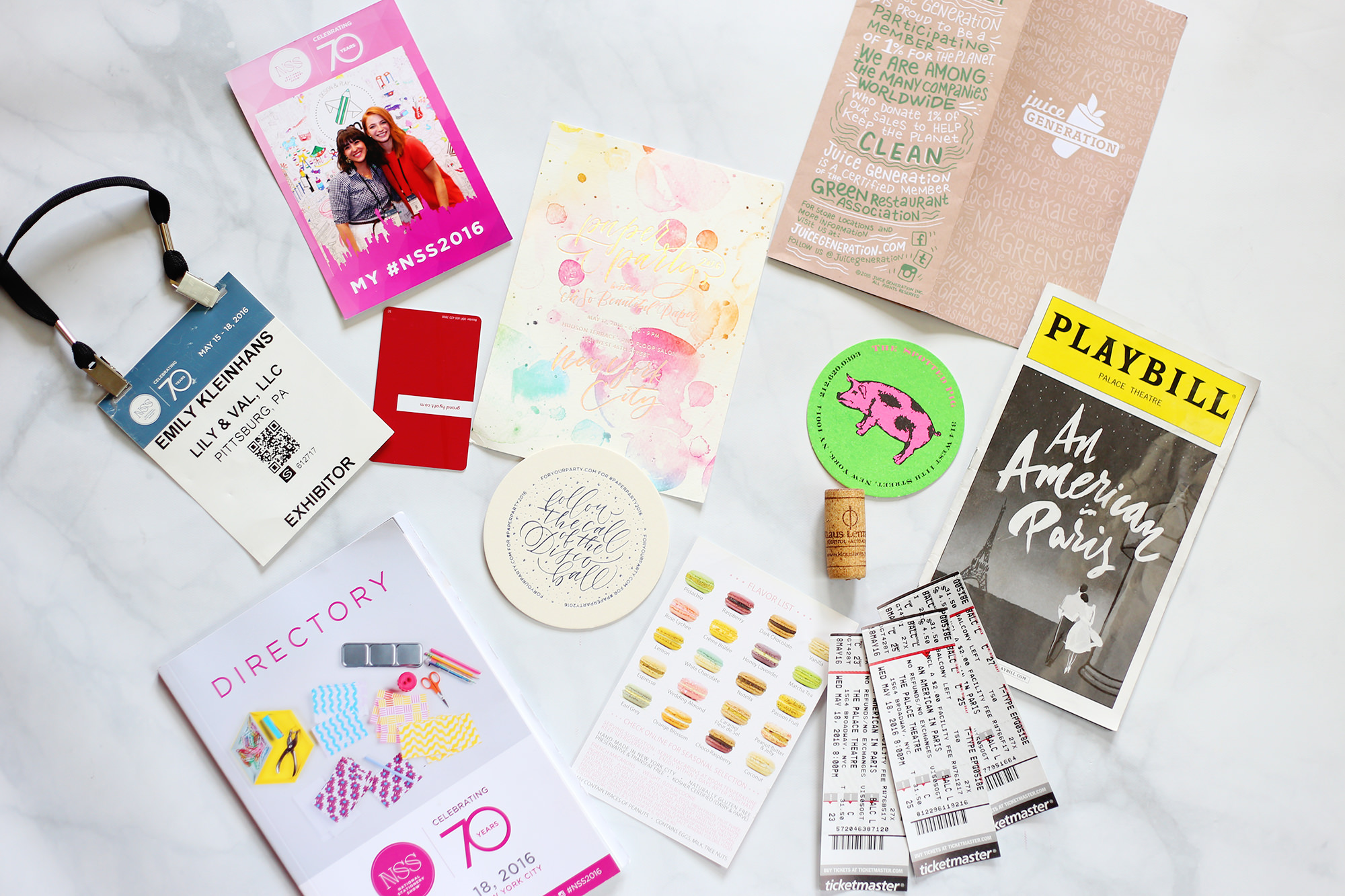 When we were exploring in NYC, I made sure to gather coasters, tickets, pamphlets and more!  Val and I took advantage of a fun photobooth inside of NSS, so I decided that picture would look perfect in the box!  I also kept my badge and the show's directory.  We had the pleasure of attending the Paper Party hosted by Oh So Beautiful Paper and I had to keep the gorgeous, watercolor and foil-stamped card.
From our evenings out, I grabbed a coaster from the Spotted Pig (to remind me of their delicious shoestring fries!) and a cork from an amazing Italian restaurant where the Lily & Val team enjoyed a bottle of red wine.  We also caught a show on our last night in the city. We saw "An American in Paris" and it was so much fun to watch!  The dancing was stunning.
Once you relive all of your trip's memories, gather together the pieces you want to display and start piling them into a shadow box.  I used pushpins to put some of the papers onto the backboard of the frame so that it would be a little more organized.  You can also use washi tape to tape items in place.
Once the box was filled how I wanted it, I wrote the location on the glass!  Using a Chalk Ink marker (yep, you can use Chalk Ink on glass!), I wrote the year and "New York City" on the front.  The nice thing about using a Chalk Ink marker on glass is that you can erase any mistakes with a damp cloth.
Instead of emptying your suitcase and throwing all the mementos in the trash, keep your trip in a memory box!  It's easy to do and will remind you of the best parts of your favorite trips.