Maybe it's all the beautiful bouquets we see in the market, or maybe it's because Earth Day is tomorrow- we're finding so many fun ways to enjoy Spring's fresh blossoms! This week we showed you 5 new vase ideas from recycled objects and today we're excited to give you this DIY for a pressed flower display! Pressed flowers stay rich in color and don't require any upkeep!  We were inspired by our "What a Wonderful World" print to give it a go!  Keep reading to see how we are displaying them…
How to press flowers
You will need:
Flowers of your choice
Acid-free paper or parchment paper
2 pieces of foam core poster board
Heavy objects (books work great)
Directions: First, gather all of the blooms you want to use.  These don't have to be super fresh, just still vibrant.  If they aren't as vivid in color, they won't look as nice when they are pressed.  I would recommend choosing larger flowers and petals- everything will shrink a little bit!  Once you have the ones you want to use, lay everything out onto a piece of foam core covered with acid-free paper or parchment paper.  Lay everything face-up and spaced so that each flower isn't touching another.
Next,  'sandwich' the flowers. Cover with another layer of paper,  then another piece of foam core poster board on top to sandwich the paper and flowers inside.  From there, cover the top with books or other heavy, flat objects.  At this point, you're trying to create a hard, even pressure on top of the flowers.  Once you feel like the foam core is evenly covered with books (so important!) you can start adding additional weight using more books or even paint cans.
The more weight, the flatter your flowers will end up being, so try to add a little more than you think.  It may look like a little much, but it will pay off!  Once your paint cans, weights, and books are all stacked, leave your arrangement in a cool, dry place.  For the best-pressed flowers, we waited about a week. When you're ready to use them, uncover and take a peek!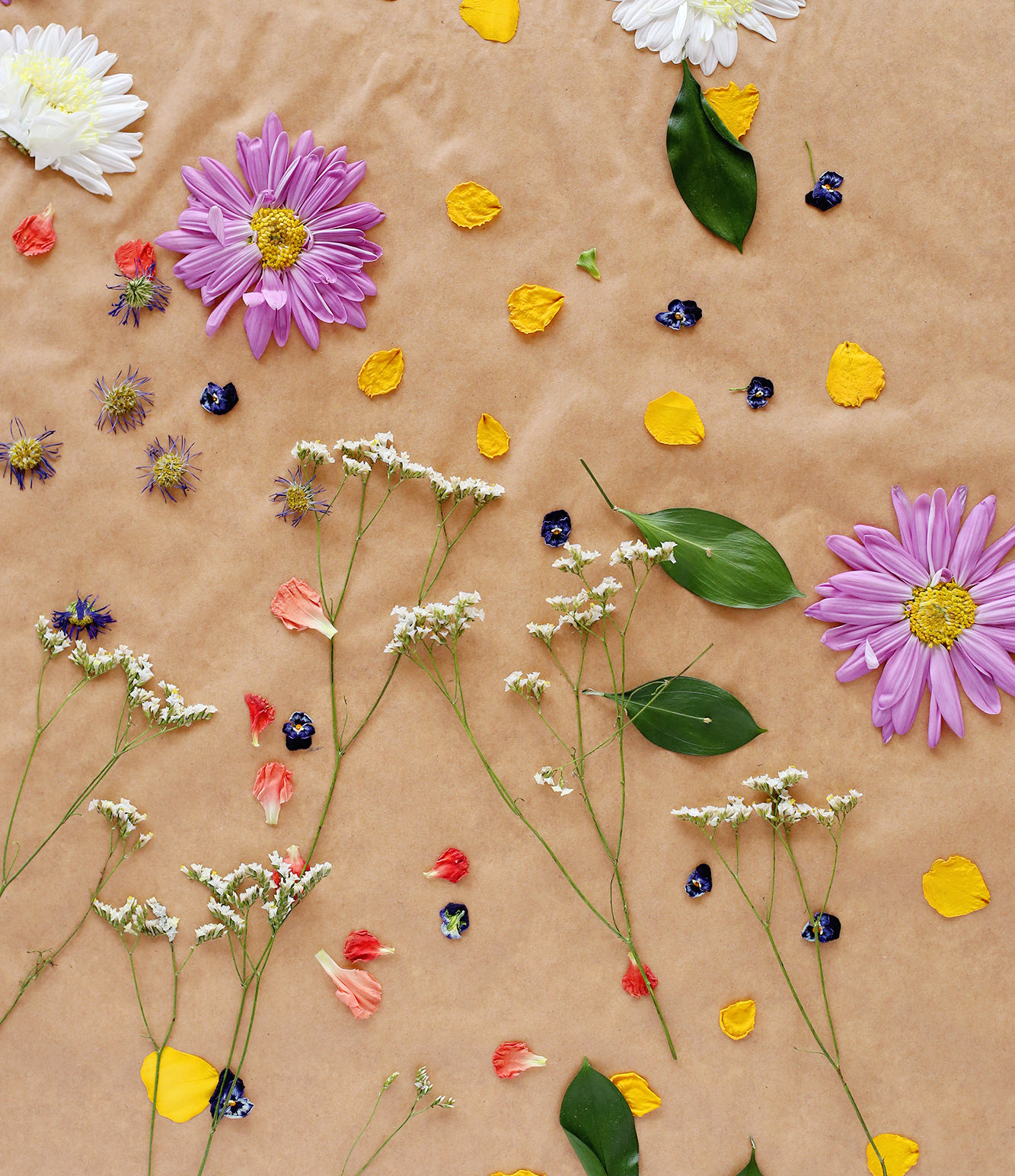 Aren't they gorgeous?  The preparation is worth it!  Now we need to find a way to display these beauties!
We wanted to try pressed flowers in a floating glass frame, so we found this one at a craft store.
Now for the fun part…  arrange the flowers and leaves in any artistic way you like! You really can't go wrong. The floating frame will hold the flowers in place, but you may want to use double-stick tape or a little craft glue to glue each one in place to the glass. Next, sandwich the flowers between the two glass panes and assemble into your frame!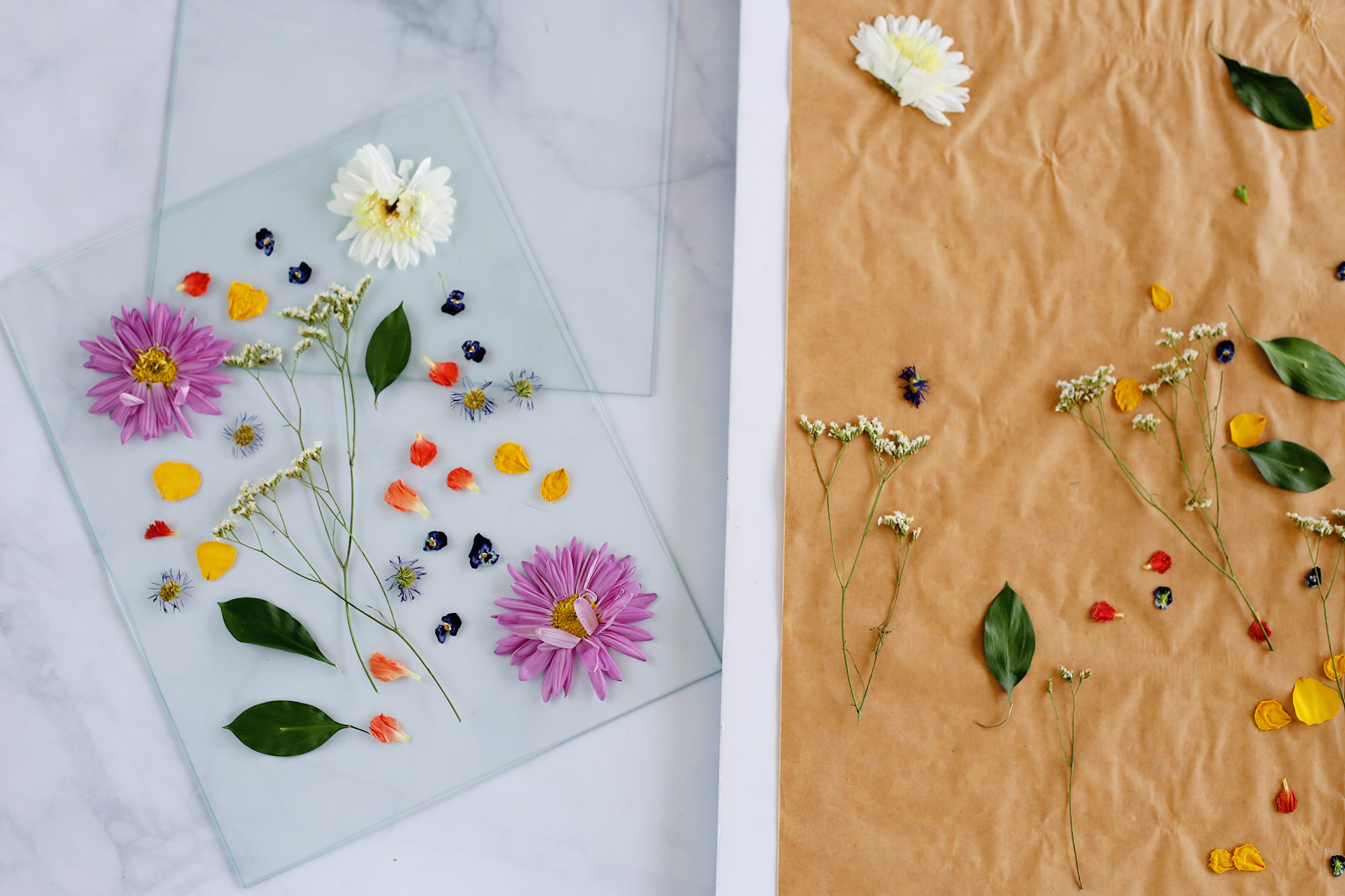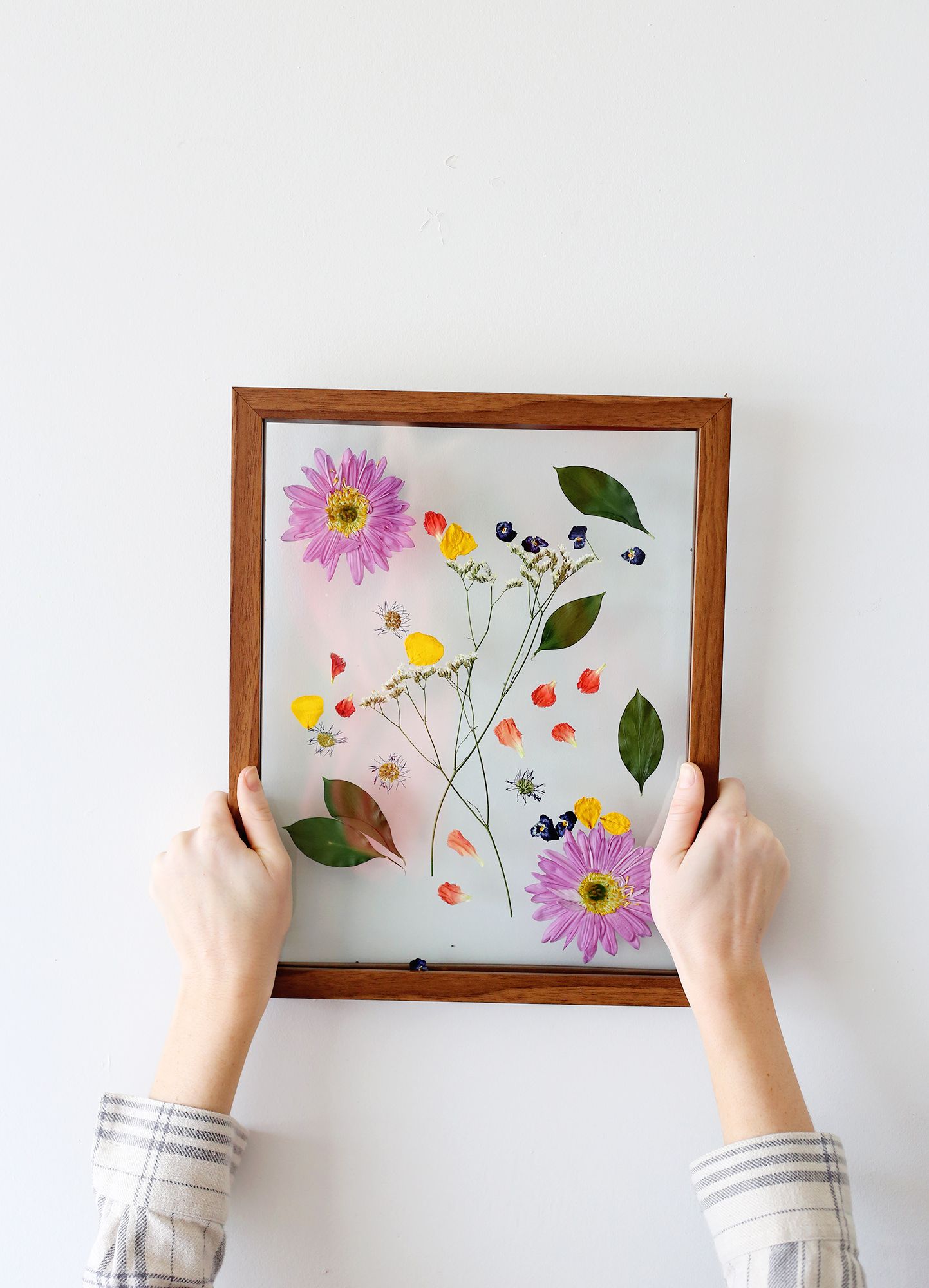 You can arrange your flowers into a pattern or design, but we decided to keep ours as natural and organic as possible.
Another option is using a regular frame with a white or colored paper background to display your flowers!
What better way to celebrate Earth Day than using some of Mother Nature's prettiest petals?!  We can't get enough!
Photos courtesy of Jenny Poe