I just love making gifts and giving handmade for the holidays! This post is dedicated to a few of this year's fav projects and handmade purchases that will make it into the hands of some very special people on my list. I am absolutely in love with all of the hand-stamped lovelies created by my friend Jessica of Jessica N Designs.  I particularly fell in love with this adorable "Let It Snow" spoon that just screams for a cup of hot cocoa. Each spoon is carefully hand stamped making them each a little bit different and full of character.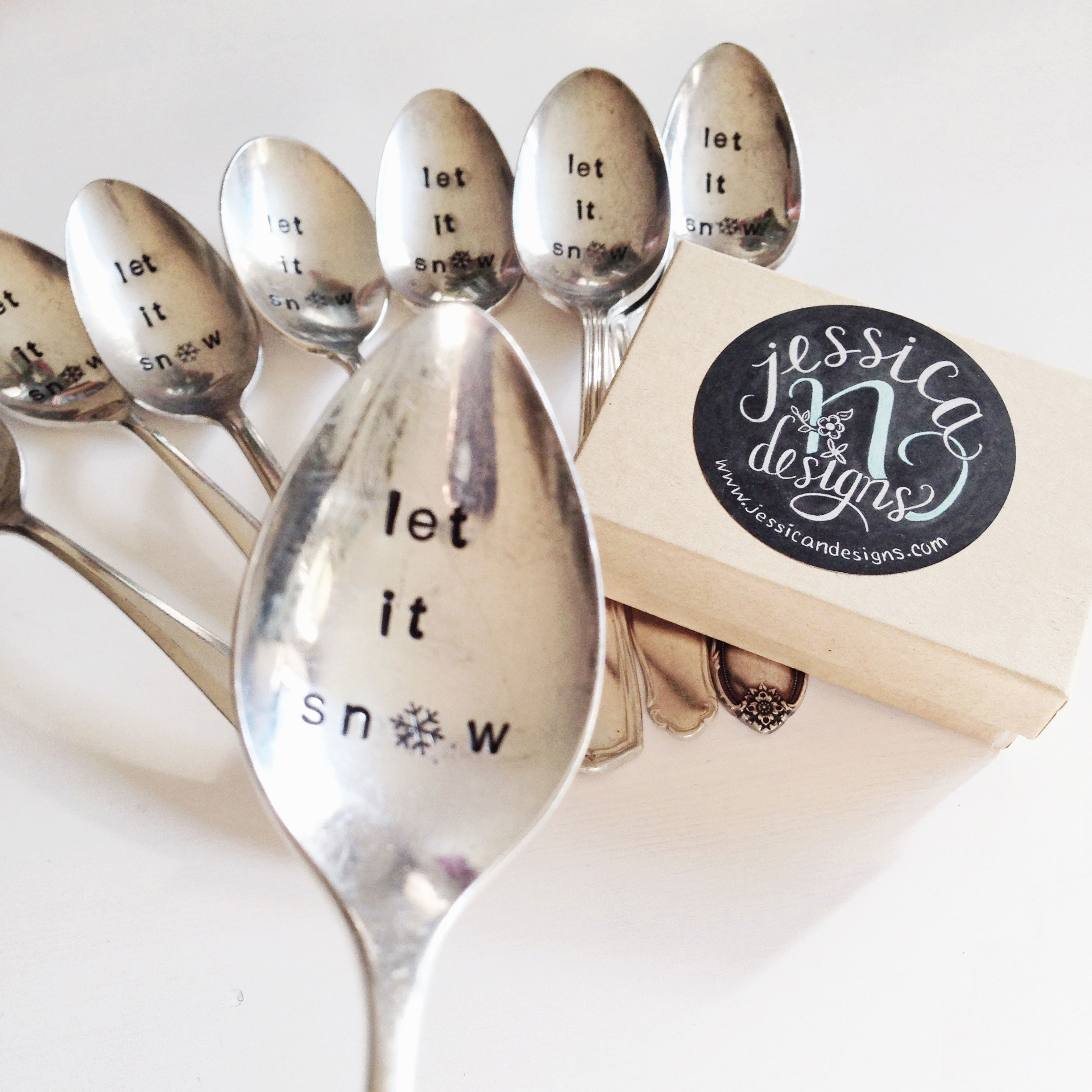 To go with the spoons, I decided to create hand lettered sharpie mugs! It took some trial, error, and advice from my sweet Instagram friends, but I was able to create mugs that passed the dishwasher test!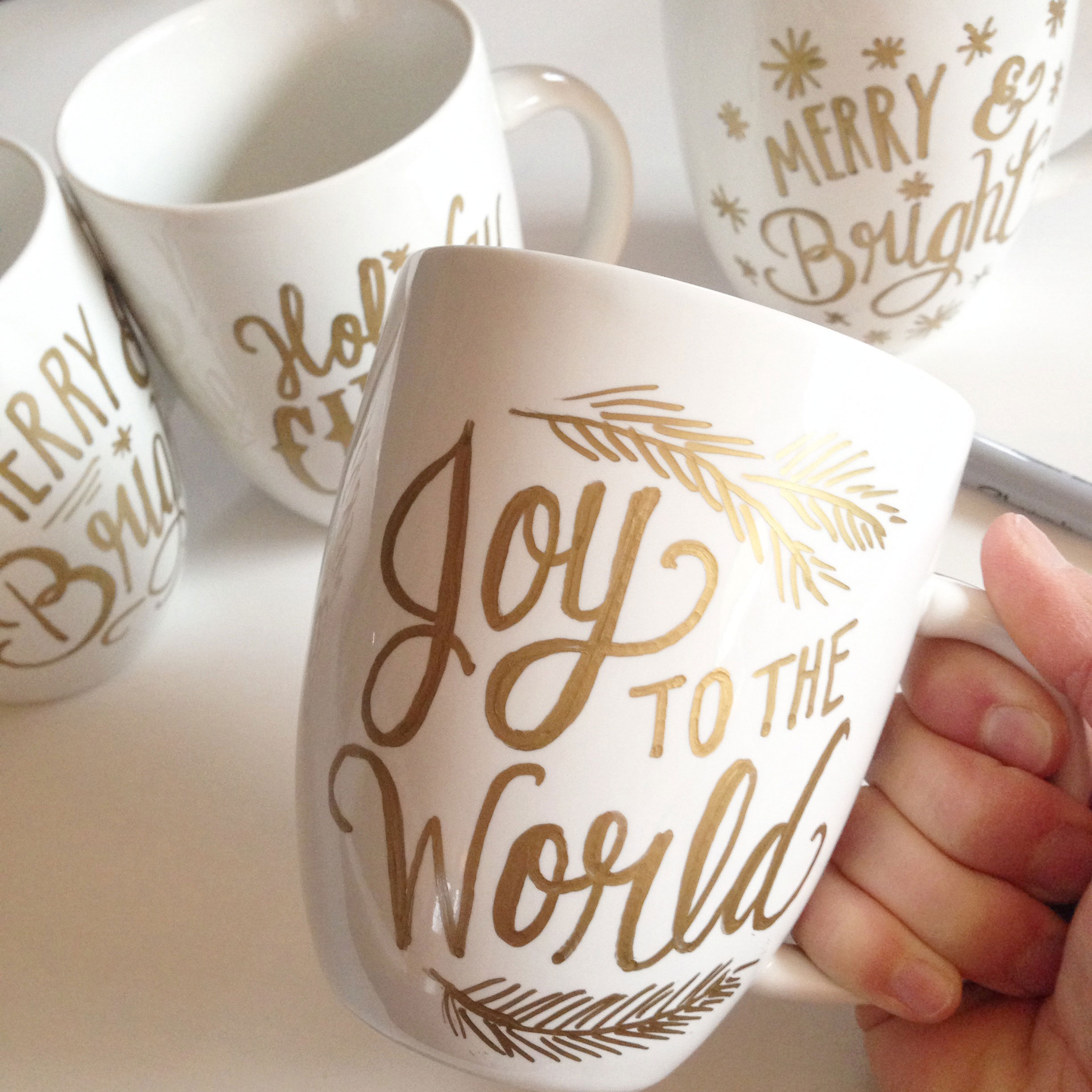 There are a lot of methods out there, but this is what I did to create my sharpie mugs:
Use an oil-based sharpie paint pen. This is an important step as a regular sharpie rubbed right off after baking.
Draw your design on the mug. If you mess up, don't worry! It rubs off with a little water at this stage.
Place the mugs on a baking sheet and put in a cold oven. Set the oven to 425 degrees and allow the mugs to heat up with oven. I left mine in for a little over 30 minutes so that they were baking for a full 30 minutes once the oven reached the desired temperature. Shut the oven off after 30 minutes, but allow the mugs to cool completely before taking them out. (This takes a few hours.)
 ….And the finished mug! The gold color did darken in the oven, but the design did not come off in the dishwasher! Side note: I would still recommend that the recipients hand wash their hand lettered mugs. I couldn't possibly give an adorable mug and spoon without some hot chocolate! Ticket Chocolate was the perfect addition. Their Hot Chocolate On A Stick is handmade and comes in the best flavors. I chose salted caramel and vanilla mint. Of course, I ordered a few extra sticks for hubby and I to enjoy while decorating our Christmas tree.
A small "hand wash recommended" note was added and packaged with cellophane and a gold ribbon….voila!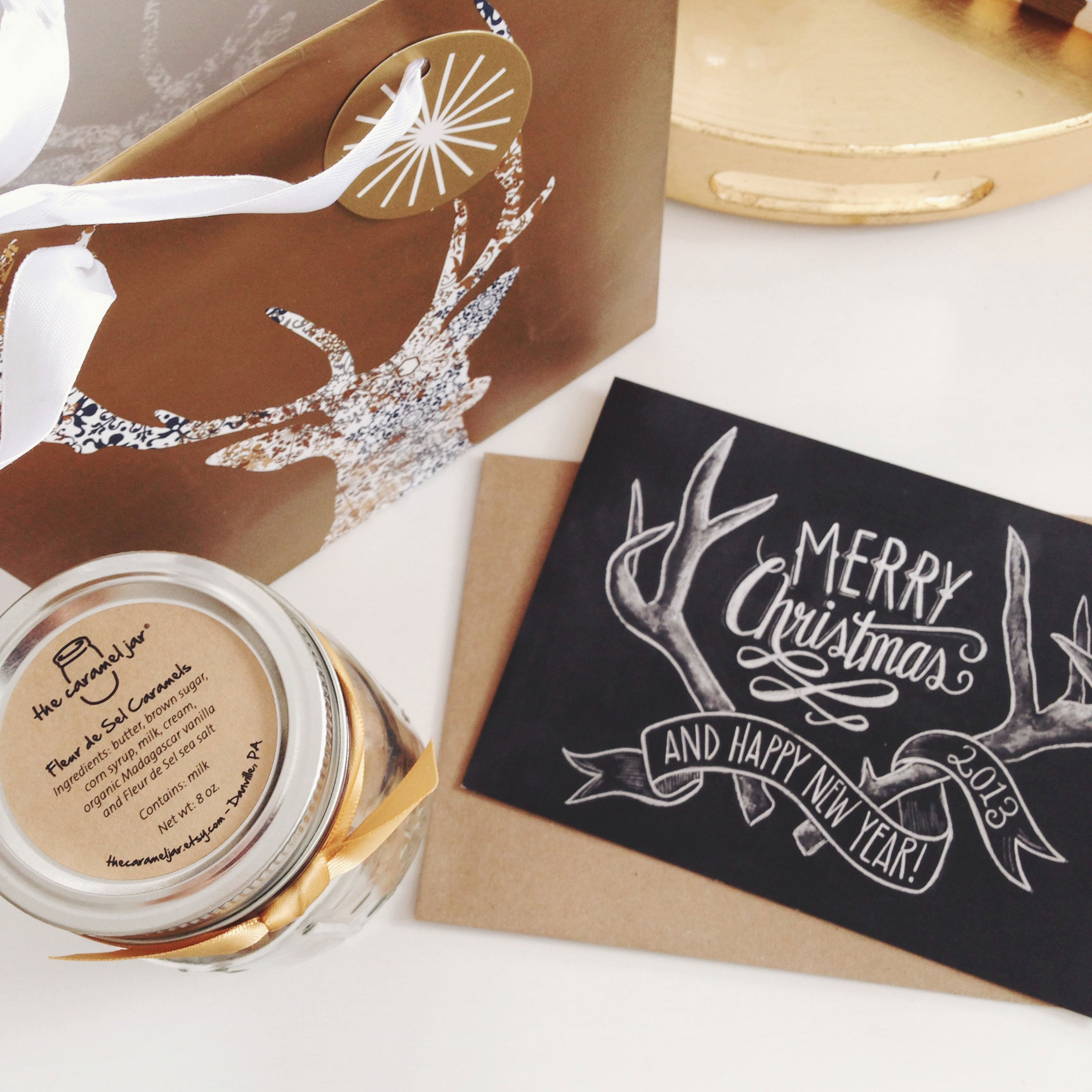 I couldn't resist ordering the fabulous caramels made by Nicole of the Caramel Jar. Her Fleur de Sel Caramels are amazing and I love the cute ribbon and mason jar packaging. I first purchased these caramels as favors for my hubby's 30th birthday party in July and everyone raved! Needless to say, these jars will be making a few people very happy this Christmas. (Merry Christmas Antlers card by yours truly.)
Happy Handmade Holidays, friends! 🙂