Every year, the month of June on my calendar is colored with various special occasions – weddings, showers, graduations and plenty of birthdays!  Besides Christmas, it's the next time of year I seem to fly through wrapping paper!  I love using our everyday wrapping sheet sets because they can be used for all of the events I'll be attending! With the beautiful, hand-drawn details on each design, just tying a ribbon around the package makes it look pretty and elegant, but I wanted to take each gift one step further.
Because I have so many different gifts for multiple celebrations, I thought of fun, new ways to decorate the gift boxes and make them extra special. Not to mention, we are suckers for lovely packaging at L&V! I went to Pinterest to get inspired, and here are a few of my favorite ideas!
Paper Bows
How adorable is the pink bow in the middle?  You know how sometimes you fuss with the ribbon to tie the bow perfectly? This paper bow has zero fuss, just some scissors and glue!  I drew out the template from this website, cut out the shapes and taped them together! Then, I cut an extra strip to go around the package. This technique would also work well using the wrapping sheets to make the bow and placing it on a solid-colored wrapped gift.

Colored-In Paper
The wrapping sheets are so versatile in black and white, but you can also add an artistic touch by coloring in portions of the design. I used a pink and yellow colored pencil to color in a couple flowers on the front. The end result is very soft and pretty. Since the paper is matte, coloring them works great and you can coordinate the color scheme with the package decoration and bows.
Pom Pom Bows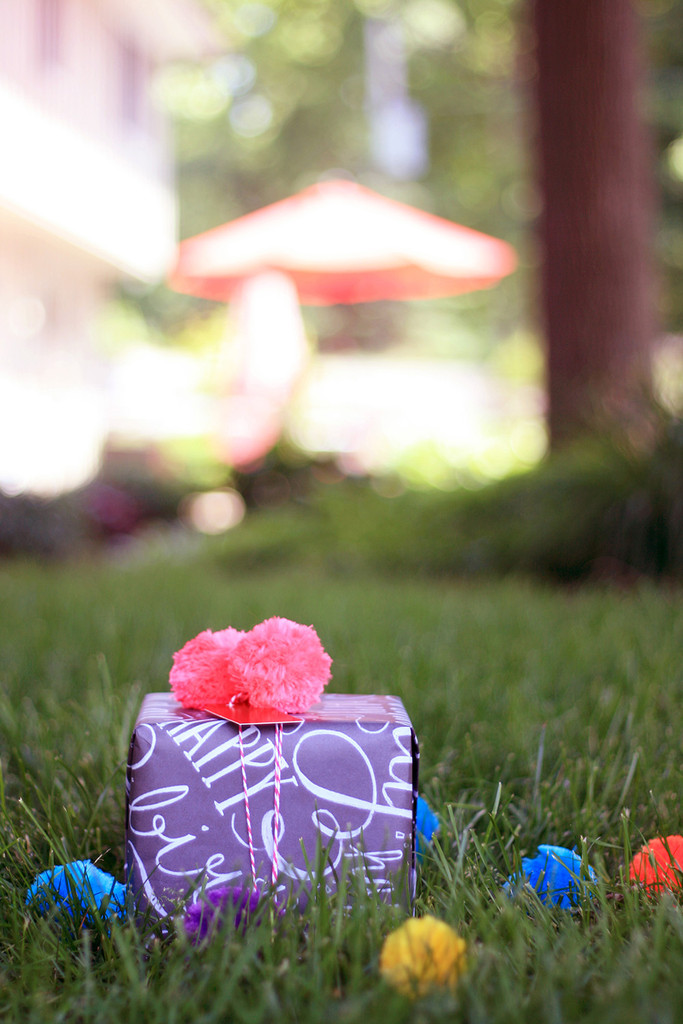 I so wish this gift were for me! The pom pom puffs add such a festive pop of color to the birthday wrapping paper! I picked up a bag of plush pom poms (available at any craft store), wrapped string around the package and tied the ends around a pom pom. Be sure to tie the string tightly around the puff so it stays put. Then, fluff it up to cover the string.
Card Decoration
For this idea, think outside the envelope and make a card part of the decoration! I think a pretty card deserves to be out for all to see! I tucked our
celebrate birthday cake card
into this gorgeous gold sparkle ribbon and tucked a fresh peony in as well.  It's nice to wrap ribbon around the gift a couple extra times for something different.
Ribbon-Tied Wrap
I never would have thought you could wrap a gift without tape until now! This idea is such a fun twist, I just had to try it!  Begin to wrap your box as you normal would. Fold the sides into triangles and fold back as if you were taping it, but instead take an exact-o knife and cut slits close to the point of the triangle.  Finally, thread a ribbon through the slits and tie into a bow!  I love the way it turned out!
Next time you feel like your wrapping paper needs a little extra something, you can take some of these ideas for a spin!
Photo Credits: Jenny Poe