Hey everyone! Today I thought I'd share the progress I've made in my Garden Sketchbook Journal this summer. If you missed the previous post, check it out here. I share all the resources and supplies I'm using.
The cutting garden is exploding and if you've been following me on Instagram, you'll know I've been quite obsessed! My dream was to grow and arrange flower bouquets and it is actually HAPPENING! I think yesterday I made five arrangements for around my house and loved every minute! Through this process, I've made lots of mistakes (like accidentally putting my dahlias in shade), learned valuable lessons, and truly have grown in appreciation for what farmers do!
My Garden Sketchbook Journal is a place where I can record all of those lessons as well as paint flowers! Part of my motivation for creating a garden was to give myself a supply of inspiration for my art and it certainly has!! And although there doesn't seem to be enough hours in the day to tend to the garden in full bloom as well as paint as much of it as I'd like, my mind is swirling with ideas and I'm stockpiling inspiration!
Here are my recent sketchbook pages:
Below is my favorite view of the garden! It's just an explosion of color! I also turned this view into a soft pastel painting.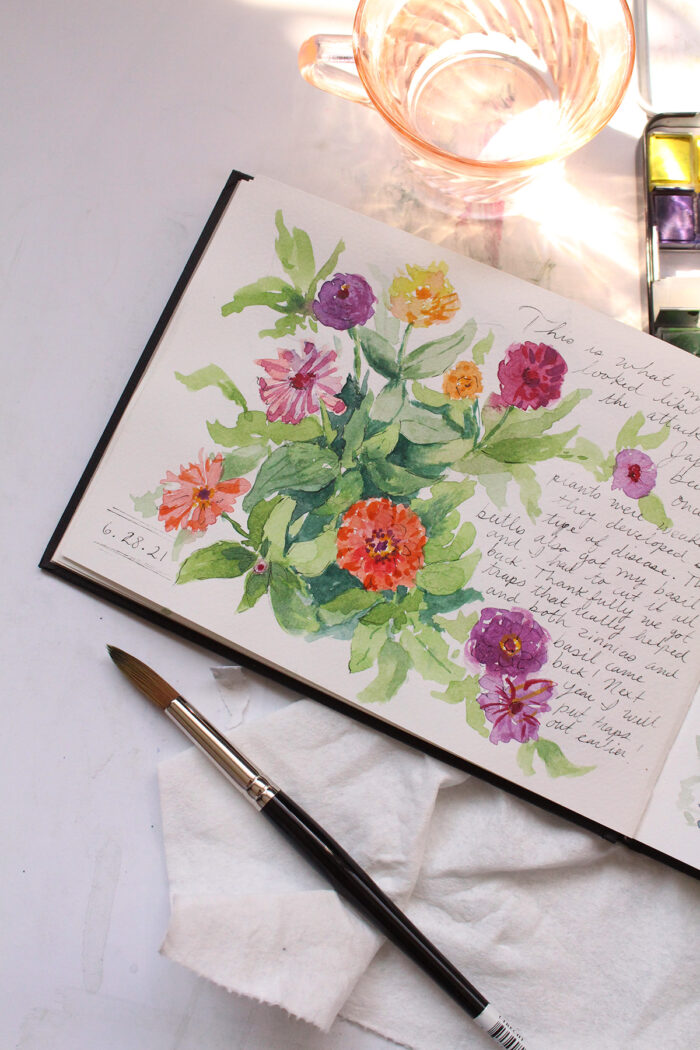 One of my favorite arrangements so far… I have a bunch more I want to paint!
Of course, I had to document my very first dahlia! I purchased a mixed bag of tubers from Pisarcik Flower Farm and when this one bloomed in the most beautiful shades of pink I think I audibly gasped.
I hope you enjoyed flipping through my garden sketchbook!! Be sure to check out my previous post too. 🙂