As big believers in little gifts that bring big smiles, we like to gift valentines to everyone we can! As a special treat for our faraway friends, we created a Valentine's Day gift guide that doubles as a sneak peek into the Lily & Val Flagship Store! We've compiled a list of some handmade and artisan favorites that you can purchase in the store but can also be ordered online if hours of driving just isn't your thing.
Pamper & Accessorize
HH&Co Accessories : A reasonably-priced Etsy seller, we can't get over the fabric earrings! They have florals and hearts in stock for Valentine's Day, but the little lobster design really caught our eye.
Walnut Rose Jewelry : Simple, dainty and timeless, Walnut Rose's pieces include either sterling silver or 14k gold filled. This Pittsburgh-based crafter also accepts custom orders for a special touch.
Bobby Pin Zippered Pouch : Hand-drawn and screen printed in Pittsburgh, our own zippered pouches are specifically designed down to the last dot. The sturdy canvas pouches have a golden zipper and a pink tassel for all of your bauble needs!
French Girl Organics : Secret – the L&V girls used up our customer tester supply of French Girl Organics hair oil on themselves (oops). A small family shop, we appreciate French Girl Organic's dedication to their wildcrafted botanicals.
Dolfin Chocolate : THIS. CHOCOLATE. While the Flagship Store was in its final stages before opening, the staff nearly ate the entire stock! Our favorites include the lavender, cinnamon, earl grey, and rose varieties. Check Amazon and local stores to locate them.
Kaya Soaps : Another divine, all-natural beauty line! The bath products boast a scent that will actually linger on your skin. We love the test tube packaging for gift giving.
Bluebird Chic Camera Straps : Sturdy for the safety of your beloved camera, these camera straps act as F A S H I O N A B L E scarves. Though we recommend for any shutter bug, this camera strap will fancy up a wedding photographer in a snap!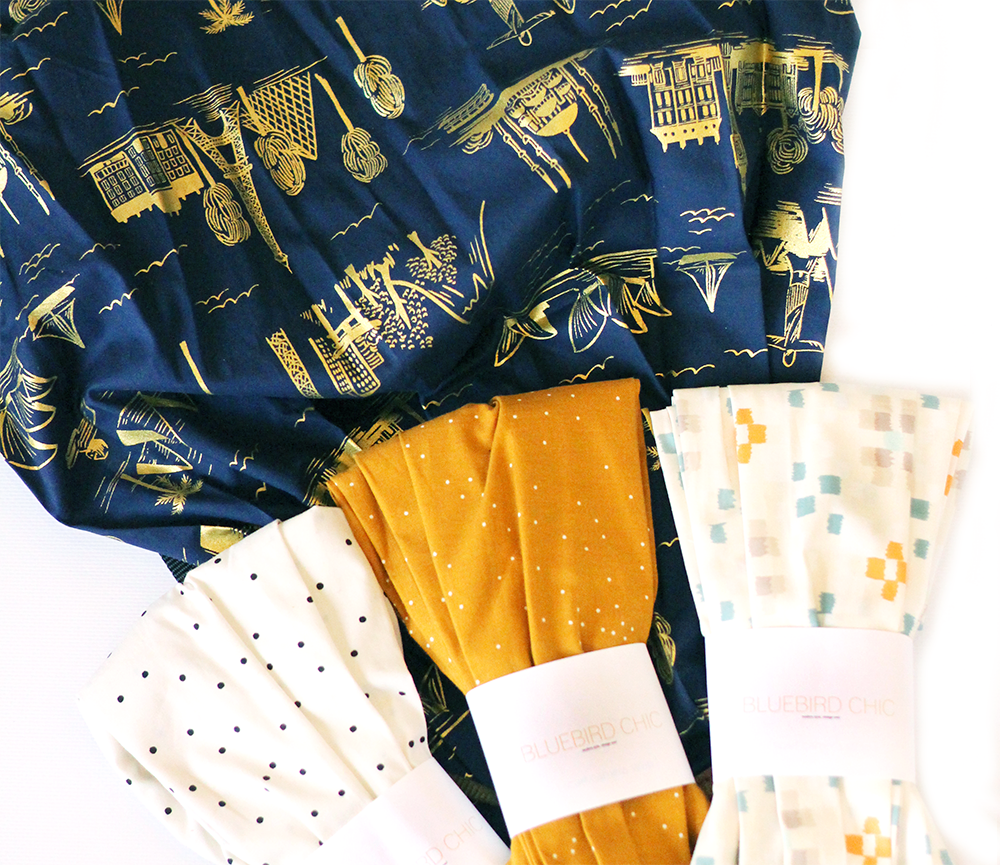 Candelles Candles : We've said it before, we'll say it again! Candelles candles are a long-lasting, divinely-scented dream come true. The witty labels of their Punny Candle Line (such as "It Takes Two to Mango") will have you chuckling as you light one and settle in for the night.
Sip & Soak
Manready Mercantile Tub Elixir : Though difficult to convince some men to soak in a tub, this elixir just might tempt him. Most noteworthy, the packaging is a whiskey bottle with a wax seal that is particularly fun to peel off.
ChocOBeer : Belgian beer-filled chocolates in a six pack? Sign him up. Sign us up.  In the Flagship Store, we have little six packs of these delights. Furthermore, you can purchase online in packs of 16 (more is better, trust us!)
Manready Mercantile Hand Salve : Because it's not lotion and it looks like a mint case, we've found gentlemen more apt to use this particular moisturizer. With a waxy feel at first application, this salve eases into the skin to soothe winter hands.
Handmade Pour Over Coffee Stand : Crafted from the hands of a local Pittsburgh woodworker and dear friend, Oak + Elm Outpost has industrial down to an art.
Eco-friendly Cloth Coffee Filter : The number of coffee filters and pods that are discarded must be staggering! That's why we like the idea of using just one. Washable and eco-friendly, the Coffee Sock makes an environmentally-friendly artisan gift.
NS Pottery Mug : In addition to having plus signs matching the Lily & Val logo, this handmade ceramic mug is bold and beautiful! We just had to include it in our Valentine's Day gift guide!
If you are nearby, we'd love to see you at 5900 Ellsworth Avenue!
Have a suggestion for our Valentine's Day gift guide? Let us know in the comments!