When the weather starts to cool in September, it's the perfect time to enjoy one of life's simple pleasures by dining al fresco! Picnics are a favorite fall activity and each week during the month of September we will be sharing a different theme with tips and inspiration for creating a memorable picnic of your own! I'm excited to kick it off with a romantic wine & cheese theme.
Before we talk about the wine and cheese, there are a few basic tips that can translate to every picnic.
Layer Your Blankets:
Start with a base blanket that you don't mind getting dirty or wet. To make this bottom layer waterproof use a plastic piece: garbage bags, a small tarp, or plastic tablecloth are all good options. Then, layer your delicate blankets, linens and/or cute tablecloths on top. Not only does this look nice, but it protects your lovely blankets. Adding small rugs or mats can also come in handy since they are sturdier.
Pick A Basket:
A picnic basket (like the one pictured here) is great to have since they often include place settings, corkscrew, silverware, etc., but don't let that stop you from hosting your picnic! A large tote or even a vintage suitcase are options that are both pretty and functional.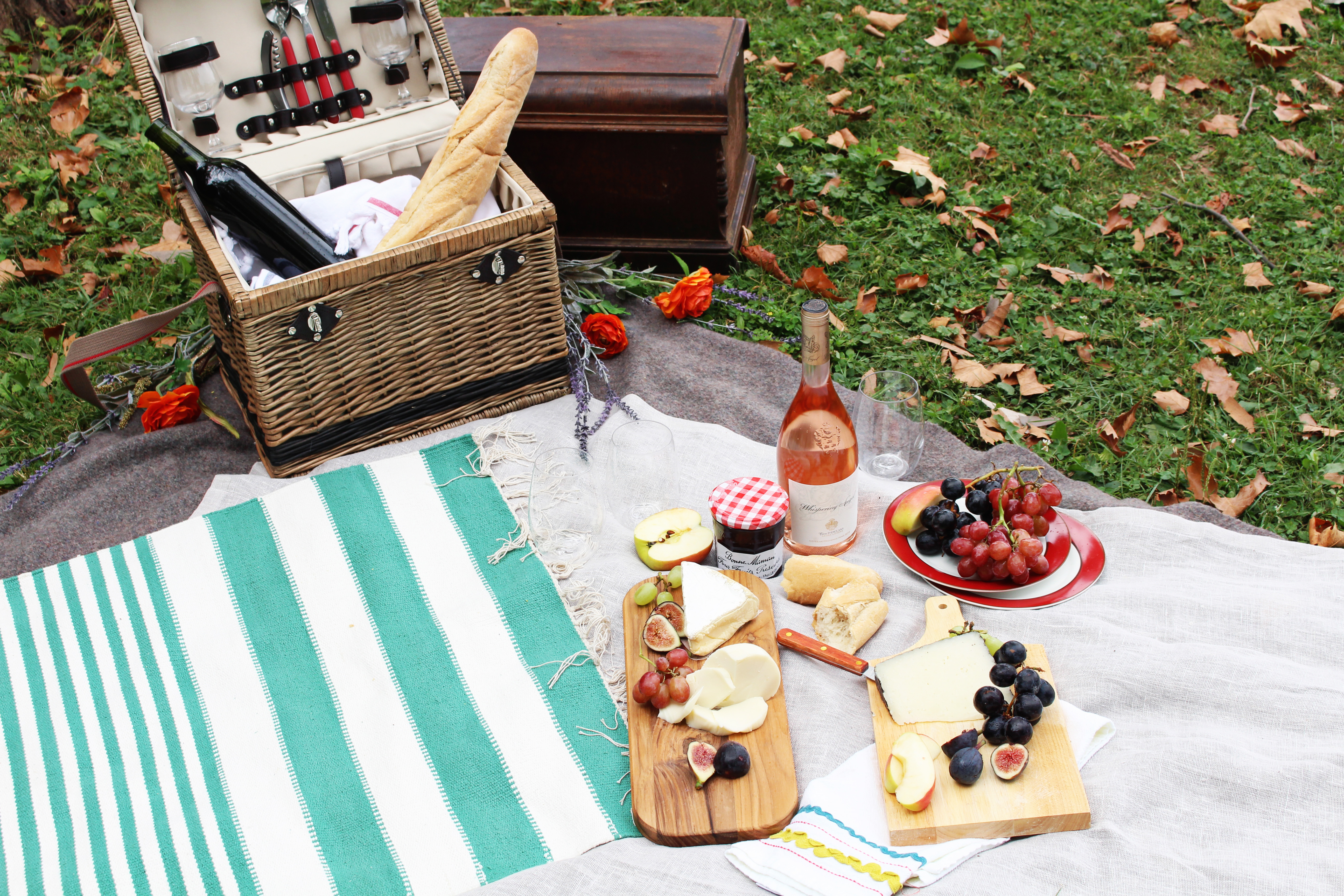 Create a Table:
Pictured behind the basket, we included a wooden bread box! This simple addition provides a table and double duties as a carrier for transporting your items to the picnic site.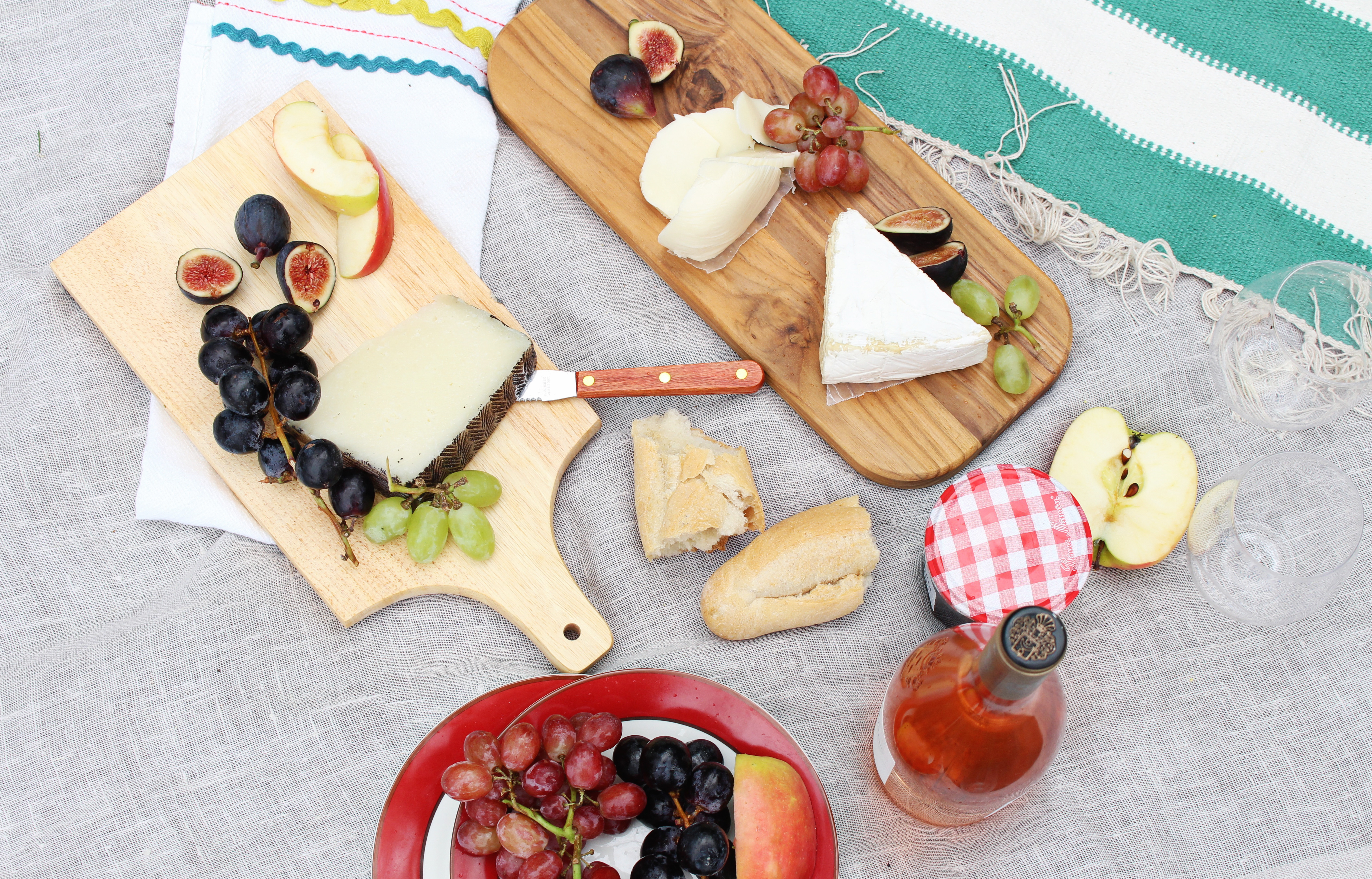 The Wine & Cheese Picnic Menu:
A good rule of thumb when choosing your cheeses is to pick one hard cheese, a soft cheese, and a semi-soft cheese. We choose manchego (hard), brie (soft), and mozzarella (semi-soft). These three cheeses usually appeal to everyone, are not very strong, and pair well with a lot. Display your cheeses on small cutting boards, which will give a great presentation and make it easy for everyone to serve themselves.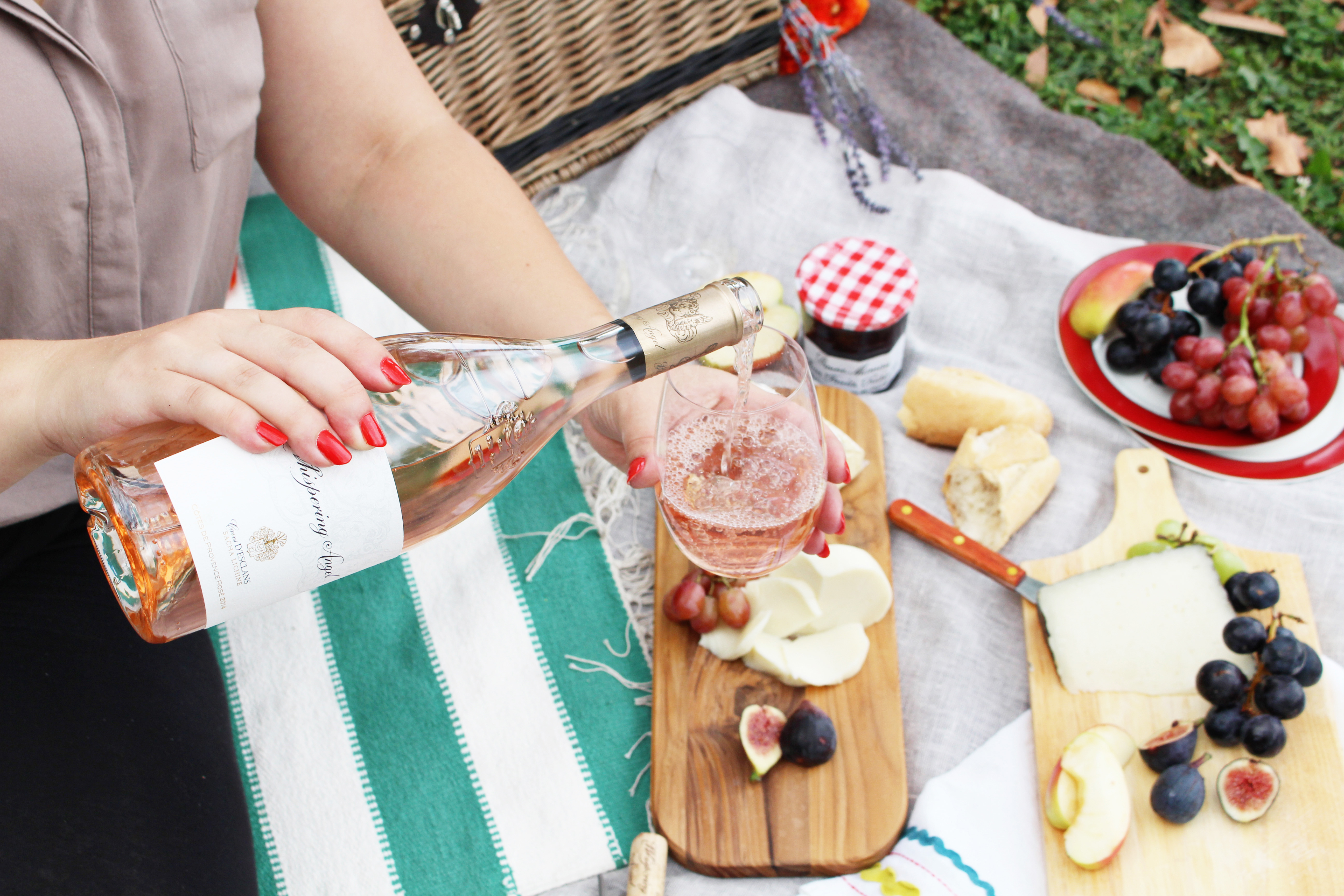 For a crowd-pleasing wine, a fail-safe option is a rose' or sparkling white. We chose Whispering Angel Rose'. With notes of strawberries and berries, it is light and easy to drink.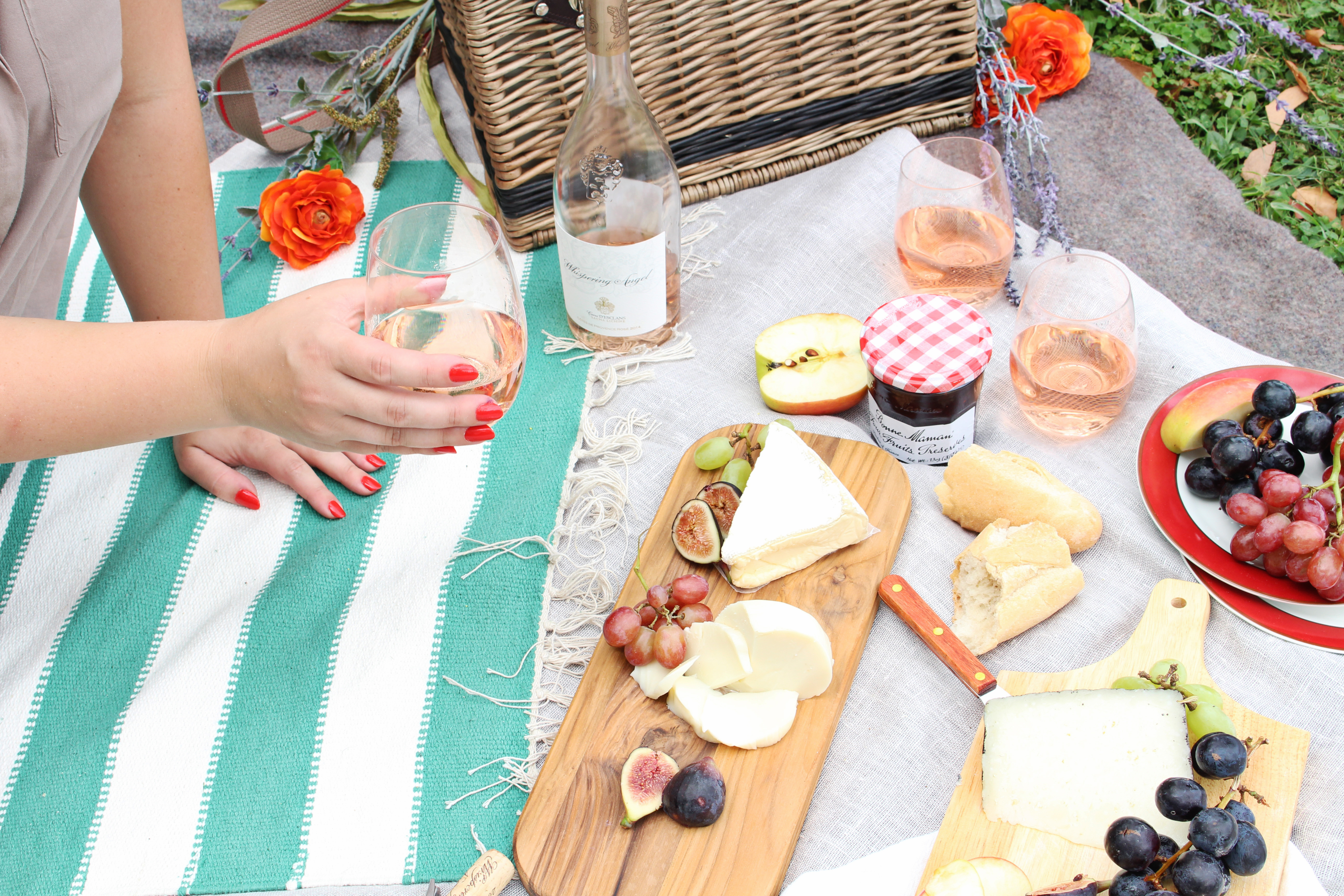 Although our wine glasses look fancy, they are actually plastic! We love the durability and elegance of Govino shatterproof wine glasses.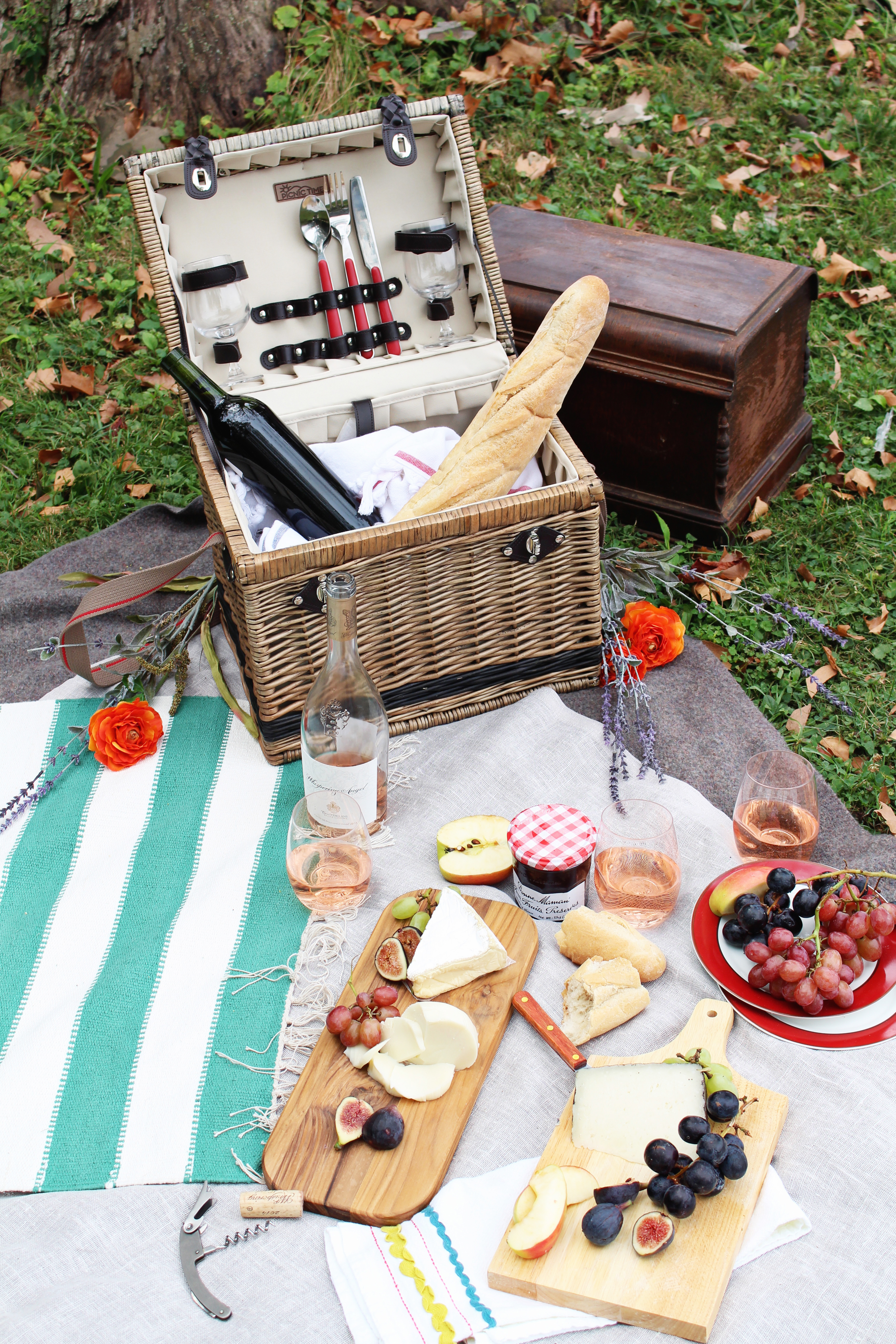 In addition to the wine and cheese, fruit will complement your pairings. Bring along figs, grapes, and apples as well as fruit preserves. Don't cut your apples ahead of time as they will brown and look unappealing (the cutting boards and faux table will come in handy for this purpose!) A French baguette (or crackers) makes for a heartier, well-rounded picnic and it travels well.