As much as I like to eat cupcakes, I realized early in life that I'm not good at all at decorating them. I don't know how to use a pastry bag, I can't pipe anything, and until this year I had never made a buttercream before. That's why I thought trying out three easy cupcake toppers could be helpful for not just me, but anyone who might be in the same boat.
These three methods use readily available and inexpensive materials but they're cute enough to top your cupcakes for whatever event you've made them for! Gone are the days of bringing cupcakes to a party after you've just lost a fight with the icing bag. Keep reading for inspiration!
Gold-Tipped Straw Cupcake Toppers
Perhaps the easiest of these three super easy ideas is the gold-tipped straw topper. All you need for this is a pack of decorative paper straws (mine are from Target), water or icing, and edible glitter. You can find that last ingredient in the baking section of the grocery store next to the sprinkles.
To make these, just cut your straws to size, leaving about two inches to stick out out of your cupcakes. Dip the top of the straws in water or icing and roll just that part in the edible glitter. Voila!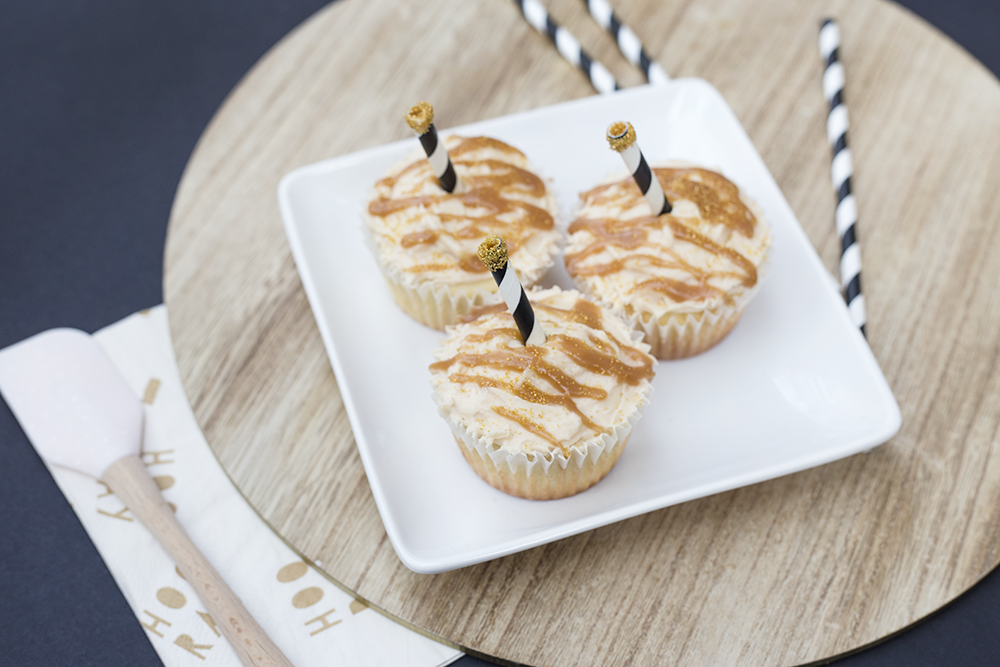 Washi Tape Flag Cupcake Toppers
The second idea out of our three toppers is a Washi tape flag. Washi tape is so versatile because it comes in such a wide array of colors and patterns.
This gold floral Washi comes from my favorite Etsy shop for decorative tapes – Love My Tapes. They even have donut tape!
All you need to make these cupcake toppers are toothpicks, Washi tape and scissors. Cut about an inch and a half strip of tape and wrap it around the non-pointy end of a toothpick so the edges meet. Use the scissors to trim and cut a triangle shape out of the end to make a flag.
The pointy end of the toothpick will go in your cupcake. Easy right?
Bakers Twine Bunting Cupcake Toppers
This topper idea is perhaps the most difficult of the three, but that's not saying much. I like this for smaller cupcake displays – it would be perfect for taking a personal-size batch of desserts to a friend (depending on your definition of "personal size").
To make this you'll need a pack of wooden skewers – like for kabobs, bakers twine and scissors. Cut two skewers to size so that they're about four inches hight but you have a pointy end and a flat end.
Cut a strand of twine (depending on how long you want your bunting to stretch) and tie the ends to the top of each of your two skewers.
That's it! Now you've got your own little cupcake party.
I'm all about using little tricks and DIYs to elevate something simple. That's why I love these toppers – you can take a boxed cake mix (like these cupcakes), throw some store-bought icing on there and top it off with an easy decoration. And it will look like a million bucks.
What do you think of these cupcake toppers? We'd love to see if you make them! Tag us on Instagram with #lilyandvalliving. And, as always, pin the above image to share if you liked this post!
I can't wait to see your decorations and live vicariously through your cupcakes.
Happy baking!