We've been a little in love with all things French lately at Lily & Val if you couldn't tell – mostly because our new items in the spring collection are inspired by Val's trip to Provence! And since macarons are a little out of my skill level, we decided to whip up a very Parisian-esque hors d'oeuvre: fig and olive tapenade!
If you aren't a fan of olives, don't worry – neither am I. That's how I can confidently tell you that this recipe is still super tasty despite not being an olive lover. The olives in this give a salty kick that balances out the sweetness of the figs but otherwise they're quite subtle. Come make this with me!
Fig and Olive Tapenade Ingredients
I'm going to show you both a saltier appetizer version of this recipe and a sweeter dessert recipe. To make both, you'll need:
1/2 baguette loaf (not too crunchy, though)
3 tbsp olive oil
1/2 cup pitted Kalamata olives
1/2 cup stemmed and halved Calimyrna figs (found in the dried fruit section of the grocery store)
2 tsp. fresh Thyme, plus additional for garnish
2 tsp. fig-infused balsamic vinegar (found in the oils section of the grocery store)
1 log of goat cheese
Honey for drizzling
1/2 cup oven roasted pecan halves
Salt and pepper to taste
*Recipe adapted from Saveur.
Making the Tapenade
Whipping up the tapenade itself is way easier than you'd think. If you have a food processor (or even a strong blender) you're good to go.
Preheat your oven to 425 degrees F. Cut your baguette into roughly 15 small slices and drizzle with 1 tbsp olive oil. Place on parchment paper on a baking sheet, sprinkle with salt and bake about 8 minutes or until slightly golden.
Place your olives, figs, and Thyme into your food processor and pulse until roughly combined (not at all liquid-y). Add the remaining 2 tbsp of olive oil, the fig-infused balsamic and a dash of salt and pepper. Pulse until thoroughly mixed, still not liquid-y.
Set your tapenade aside and let your bread cool!
Serve as an Appetizer
The first way to use this recipe is to leave it as is and spread on your baguette slices with goat cheese.
Once your bread has cooled, spread a small amount of goat cheese on each crostini and top with a dollop of tapenade. Garnish with a sprig of Thyme and you're done!
This will taste salty and sweet and works great before a meal or spread on sandwiches.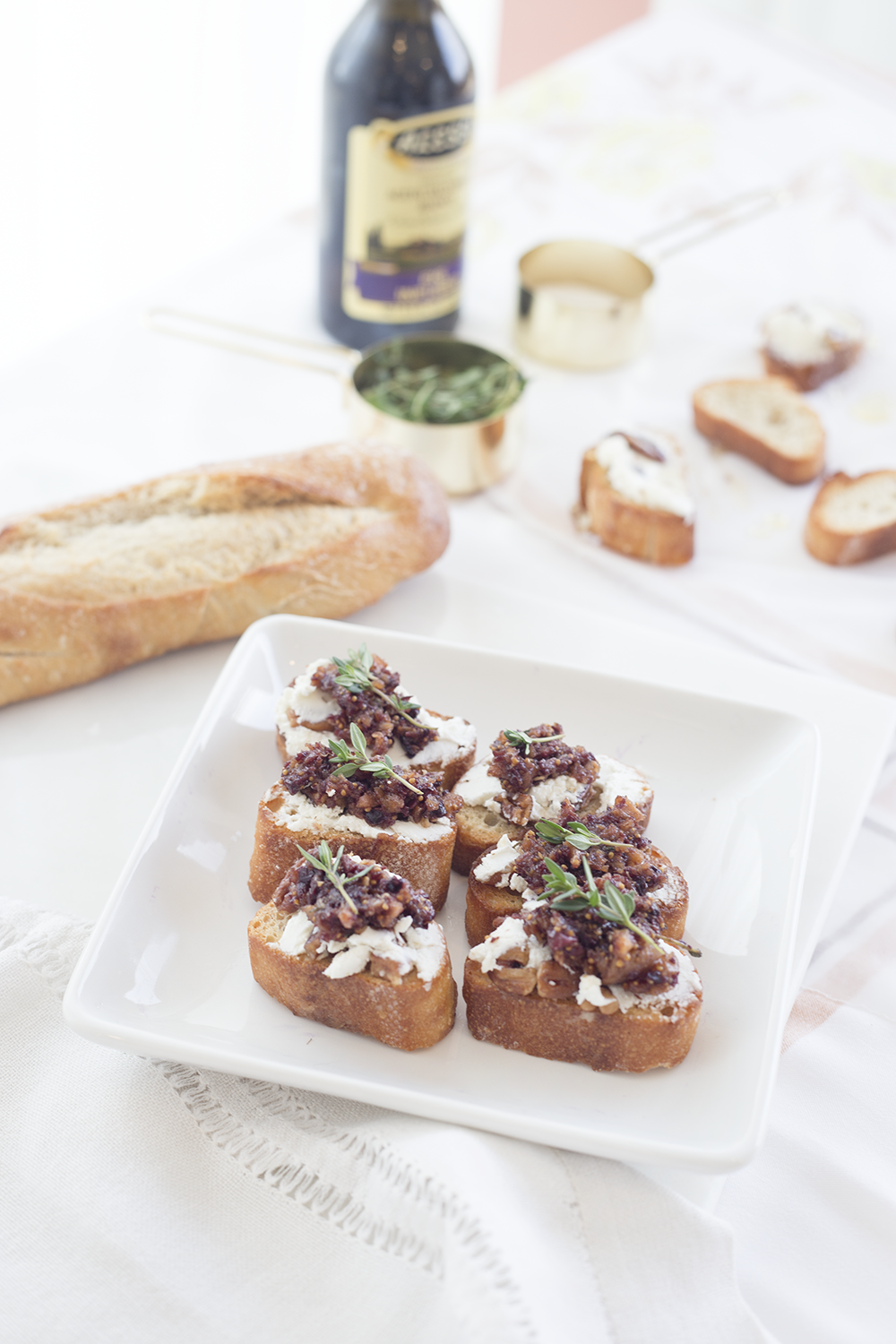 Serve as a Dessert
My personal favorite way to eat this is as a sweet and salty dessert. My friend Mallory W. gave me her recipe for goat cheese, fig-infused balsamic and honey on crackers or crostini (which is delicious) so I thought combining that with the tapenade would be a tasty experiment. Hint: it was.
To make as a dessert snack, roast the halved pecans in the oven at about 325 F. for 15 minutes or until the pecans are fragrant. Once they've cooled, roll your goat cheese log in the pecans until combined.
Spread a bit of the goat cheese-pecan mixture onto a baguette slice, drizzle with fig-infused balsamic and honey, and then top with the olive tapenade. It's so good.
You can even eat this without topping with the tapenade if you want less of a salty taste.
If you make this recipe, please let us know what you think! Olives are an acquired taste I've found, but they blend so well in this tapenade that you can barely tell they're there.
If you want more recipes, check out our In the Kitchen section of the blog! And if you want the adorable Cafe in France print, you can find it in our new spring collection here.
Tag us on Instagram with any photos you make of your olive tapenade! We'd love to see – just use #lilyandvalliving. And, as always, pin the above image if you liked this post!