Although Valentine's Day is quickly approaching, I'm more of the staying-in type when it comes to this particular holiday. For starters, I don't love waiting in a long line for a restaurant. Actually, that's 90% of the reason I stay in on Valentine's Day. That, and I find doing something special together at home is cost-effective and cozier. Fondue for two, perhaps?
If you're like me, no fear! I have the perfect recipe for a fondue night in for you and your person. We'll start with an asiago-cheddar beer cheese and finish with a heavenly salted caramel dessert fondue.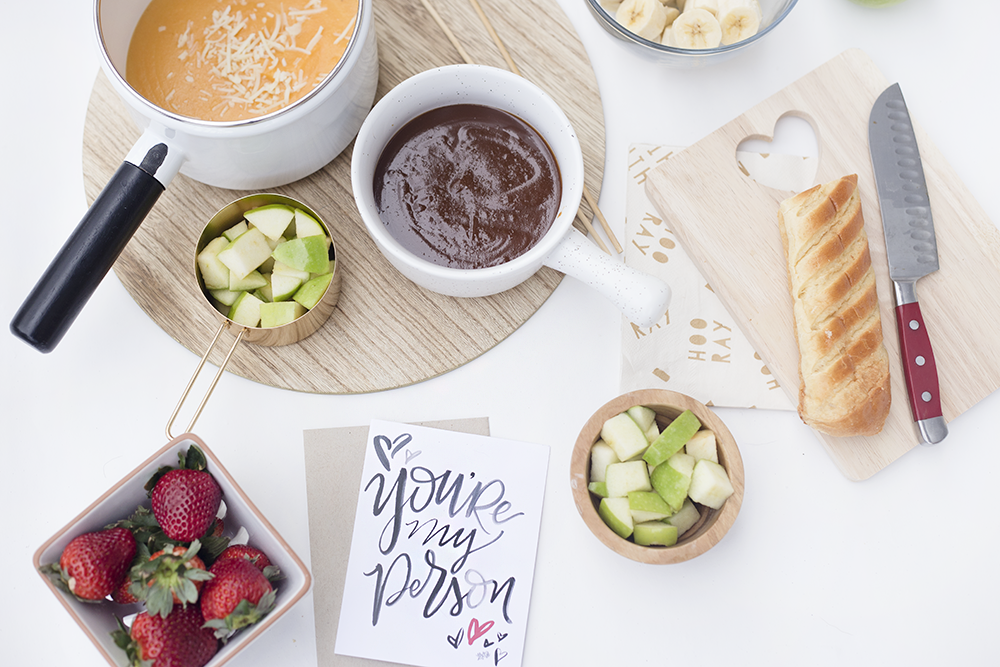 Asiago-Cheddar Beer Cheese Fondue
Ingredients:
12 oz. of light beer (I used Molson Canadian – my boyfriend's favorite)
4 cups of shredded sharp cheddar cheese
1 cup of asiago cheese
1 garlic clove, crushed
1/4 tsp hot sauce
2 tbsp corn starch (for thickening)
Directions:
Begin to heat a large pot on the stove on low. Add a handful of shredded cheese at a time, stirring after each handful. Once you've added all 4 cups of cheese to the pot, stir in 2 tbsp of corn starch to thicken the mixture.
Add the hot sauce, garlic, beer, and asiago cheese slowly to the pot now as you continue to stir. Your fondue is done when everything is combined thoroughly and the cheese is melty and thick.
*Recipe adapted from Good Housekeeping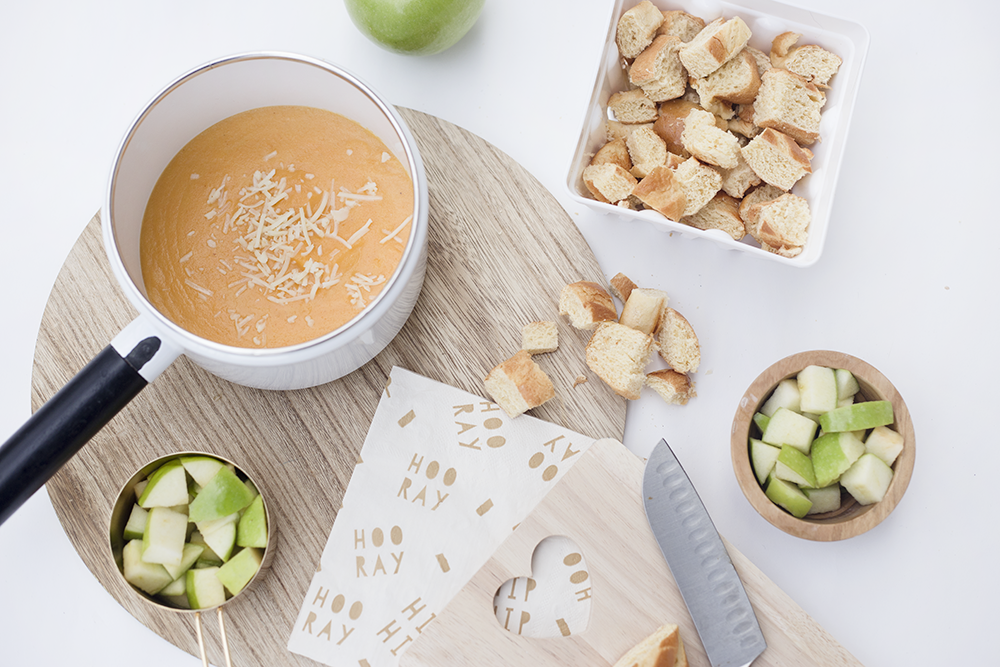 Salted Caramel Fondue
Ingredients: 
1 cup sugar
2 tbsp water
3 tbsp butter
1 cup heavy whipping cream
1 tsp salt
Directions: Follow the recipe here! I'm not enough of a master cook to have my own caramel recipe.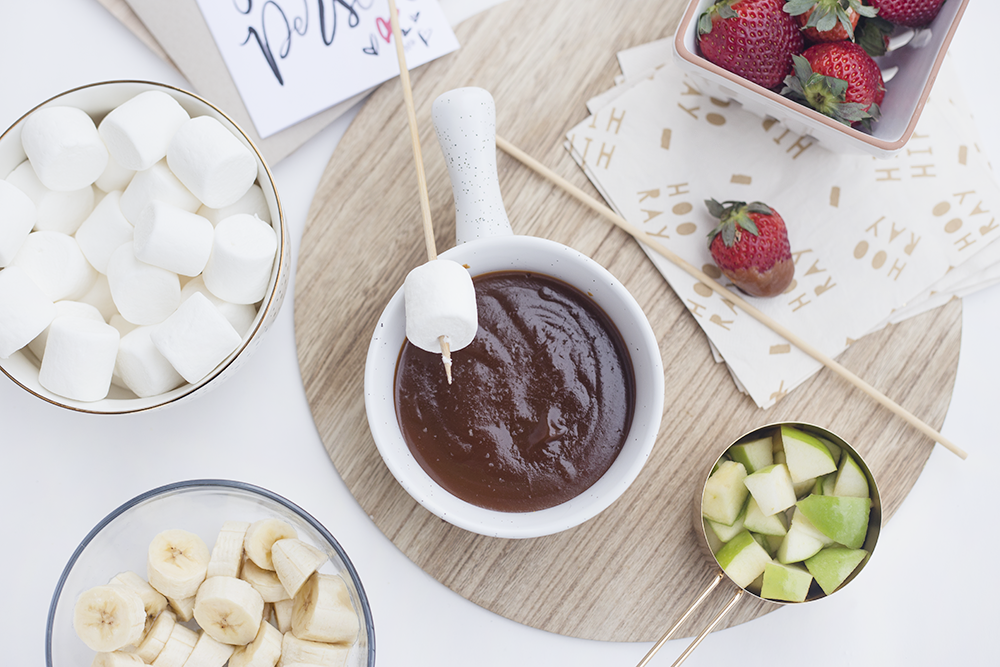 Fondue Dippers
Fondue is great, but you can't get the full experience of it if you just stick a spoon in the pot (though I've been guilty of that).
For the cheese fondue, I love apples (especially Granny Smith) and cubed Italian bread. I strongly believe the bread needs to be firm but not too crunchy in order to be the best vessel for cheese.
Anything goes well with chocolate, really, but for this salted caramel recipe, I love marshmallows. Marshmallows, bananas, strawberries, and – my favorite part of the recipe from A Beautiful Mess – mini Eggo waffles. Try making a waffle-banana sandwich. You'll thank me.
Don't forget the guys! Chocolate-dipped bacon makes a sweet and savory combo that my boyfriend heartily approves of (though he told me his favorite dipper is a rice krispie treat).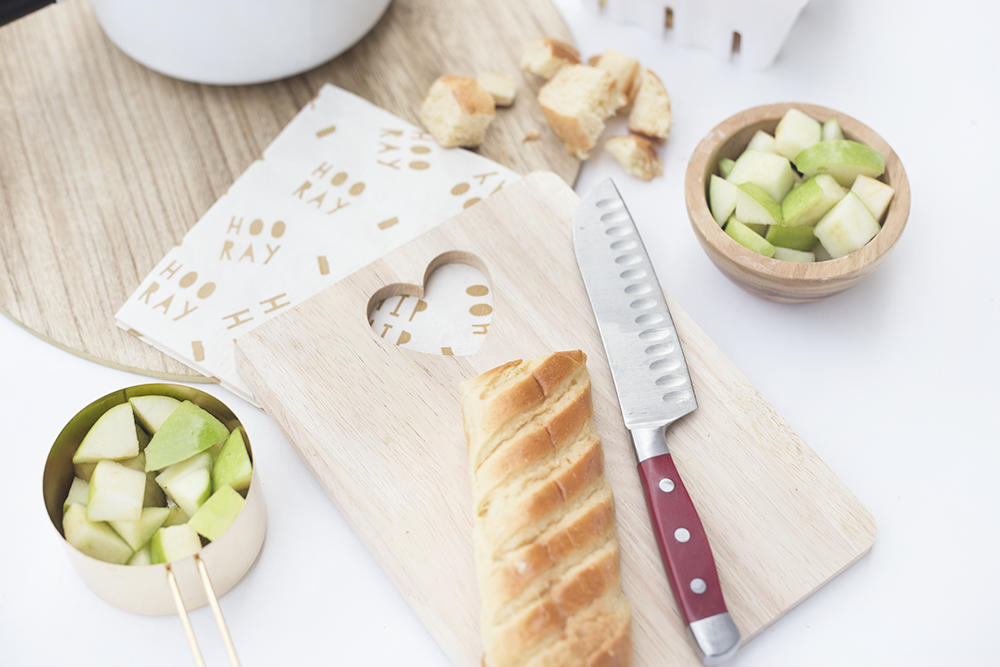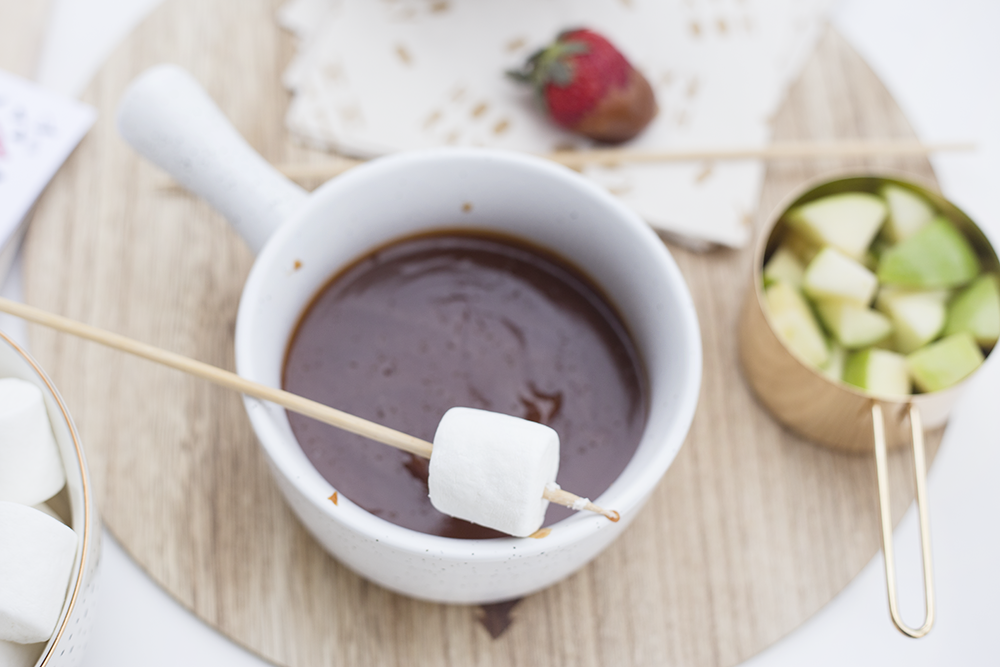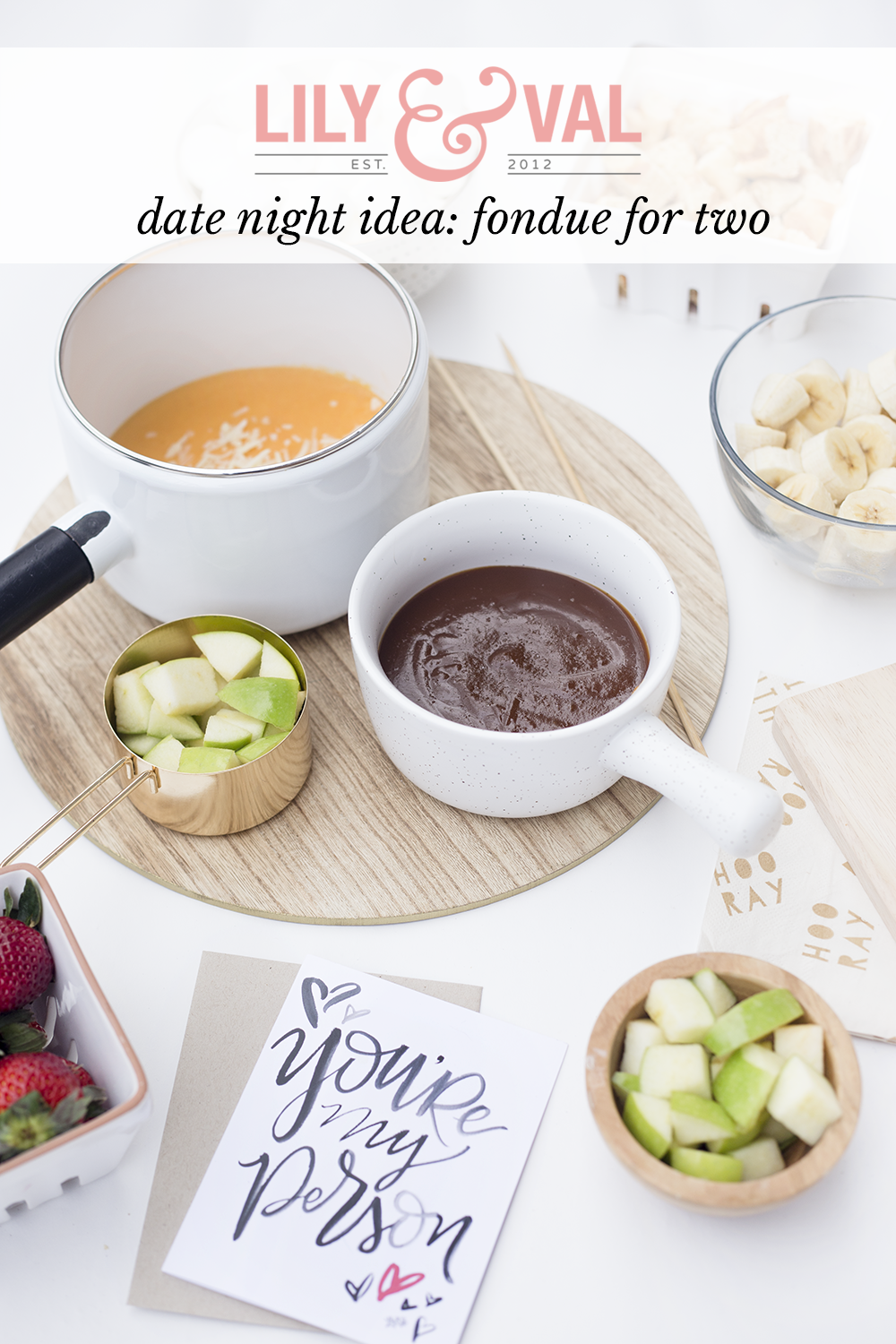 Well, I'm stuffed. Probably because I sampled a  bit too much of the fondue when putting together this post. I think that's a good sign for these recipes.
If you're hard-pressed for plans this Valentine's Day or for a cozy evening in, give fondue a shot! And don't forget to tell your special someone how much they mean to you. Our L&V "You're My Person" card is great for that. If you liked this post and want to share it, please feel free to use the Pinterest image above!
What are your cozy night in ideas for Valentines Day? We'd love to hear them! And if you do try these recipes, tell me what you think! If you have any dipper recommendations, lay 'em on me.