The idea of making time for tea is so appealing to me.  I make dates for coffee with friends at the local coffee shops, but I have always wanted to switch things up and invite them over for tea instead!  The tradition of High Tea includes several small plates or snacks: cucumber sandwiches, mini cakes or pastries- and scones.  I love a good scone especially paired perfectly with a cup of Earl Grey!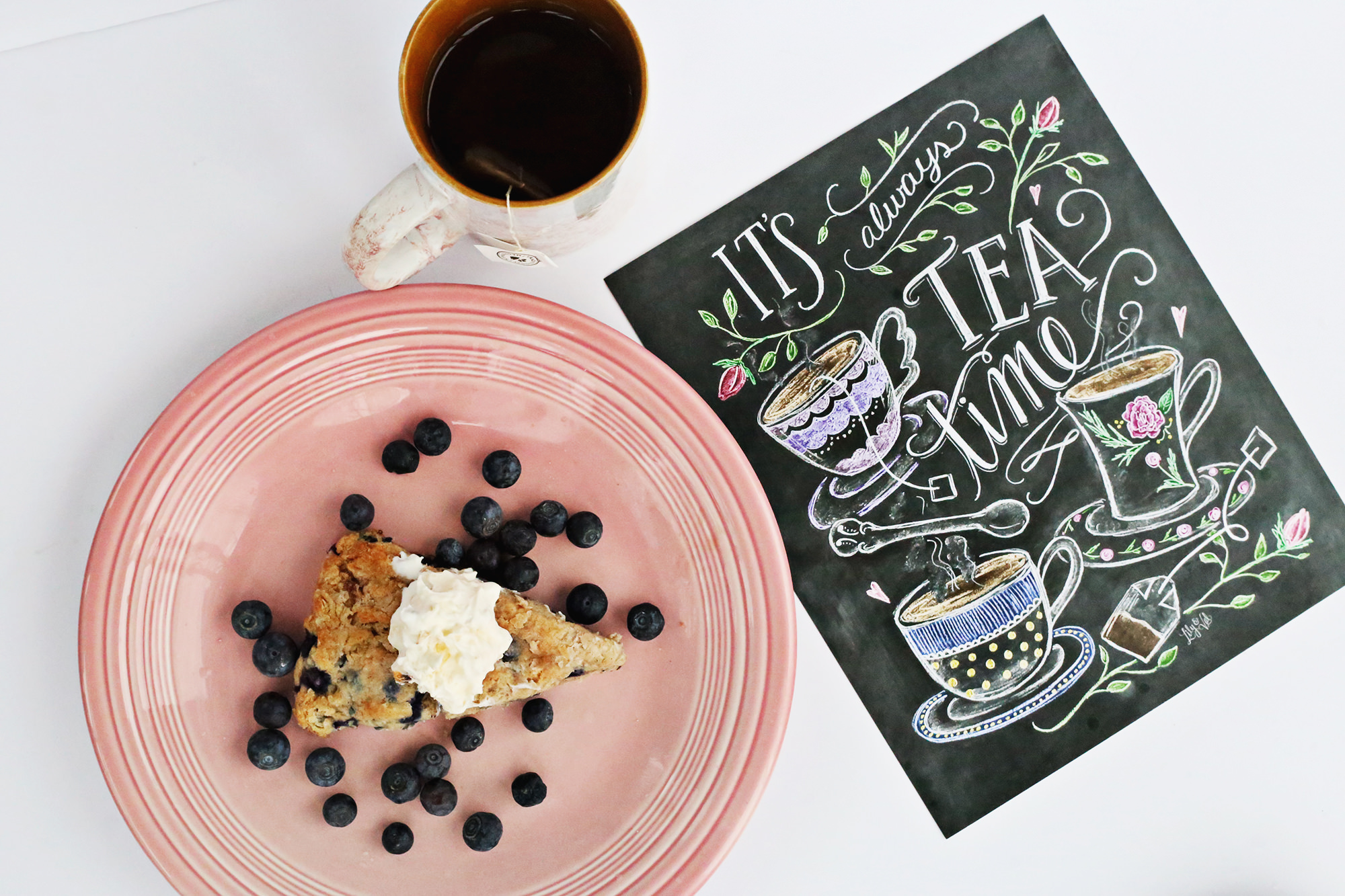 Instead of meeting up over a latte, try changing the routine with tea time!  While it's nice to get out of the house, there's something special about inviting loved ones to gather in your home. And unlike holding a dinner party, this is a simple, low-stress way to play host and enjoy the comfort of being in a quiet place.
Whip up a batch of these delicious blueberry scones and invite a friend or two over for tea!
After scouring Pinterest for the perfect scone recipe, I found it on Sally's Baking Addiction.  These scones are ridiculously easy and so delicious!
Blueberry Scones
What you'll need:
– 2 cups all-purpose flour (careful not to overmeasure)
– 1/2 cup granulated sugar
– 2 and 1/2 teaspoons baking powder
– 1/2 teaspoon ground cinnamon
– 1/2 teaspoon salt
– 1/2 cup unsalted butter, frozen
– 1/2 cup heavy cream
– 1 large egg
– 1 teaspoon vanilla extract
– 1 heaping cup blueberries (fresh or frozen, do not thaw)
– coarse sugar for sprinkling on top before baking
Directions:
1. Preheat the oven to 400 degrees.  Combine the flour, sugar, baking powder, cinnamon and salt in a large mixing bowl.
2.. Grate the frozen stick of butter with a normal cheese grater, or a food processor.  Add into the dry mixture and use a pastry cutter or your hands to combine the butter with the mixture.  Don't over-mix, combine just as the butter is incorporated.
3.. In a small bowl, stir the egg and the heavy cream together, then pour into the large bowl. Use a spatula to fold the liquids into the batter.
4. Add the blueberries to the batter and lightly mix in.  Using your hands or the spatula, gently knead the batter into a ball and transfer to a baking sheet lined with parchment paper.
5. Once on the baking sheet, flatten the ball into a 8″ disc.  Use a sharp knife to cut the disc into 8 triangles.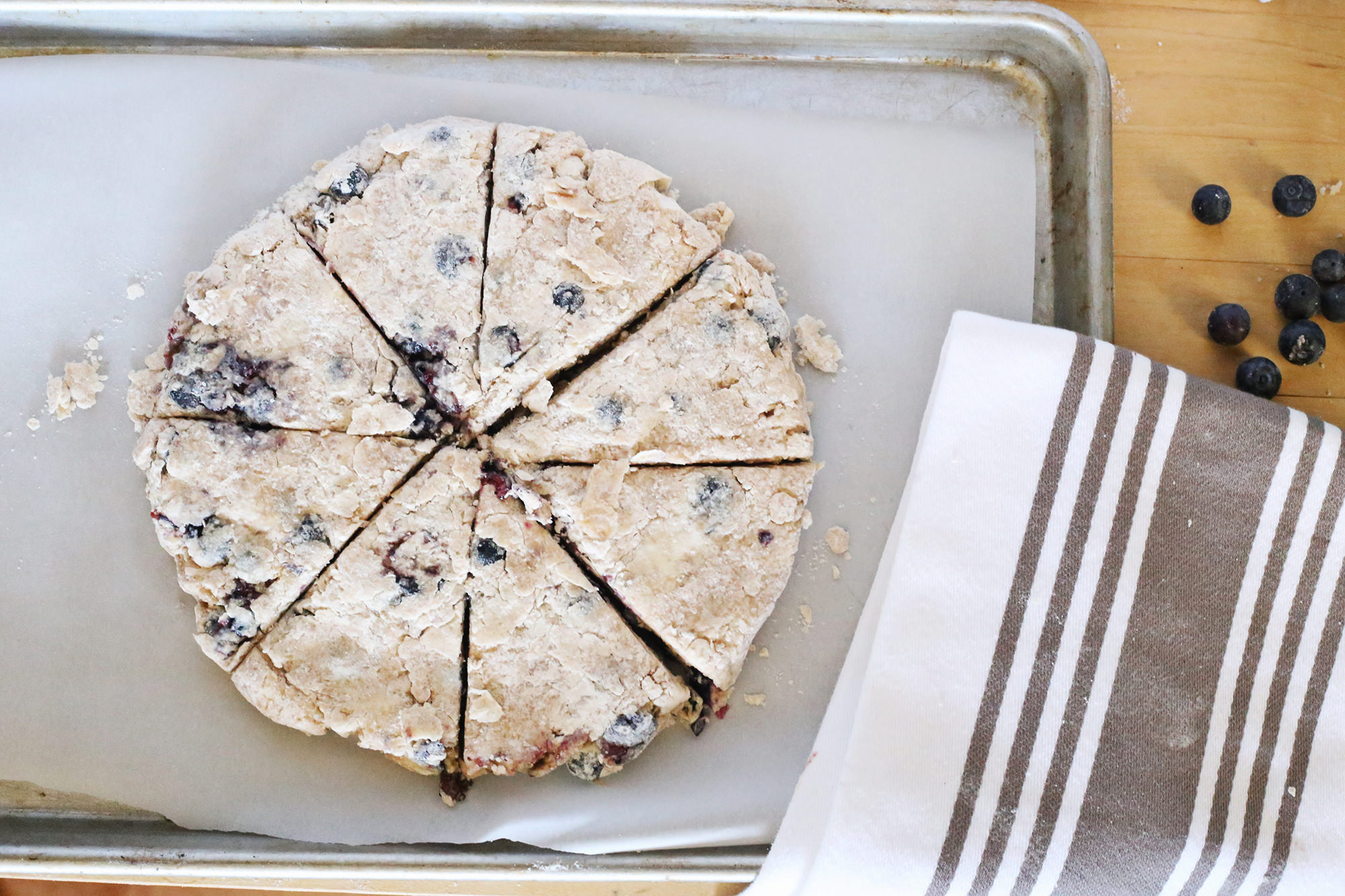 6. Next, use a spatula to separate the scones, then bake for 20-25 minutes, until golden brown.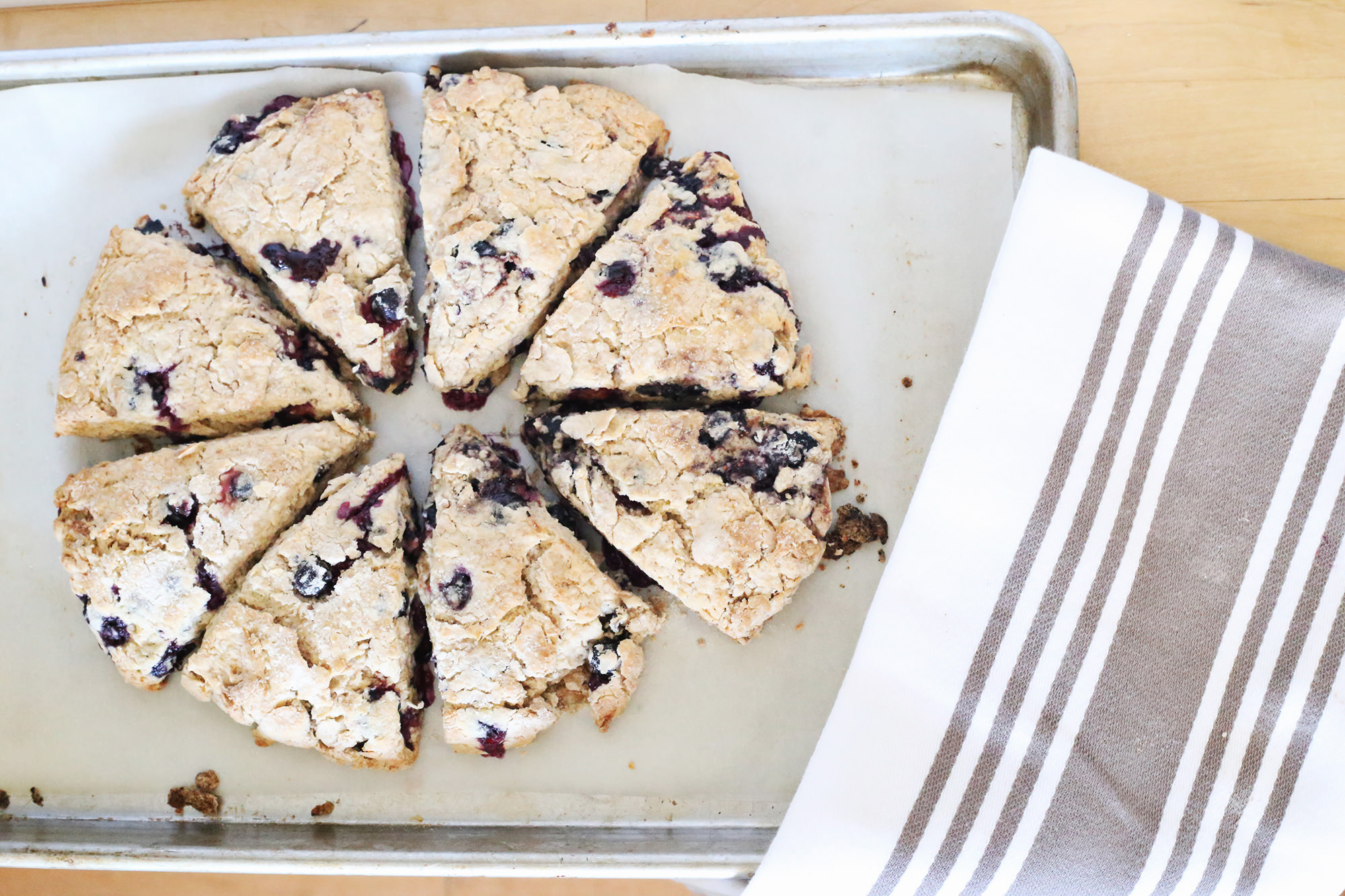 The smell of cinnamon and baked deliciousness will be intoxicating in your kitchen!  Once the scones are finished, let them cool before serving.
To make your tea time even more special, top your scones with traditional, homemade clotted cream!  Clotted cream is a beloved, buttery cream the British spread onto their scones.  It is a must try, and although it does take planning and a lot of wait time, it requires only a few simple steps to make.
I used the recipe from The View from Great Island's blog and it turned out perfectly!
You can't go wrong with tea and scones to cheer someone up or just share a casual afternoon with a friend. I'll be adding both the blueberry scone and clotted cream recipes to my Keepsake Kitchen Diary to keep a record of tea time memories!
Photos courtesy of Jenny Poe