The Keepsake Kitchen Diary is a book that really gets to the heart of something I find special. I love it so much, I bought four copies to give as Christmas gifts! But if you ask me why I find the Kitchen Diary so special, I'd probably have a hard time pinning that down.
My family has always been a family of bakers, which has led to a lot of sugar addictions. My mom passed down to me her set of well-loved Wilton decorative icing tips (from the 70s) and – for some reason – I have two sets of Ninja Bread Men cookie cutters to my name. Clearly, baking is something I enjoy. For me, that connection I feel to my family when I bake is the biggest reason I love it so much.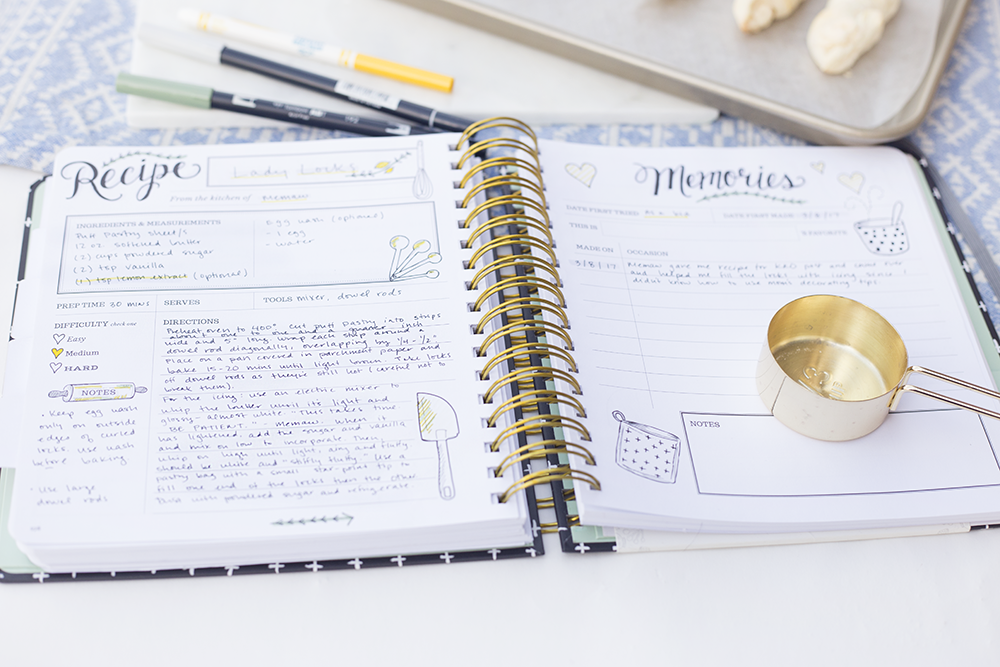 When Val asked me to show off a spread from my Keepsake Kitchen Diary, I knew I wanted to highlight one of my grandma's pastry recipes. I remember being little and watching her pipe frosting into perfectly-rolled Lady Fingers (or Lady Locks as she calls them – are Lady Fingers different?), wondering how anyone could be that precise.
Actually, I still wonder that. As I made the Lady Locks recipe for this post, my grandma (Memaw, we call her) came over to help me pipe the frosting because I couldn't even get icing out of a pastry bag properly.
Turns out, there's a plastic adapter that helps fit the decorative tip into the pastry bag so it doesn't break through. Who knew!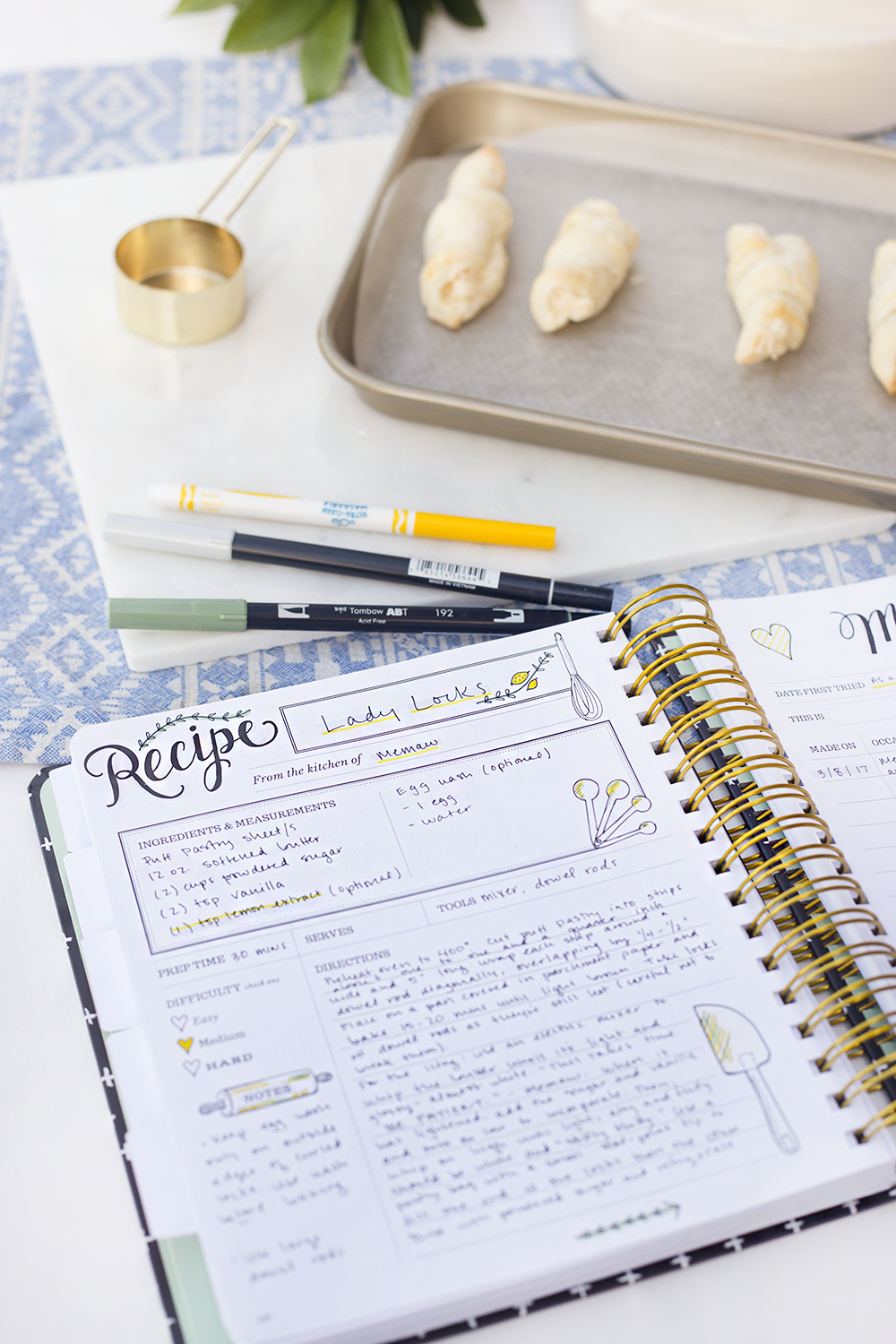 You might notice that I tend to decorate my Keepsake Kitchen Diary spreads pretty minimally. I do have a relatively simplistic style and the diary is already so cute that I don't feel the need to do much to it!
For this spread, I highlighted certain details in yellow since a twist I put on this recipe is to add lemon to the frosting. Appropriately, I drew two tiny lemons next to the title and added a few hand drawn leaf garlands.
I have to admit that I tend to be a perfectionist – if I were to heavily decorate my Kitchen Diary and not absolutely love every embellishment, it would be nearly impossible to resist the urge to tear out those pages and start again. But this diary is about personality, not perfection! So, I keep mine minimal to let the recipes and memories shine.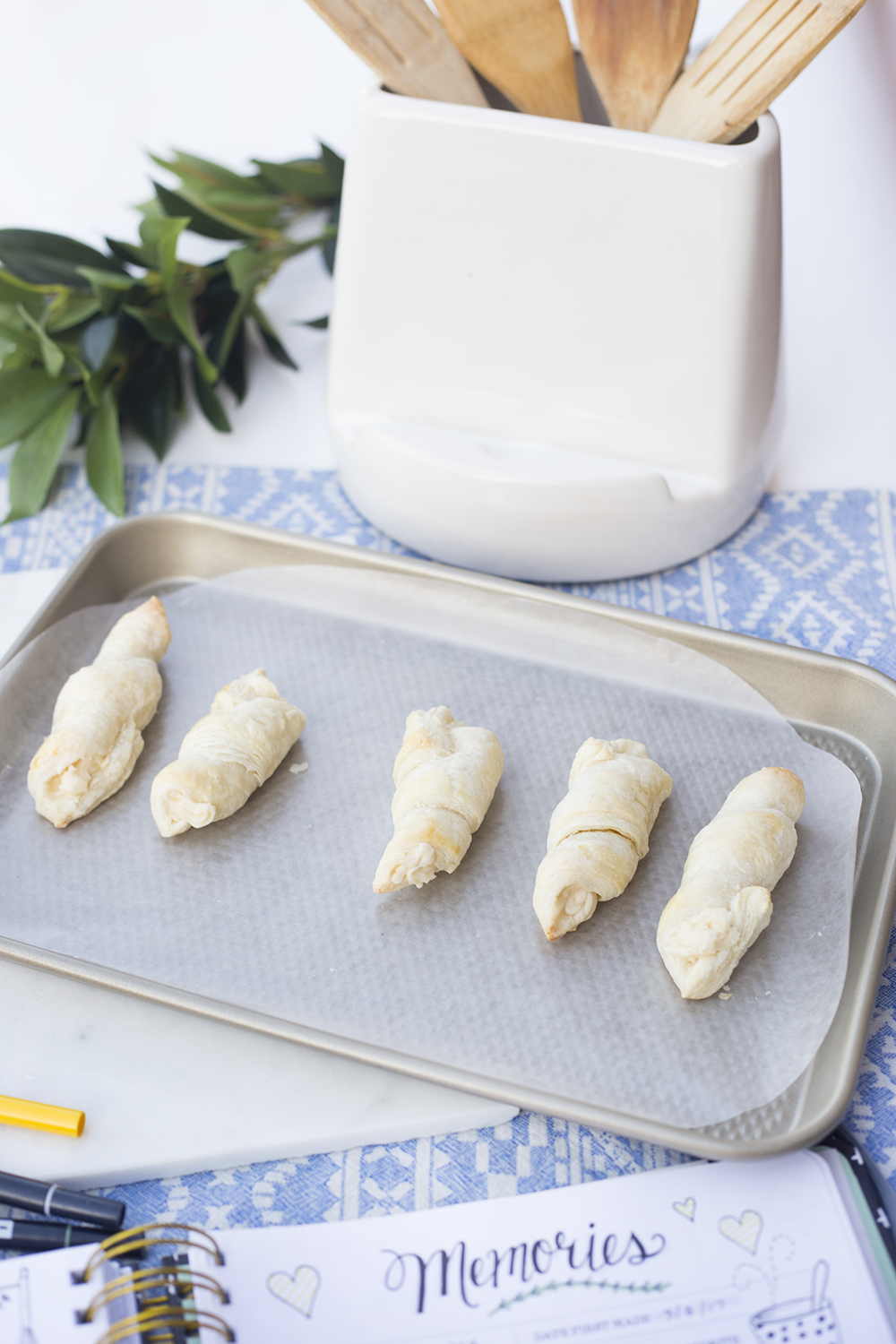 Filling these Lady Locks with icing the other night with Memaw by my side is a new memory that I'm going to keep close. I know I don't tell her this enough (unless she's reading this post) but my grandma is my hero. She's the strongest woman I've ever known and the older she gets – she just turned 80 this month! – the younger she seems.
Seriously, my grandma supervises the tire cleanups that convicts do in her area for community service. I wasn't joking around about how spritely she is.
Memaw, I hope you don't mind me sharing your Lady Locks recipe with the world! Let's hope Lily & Val readers are better at piping frosting than I am.
Keepsake Kitchen Diary Recipe: Lady Locks with Lemon
Ingredients: 
1 sheet of puff pastry
1 egg
2 tbsp water
2 tsp vanilla
12 oz. softened butter
(2) cups powdered sugar
2 tsp lemon extract (optional)
Tools: 
Pastry brush
Parchment paper
Medium-large dowel rod
Pan
Directions:
Unroll your puff pastry and cut it into strips, each measuring approximately 1 1/4" wide and 5" long. Wrap each strip diagonally around a medium to large dowel rod, overlapping the edges by about 1/4". Place your dowel rods on the pan (which should be covered in parchment paper).
Mix your egg and water in a small bowl to create an egg wash. Brush this egg wash onto the outside of the pastry strips.
Bake your strips until they are a light brown – between 15 to 20 minutes. Remove from the oven and carefully pull the Lady Locks off the dowel rods while they're still hot.
For the filling, whip the softened butter using an electric mixer until it's light and glossy – almost white. "This takes time. BE PATIENT." – Memaw
When the butter has lightened, add the sugar, vanilla and lemon extract (optional) and mix on low to incorporate. Then, whip on high speed until the icing is light, airy and fluffy. It should be a creamy white color and "stiffly fluffy" says Memaw.
Scoop your icing into a pastry bag (being sure to first insert your small star-point decorating tip) and pipe into one end of each Lady Lock, then the other. The goal is to have each Lady Lock entirely filled with icing.
To finish, dust with powdered sugar and refrigerate.
. . . . .
Memaw and I hope you enjoy this recipe! If you make it, please let us know by tagging us on Instagram with #lilyandvalliving!
Want more Keepsake Kitchen Diary? Check it out here and go here for more stories!