With so many Keepsake Kitchen Diaries finding their way into the homes of our customers, we love to see them cherished and filled with your family recipes. Even more, we love hearing your special memories, moments, and the stories behind the dishes you hold dear.
Bekah Blankenship is a very creative and gifted Bible journaling artist and she has used her talents to decorate beautiful spreads in her Kitchen Diary!  She shared a recipe close to her heart with us and we wanted to share it with you!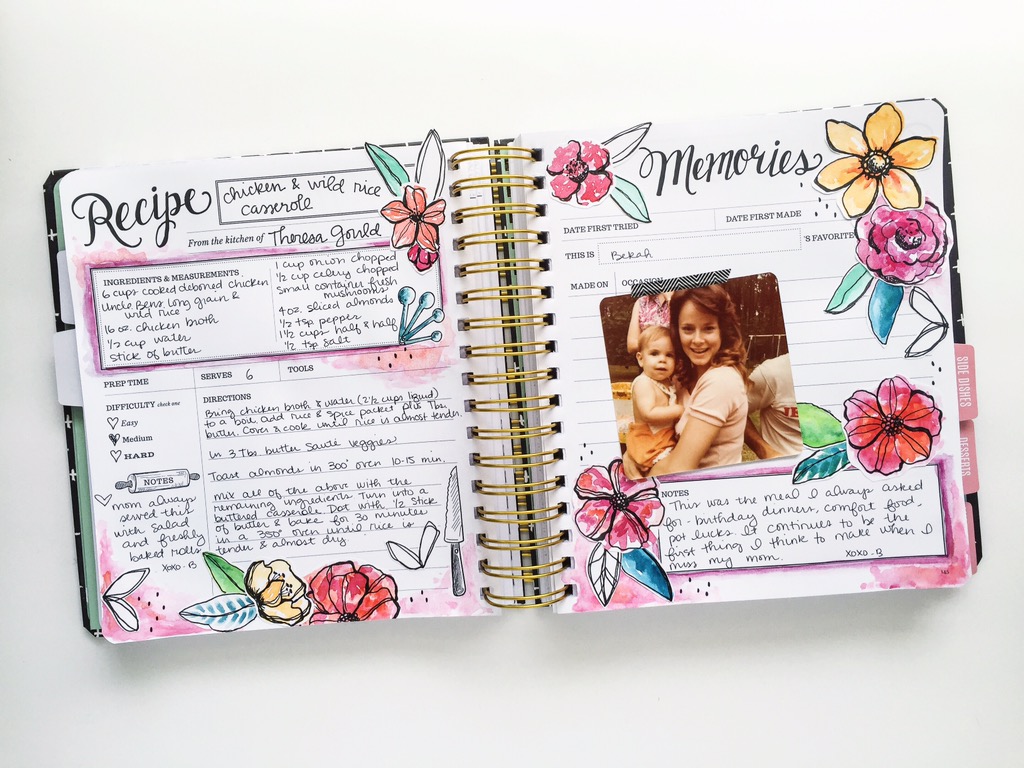 "My kids are always asking me to write down the recipes for their favorite foods.  I'm teaching them to cook, and they want to be sure they can access all the comfort food when they leave for college and start their families.  (I know, my boys are the best kind of weirdos!)  Documenting food has been in the front of my mind since losing my mama, because after she died my sisters and I had so many moments of panic over things we wished we had written down- frantically calling each other trying to piece together recipes the best we could remember.  Last week I started working on my Keepsake Kitchen Diary and I'm so smitten!  It's such a sweet way to throw together a collection of recipes, and even has a place to write down memories for each one.  Guys.  This is genius.  Food brings people together in the sweetest way.  I'm so stoked to keep a record of it for my boys." – Bekah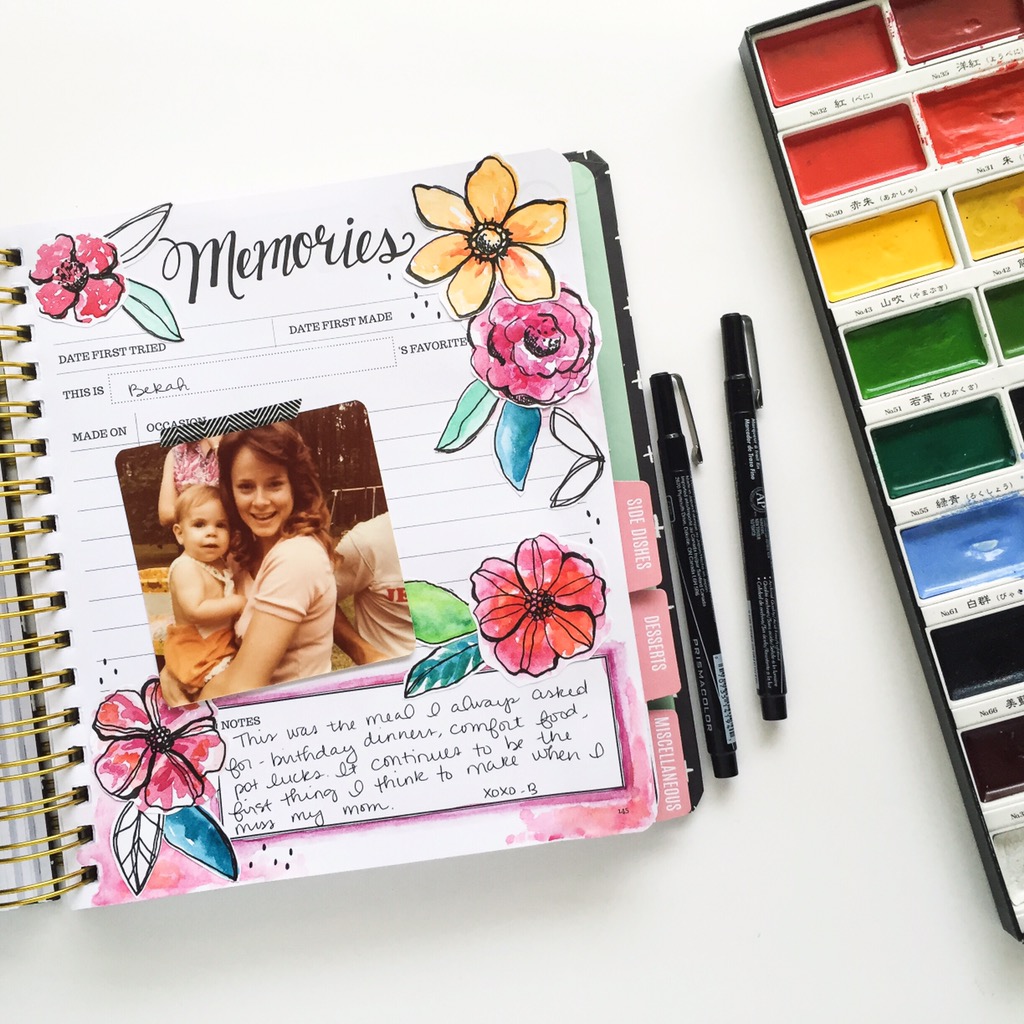 Chicken & Wild Rice Casserole
Ingredients:
6 cups cooked, de-boned chicken
1 package of Uncle Ben's long grain wild rice
16 oz. chicken broth
1/2 cup water
1 stick of butter
1 cup chopped onion
1/2 cup chopped celery
Small container of fresh mushrooms
4 oz sliced almonds
1/2 tsp pepper
1/2 tsp salt
1  1/2 cups half and half
Bring chicken broth and water (2 1/2 cups liquid) to a boil.  Add rice and spice packet plus the butter. Cover and cook until rice is almost tender.
Sauté veggies in 3 tbsp of butter.  Toast almonds in a 300 degree oven for 10-15 minutes.
Mix all of the above with the remaining ingredients and turn into a buttered casserole dish with 1/2 a stick of butter and bake for 30 minutes in a 300 degree oven until rice is tender and almost dry.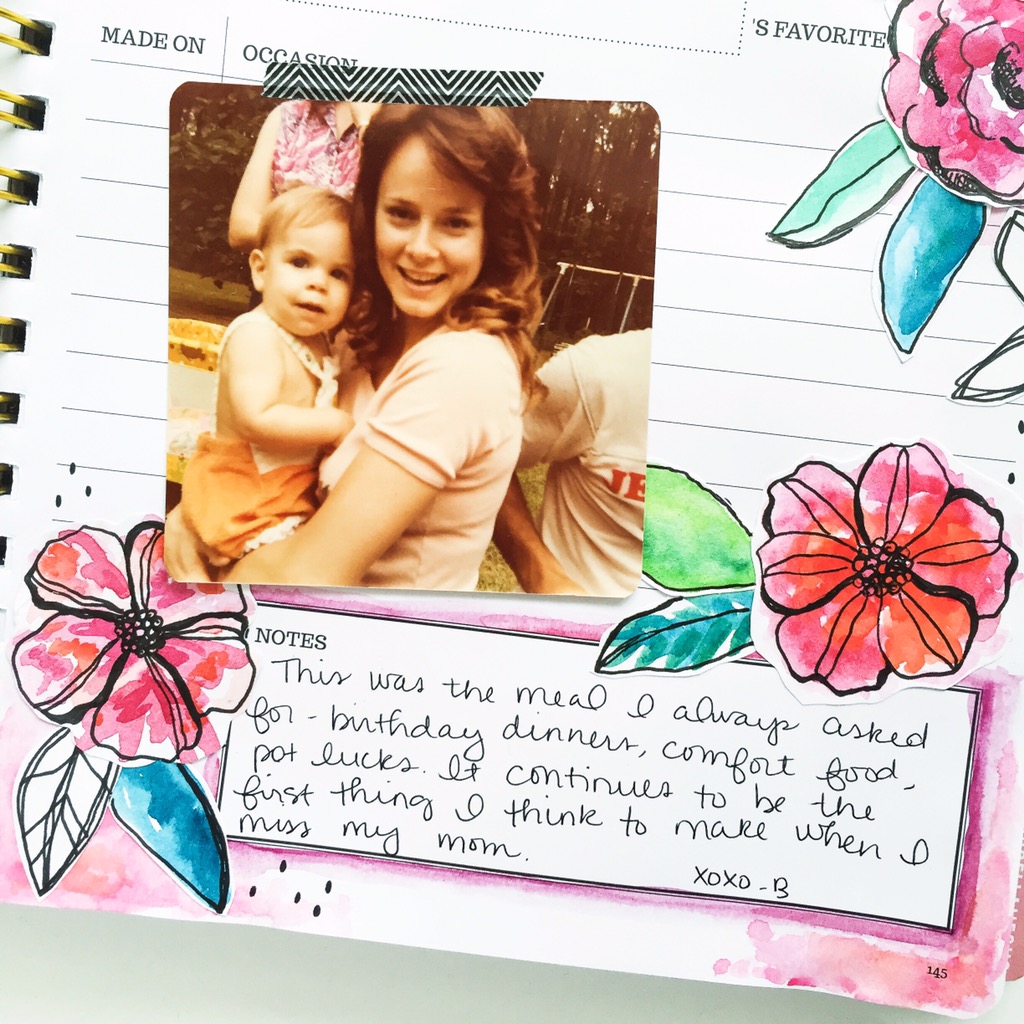 Creator's note for decorating this beautiful spread: "I used a Fabre Castell Pitt pen, and Kuretake watercolors on Reeves watercolor paper- then just cut and paste after I watercolored the pages a bit." -Bekah