Hello fellow "last minute holiday preppers still pulling off the hap-hap-happiest Christmas"!
The countdown is on and the holidays are in full swing! It's time to finish making those cookies and wrapping those presents…and I have a super simple and traditional Christmas cookie recipe to share with you.
Growing up, these little "snowy" treats were not my favorite. They were the cookies I would reach for once all the peanut butter blossoms and sugar cookies were gone. But as an older, wiser, more mature being, I love it when my mom makes her Russian Tea Cookies! (Also called Russian tea cakes…)
Russian Tea Cookies are also something you will find on every wedding cookie table, and if you are from the Pittsburgh Area or Ohio Valley you know how fantastic these cookie tables can be! Cookie tables at weddings are one of my favorite traditions because, like at the Holidays, you get sample all kinds of amazing homemade treats from all of your friends and family.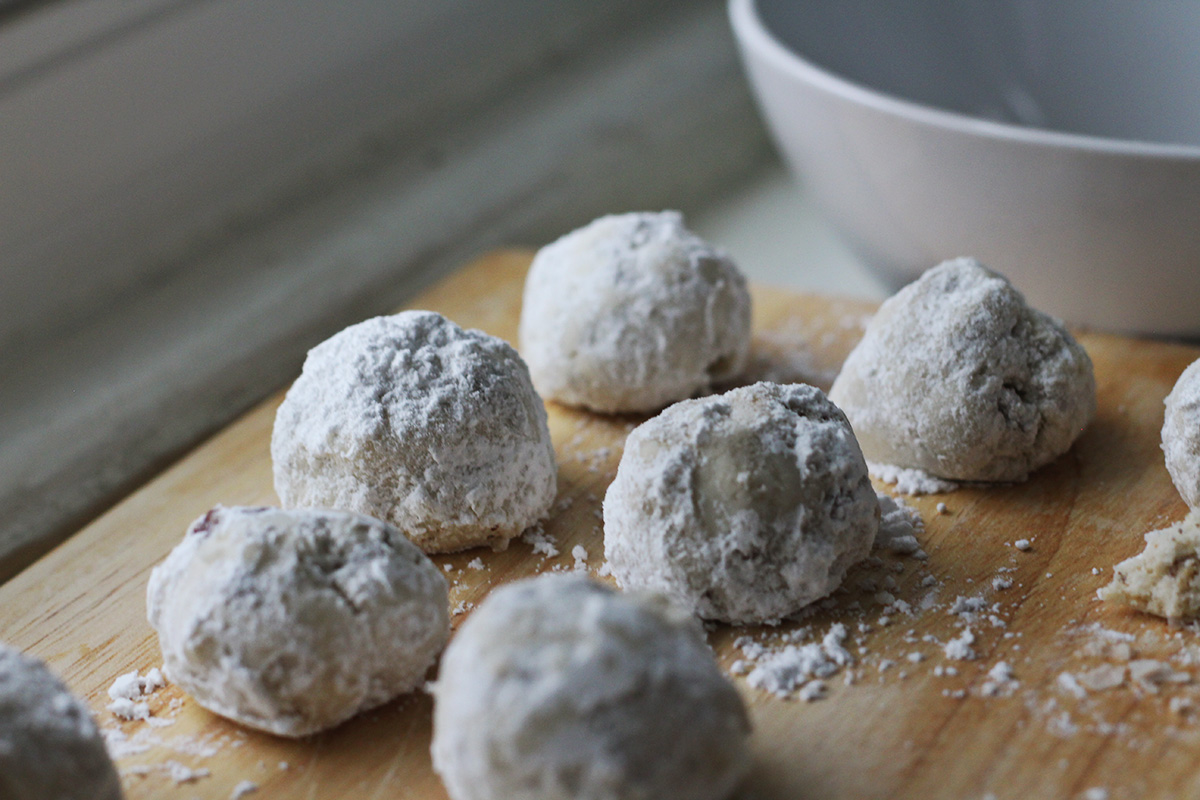 This shortbread like treat is made up of  ingredients you probably already have in your pantry and are so very simple to make.
Butter, Confectioner Sugar, Vanilla, Flour, Salt, Pecans.  That's it!!!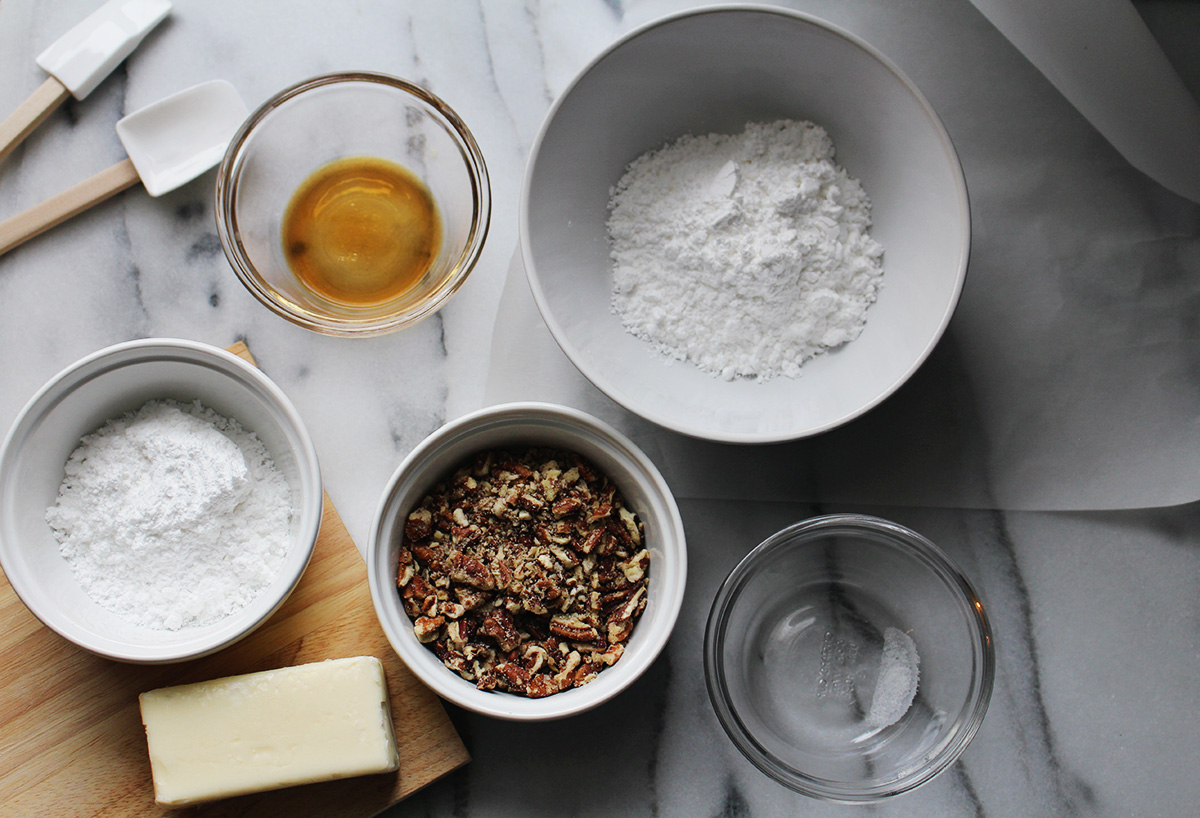 This time of year, who has time to clear food processors or grinders. So for the pecans, I just bought a bag of  "pecan pieces" and gave them some extra smashing with a rolling pin. If you would prefer  a smoother texture to your cookies, feel free to grind the pecans a bit more (just remember you may need to adjust your measurements a bit).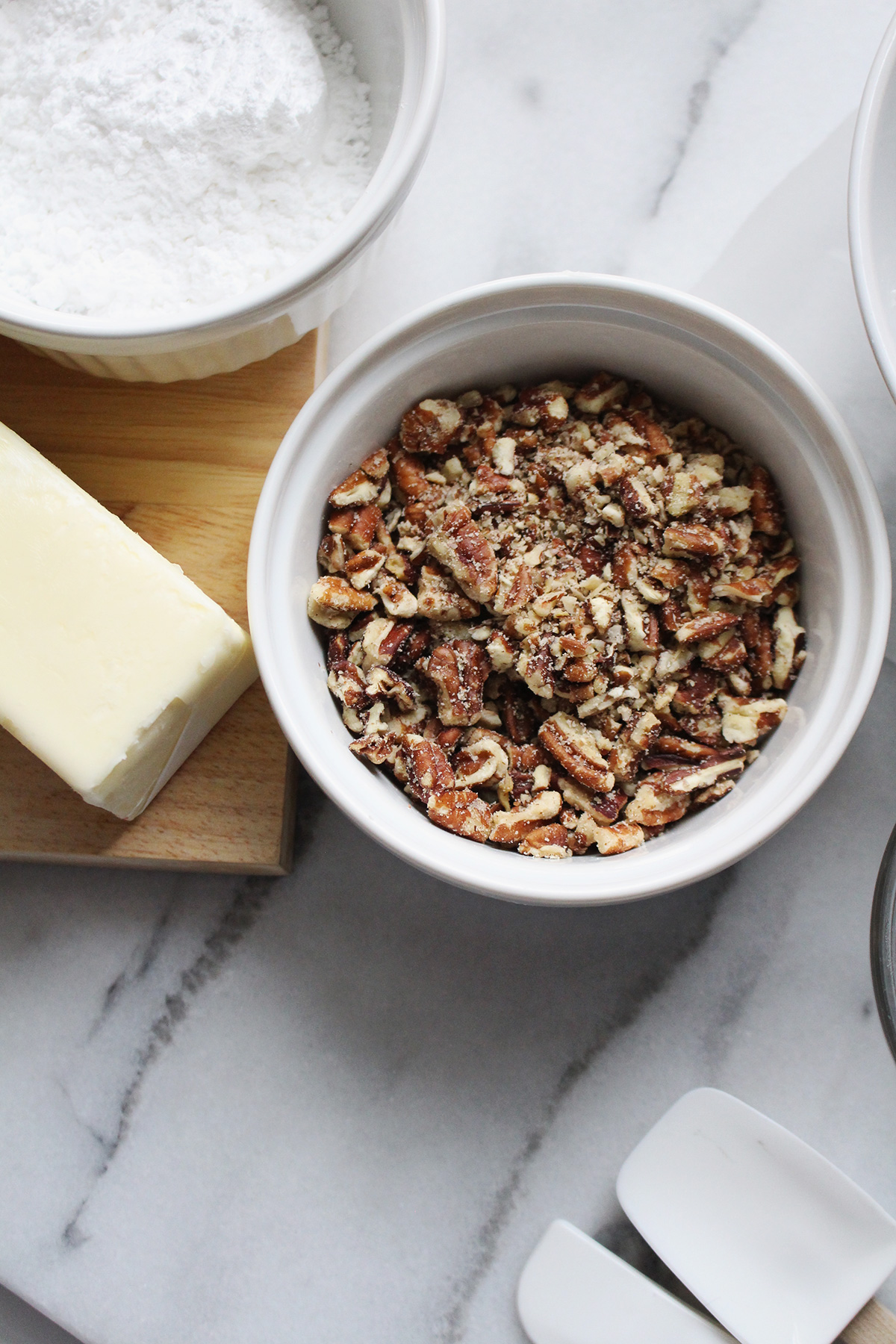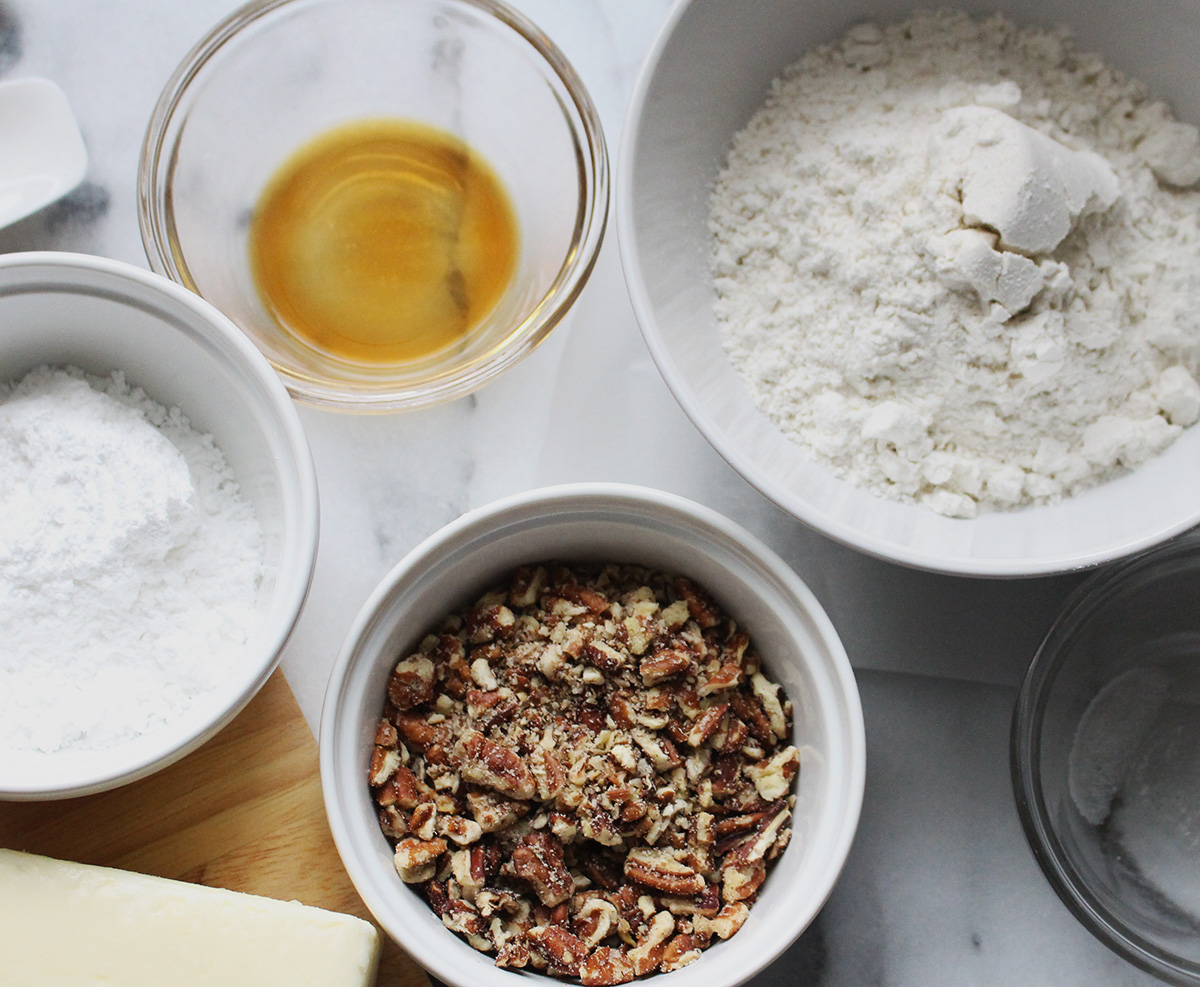 First, cream the butter and sugar in a stand mixer (had mixers will work too…but this will get tough as you finish the dough).
Turn the mixer on low and add in your remaining ingredients. Mix on low until blended.
Your dough should stick together but still be a bit crumbly.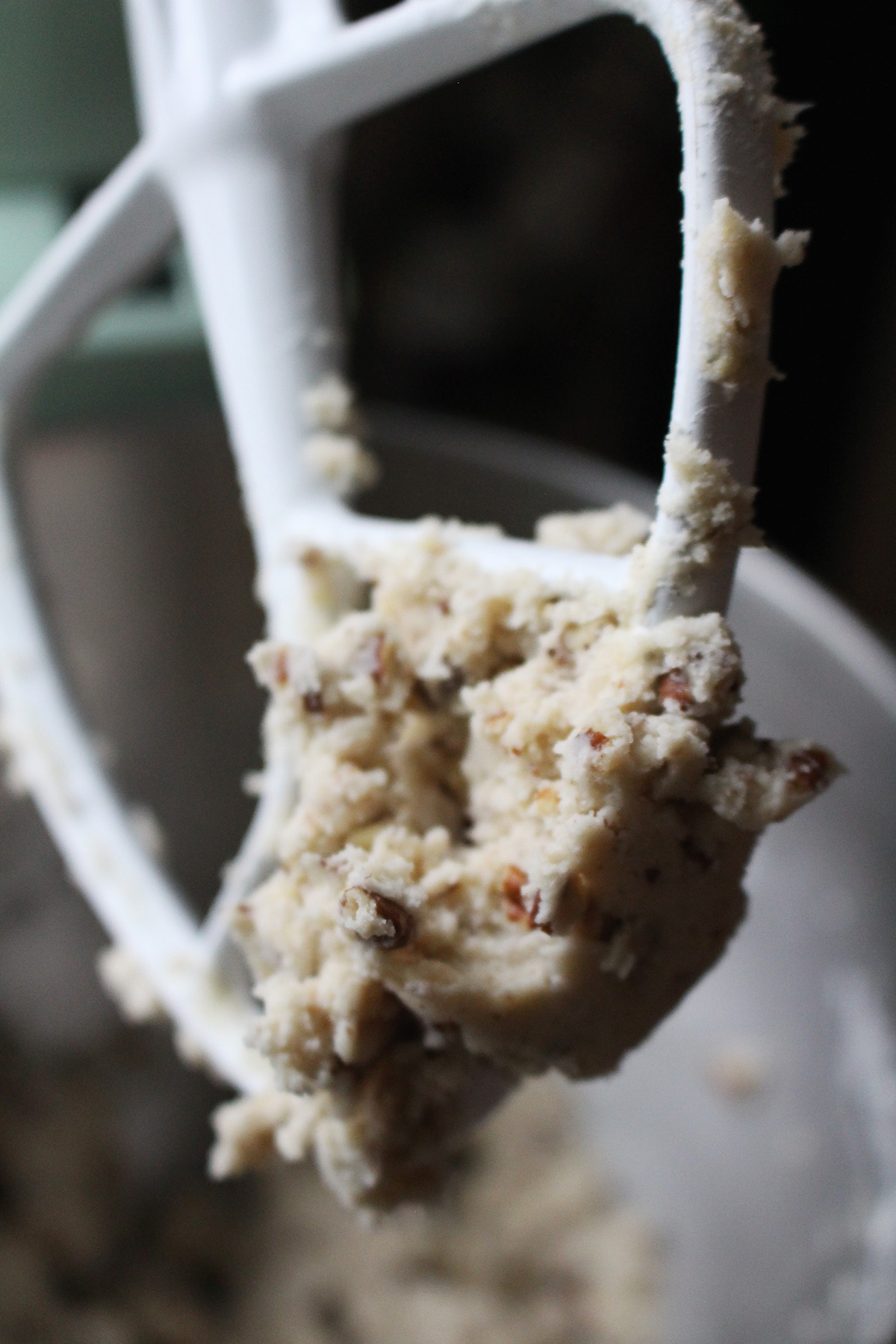 Roll dough into 1″ balls and place on a parchement lined cookie sheet.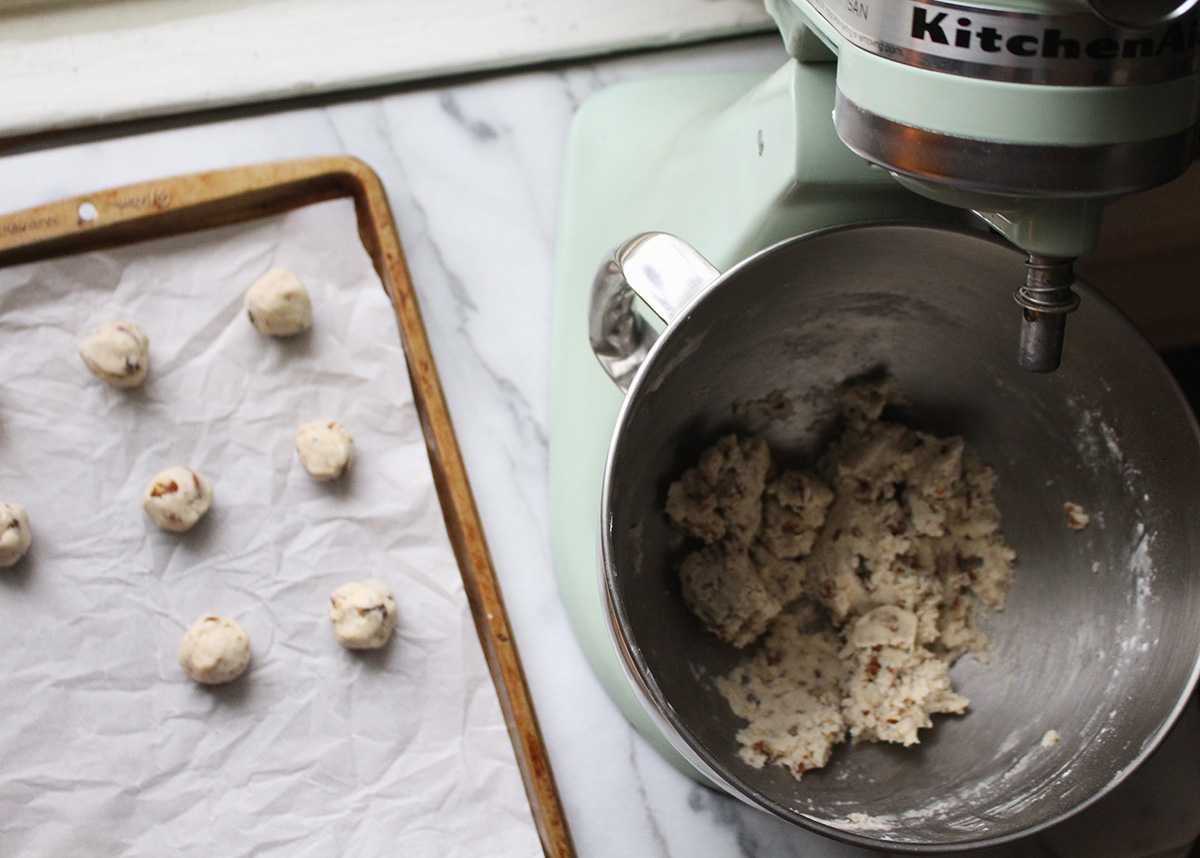 Leave a little space between the cookies for even cooking. They will not flatten out in cooking, so you don't need a ton of space.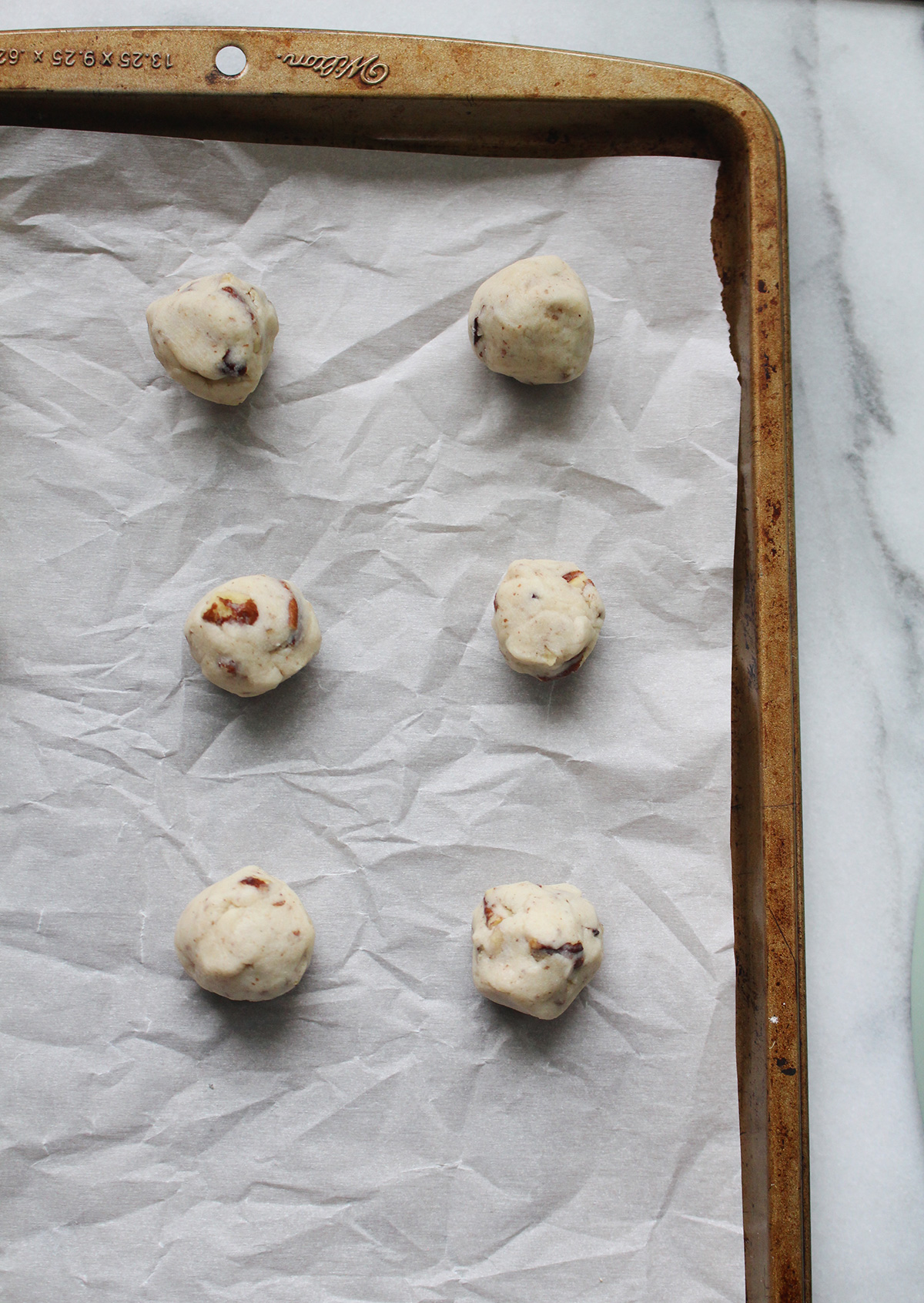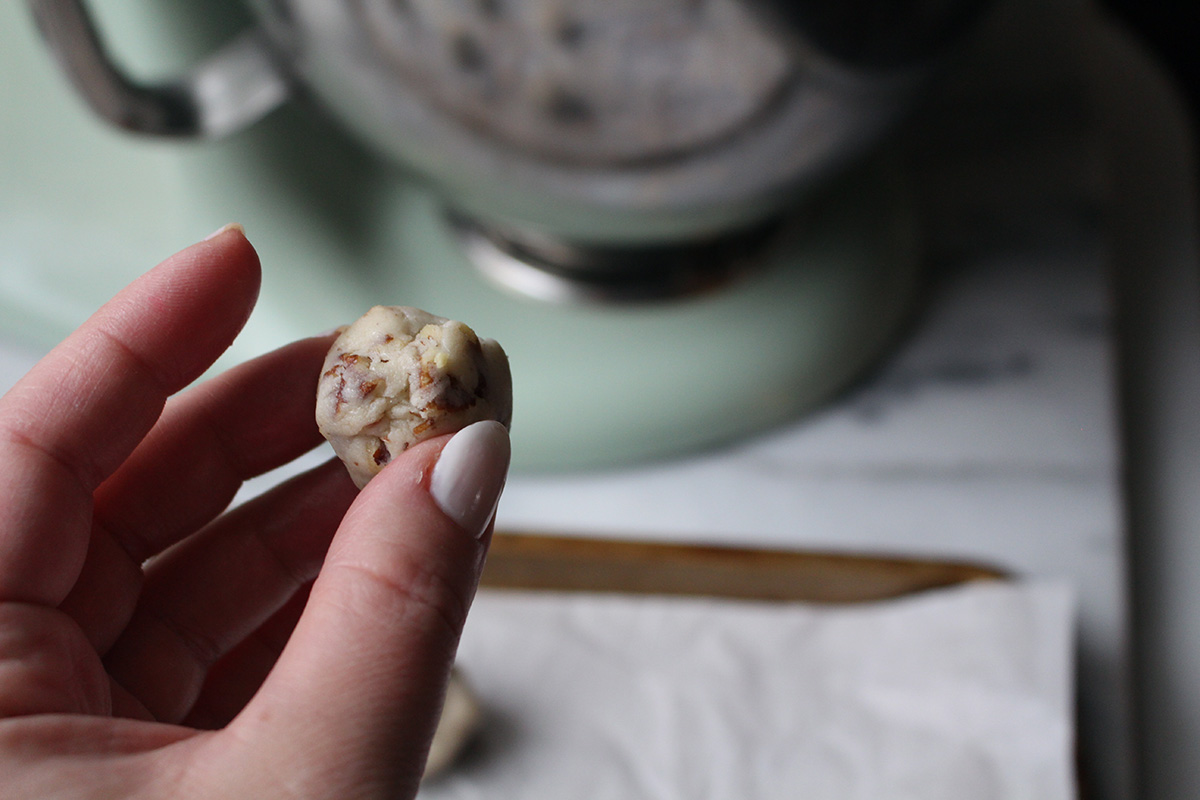 Bake in a 350°F oven for 11 minutes TOPS! The only trick to these cookies is to NOT over bake. They will be dry and crumbly if they are left in too long, so watch your time and temperature carefully.
When the cookies are just cool enough to touch, but still warm, place them into a bag with addtional confectioner sugar. Roll them around gently to coat in sugar and remove with a fork.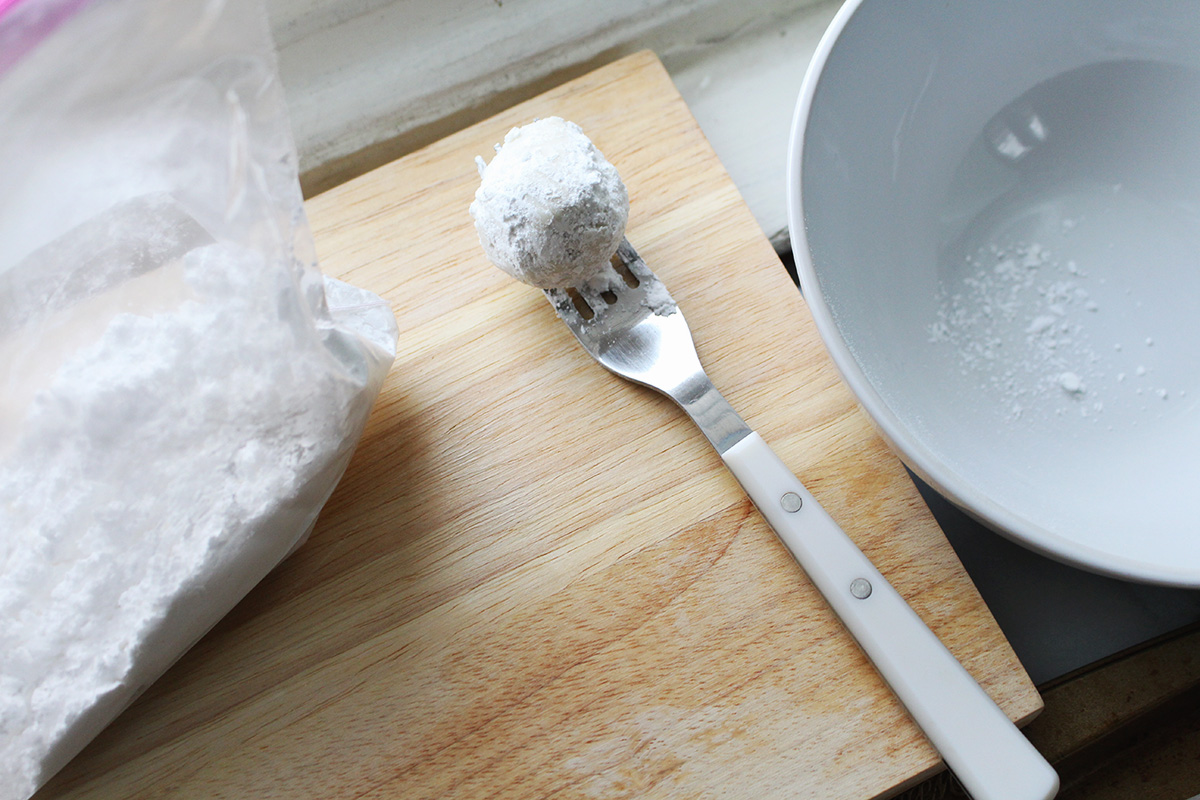 I like to tap the fork on the side of a bowl to remove excess clumps of sugar. This makes the cookies a little less messy to handle and eat.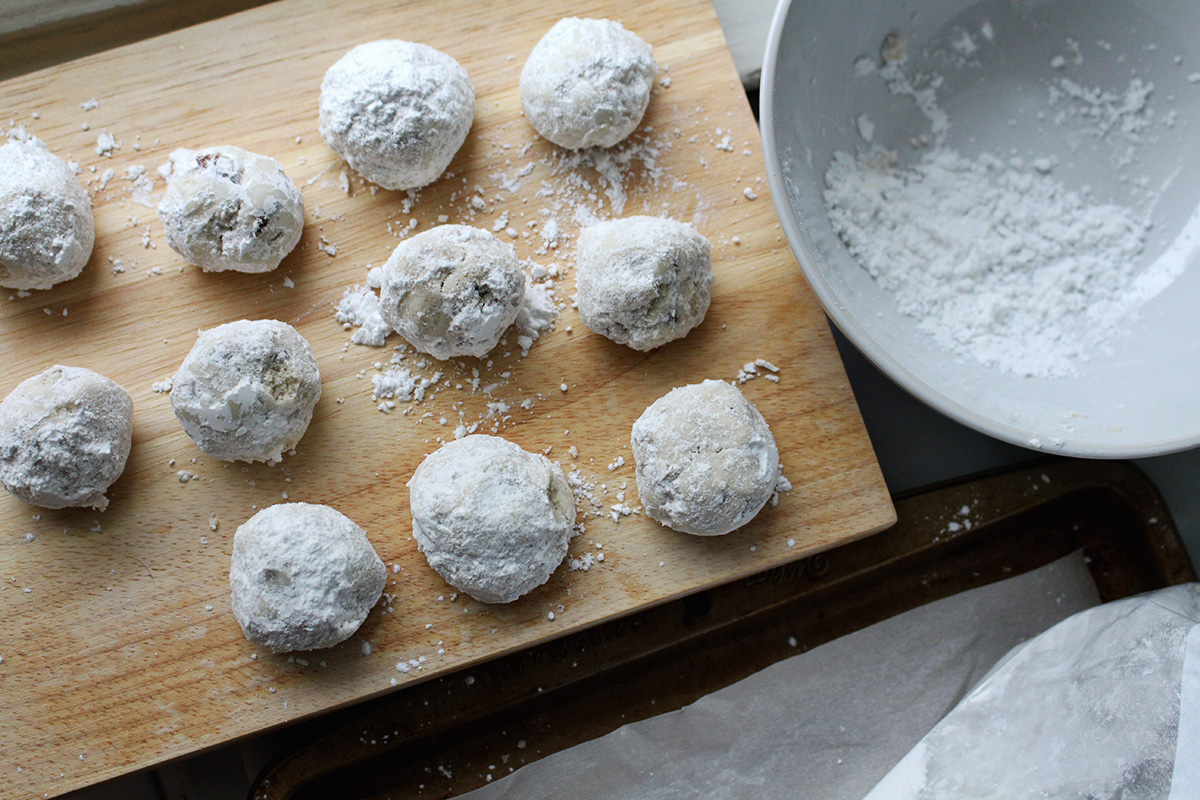 I love the rustic look of these little snowballs. They are so beautiful…so unfussy…so delicious!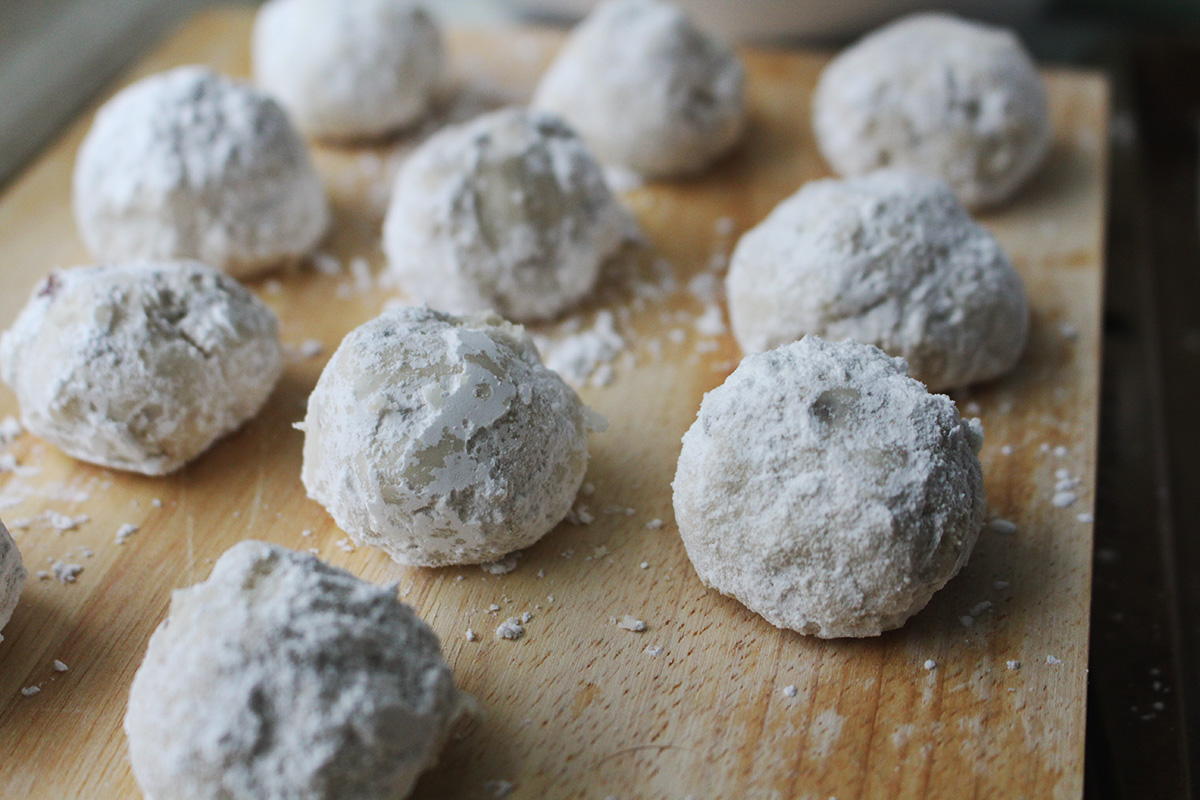 Recipe: 
1cup butter softened
1/2 cup confectioner/ powdered sugar
1/4 tsp salt
1 1/2 tsp. vanilla
2 1/4 cup flour (can also be made with GF flour)
1 cup chopped pecans
(1 cup confectioner/powdered sugar for dusting)
Instructions:
Preheat oven to 350°F
Cream butter and sugar together in a stand mixer
Turn mixer on low and add remaining ingredients
Roll dough into 1″balls
Place on parchementn lined baking sheet
Bake for 11 minutes (Do Not Over-bake!)
Remove from over and roll in confectioner sugar while warm
Shake off excess dust using a fork.
Share them with friends and family…freeze double bagged once completely cooled…or hoard them for yourself in your closet!
I  hope you give these super simple nostalgic treats a try. I will be adding this holiday recipe to my Keepsake Kitchen Diary. If you're not familiar with The Diary, it's the perfect way to preserve your favorite family recipes and the memories that go with them. This is certainly the perfect time of year to begin yours as many cherished recipes are sure to be shared!
Comment to let us know if you have a version of these treats that are made in your family! Merry Christmas and Happy Baking everyone!