Mother's Day is a great time to treat mom by taking her out for dinner or for a little pampering.  I have found over the years that I prefer to have my mom come to my home to celebrate Mother's Day! This gives a great opportunity to treat her to some delicious food in a menu selected to feature her favorite flavors, and we have so much more time to relax and visit as a family than we would if we were out at a restaurant. I know…it seems intimidating to cook for guests, especially if your mom is a great cook. If that's you… then I would definitely suggest trying this crustless quiche and host a delicious relaxing brunch for mom.
Quiche can be very easy if you pay attention to a few key things to get the texture right. By making a crustless quiche, you not only make the quiche a little more figure friendly, but you also take out one of the more complicated cooking components, CRUST! We can cover that in a future post…
Quiche is best when it is freshly baked. I suggest gathering, cleaning, and chopping all of your ingredients ahead of time so that you can assemble and bake your quiche about an hour ahead of when you want to eat.
A key to a good quiche texture is heavy whipping cream. Now, it's not low fat…but you just have to give in to this if you want to have a nice custard-like texture to your eggs. Worth it!
Some recipes will cut the cream with half & half or whole milk, but honestly, I find that I can use less dairy and achieve a better flavor with just heavy whipping cream.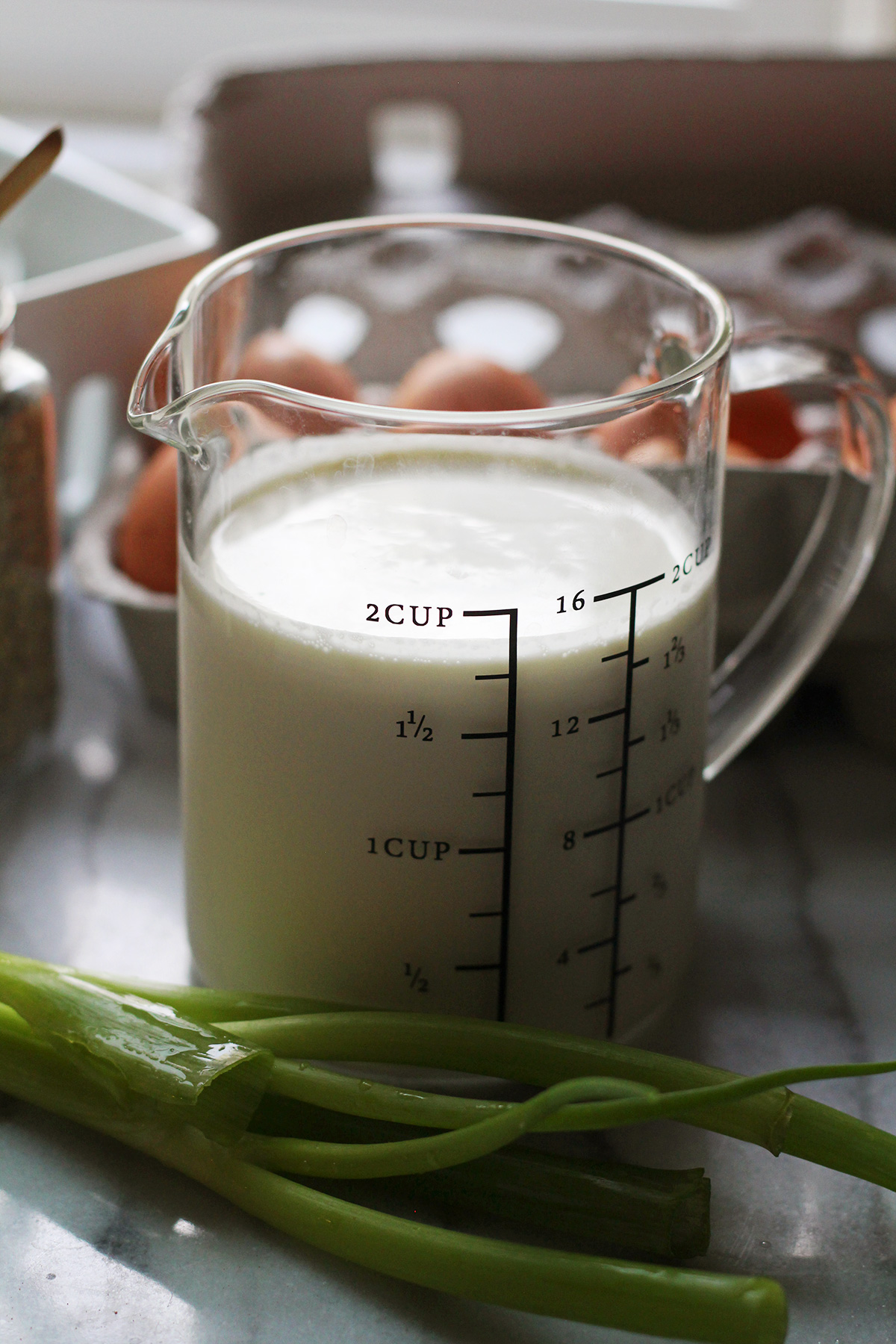 The beauty of quiche is that once you have the eggs & cream, the sky's the limit on your other ingredients. You could make quiche with any spices, greens, veggies, or even bacon or ham. Cheese is another versatile and vital component to a good quiche. Any melting cheese will do.
For this quiche, I chose to use manchego cheese. This cheese is very popular in Spain, but is also easy to find at your local grocery. I love the soft texture, light flavor, and it goes perfectly with the bitter arugula and little kick of heat that I added with the cayenne pepper. The other flavors in this dish come from Herb de Provence, garlic, salt, black pepper, and fresh chives.
If you choose to use any other vegetables or onion types, you will want to sauté them before adding them to your egg mixture. The ingredients in this recipe are all very delicate and cook nicely inside the quiche.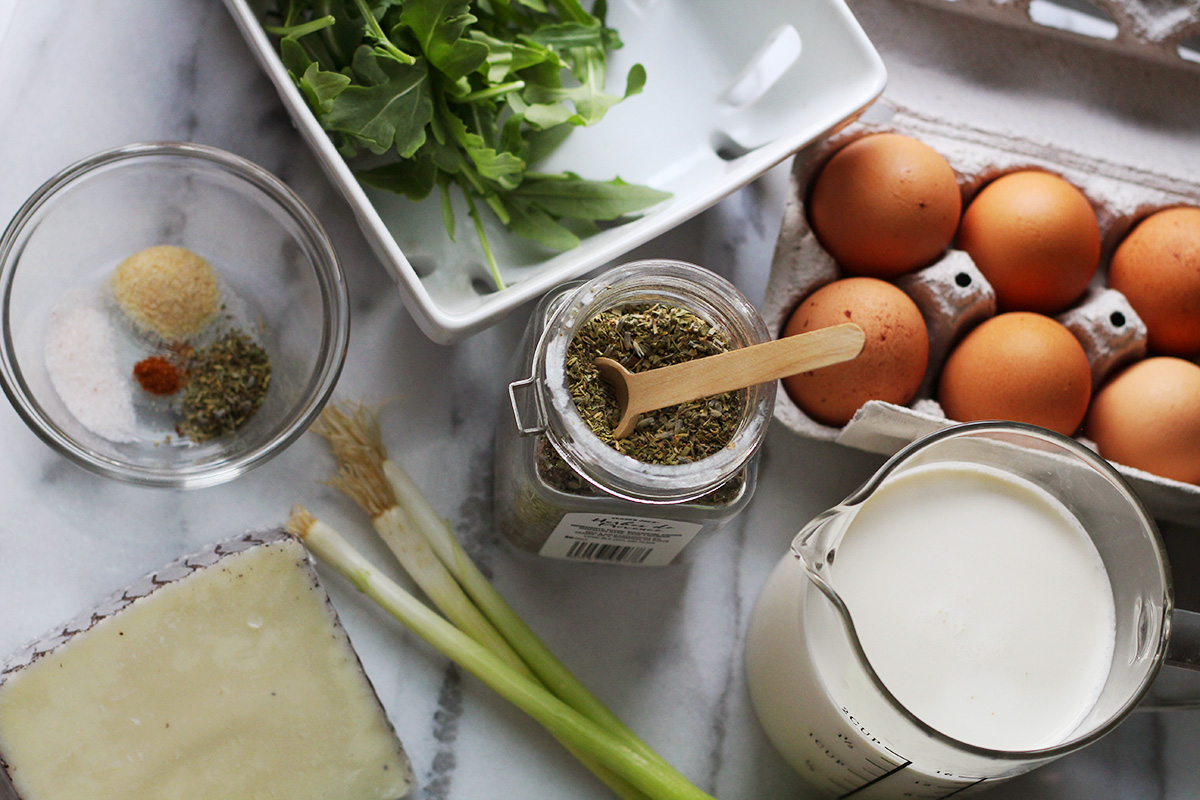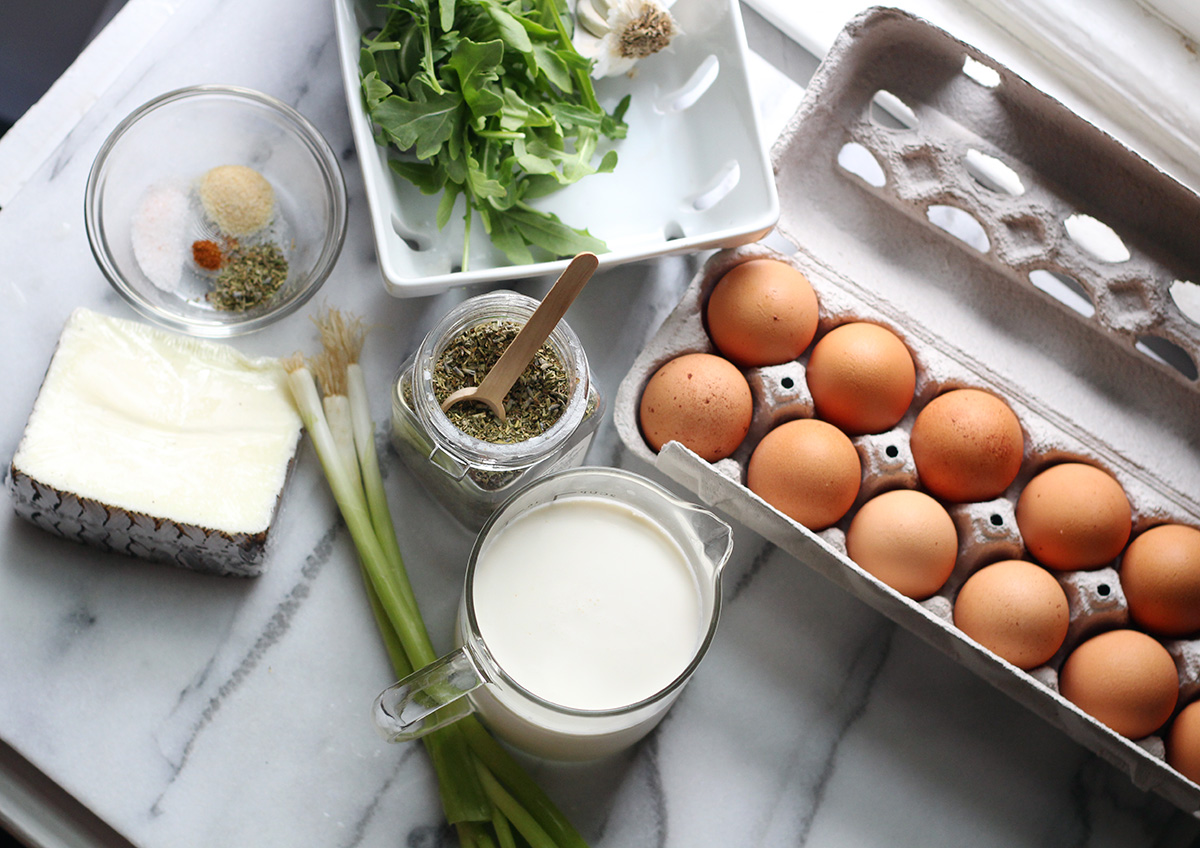 Herb de Provence is one of my favorite spice medleys. It's just so versatile and user-friendly! The mix is commonly found in French dishes and consists of the following herbs:
thyme
marjoram
rosemary
basil
sage
lavender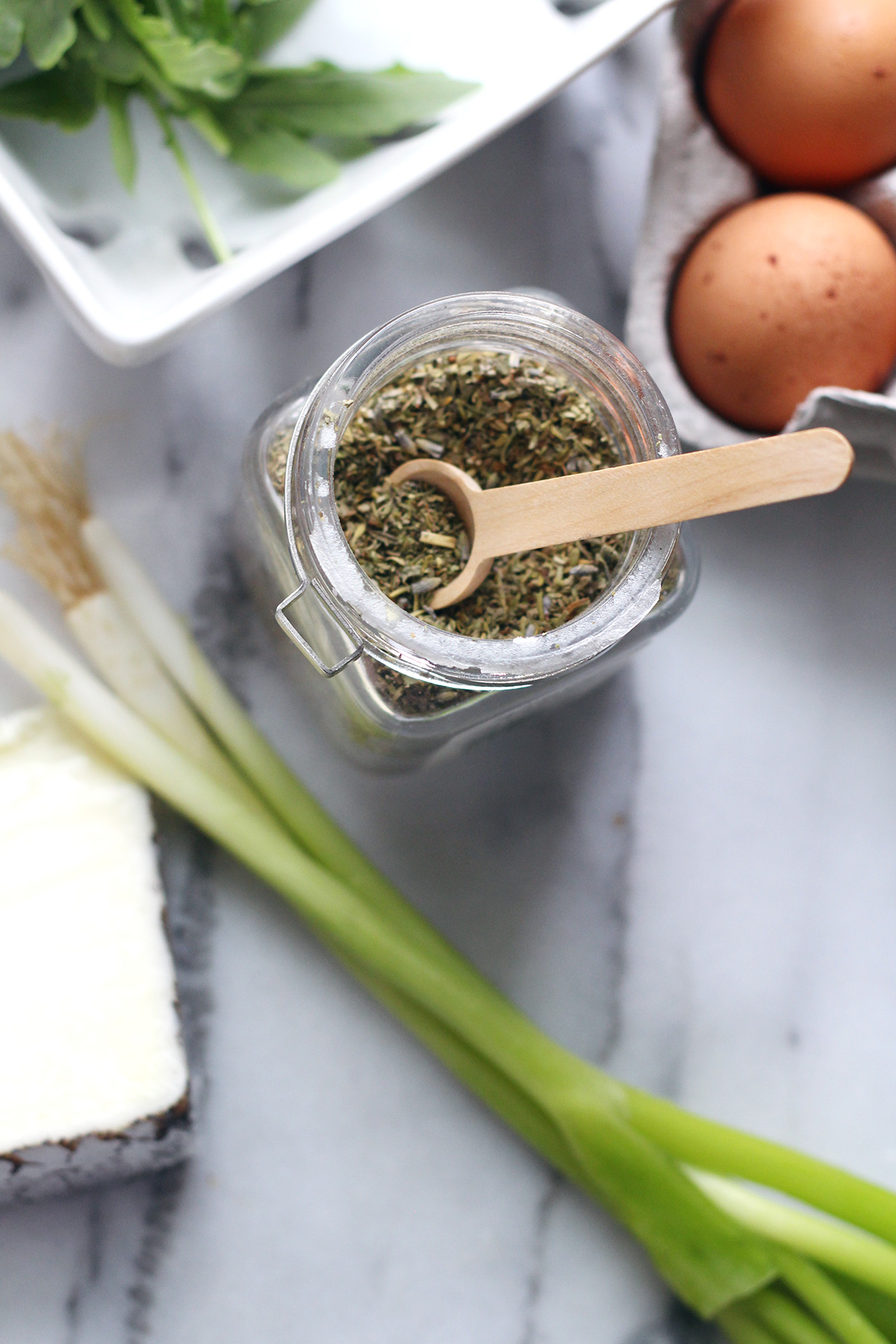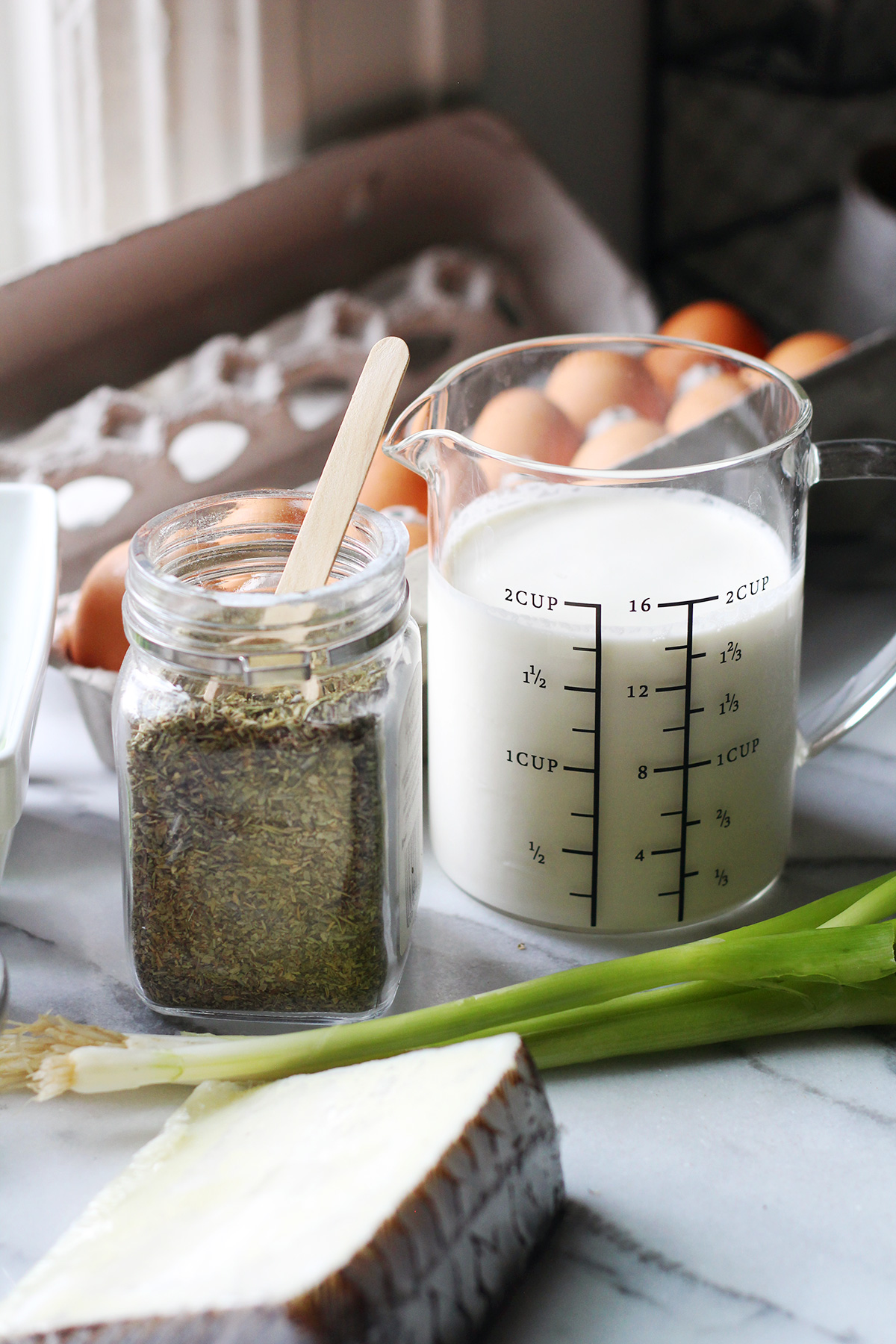 A quiche has a lot of eggs…so this is a great time to teach your kids (husbands, siblings, neighbors etc.)  how to crack eggs!
Just a little tip: Always crack eggs into a small separate bowl and then add them to your mixing bowl one at a time. This helps a lot if you have a bad egg in the mix or drop some shell in the in there… it's a lot easier to remove from one egg than from 10!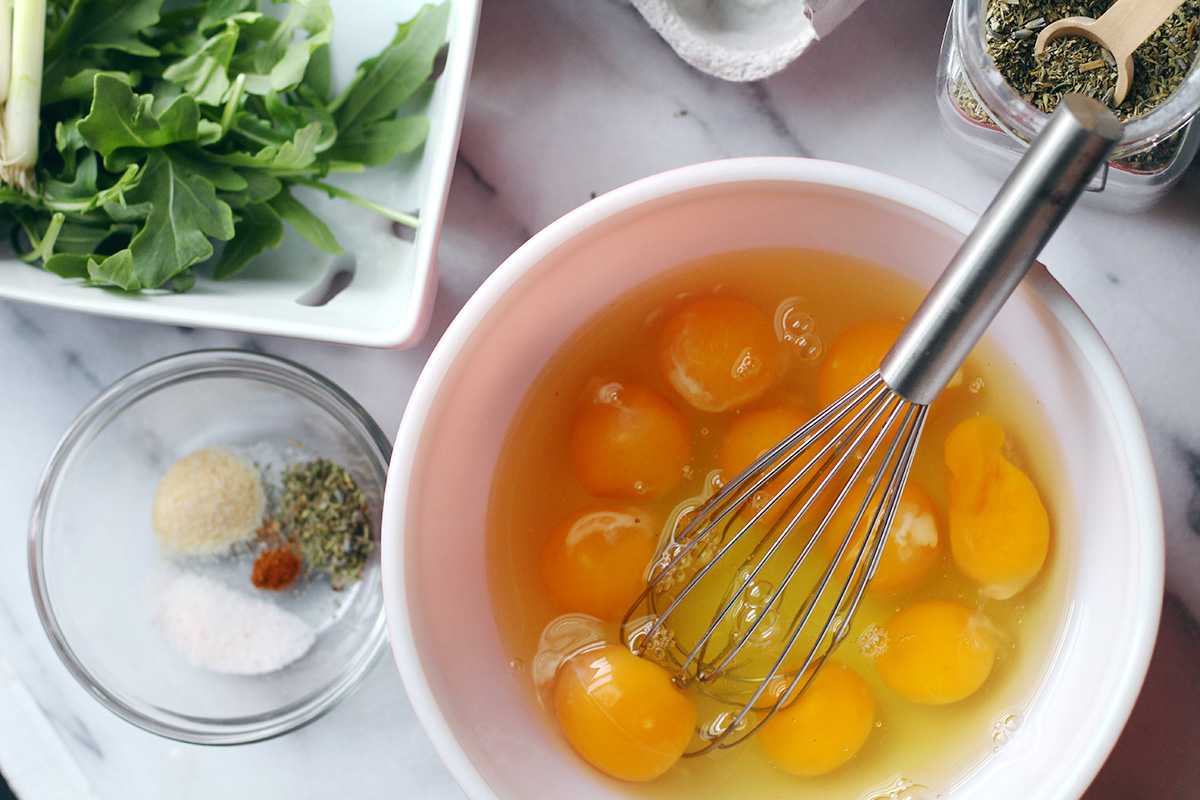 After you have cracked all those eggs whisk in just a little bit of the whipping cream until all of the eggs are beaten together.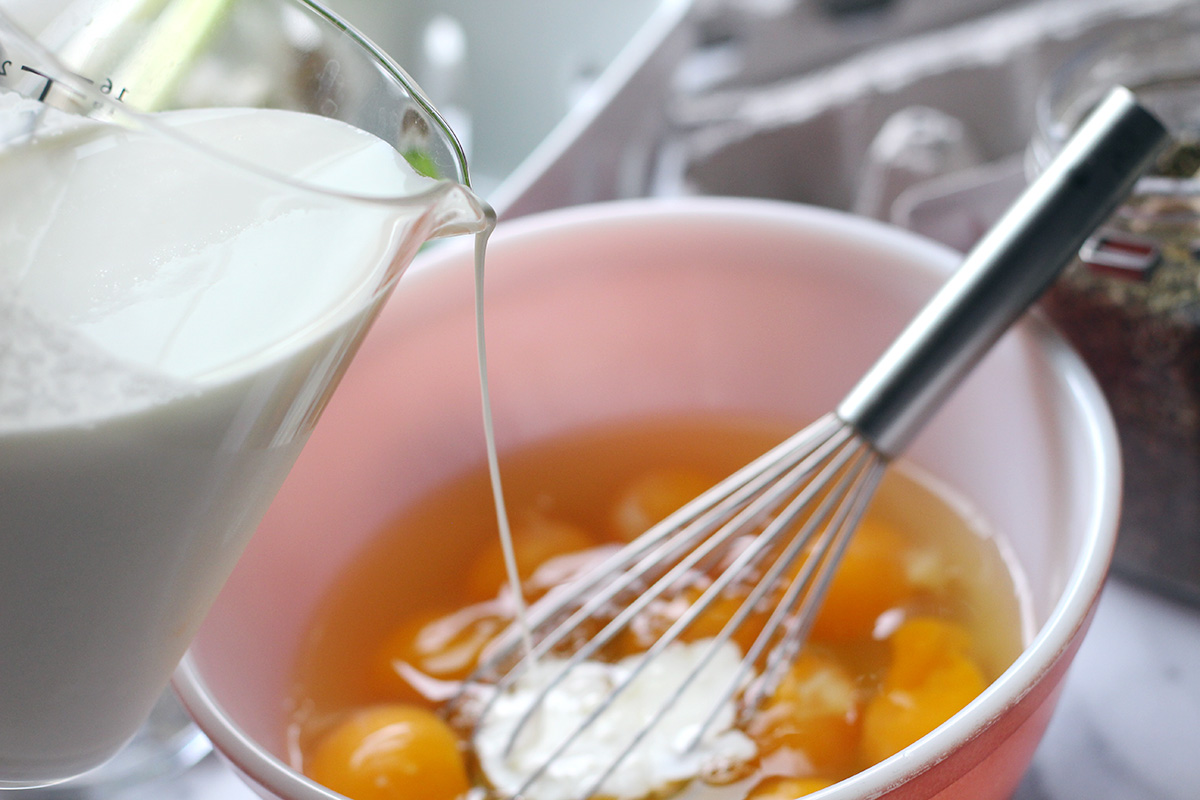 Now add the rest of your cream and continue to whisk until you see these little bubbles form on the top of your mixture. This process creates pockets of air that will give your quiche that perfect texture.
Next, whisk in all of your herbs and spices.
Dice your cheese and green onions into small/medium size pieces.
Loosely chop your arugula as well. This prevents springy pieces of greens from developing in your quiche.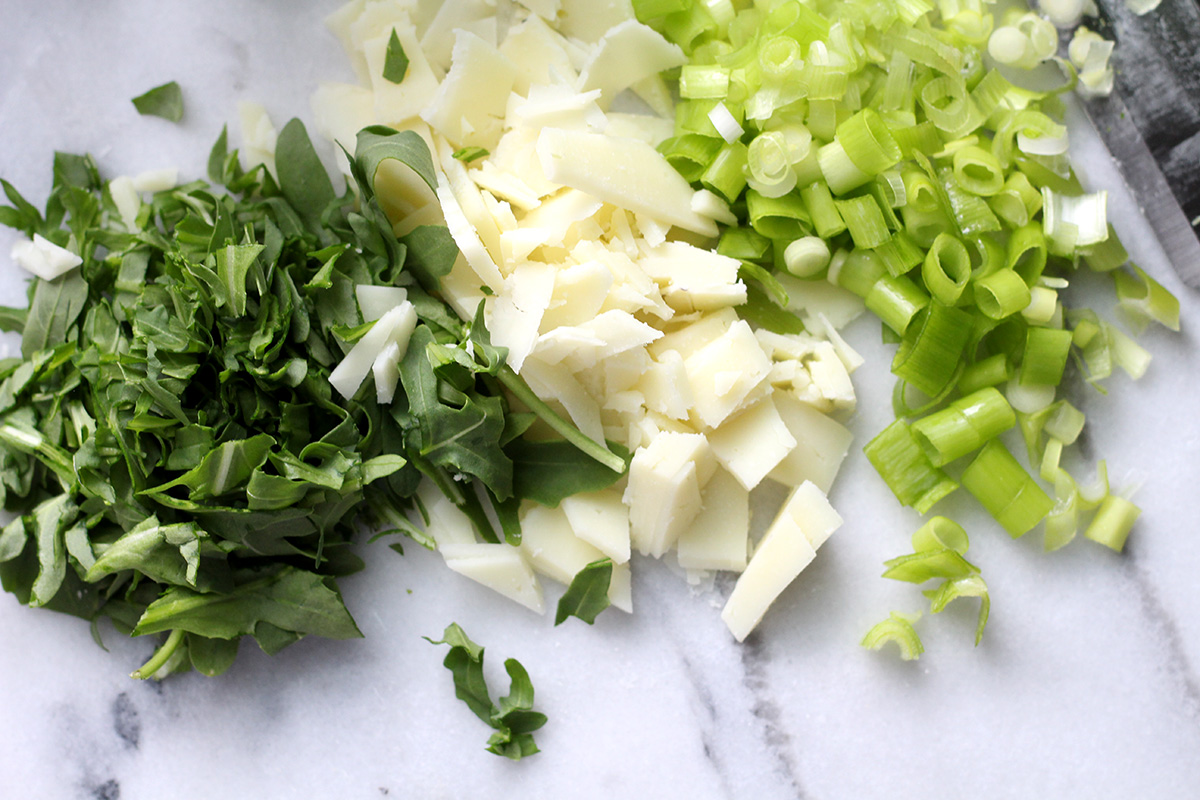 Whisk all ingredients together well.
Put some olive oil in your pie place and make sure to spread it around all the way up the sides. This will prevent the eggs from sticking without a crust.
Pour your mixture into your pie plate.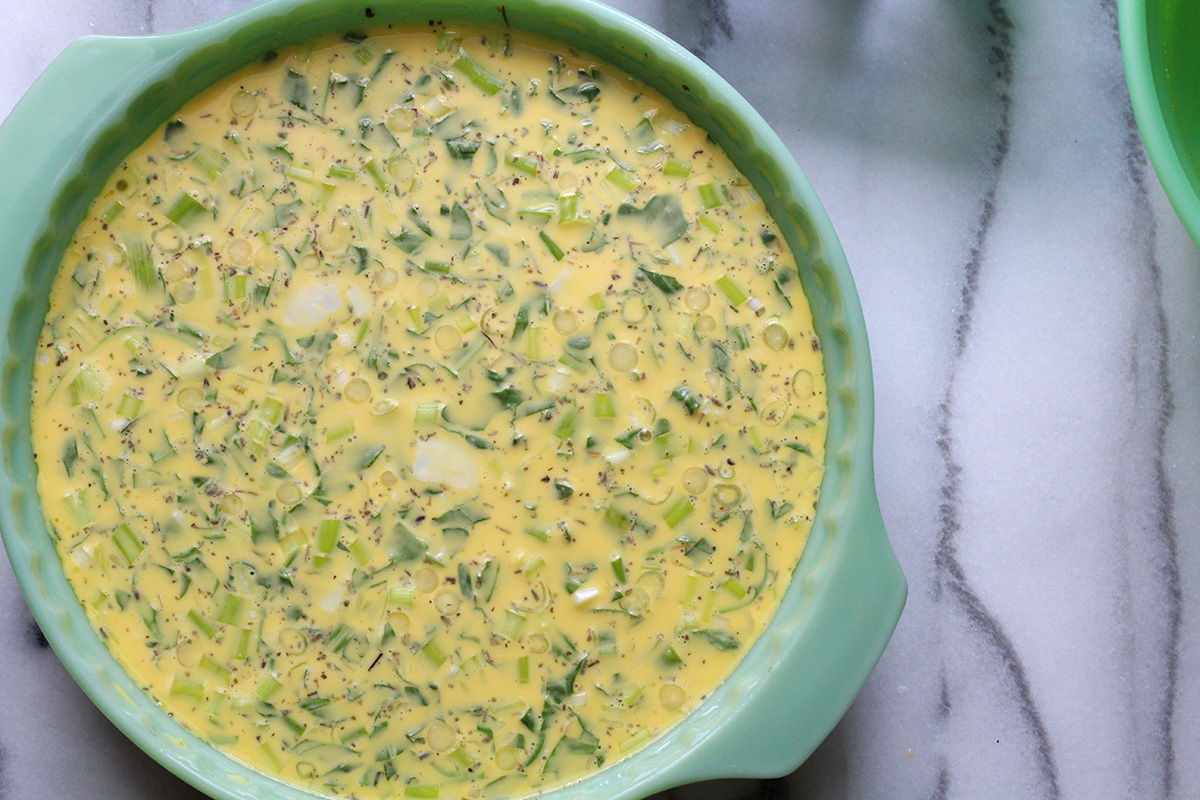 Place the quiche into a preheated oven on the middle rack. This is important for even cooking. Bake for 20 minutes. After 20 min check the quiche every 10 minutes. It will puff up a bit in the oven, and the edges should turn slightly brown. you will know the quiche is complete when the center is no longer jiggly and set slightly.
Watching a quiche closely is very important, as eggs can go from raw to overcooked in a matter of a couple minutes. So keep watch, and you will have a beautifully cooked quiche to present to your guests!
Let the quiche stand for about 10 minutes before cutting and serving. you may notice that the quiche will deflate in this time slightly. That is ok. The texture will be perfect!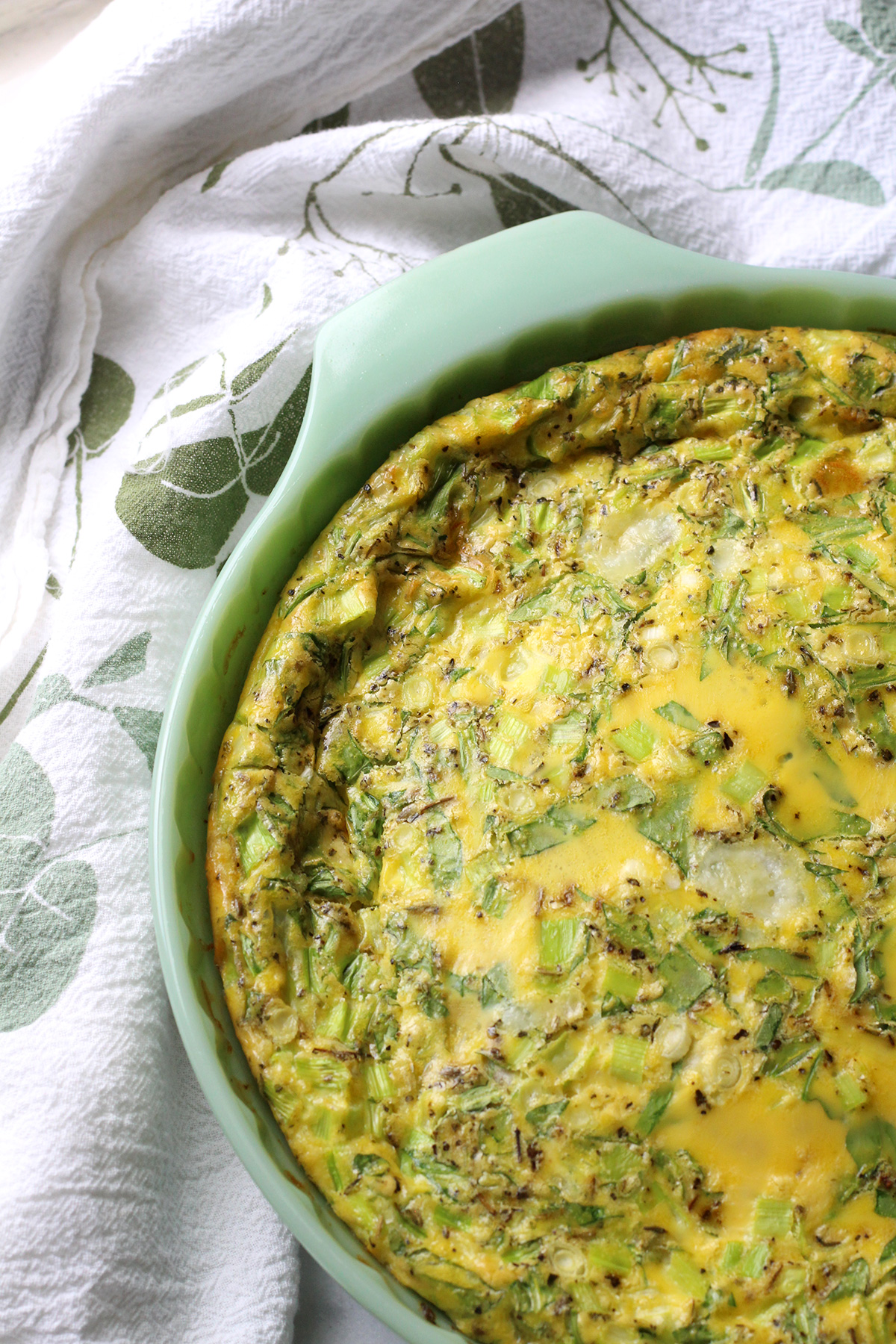 Look at that smooth creamy texture…and those bubbles! So light and airy!
This quiche is rich and creamy. I love to serve it with a little dollop of crème fraiche with black pepper as well as a little salad of your favorite greens.
Here I made a little mache rosette salad with oil, balsamic, and more fresh black pepper. A little salad adds the perfect balance of freshness to this dish.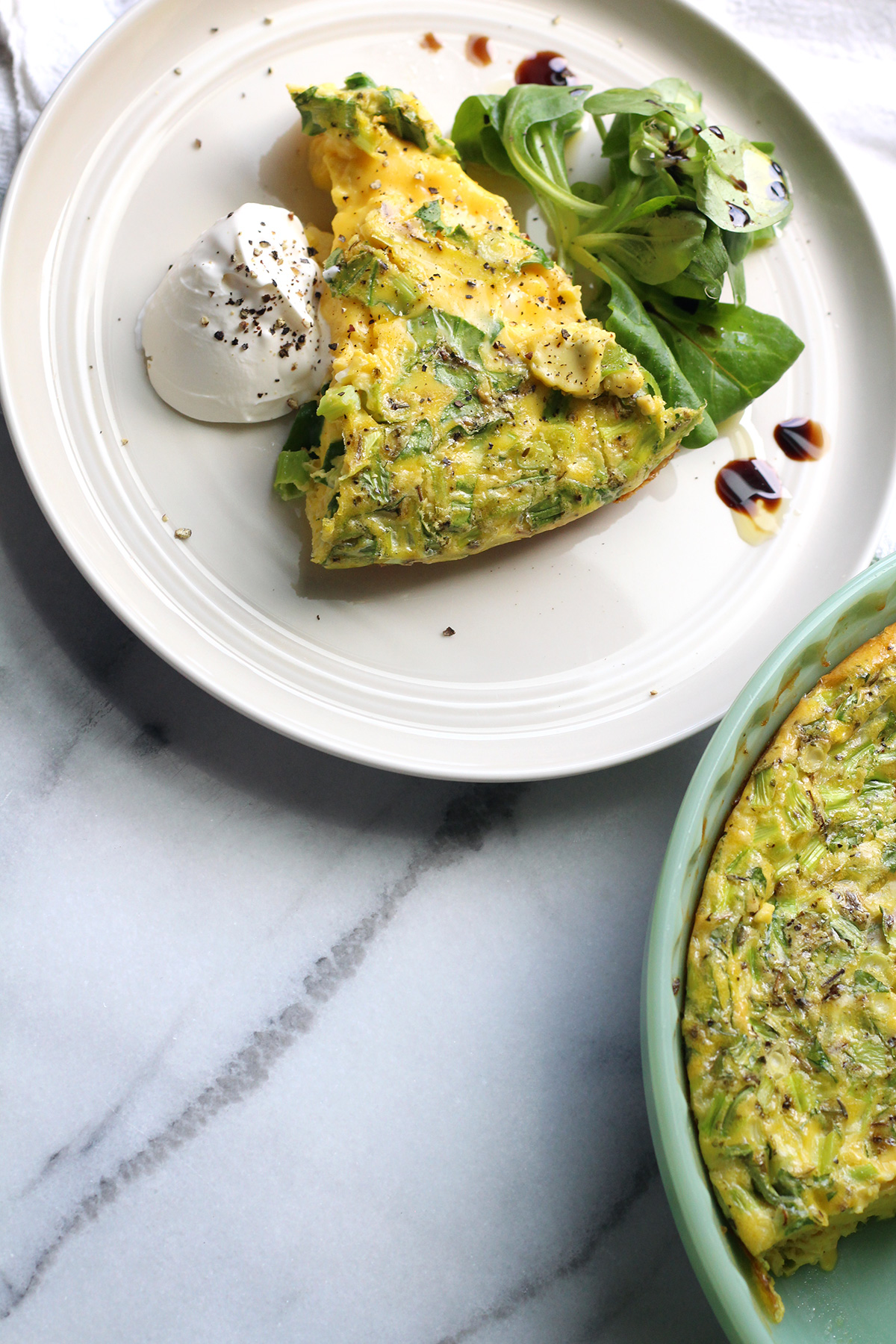 I hope the special ladies in your life love your quiche! I know your momma is gonna be proud!
This is definitely a recipe you'll want to add to your Keepsake Kitchen Diary too!
Happy Mother's Day!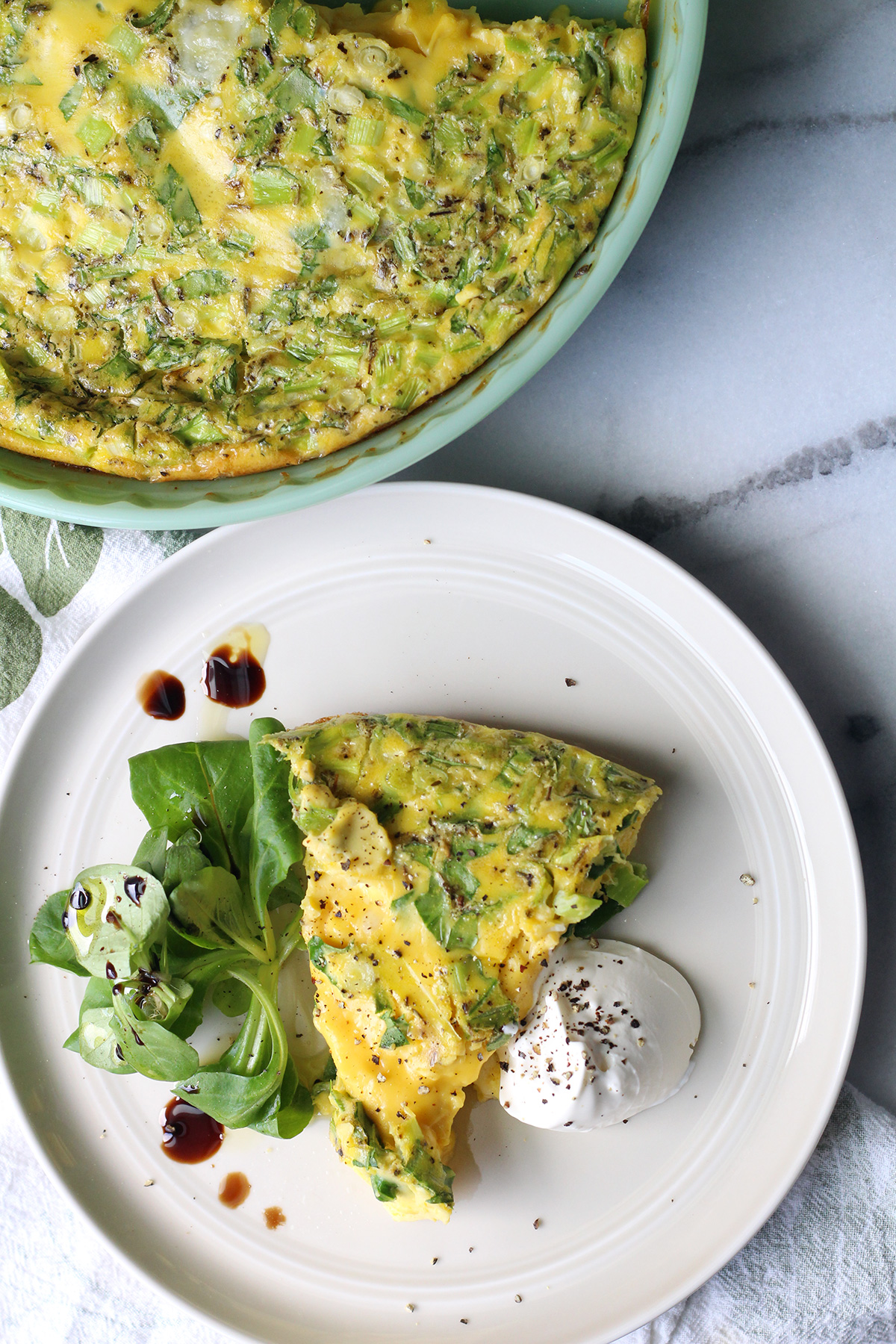 Crustless Quiche
Ingredients:
10 eggs
6 oz heavy whipping cream
1/2 tsp salt
1/4 tsp garlic or 1 clove minced
1/4 tsp herb de provence
dash of cayenne pepper
fresh ground black pepper to taste
3 green onions diced
1/2 cup arugula or spinach
1/2 cup diced manchego cheese
Directions:
Preheat oven to 350°F
Place oven rack in the middle of the oven
Oil Pie plate
Whisk together eggs and cream until frothy
Add spices and whisk
Add greens , onions, and cheese. Whisk.
Pour mixture into greased pie plate.
Place quiche in the middle of the oven
Bake for 20 minutes. Check every 10 minutes or less until the center of the quiche is set slightly and the edges are slightly beginning to brown.
Let stand 10 minutes before cutting.
Enjoy!