This recipe spread Valerie crafted is my very favorite page that can be found in her own Keepsake Kitchen Diary. What really made it special was the way in which she created it – humming a little and with a concentrated look, anyone could see that Valerie was creating without a plan. The page ended up being an expression of herself (bright and free!) because she let the design be a source of joy instead of anxiety. Amazing things happen when you let yourself BE yourself.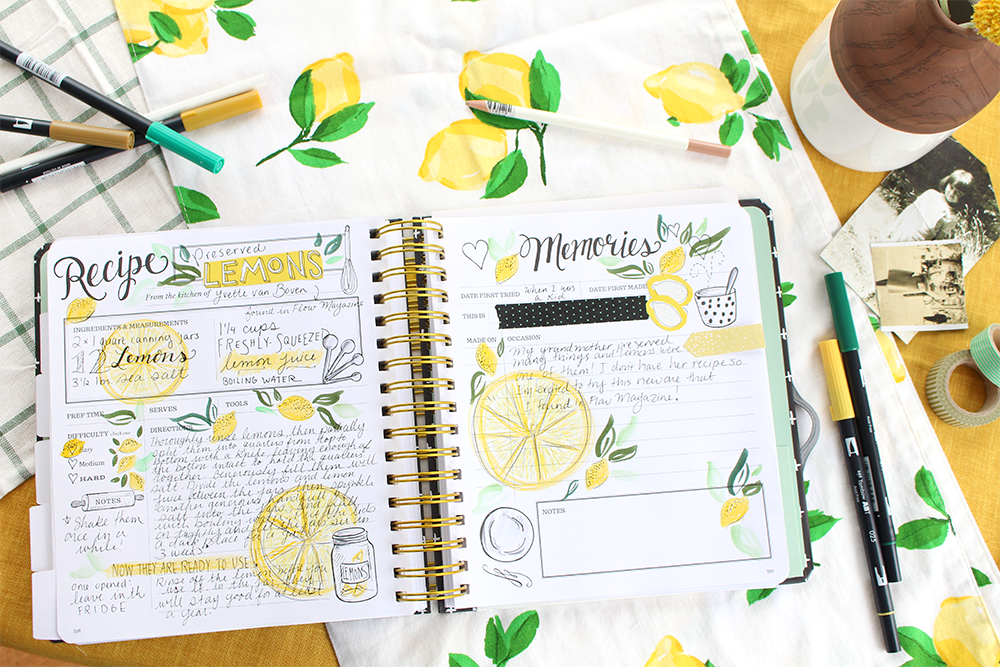 Tools used to craft this spread included:
Colored pencils, tombow dual brush pens to draw the small lemons, a micron pen to write in the recipe. and magazine clippings (We love using old copies of Flow Magazine. It's filled with endless opportunities for gorgeous cut-outs)! With a recipe from Yvette van Boven's book Home Made Summer, we hope this latest Kitchen Diary spread and accompanying recipe brings you inspiration and a smile.
Yvette van Boven's Preserved Lemons
Ingredients:
– 2 one-quart canning jars
– 12 lemons
– 3 1/2 lbs. sea salt
– 1/4 cup freshly-squeezed lemon juice
– Boiling Water
Directions:
1) Thoroughly rinse lemons
2) Partially split them into quarters from top to bottom with a knife. Leave enough of the bottom intact to hold the quarters together
3) Generously fill lemons with sea salt
4) Divide the lemons and lemon juice between two jars, then sprinkle another generous handful of salt into the jars
5) Fill jar mixture with boiling water.
6) Put the jar lids on tightly and let the them sit in a dark place for a good 3 weeks. Shake the jars a bit every few days to keep a good mix. (Allow to sit for up to 6 weeks if using for vinaigrette and pan sauce recipes.
7) NOW they are ready to use! Rinse off the lemons before you use them. In the jar, they will stay good for at least a year. Once opened, leave in the fridge.
Need ways to use your new preserves? We found these uses for lemon preserves to be a nice guide. Looking to begin creating your own recipe-memory book? Grab the Keepsake Kitchen Diary here.