The phrase"gluten free" makes me cringe. Why would one remove the very item that makes everything so darn good (besides butter)? Steadfast in my preconception, I arrive at my first day on the Lily & Val team. This team is very special for a slew of reasons, but most noteworthy is that many of them are gluten intolerant (AH!). Imagine my horror when I could not use my best confectionary delights to bribe their affections! Enter – the ultimate gluten free chocolate chip cookie recipe.
The Awakening
The McKeehan's (Valerie and Mak, owners of L&V) arrived with a suspiciously large bag of cookies one morning. I mean, 2 gallon zippy bag large. Mak brushed this off as an excuse for experimenting with the new chalk recipe print for chocolate cookies: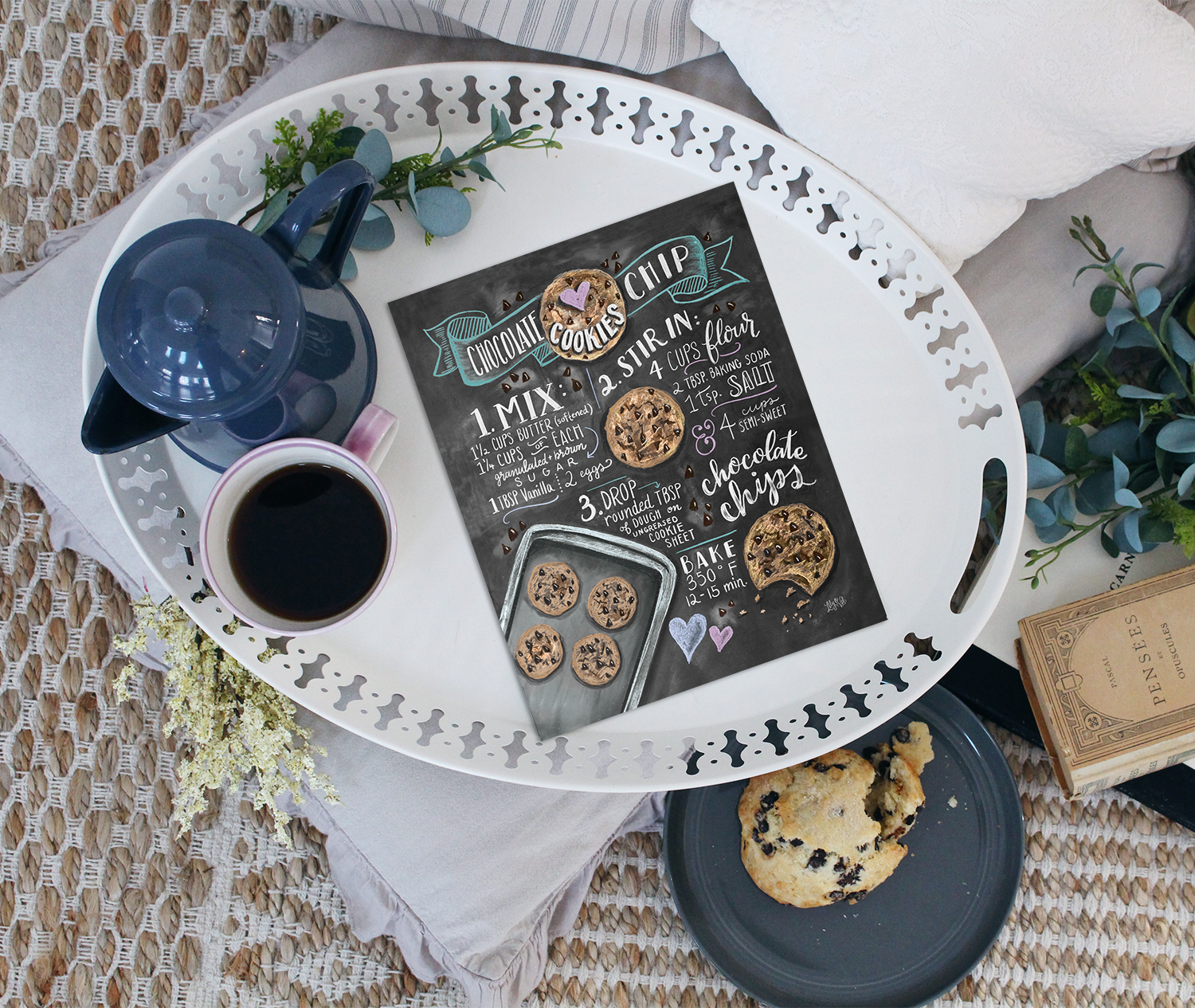 Oblivious, I ate one. Then another. And another. These were incredible! What was the secret recipe? "The lack of gluten….and some tweaks," was my answer. Valerie & Mak had years of practice experimenting with gluten free concoctions before they were widely available in bakeries and stores – and it showed! I liked this cookie. No…loved this cookie. And without further ado, here is the recipe – tips, tricks and all!
The Ultimate Gluten Free Chocolate Chip Cookie Recipe
C O M B I N E :
– 1 1/2 cups of butter
– 1 tbsp. vanilla
– 2 eggs
– 1 1/4 cup granulated sugar (If you prefer flat, chewy cookies, use all granulated sugar instead of brown sugar)
– 1 1/4 cup brown sugar (for thicker, softer cookies, use all brown sugar instead of granulated sugar)
S T I R  I N :
– 4 cups Better Batter flour substitute
– 2 tbsp. baking soda
– 1 tsp. salt (to optimize a salty sweet combo, add another 1/2 tsp of salt)
– 4 cups semi-sweet chocolate chips
B A K E :
Drop rounded tbsp of cookie dough onto baking sheet. Bake at 350 degrees for 12-15 minutes.
W R I T E :
Write down the recipe in your Keepsake Kitchen Diary! Shown below, the Kitchen Diary is currently available for pre-order for arrival before Mother's Day.
Enjoy! What are your favorite add-in's for chocolate chip cookies? Tell us in the comments below!