This holiday season, many Keepsake Kitchen Diaries will be making their way under the tree and given as gifts. I love making gifts even more special by wrapping them in pretty ways. So for today's post, we came up with 4 kitchen-themed gift wrapping ideas that are perfectly suited for giving a Keepsake Kitchen Diary!
1. Everything spice:
This wrapping idea is rustic for the holidays and the spices & herbs give it a clear kitchen theme. Plain kraft paper is used for the wrapping and it's tied it up with red baker's twine. Fill a small, clear glass ornament with whole cloves and attach it to the center of the twine. Use cinnamon sticks and rosemary sprigs to decorate the package. Forgo the gift tag, and brush letter the recipient's name right on the wrapping!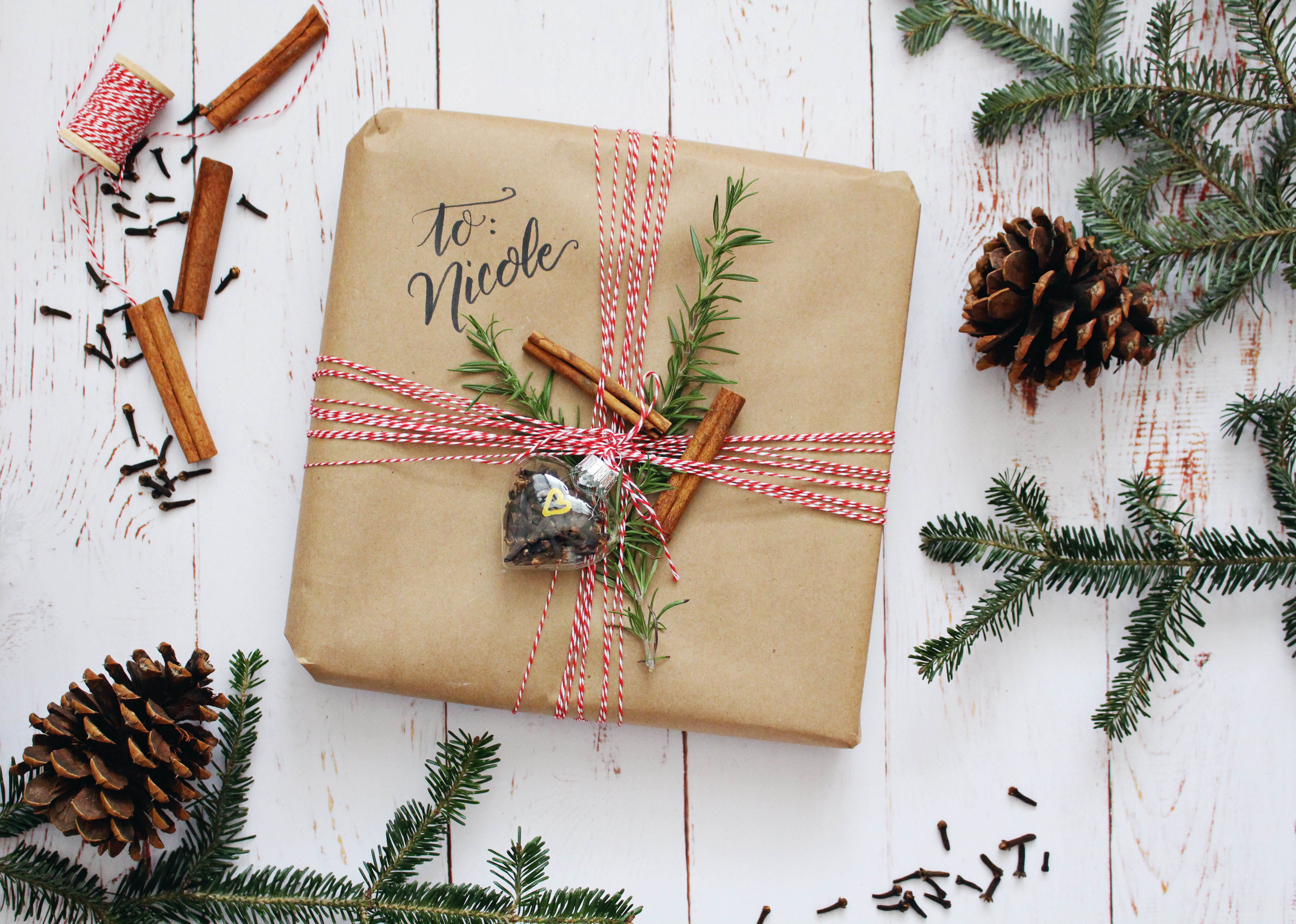 2. Elegant Metallic
This idea started with a silver Christmas tree cookie cutter. Since one of my favorite color combinations is rose gold & silver, the metallic paper and cookie cutter worked perfectly together. The frayed edges of the ivory ribbon reminded me of kitchen linens or napkins. To finish it off, the gift tag is made from white cardstock and drawn with metallic gel pens.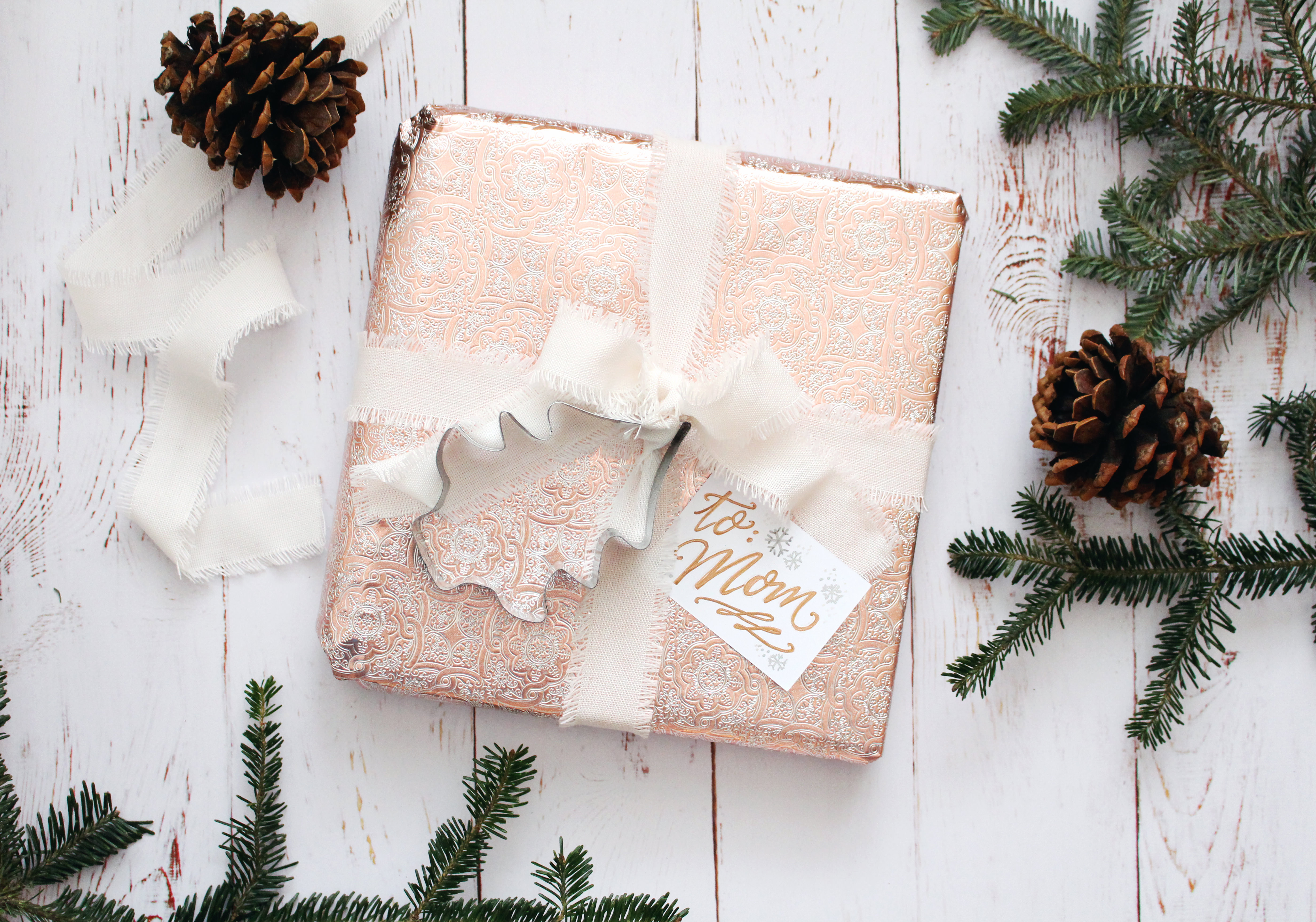 3. Kitchen tools 
For this idea, the wrapping is another gift in itself! Use a tea towel to wrap your Kitchen Diary. I used one from Anthropologie because it looked festive, but could be used all year round. Wrap it as if you were using regular wrapping paper, but fold the sides in to the front. Use baker's twine to snuggly wrap the gift, keeping the towel folded and in place. A color-coordinated spatula looks nice tucked into the twine in the center of the package. I also finished it off with this adorable holiday gift tag by Holly Nichols Illustration (available as a download here.) Some of you will be giving your Kitchen Diary already filled out with precious recipes, so the "from the kitchen" tag is perfect.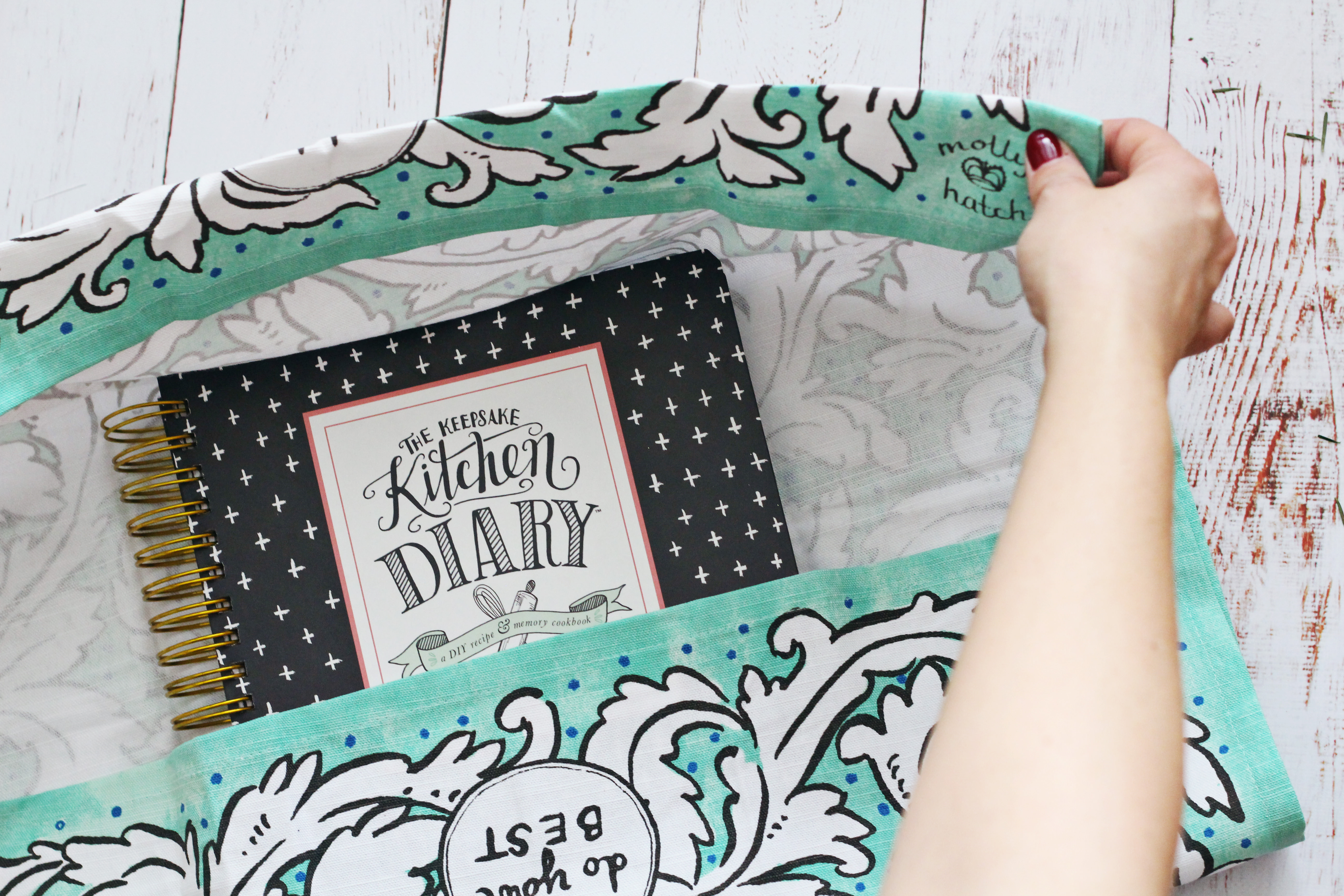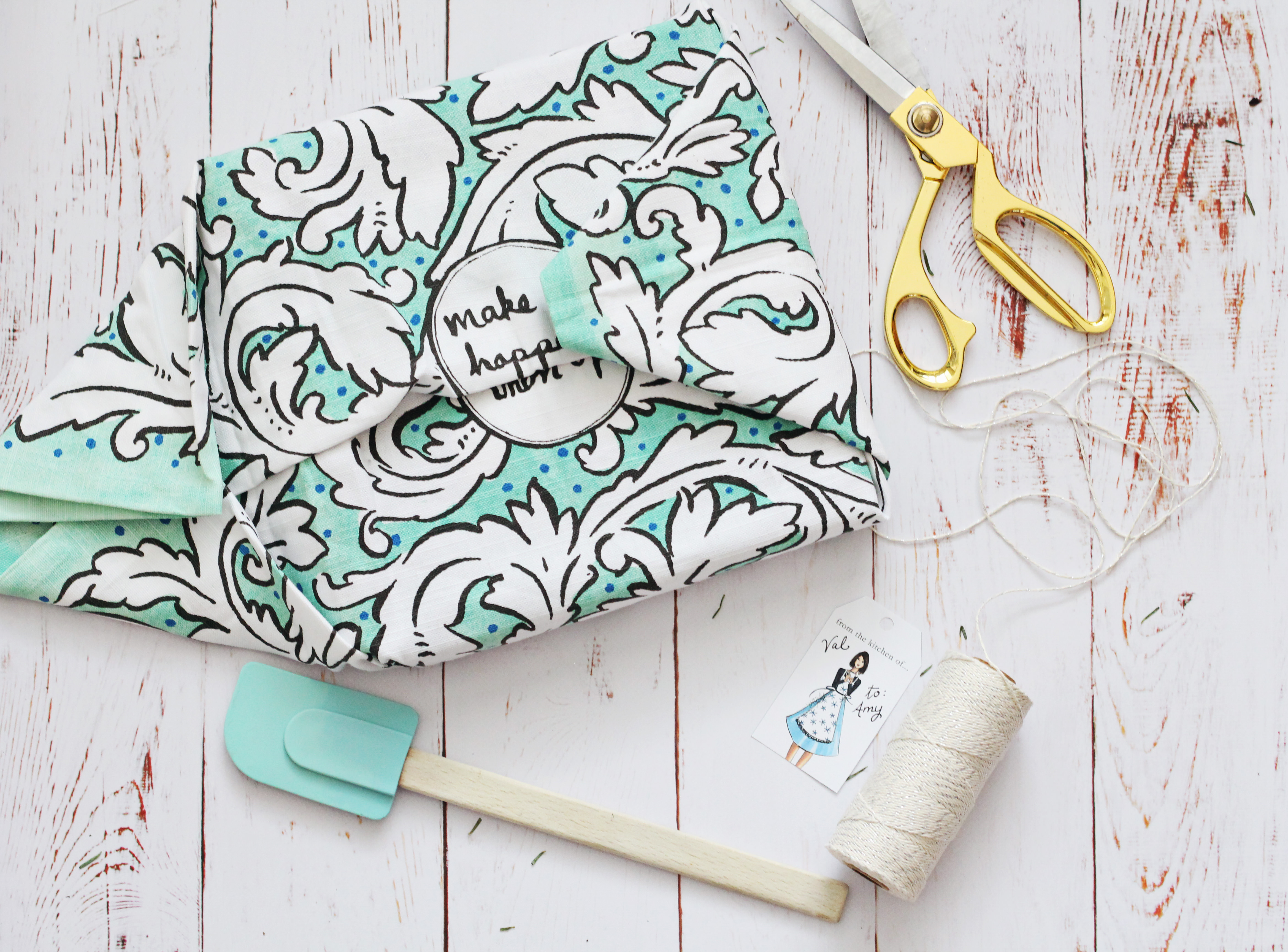 4. Heirloom Ornament:
A gorgeous, kitchen-themed ornament is the star of the show in this gift wrap. I fell in love with the pink Kitchenaid mixer ornament from Brit + Co and wrapped the gift in coordinated paper, ribbon, and bows. The gift tag was created with a strip of kraft paper cut like a banner, drawn with a white gel pen, and taped to the packaged.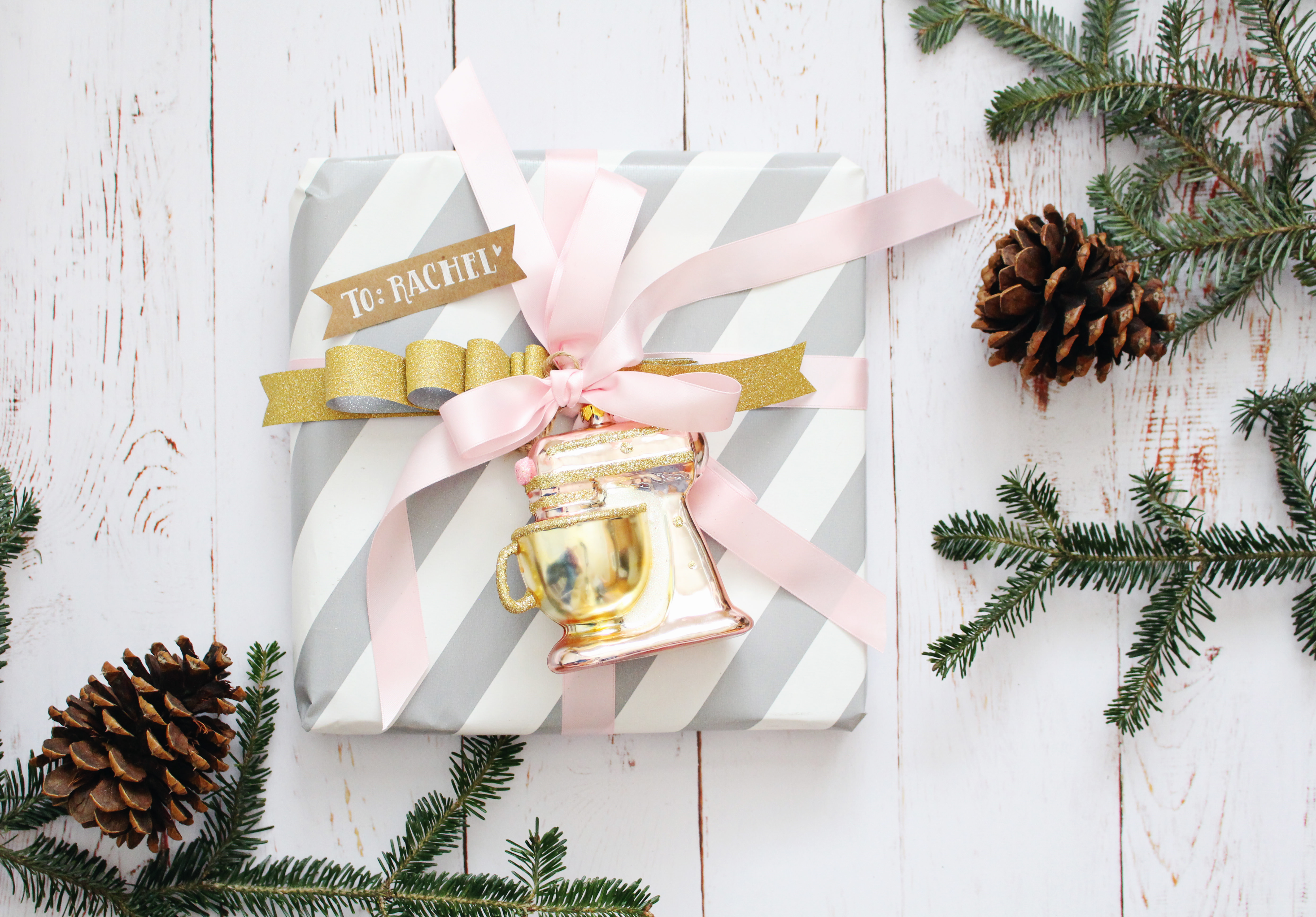 I hope these kitchen gift wrap ideas inspire you!