March brings a whirlwind of exciting things for us this year – the release of our 2017 Spring Collection is tomorrow (eeeeee!), our first rounds of Chalk Lettering Workshops begin at the Flagship Store (see our list of available workshops here), and the rest you'll have to wait and see! Though we've been busy tinkering away with new projects, we still made time to drum up this free March to do list download for you – it includes a "Be Green" attitude with a sprinkle of spring.
In addition to our monthly desktop background, we have this free download for you as well. Print out the list, hang it in plain view, and check off the to-do's as you go through the month!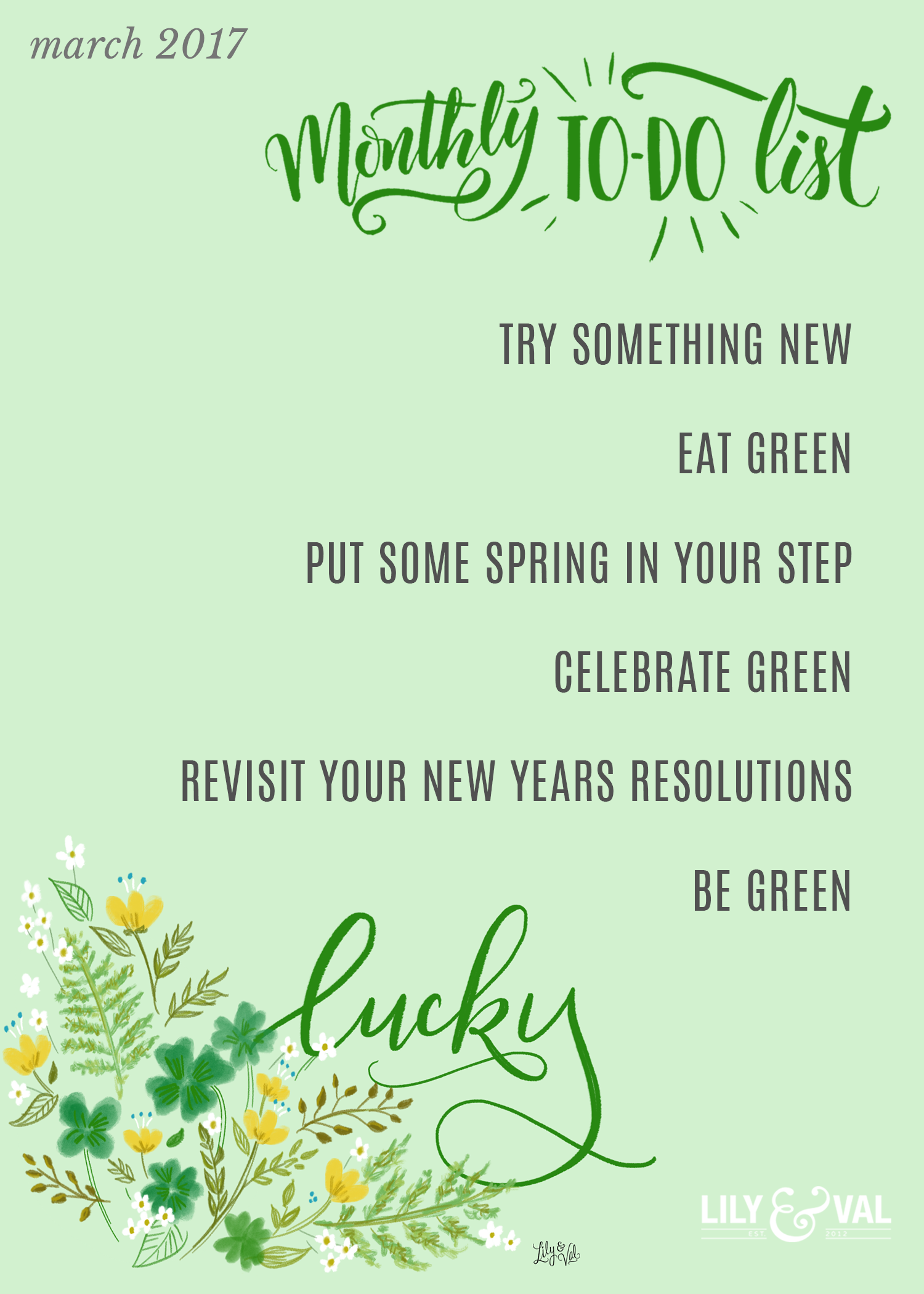 To help you check off these March to do list ideas, here are a few tips:
Try something new – dive into a new adventure, or hobby, or food choice! A new experience means 0 pressure or expectation, so you can simply enjoy the ride. For example, at Lily & Val Flagship Store we are trying our new on-site Workshops on for size – and wow, has it been particularly rewarding!
Eat Green – yes, there is always salad. But this team is taking it a step further and exploring new ways to eat the leafy and the floral. Just last month, we made edible rose petal cupcakes (DELICIOUS!). We also have this killer recipe for our favorite green smoothie. Keep an eye out for another fun recipe involving the Earth this month.
Put Some Spring in Your Step – on your doorstep, that is! Take a peek at our guide for creating a minimal, beautiful faux floral spring wreath. However, if you haven't caught the DIY bug, we still encourage you to go adventuring with a good skip in your step. It's going to be warm soon, after all!
Celebrate Green – go outside! Decorate with the color of the year! Absorb the environment as you would soak up the sun! Master the art of the picnic. Or, of course, celebrate St. Patrick's signature green holiday!
Revisit your Resolutions – whatever they may have been, March is typically around the time these steadfast promises morph into a mere guilty thought. Don't get down about it, just revitalize!
Be green – recycle, repurpose, reuse! Some of our favorite projects with these principles in mind are the repurposing of objects as new vases and planters. Find ideas for indoor vases here, and ideas for the outdoor here!
What else is on your March To-Do list? Let us know in the comments!