"2018: a return to naturalism. Let's Correspond. Real paper. Real ink." – John Mayer
The other day, John Mayer posted this and it instantly inspired me. His sentiment about 2018 being a return to naturalism is something I feel so deeply about and it's rooted in the philosophy of what we do at Lily & Val. As stationery designers, this comes as no surprise! To remember these words as a bit of a 2018 mantra, I lettered them! In just a few days we will be launching the 2018 Valentine card collection, so it seemed especially fitting to share some thoughts on handwritten and typewritten notes!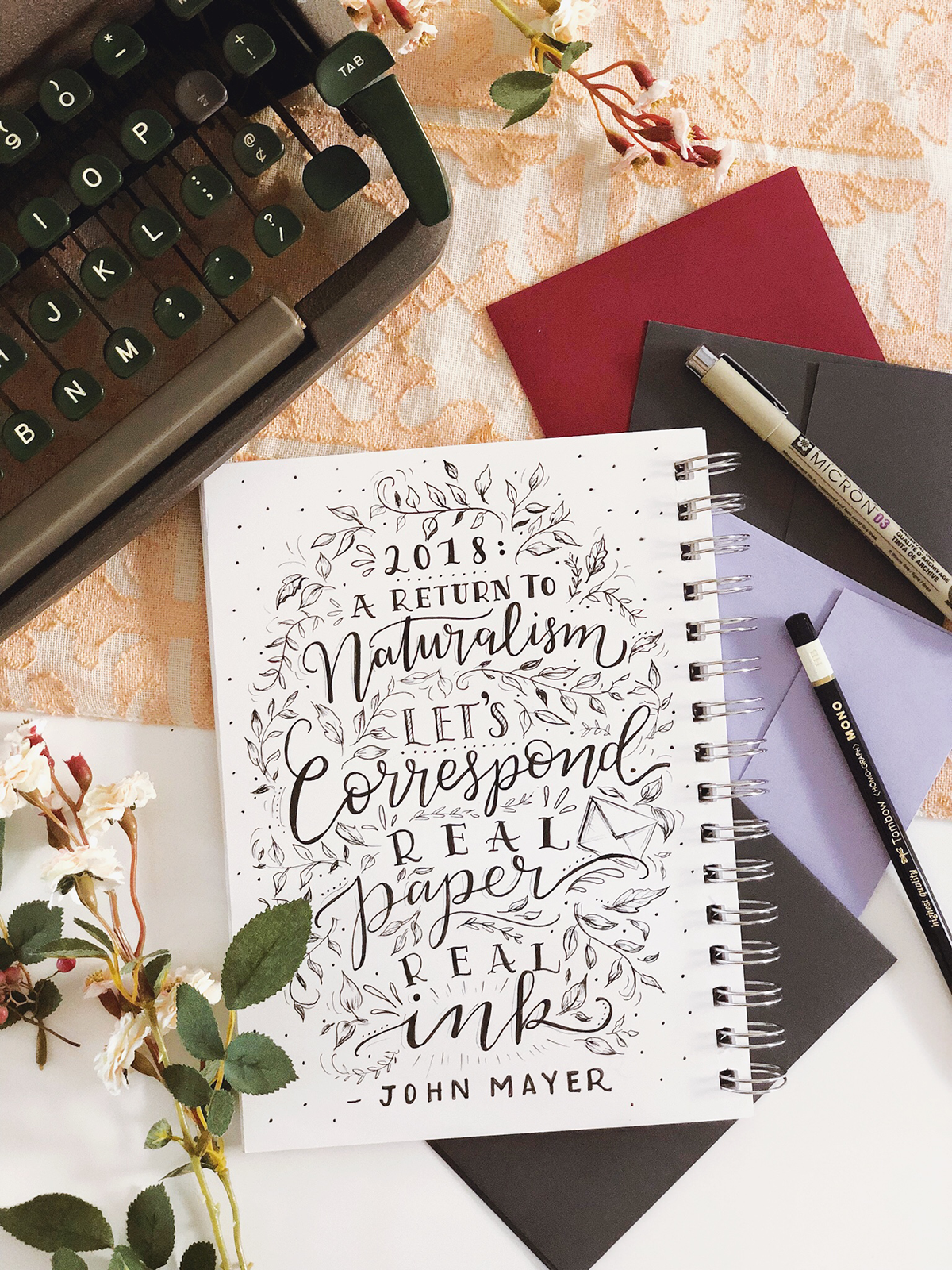 My first love when it comes to writing letters will always be handwriting. To me, handwriting (even the messiest kind!) is art because you feel connected to the person who wrote those words when you're holding them in your hand. When I clutch a recipe handwritten by my mother or grandmother, I instantly feel the connection. It's a piece of them. They held that paper too. It's a feeling an email or a text will never be able to reproduce.
Although handwriting is my first love, my husband, Mak, discovered another passion along the same vein and one that John Mayer was specifically talking about in his post – typewritten words!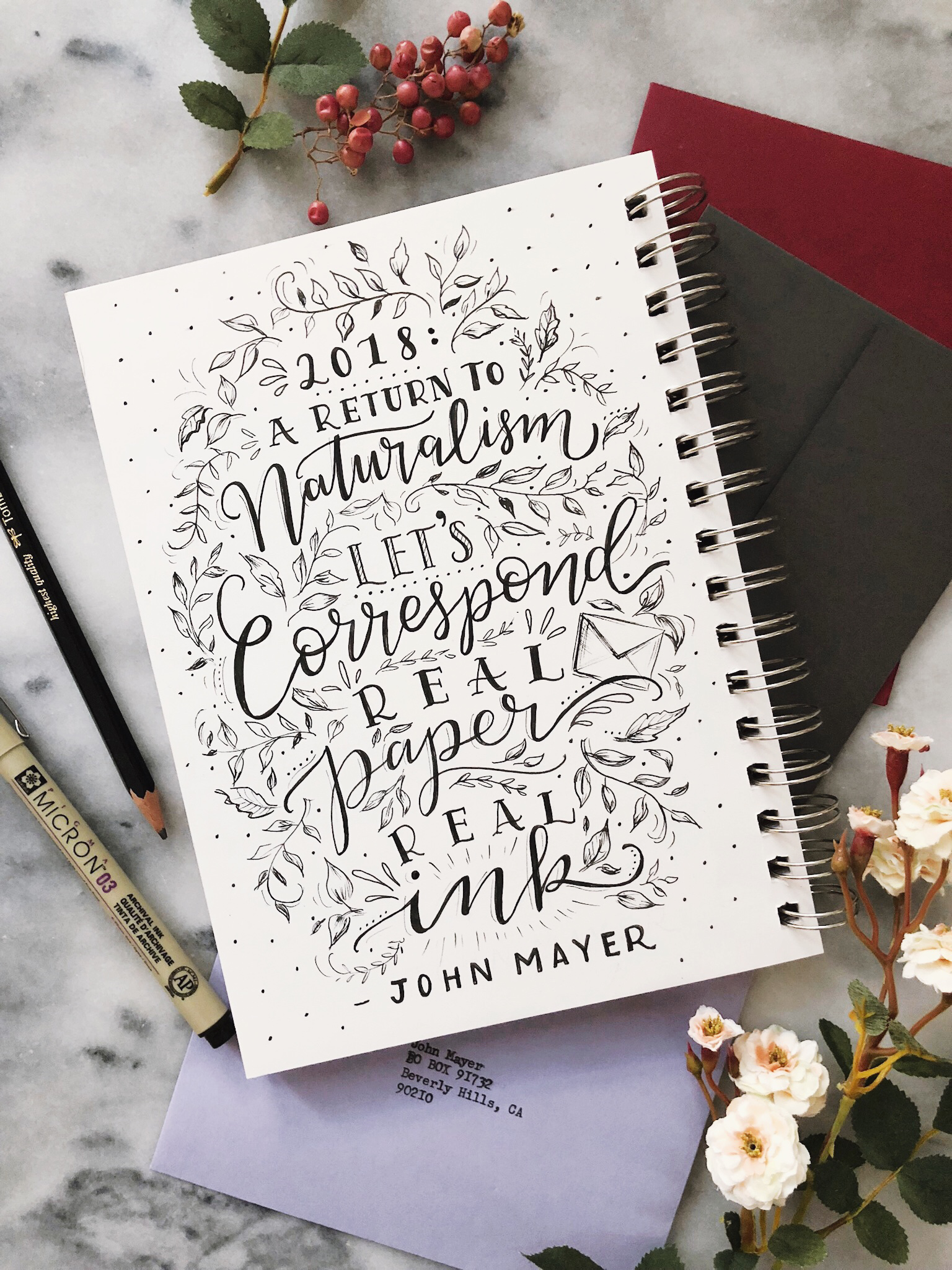 A few months ago, Mak and I watched the documentary "California Typewriter." If you haven't seen it, I highly recommend! What first drew me in was the fact that John Mayer AND Tom Hanks were in a movie together (what?!) This, I had to see. The movie documents the struggles of California Typewriter, one of the last standing typewriter repair shops in America. It also portrays the artists, writers, and collectors who remain loyal to this old-fashioned device.
Mak and I didn't expect the documentary to move us as significantly as it did. It was thought-provoking and deep, stirring a long discussion about technology and our increasingly digital existence. What possibly struck me the most was John Mayer's deep analysis of society's loss of creative process. Before computers, you were able to see a song writer's first and second drafts. You see the crossed out portions and the lines that were added later. You see the messy brilliancy of creativity at work. I never thought of it that way before.
This realization also touched on a topic I've been going back to again and again this past year: slowing down. Handwriting or typewriting is a slow process. I'm working to bring more slow moments in my life.
Inspired by the movie and our discussions, Mak and I immediately searched antique stores for typewriters! We ended up finding two, but both needed some work and love. After finding a repair store in Pittsburgh, they were able to get our machines into beautiful, working condition. One we gave to my brother for Christmas (he's a songwriter living in Nashville) and one Mak kept for himself.
Since then, he has been finding a rhythm with his typewriter and confirms that you can indeed connect to this machine as you would with a musical instrument. He's been enjoying typing correspondence and, yes, a letter to John Mayer.
Obviously, corresponding this way isn't always feasible, but I encourage you to make it a point in 2018 to add some snail mail to your routine! Maybe instead of saying "thank you" via text, handwrite a quick note. Say "happy birthday" with a card – not just a Facebook post. I wrote another post with my top 3 tips for writing more letters. Happy hand / type / real / writing!