This week Lily & Val Snail Mail Surprise Boxes went on sale and sold out in just an hour! Ahh! We are so blown away by this and thrilled that you are loving them as much as we love putting them together for you! For this particular box, I was excited to partner with my friends at Tombow. Many of you know, they make my favorite pens – especially the dual brush pens!
As Lily & Val Snail Mail Surprise Boxes are beginning to hit doorsteps, I wanted to share envelope addressing and decorating inspiration using the Tombow Dual Brush Pens & Mono Drawing Pen found in our box.
For those that didn't receive a box, everything in the post can be created using a Tombow Dual Brush Pen in Blush, Tombow Dual Brush Pen in Yellow Gold, and a Tombow Mono Drawing Pen 01.
(Tombow also included an adhesive roller in the box – perfect for sealing envelopes!)
With these three pens, there are literally endless ideas and opportunities for decorating your envelopes! Here are just a few of my favorites…
Envelope 1:
Mono drawing pen letters + dual brush open letters
Here, I added "open" downstrokes on the name of the recipient and filled in the space with the blush marker so it stands out. A few mustard and blush swirls are simple, but make the envelope look whimsical and fun!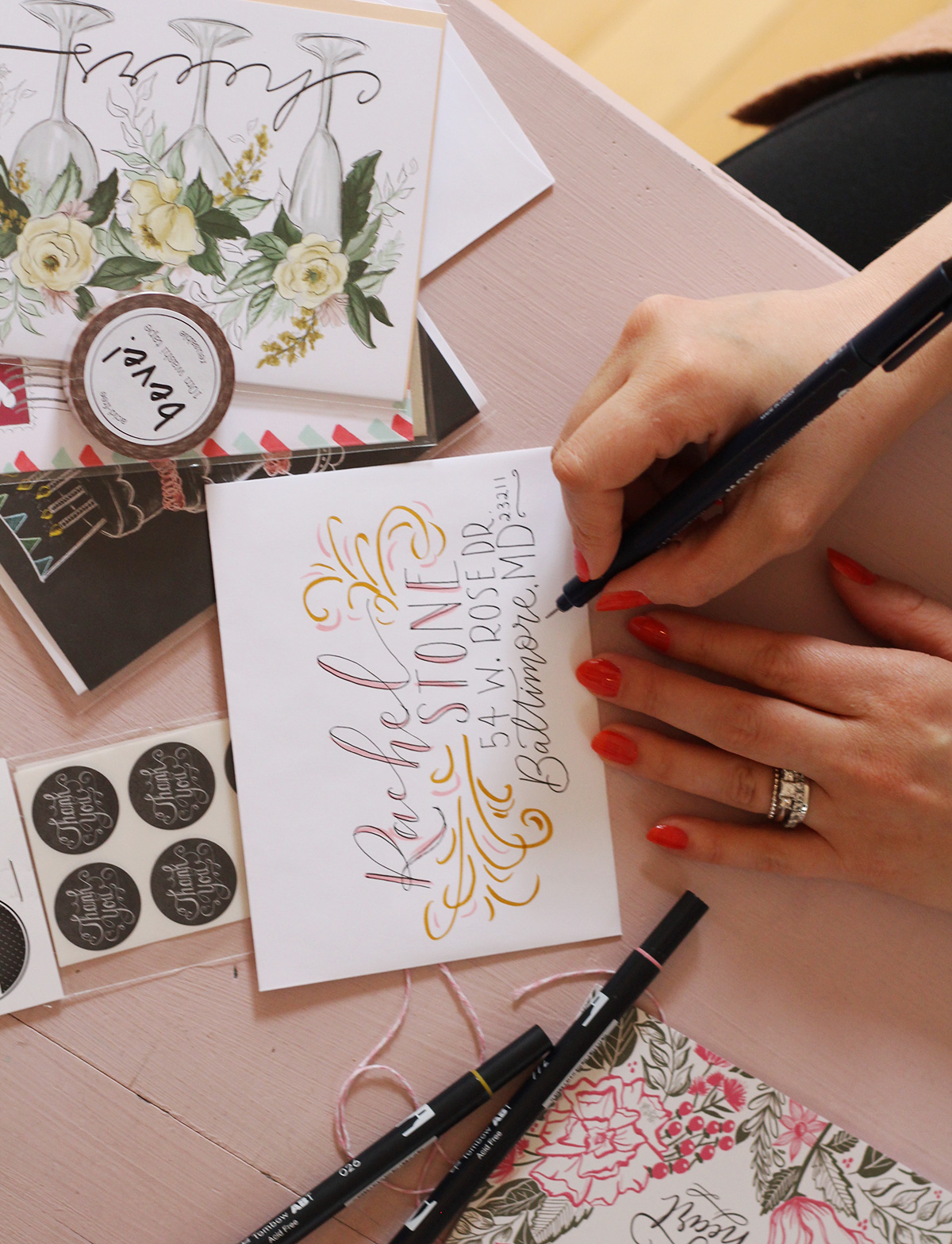 Envelope 2:
Floral Border 
Lay your envelope on a piece of scratch paper so that you can bleed off the top edge and truly create the look of a border.Gold-toned flowers and leaves are unexpected. The roses are created with simple "C-shaped" curves. Hint: When using the dual brush pen you can vary your pressure to create swirls with different thicknesses. I also used the mono pen on top to add some definition to the roses. Simple, thin handwriting keeps the focus on the pretty border.
Envelope 3:
Color Wash 
This look is simple, but I LOVE it! Especially if you're in a hurry, but want to add a creative detail to an envelope, this is perfect. The result looks like address stickers! How beautiful does the mono drawing pen lay on top of the wash?
Envelope 4:
Back Detail 
Who said the front of an envelope needs to have all the fun! This idea can be incorporated with the other addressing ideas. A blush rose is front and center (remember those C-curves with varied pressure to create the shape) Then, mustard gold little flowers are used for texture – no detail needed here! The beauty is in the looseness. Line drawn leaves give your florals interest. I just love the whole effect especially used here across the flap like an envelope seal.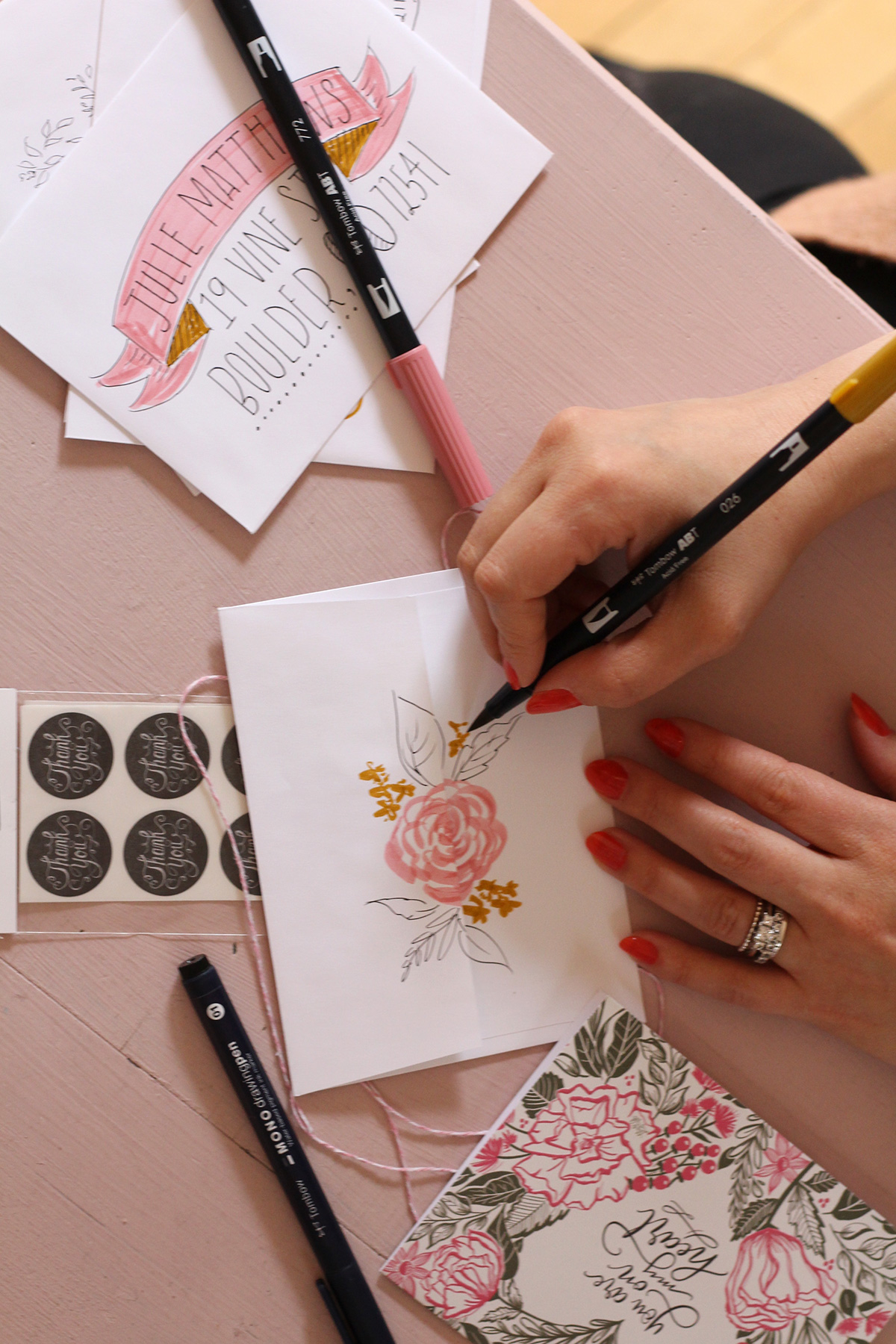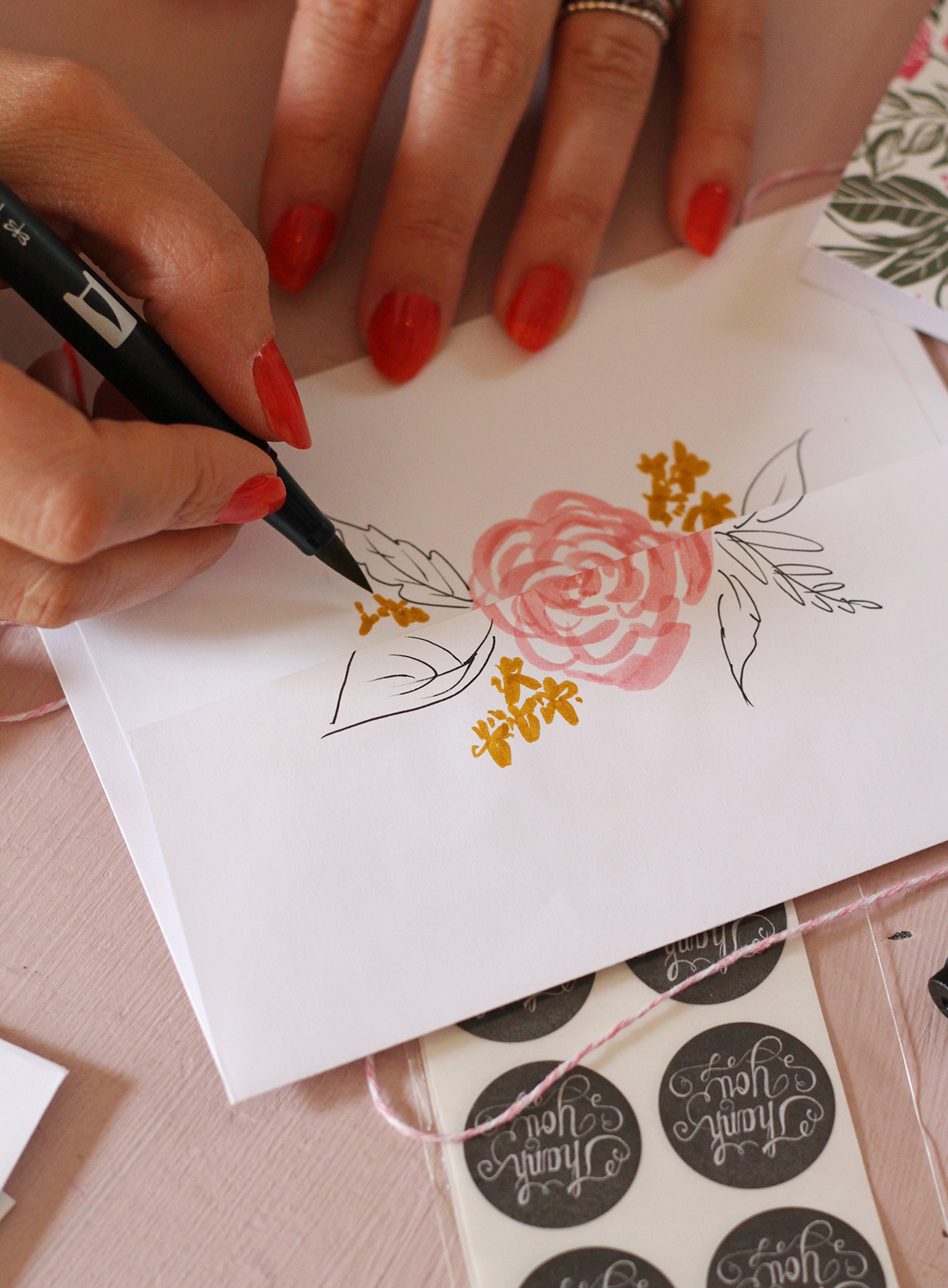 Envelope 5:
Brush Pen Names  
More of a "traditional" approach, this envelope showcases what Tombow Dual Brush Pens do best – brush lettering! When you vary your pressure on the downstroke you can achieve this gorgeous calligraphy look! Once I drew the initial lettering, I went back over the bottoms of the letters with a stroke to make it a bit darker on the bottom. This is a subtle detail that adds dimension.
I then used the "fine tip" side of the dual brush pen to draw the rest of the address in a thin line style so as to keep the focus on the brush-lettered name. A blush swirl is great for emphasizing the name but also filling in any empty spacing issues.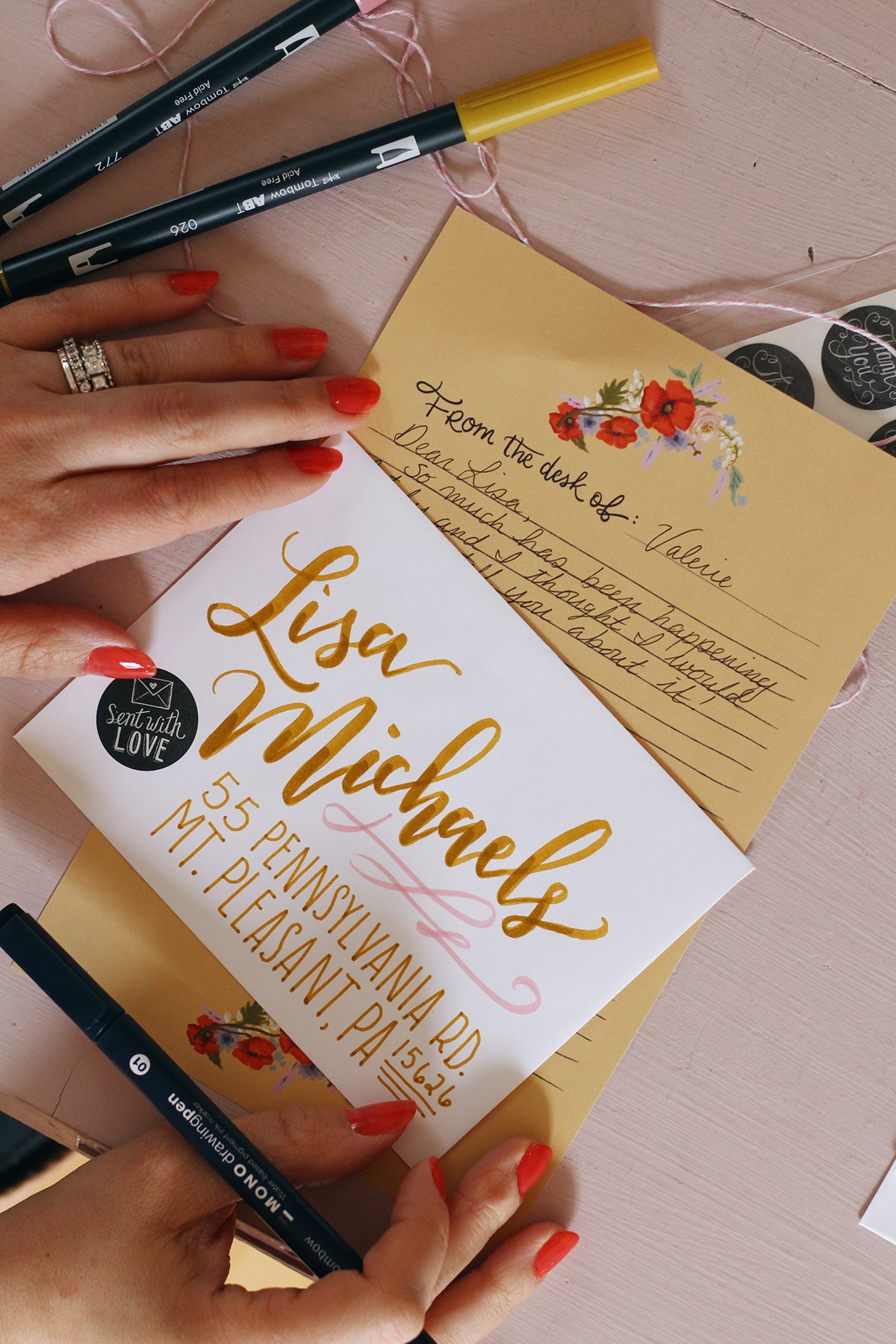 Envelope 6:
Banner 
Yep, if you know me, you'll know I had to use a banner on something! 🙂 With a pencil, first sketch out the banner shape. (For banner inspiration, be sure to check out my book The Complete Book of Chalk Lettering. It's not just for chalk – but has inspiration for hand lettering in general!)
Then, I filled in the shape with strokes of my brush pen. The mono drawing pen was then used to outline the banner, write the name, and the rest of the address.
Envelope 7:
Line-drawn wreath 
This idea is so delicate and elegant! Loosely sketch a wreath shape with your mono pen. Again, no precision needed here! I used the "fine tip" of the brush pen to add the name on the inside.
A Little Bonus:
Add cute little floral details to the inside flap! The recipient will certainly love the surprise when they open your note!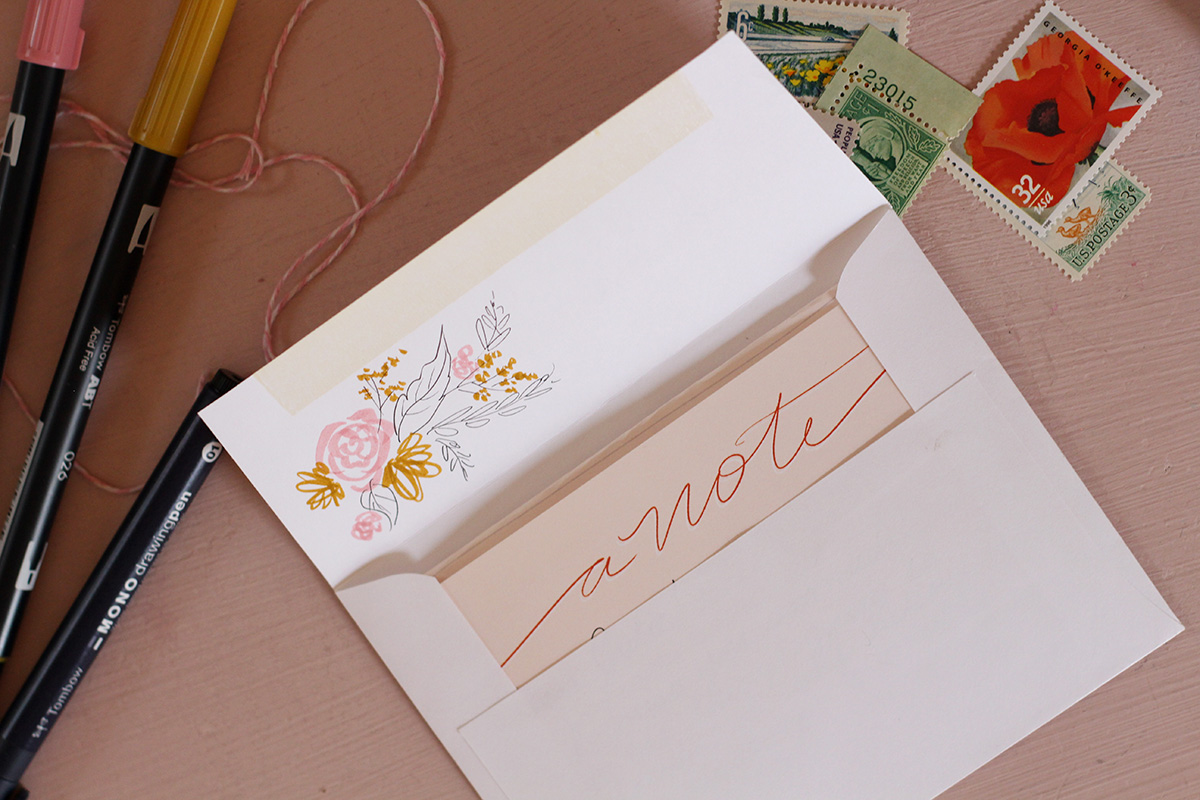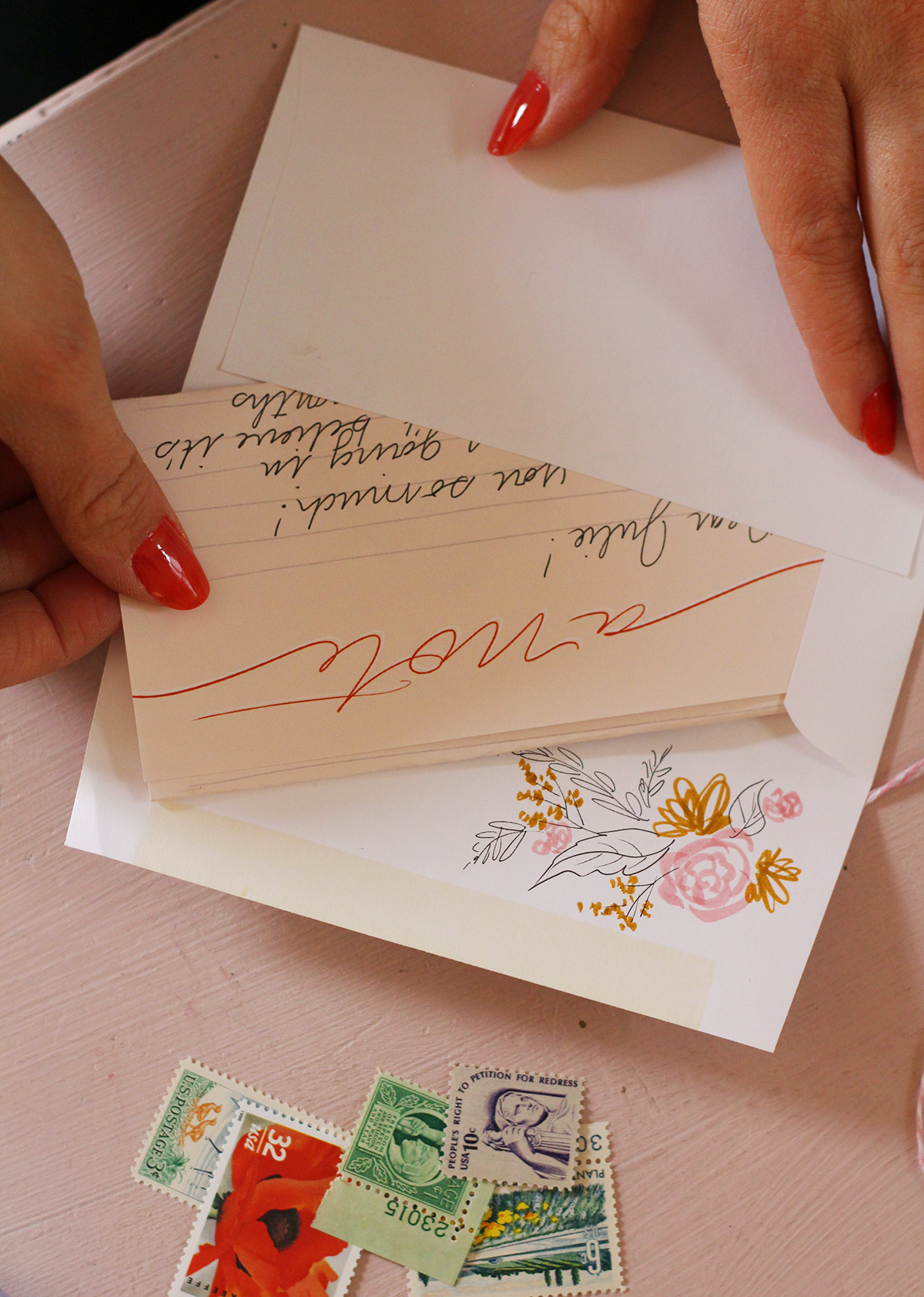 I hope you enjoyed these envelopes addressing ideas! Which one is your favorite? Let me know in the comments!
I would absolutely love to see how you're decorating your envelopes! Be sure to tag @lilyandval on Instagram.
P.S. How pretty are these wax seals? They were part of our Surprise Box too!