It's not Springtime without fresh flowers and sometimes even the simplest of blooms can be elevated with a unique container to put them in. Because we love finding new uses for everyday items (not to mention Earth Day is this month), we came up with 5 unique, recycled vase and planter ideas for your floral arrangements. You probably already have most of them in your home!
Recycle your glass bottles in a new way! This cold brew coffee bottle has the perfect amount of detail and charm to show off a few fresh blooms. The brown color gives it an almost apothecary feel and really makes those bright purple daisies pop!
Head to the thrift store for some pretty tea cups and mugs that will add a delicate touch to any small bouquet! Use mugs and cups in different shapes, colors, and sizes for a pretty display, perfect for tea party decor. Another simple arranging tip: color coordinate!  Even supermarket bouquets can look special when you color block.
Speaking of tea party decor…Harney & Sons Fine Teas are not only delicious, but their tins are absolutely gorgeous!  The colors and details make them so hard to throw the empty canisters away, so we're happy to fill them up with a pretty bouquet!
We love filling a small dessert dish with a couple scoops of ice cream, but we also love this shallow, vintage dessert dish as a unique footed vase for a succulent or cactus.  How beautiful is that bright pink?! Be sure to check out this post filled with tips on planting succulents in small containers.
One of our favorite items to give new life was this copper footed dish. It is the perfect planter for some vibrant green succulents.  Don't worry about polishing- the tarnish gives it an extra rustic, antique feel, which we love.
We hope this post inspires you to look beyond the traditional vase for your spring blooms! Each idea can easily mix and match together for an eclectic centerpiece filled with character. Now every pretty container we see, we want to transform into a vase.  Guess that means we'll have to get more flowers…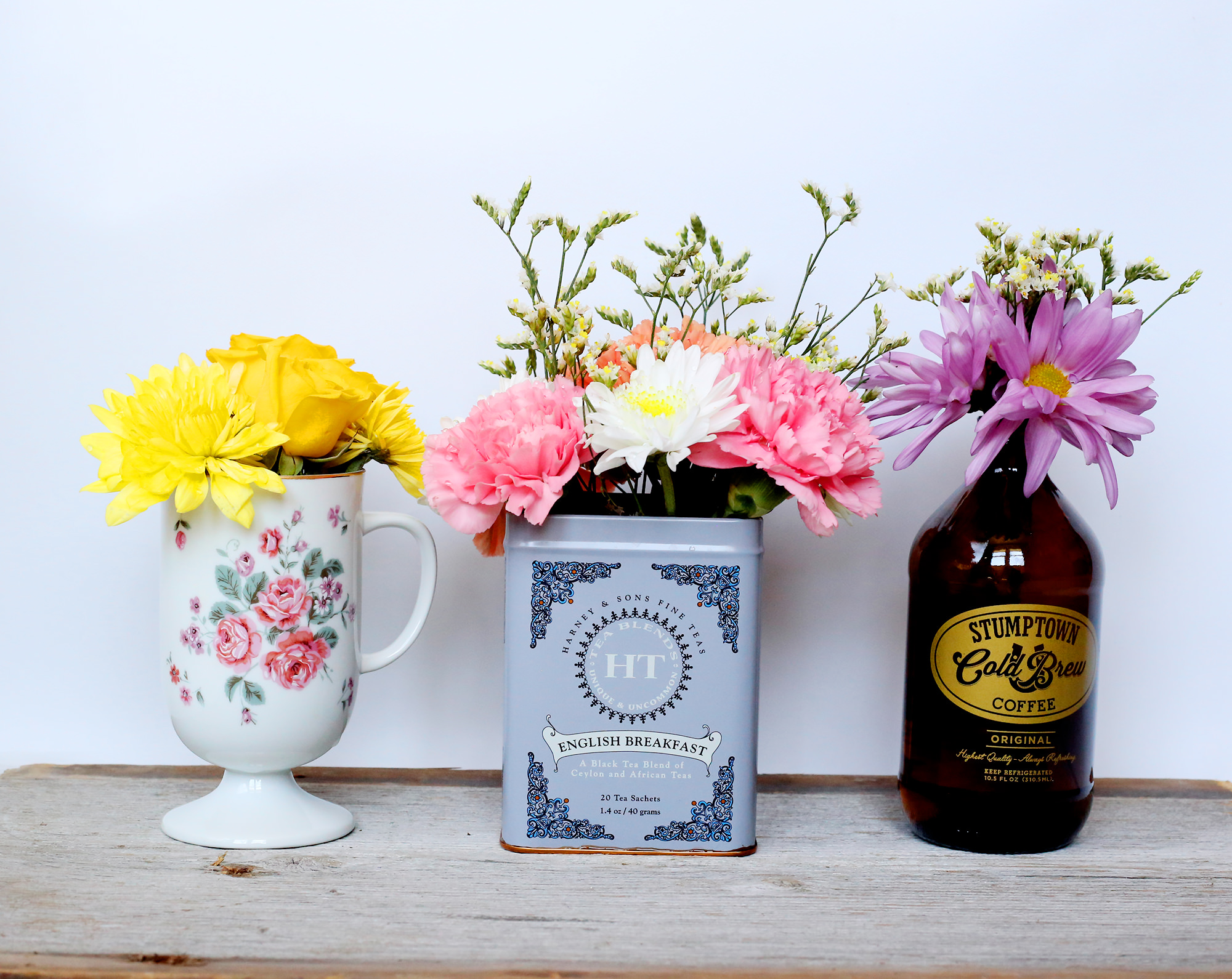 Photos courtesy of Jenny Poe