Happy 2017, my friends! This first free desktop of the year is a bit different and I'm anxious to tell you all about it because it represents something that we've become quite passionate about here at Lily & Val. I'm declaring this the month (actually maybe the year?) of hygge!
I wasn't familiar with the Danish concept of hygge (pronounced hoo-ga) until recently, but once I learned about its meaning, I was instantly smitten. It describes the heart-warming feeling that comes from taking pleasure in ordinary, everyday moments and making them meaningful, beautiful, soothing, and special. Coziness of the soul.  What a breath of fresh air this is to me! After coming out of a season of hustle and fast-pace, my heart is longing for slow. I crave cozy and warm, a clear head to enjoy the beauty in simple moments that come and go so quickly.
I think one of the reasons hygge immediately connected with me was because it eloquently sums up a huge part of the foundation of the Lily & Val brand. We strive to create products, art, and blog content that speak to the everyday moments that often become the important ones when we look back on our lives. When I become the most sentimental, I think about sharing a cup of tea with my mom or sitting on the porch swing with my grandma admiring her flower bed.
One of our mantras is a quote by Laura Ingalls Wilder: "It is the sweet simple things of life which are the real ones after all."  Taking a look at our manifesto paints a similar picture. I've always wanted Lily & Val to be a space that conjures the warm & fuzzy, cozy, and nostalgic. Little did I know there was a word to describe this very thing.
After discussing hygge with the Lily & Val team, we all felt this was the perfect vibe to start our year. In the coming weeks, we'll be sharing some practical ways to practice hygge. I'm also looking forward to diving in even deeper to learn the art of this lovely concept. But first, to set the tone, we are changing our tech to remind us to savor the fleeting moments and slow down. Here's to a fulfilling and renewing January. I hope you enjoy this free wallpaper!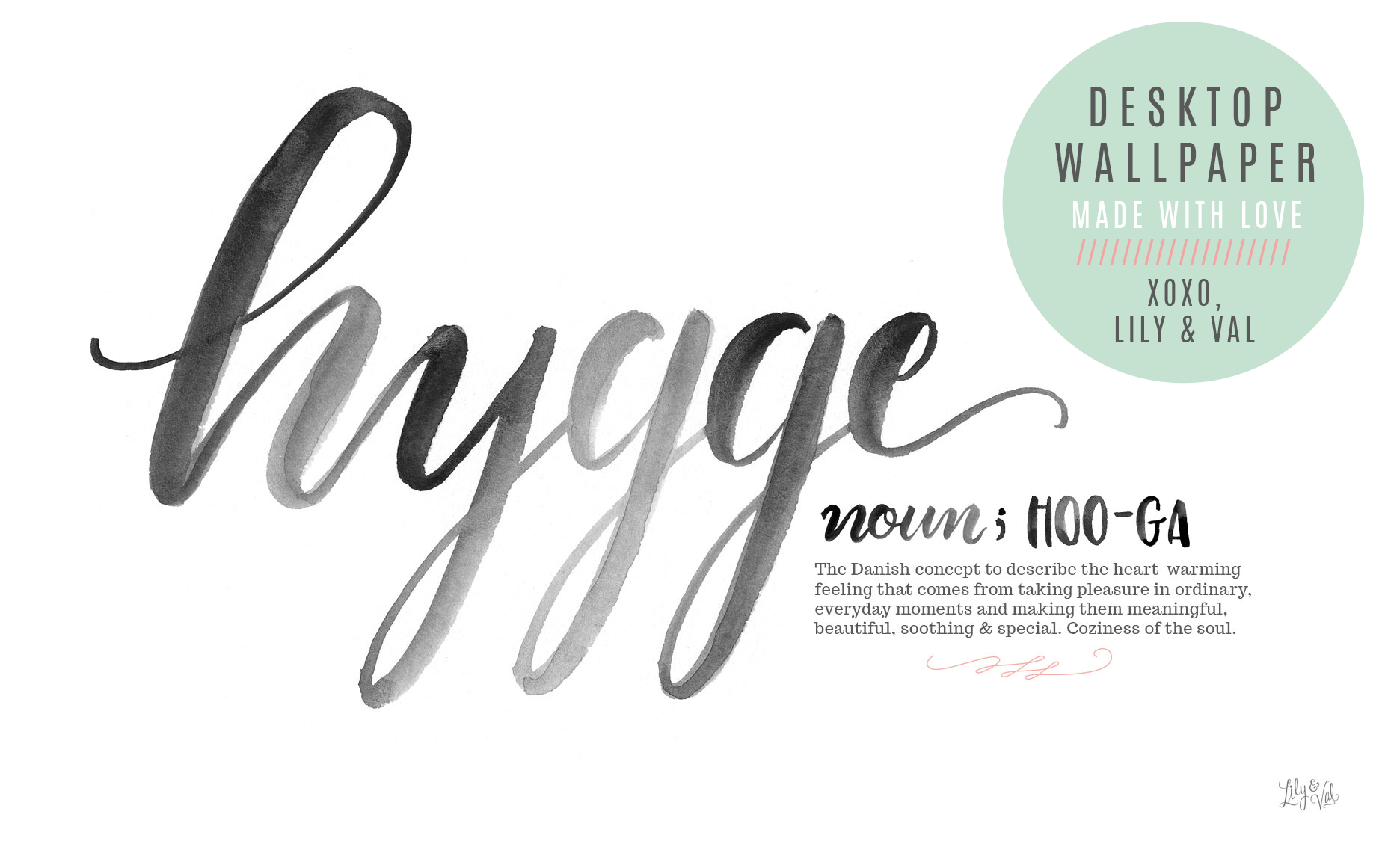 Download JANUARY DESKTOP WALLPAPER 
DOWNLOAD INSTRUCTIONS >> Click the "JANUARY DESKTOP WALLPAPER" link or the image above. When the image is opened in a new window, right-click the image and select "Save image" or drag it to your desktop (You may have to click twice to bring the image to its full size).  Once the image is saved, go to your System Preferences> Desktop/Screensaver and choose this image as your new wallpaper!