It's no surprise that I love chalk art year round, but I think there's something particularly special about it during the Fall season! Maybe it's the black of the chalkboard combined with the orange of a pumpkin that I find so fitting. For all of you drawing chalkboards for your Haloween or Thanksgiving decor & projects, this tutorial is for you!
You will need:
A chalkboard
White chalk (Crayola White Anti-Dust is my favorite)
A pencil sharpener with two holes (the larger hole will fit and sharpen the chalk for better precision while you are drawing!)
Step 1: Begin by drawing an oval or circular shaped outline depending on how plump you want your pumpkin drawing to be. Add a thick stem within the outline.
Step 2: Smudge some chalk into the stem and begin drawing in the pumpkin ridges. I like starting with the segment in the middle, which is drawn in the shape of a skinny almond. Draw the rest of the ridges working your way out on the same curve and with similar spaces left in between each.  We're still laying down our base shape.
Step 3: Now it's time tweak, smudge, and add dimension! Chalk is nothing more than dust on a surface so you can create really lovely texture and shadowing by smudging the dust. Starting on the right side of the pumpkin, extend the ridges by adding chalk dust that will later be smudged. Once you pass the center ridge, add chalk dust to the left side of the ridges.
Step 4: Using your best tool (your fingers!), smudge the chalk so that it approaches the ridge beside it but doesn't quite touch. Continue with each section of the pumpkin. The darkness on one side gives the appearance of shadowing between each ridge.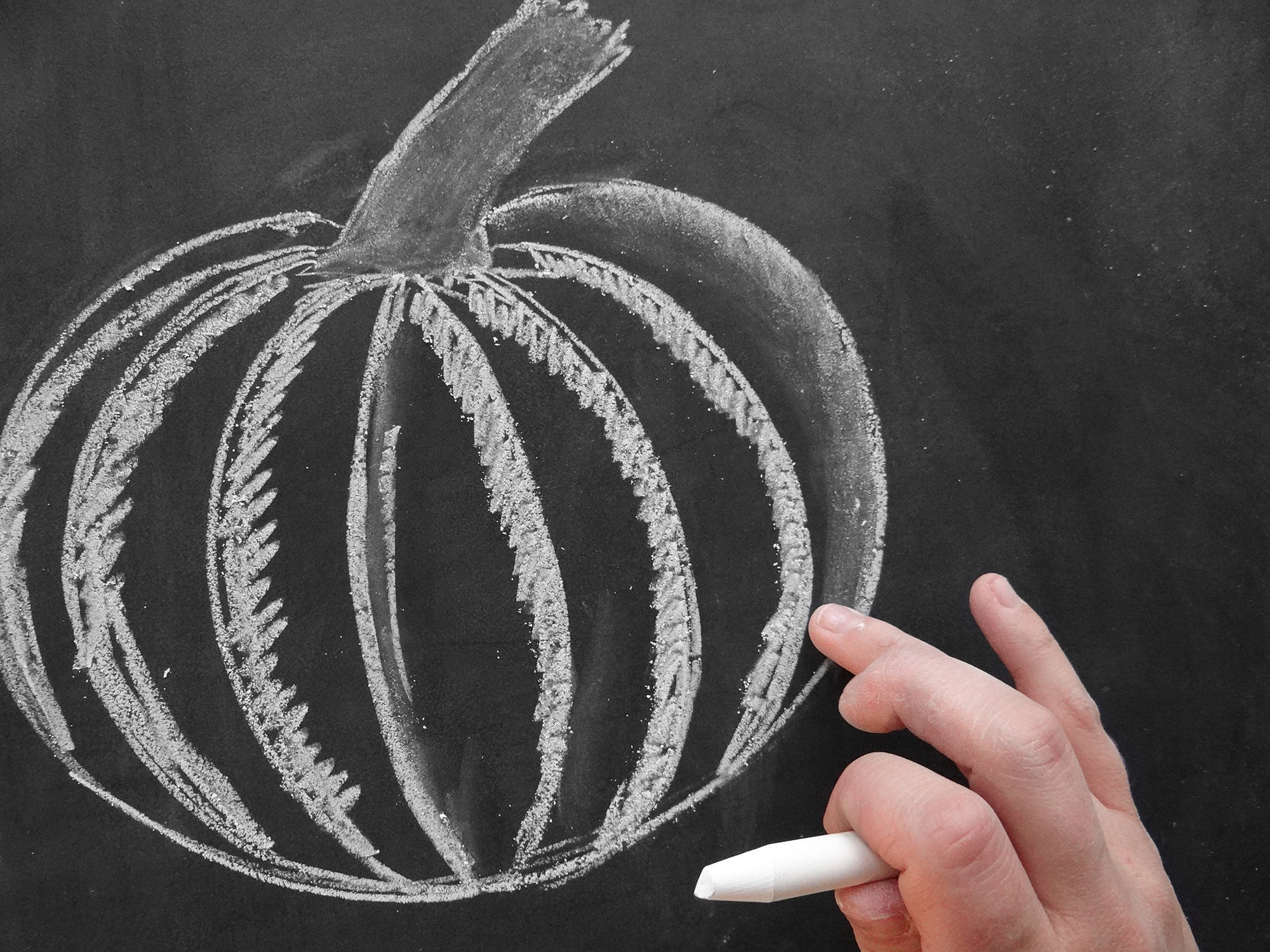 Step 5: Finish the bottom of the pumpkin by defining the sections and filling in the shadowing to match the previous step.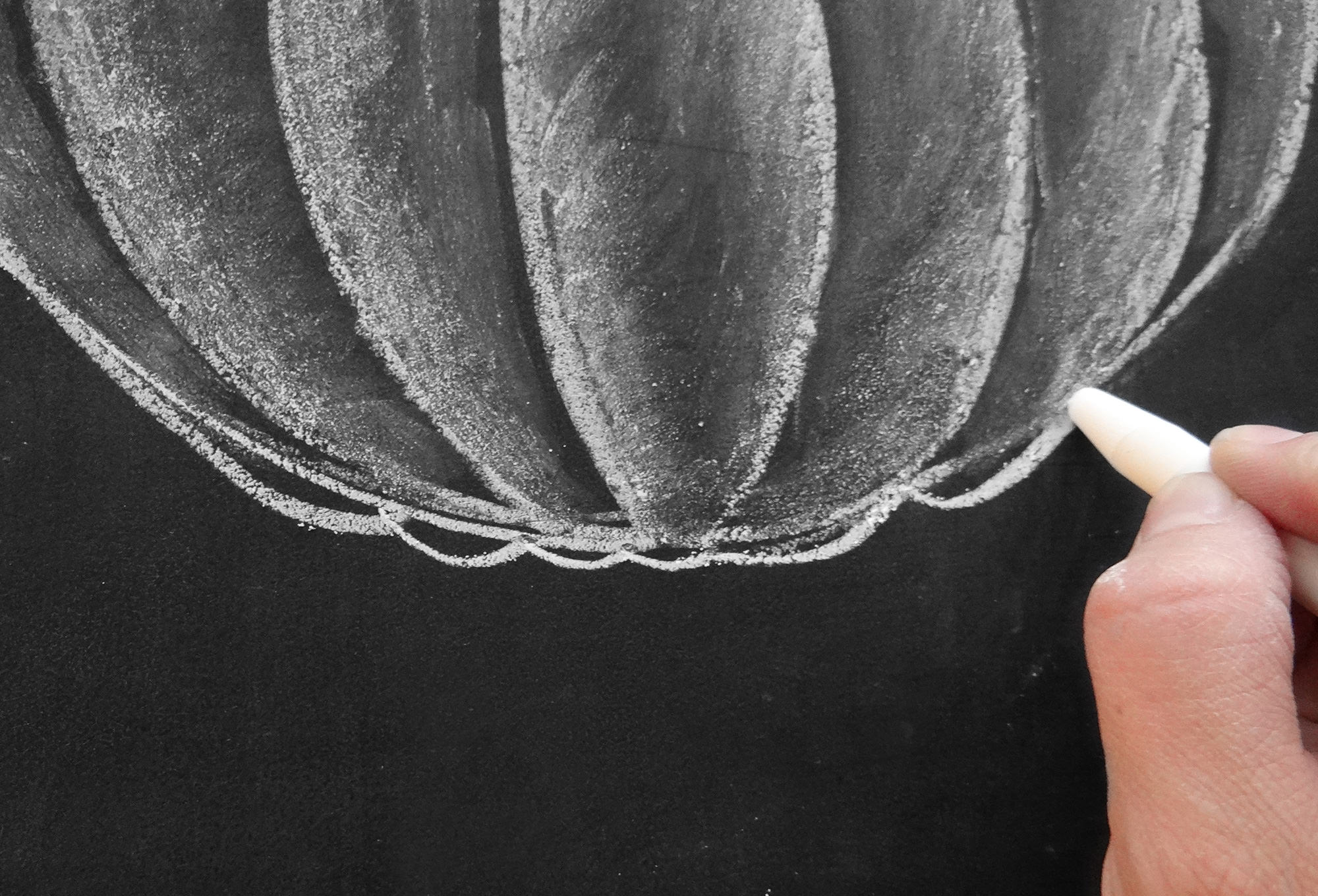 Step 6: Add additional texture to the pumpkin with drawn lines and markings. I like to use a "hatch mark" pattern in some places just to give it more interest.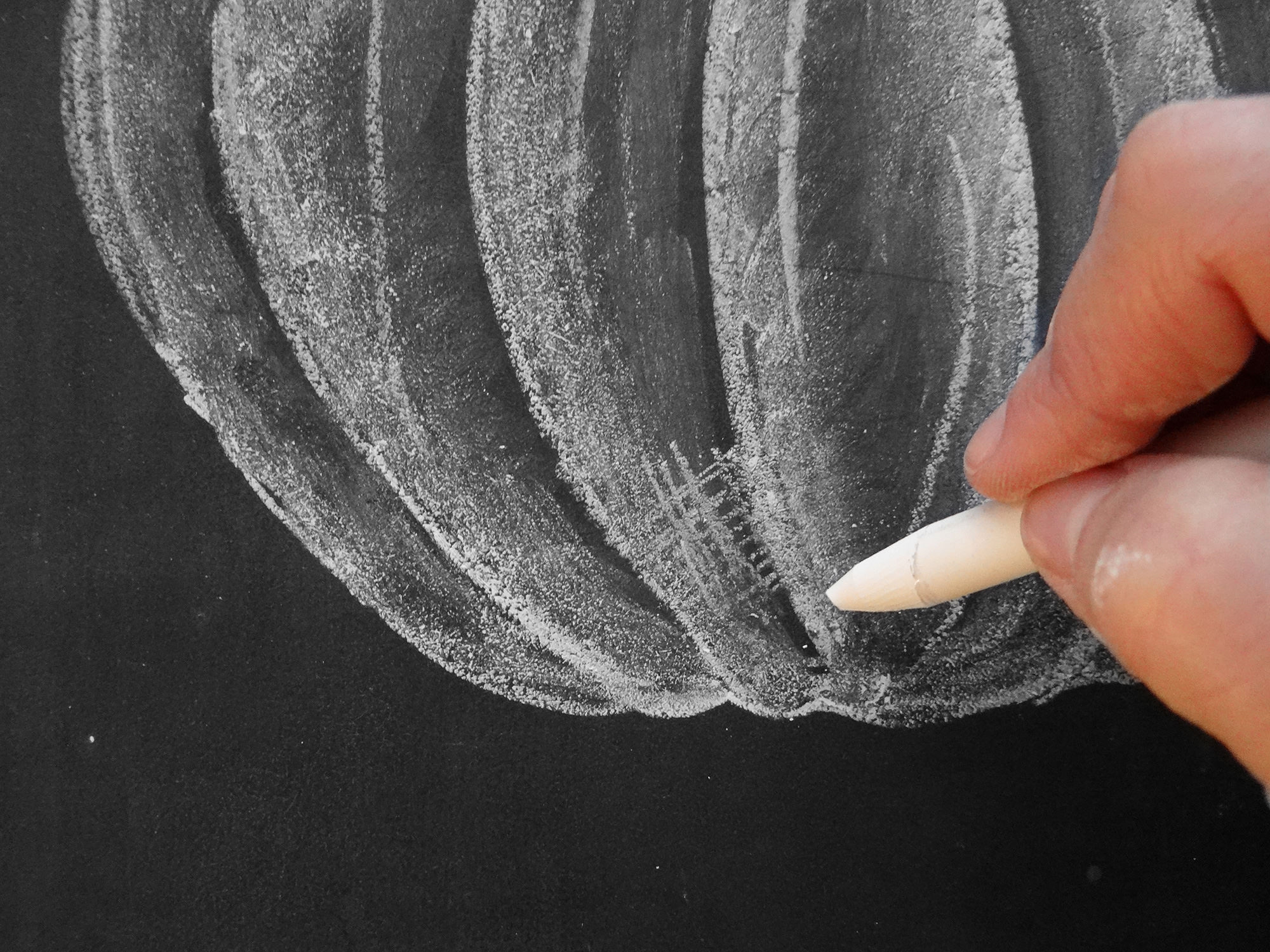 Step 7: Add more finishing touches, like jagged lines where the stem meets the pumpkin. Also, add the veins in the stem by sketching uneven, thin lines with light pressure.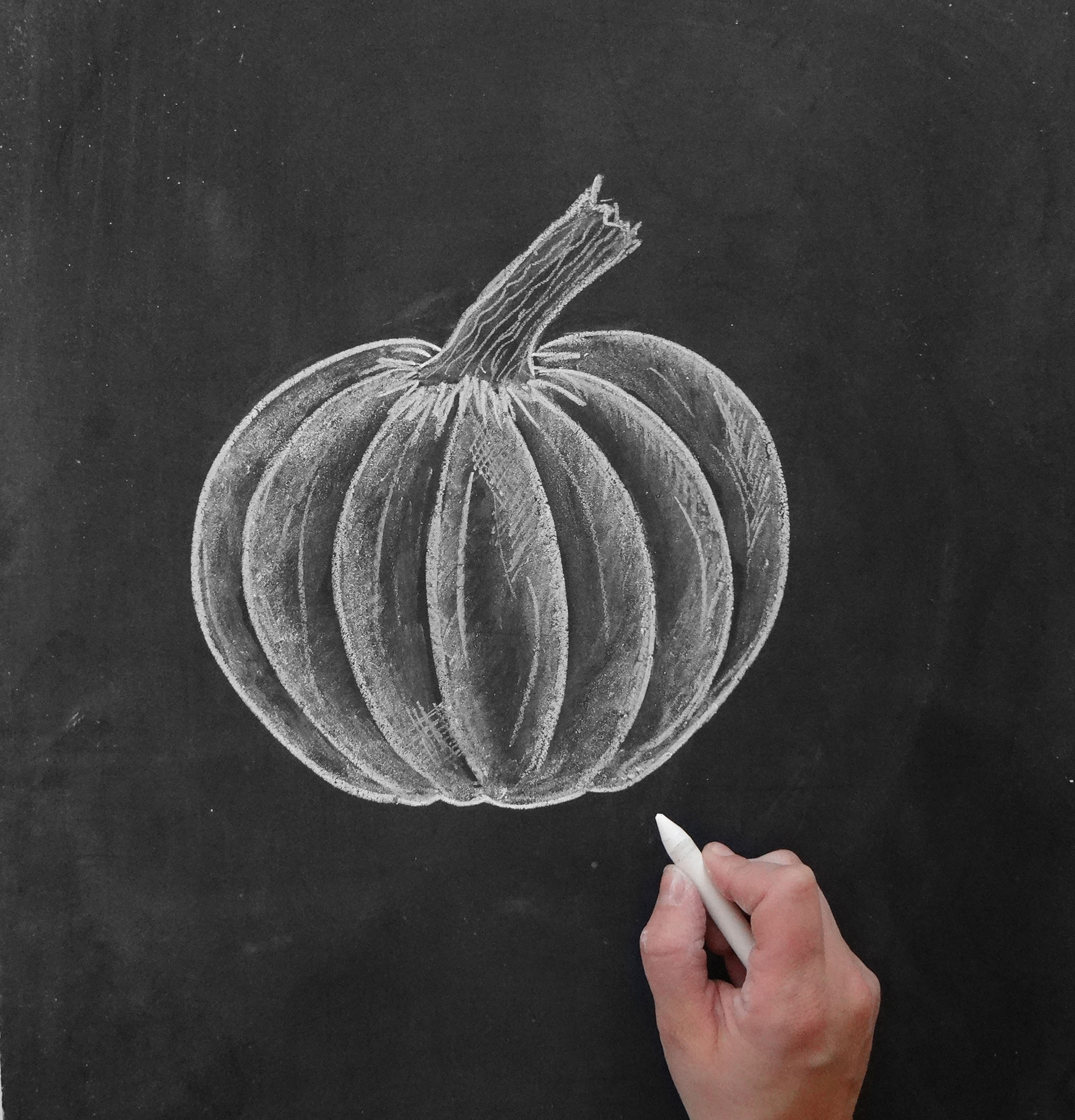 Step 8: The pumpkin itself  is finished, but there are a few more add-ons that I love adding to pumpkin drawings! Draw rough lines under the pumpkin to ground it.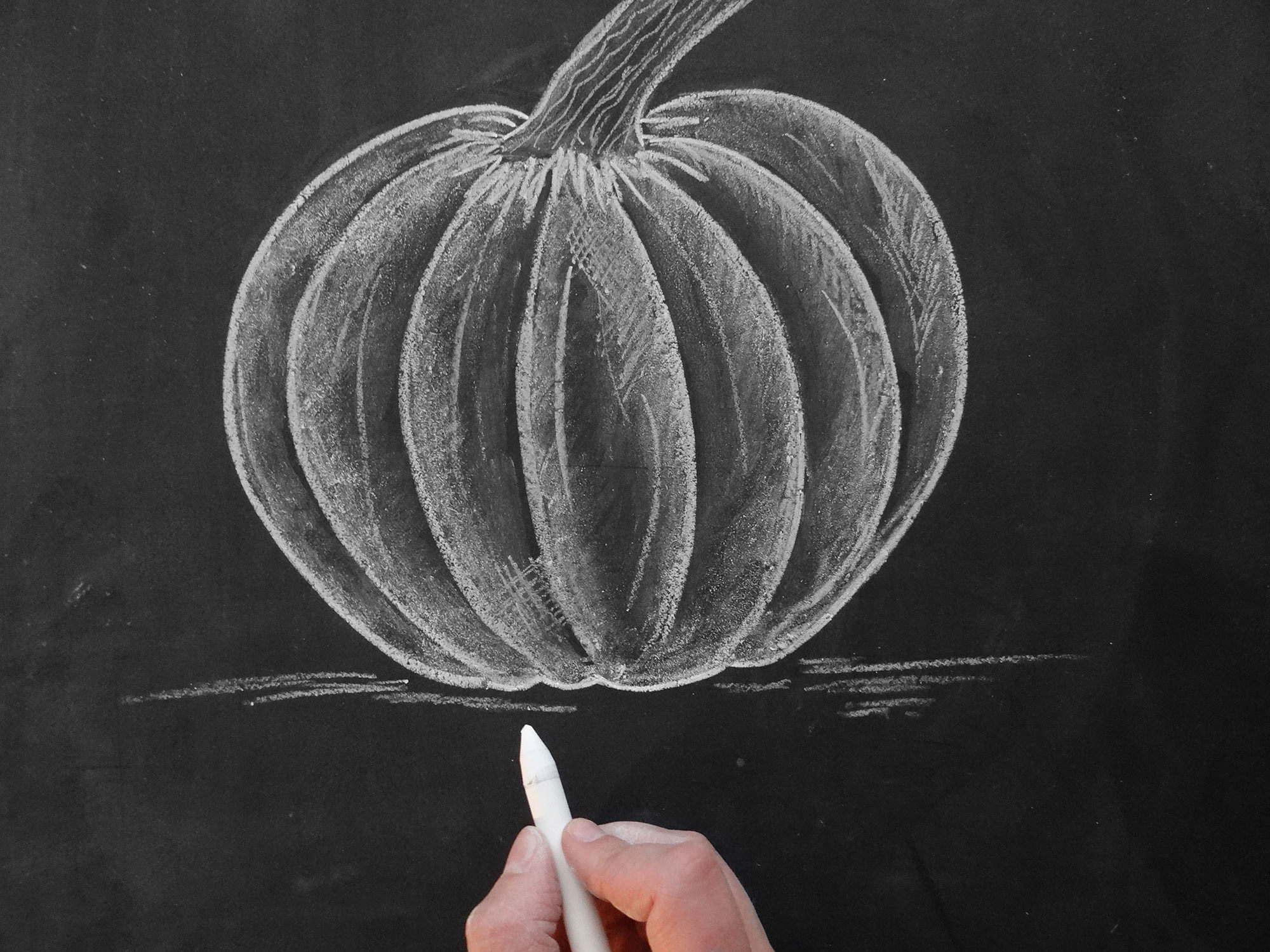 Step 9: Add vines and leaves to either side as if they are emerging from behind the pumpkin. Smudge chalk into the leaves for texture and draw their veins.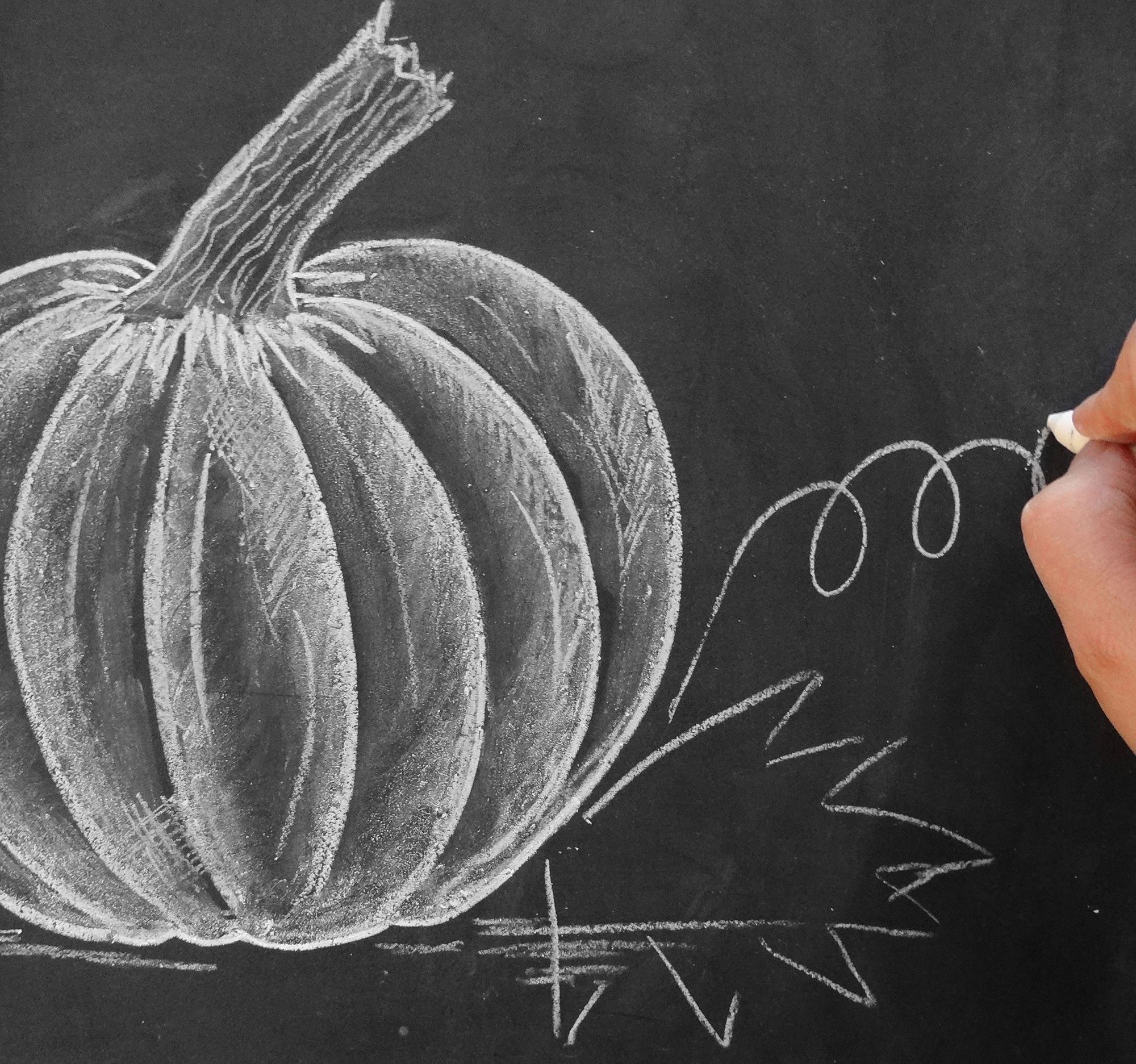 And here is our finished pumpkin! I hope you enjoyed this tutorial. Be sure to get your copy of The Complete Book of Chalk Lettering for all of my chalky tips, tricks, and techniques! Signed copies will be returning to lilyandval.com very soon! Happy Chalking!