Pairing a perfect present with a few accessories can easily round out a theme and check a loved one off your Santa list! Whether you're awaiting the arrival of a Keepsake Kitchen Diary or if you've nabbed one from a partner store already, we have 3 different ideas for a complete gift set:
For the Creative
If your intended recipient revels in creative exploration, we suggest accompanying their Diary with a number of inspirational crafting tools.
The Kitchen Diary's pages are built to prevent bleed-through from markers and even watercolors! Couple this many-hued watercolor palette from Dick Blick with a handy water brush pen and watch their eyes twinkle with possibility!
To maintain the Kitchen Diary's longevity, we recommend acid-free brush pens – they'll enjoy creating swoops and swishes with archival assurance. Tombow dual brush pens are some of our favorites to use. When you have markers in the mix, sometimes a good dash of White Out can be useful (we like covering the label with a cute, hand-drawn "oops" sticker!).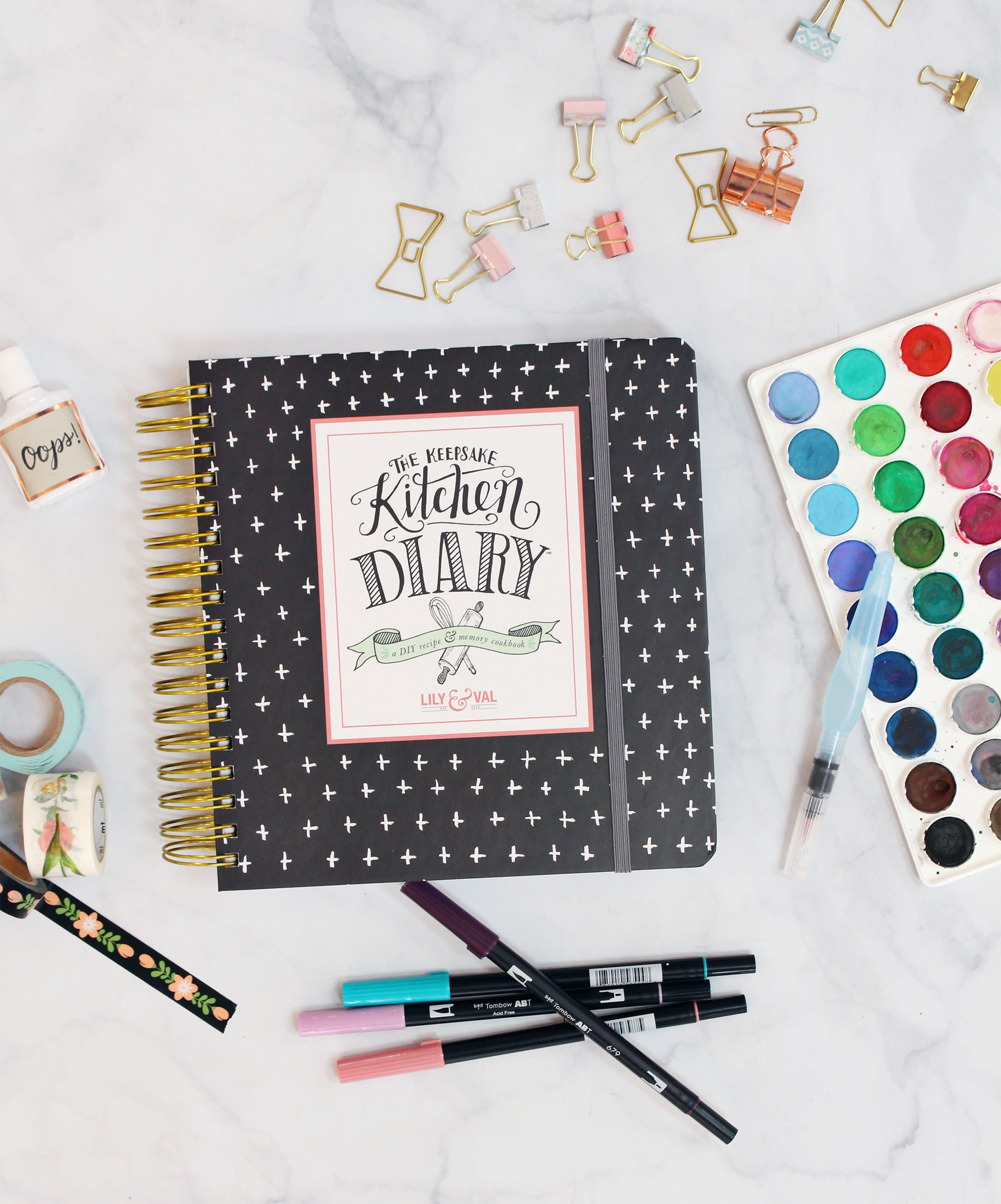 If you've been keeping an eye on our blog, you know the Lily & Val team can't resist a good roll of Washi Tape. This decorative spin on the typical tape can be found in most craft stores and even in Target! Add in a handful of these gorgeous Kate Spade bow paper clips and your gift is ready for giving!
For the True Baker
For those you suspect may fill the Kitchen Diary's dessert pages first, we have a few accessories in mind:
Grab a fun spatula, a set of the best cookie cutters you can find (or these!), and a Lily & Val-designed Anthropologie tea towel to make your confectionary creator smile. We fully believe this gifting combination yields a high probability of freshly-baked cookies coming your way in the future.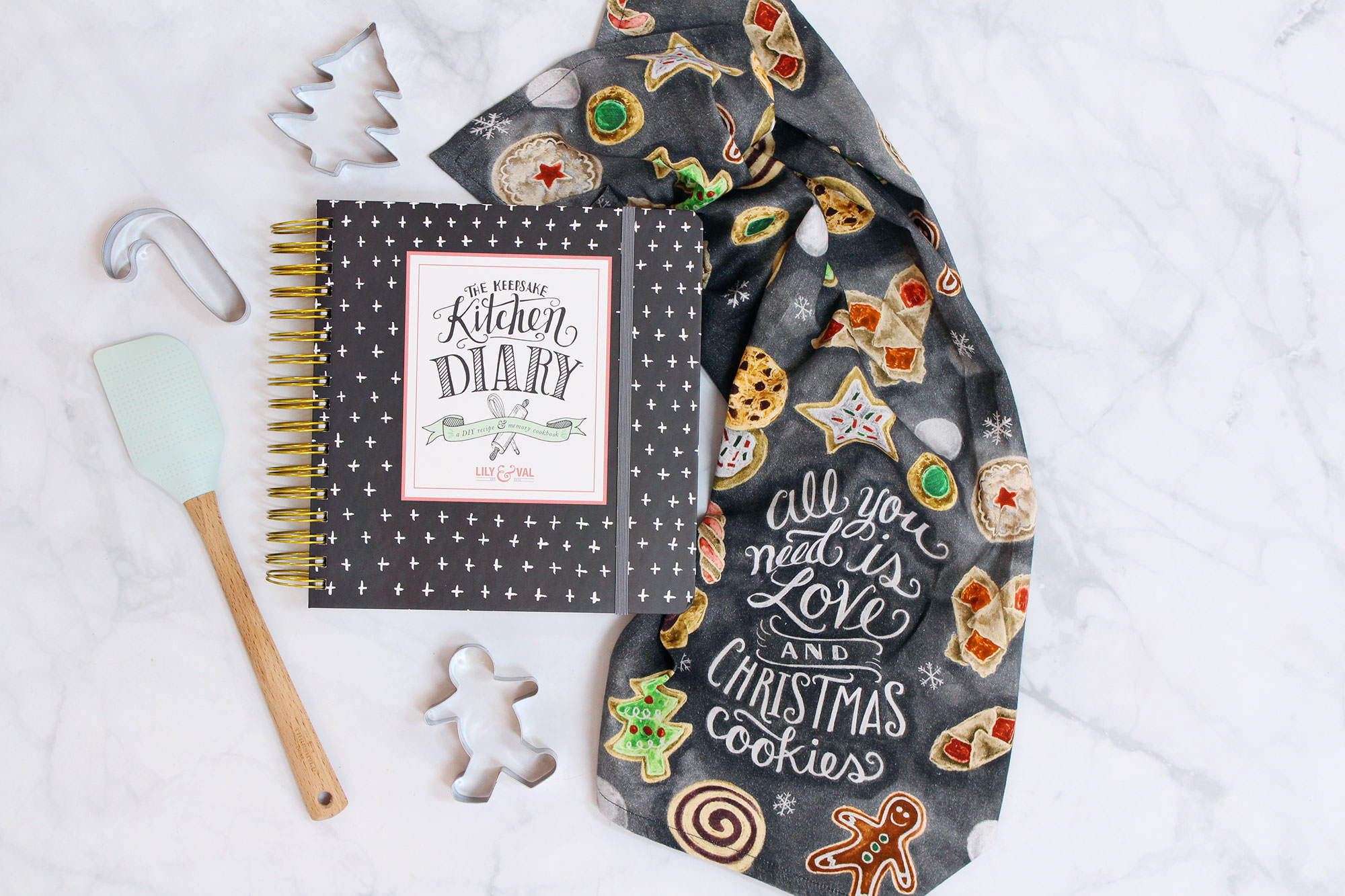 Bonus tip! Wrap your Kitchen Diary in the tea towel and top it off with tying the spatula and cookie cutters to a bow for instant, adorable wrapping "paper"!
For the New Couple
We recommend a night in for the new couple discovering their kitchen skills together. Although they may not initially know what recipes to put in their Keepsake Kitchen Diary, these Foodie Dice are sure to give them ideas! The dice have "protein options, cooking methods, grain/carb selections, herb choices, and bonus ingredients" printed on each one – just roll and cook! After, the couple may just have a brand new recipe and memory to record in their new Kitchen Diary.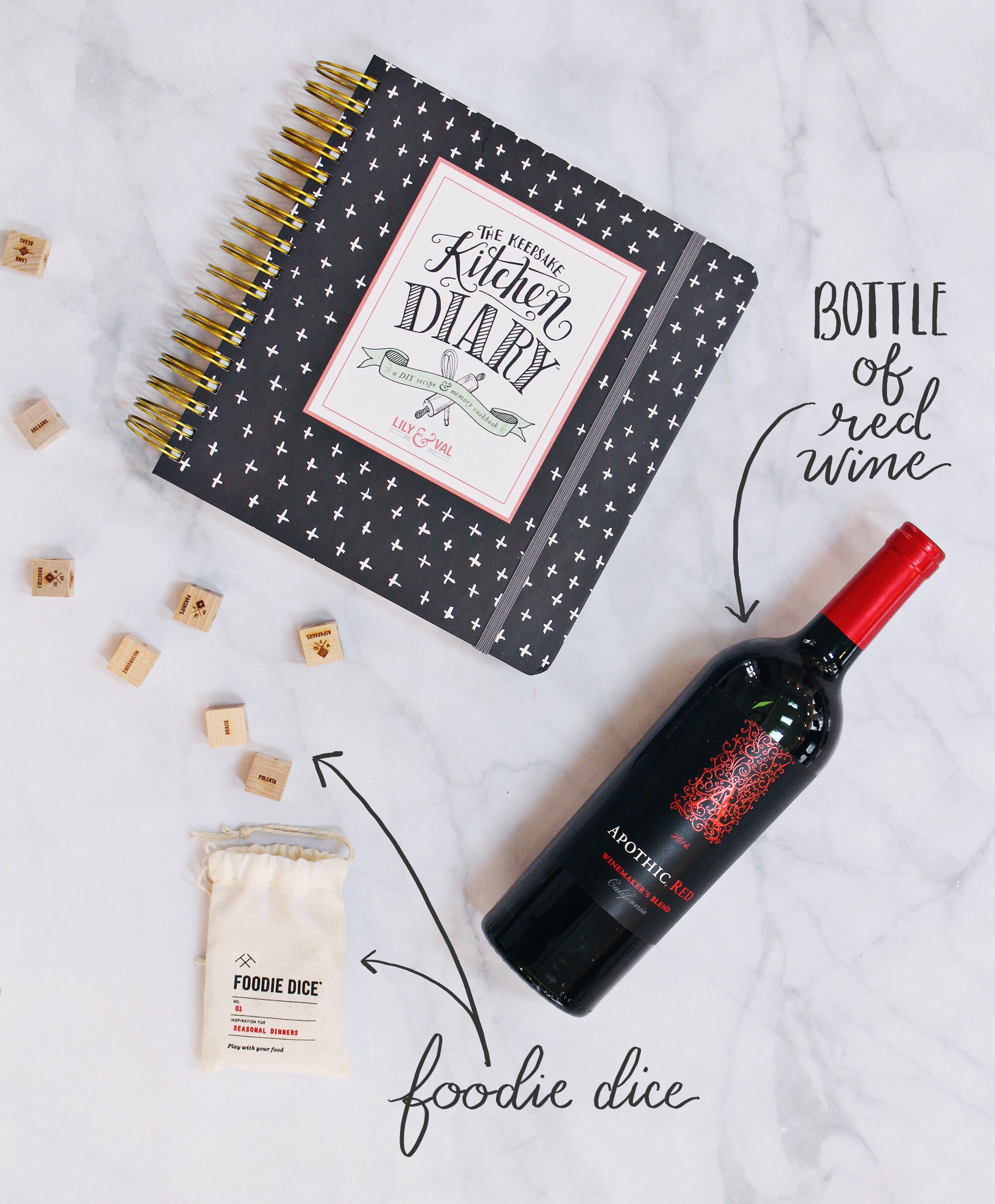 Your favorite couple will thank you for adding a bottle of red wine to the mix – a classic holiday gift! When in doubt, we've found this Apothic Red wine to be a highly available failsafe that satisfies diverse palettes and doesn't break the bank.
Have an idea for gifting the Keepsake Kitchen Diary? Let us know in the comments! Pre-orders are still going on to receive your Keepsake Kitchen Diary in time for Christmas!