Everyone knows the holidays are busy and, if you're not careful, Christmastime is over before you know it!  We love celebrating the little things in life, especially during this time of year. So we created a fun list of to-do's to help you savor even the tiniest Christmas pleasures and enjoy this season to the fullest!
Get in the Christmas spirit by listening to Tinsel & Tunes. This free, online Christmas radio station runs 24/7 until New Year's Day and is commercial-free! It is curated by Mak, L&V Wholesale and Business Manager! Be sure to download the app so you have all the songs you love this time of year at your fingertips.
You can never have too much sparkle at Christmas! Paint your nails with glitter red or go for a festive color you might not normally try like emerald green polish.
Lighting a candle scented with pine, pomegranate or peppermint can be the perfect way to unwind, especially while watching a beloved holiday movie! Did you know that scent is the most powerful memory trigger? Seasonal scents can bring back fond memories of Christmases past!
This is the time of year to send well wishes to friends and family, reminding them of how much you care about them. You've picked out the perfect card, now have fun decorating the envelopes, too!  We came up with four fun ways to decorate your Christmas envelopes so if you need inspiration, check there.
Add some Christmas to your normal routine- like your morning coffee!  Buy seasonal creamers at the grocery store and test each one until you find your favorite!  Peppermint, gingerbread and hazelnut are my favorites.  Earlier this week we shared a delicious recipe for a dairy-free, paleo hazelnut creamer.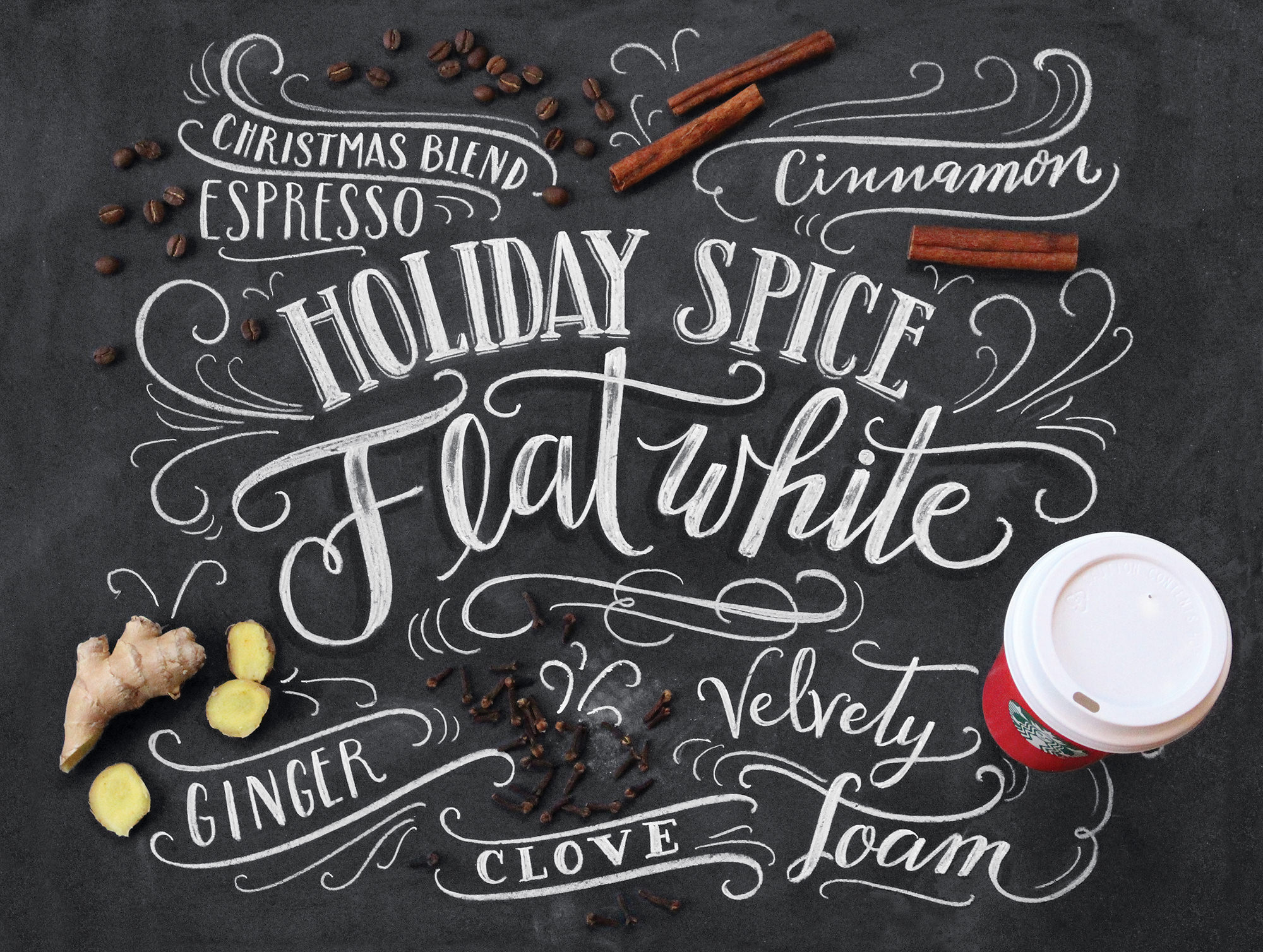 Speaking of coffee, treat a friend to a coffee date or lunch date! Starbucks' newest drink is a must-try and filled with all of your favorite holiday spice flavors. Valerie created this chalk art for them! See it on their instagram.
Baking is a great way to feel festive. Package up your cookies and gingerbread with our holiday baking labels available as FREE downloads for World Label.
DIY projects are so much fun this time of year -especially when they are simple! If you have any leftover wrapping paper, we came up with some DIY ideas to use them up!
We hope these small to-do's help make your holiday season just a bit merrier and brighter!