Russian Tea Cookies are also something you will find on every wedding cookie table, and if you are from the Pittsburgh Area or Ohio Valley you know how fantastic these cookie tables can be! Cookie tables at weddings are one of my favorite traditions because, like at the Holidays, you get sample all kinds of amazing home made treats from all of your friends and family. The cookies we make during these special times of year are never just made on a random Tuesday and that makes them seem even more special.
I love this recipe because, even though the result is so pretty and wintery, these cookies could not be easier to make. Most likely you have all of these inexpensive ingredients in your house already.  So check out the recipe here.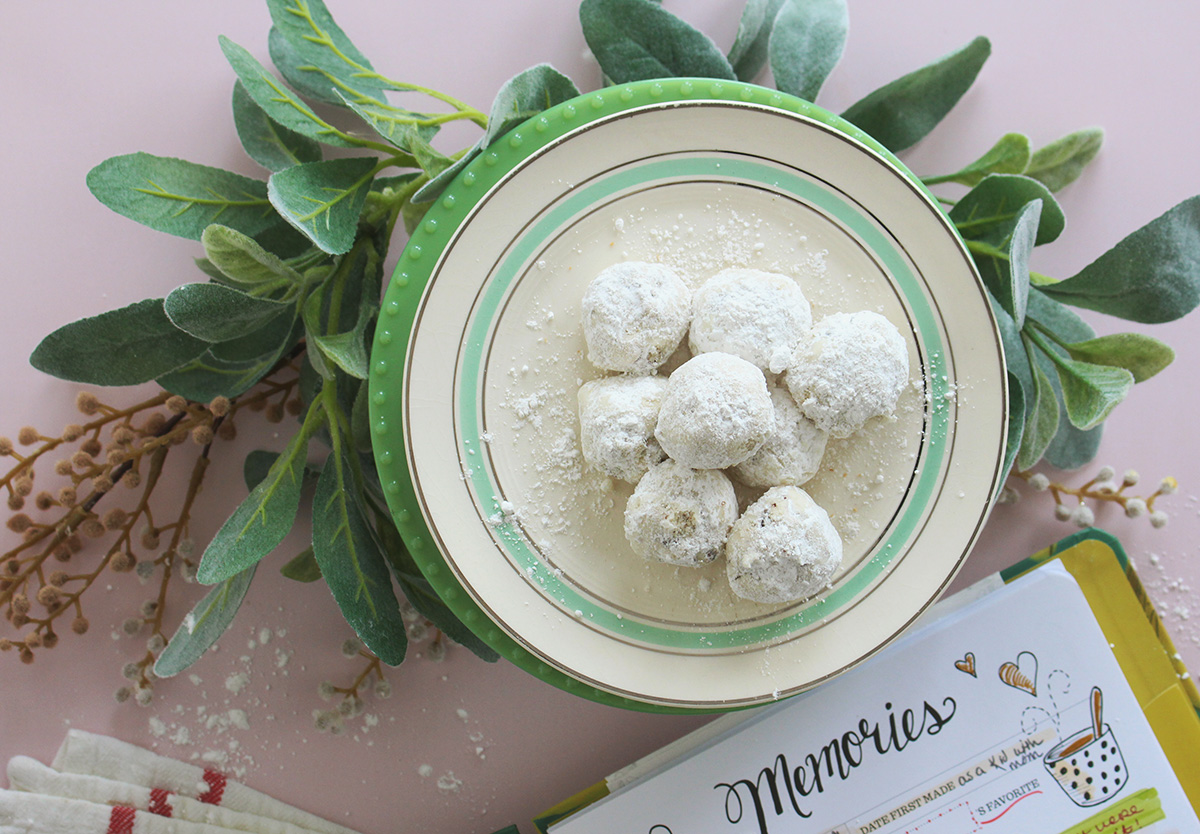 Even though my family has always made Russian Tea Cookies/Cakes for Christmas, I wanted my Keepsake Kitchen Diary entry to be a little festive but also just a beautiful everyday spread…because maybe I will make them some other time of year! I also prefer to have all my interior pages coordinate in some way to the style of Keepsake Kitchen Diary that I am using.
My favorite colors are mustard yellow and chartreuse…so naturally the interior of the Lemon Kitchen Diary cover is my favorite part. I try to tie these colors into every spread so that my book looks beautiful no matter where I open it.
Tip: I think highlighting the "Memories" lines in different colors is a nice way to separate each story (because sometimes 1 memory takes up more that one line.)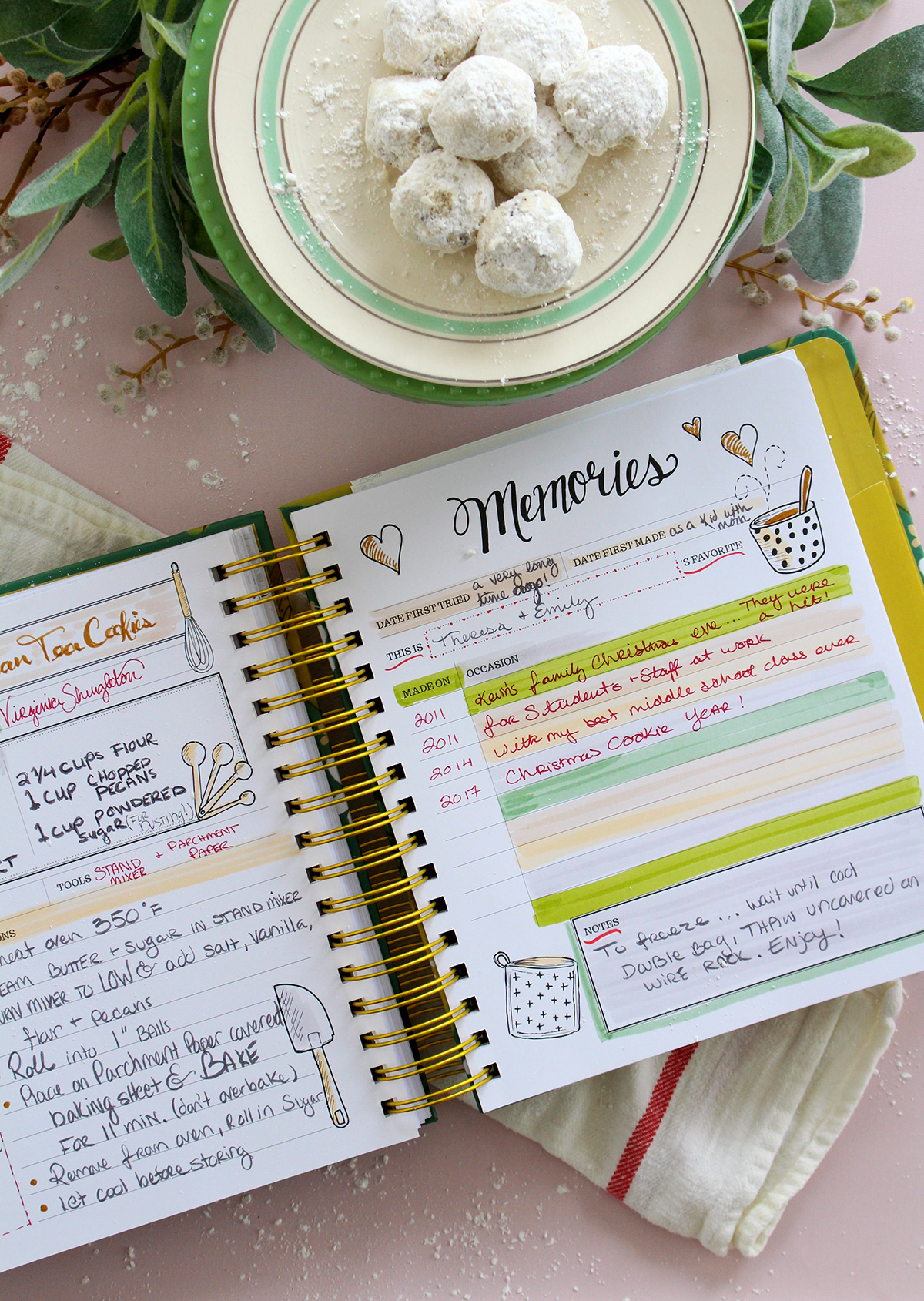 My mom has all of her mother's handwritten recipe cards. I love them so much, and I love how holding them and seeing her writing makes me feel like I know her a little better. It's nice to have a place to put those special recipes so that I can take  her instructions with me and leave the memories in those recipe cards for safe keeping at my childhood home.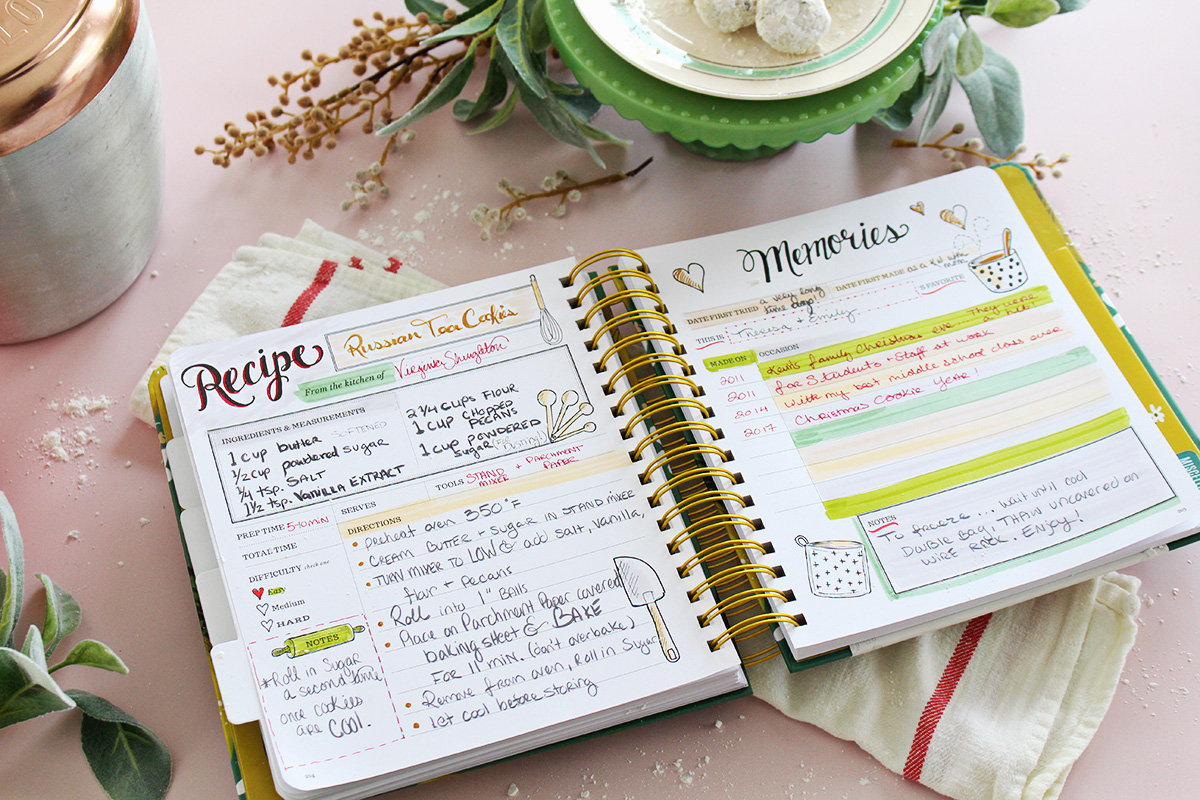 It's great to include the more practical things in the Keepsake Kitchen Diary entry as well. I especially like to make note of wether or not certain cookies freeze well and the best way to do that. These cookies freeze perfectly and are so easy to bake quickly for last minute guests or impromptu parties.
I hope you give this recipe a try! When you create your next Kitchen Diary spread…challenge yourself by trying to incorporate an unusual color, you may find you have a new favorite palette! Enjoy!